When BMW releases a new sedan, it has the pressure of living up to an entire legacy of ultimate driving machines. Its SUV's, however, get kind of a break since they haven't been around for very long. Yet, the X5 is blowing 20 candles this year, and while it has had its share of reliability issues since its inception, it hasn't prevented it from selling well and doing what it was meant to do with a fair bit of success.
Because the last X5 was already well accomplished, BMW preferred remaining conservative with its fourth generation. See the 2019 BMW X5 more as an evolutionary change rather than a revolutionary one. After all, why change a good recipe?
The Grille of Death
You probably heard me complain about the size of the kidney grille on the G20 BMW 3-Series. It's enormous, but it's even bigger on this X5 (wait until you see the X7!). This hasn't only enraged BMW-faithful around the world; I personally feel it makes this new X5 look dorky, especially when the damn thing is covered in chrome like the model you see here. Add to that a rounded off silhouette with flattened taillights, and the new X5 looks plain odd and disproportionate.
What you need to know is that, in typical BMW fashion, its mechanical and chassis components have completely been overhauled. This midsize luxury SUV now rides on the all-new CLAR platform, the same one that underpins the 3-Series, Z4, and the Toyota Supra. As a matter of fact, the X5 was the first vehicle within BMW's lineup to inherit this structure.
Two variants are currently available; the xDrive40i and the xDrive50i, which is the one you see here. The first is powered by BMW's all-new 3.0-liter, single turbo straight six good for 335 horsepower. My tester was the big boy within the lineup, loaded to the gills with a price tag of $106,500 (still cheaper than a similarly equipped Porsche Cayenne). It comes fitted with a 4.4-liter, twin-turbo V8 cranking out 456 horsepower and 479 lb-ft of torque.
All X5's come standard with all-wheel drive, as well as a ZF-sourced 8-speed automatic. Acceleration for this model is achieved in a brisk 4.2 seconds, or if you prefer, in the same ballpark as a Ford Mustang GT.
Now More Porsche-Rivaling
While the X5 technically rivals the Mercedes-Benz GLE and the Audi Q7, this new model is more inclined at taking on the Porsche Cayenne. Driving dynamics and all-out performance have been significantly improved. Now, when I said the last-generation X5 was accomplished, I meant it was good at being a midsize luxury SUV, but its clunky ride and loose steering prevented it from claiming true performance SUV credentials.
Things feel much more connected now, thanks to a considerably more solid architecture that allows the X5 to feel smooth and buttoned down even on the harshest of surfaces. Just like in the 3-Series, the CLAR's lowered centre of gravity is immediately felt, allowing this top-heavy behemoth to feel nice and planted at all times, further encouraging spirited driving.
Same for steering feel, while it's still not as precise as in a 3-Series, there's enough feedback and retroaction here to make this fun and engaging to drive. For an SUV, this thing can hustle, even in the bends.
But the X5's most noteworthy feature is its engine and transmission combination which could easily sit in a dictionary next to the term "powertrain perfection". Like in the 8-Series, that V8 is smooth, pulls strong no matter in which RPM it's in, all while emitting a satisfying snarl out the rear. That exhaust is not as ridiculously tuned as in the cars wearing the M badge on their trunks, so it doesn't backfire immaturely upon downshifts. That's what you want from an SUV anyway, something with a growl, yet not too embarrassing when you leave the house with the kids on Monday morning.
Some Compromises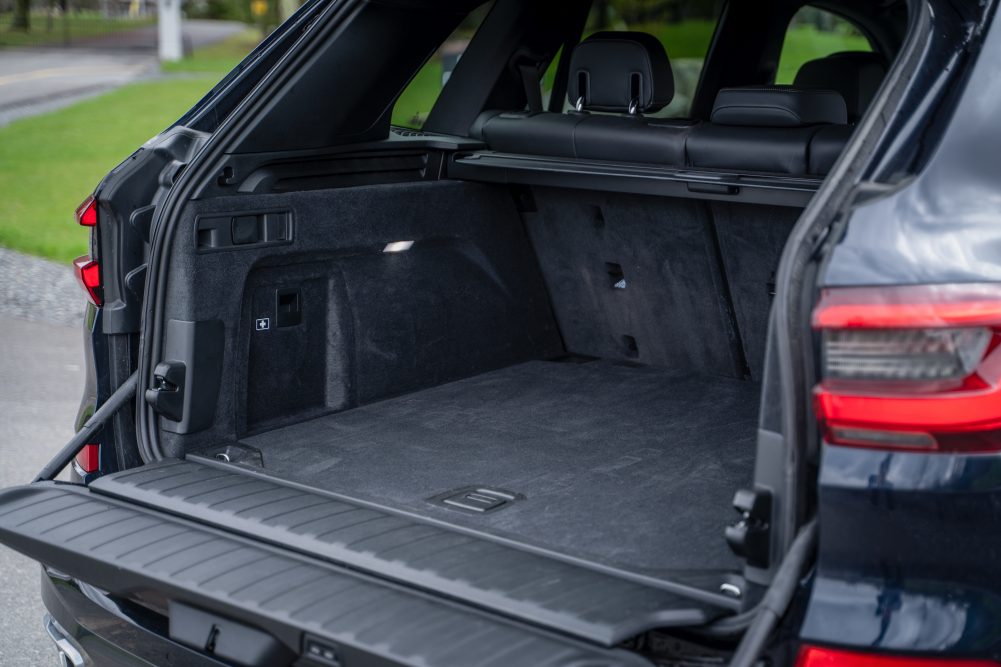 So yes, the X5 is fast, and it'll do a good job of sticking a smile on your face in the bends. It's also quite good at being utilitarian, with slightly larger overall cargo space than its main rivals. When that rear seat is folded flat, the X5 will accommodate 2,047 liters of your gear, which is tad better than a GLE (2,011 liters) and a Q7 (2,027 liters). Unlike those rivals though, the X5's optional third seat is a tight fit for adults. I recommend only using it for small children, or not even bother getting it all together. This thing does a better job at seating five than seven.
The X5 also slightly falls short in terms of towing capacity. While still capable of pulling up to 6,601 lb (2,994 kg), which isn't negligible, it's sadly undercut by both the GLE and the Q7 by a good 1,000 pounds.
But what the X5 does well, it does like a champ. Its cabin is now spiced up with good-looking and fancy materials, and the seats, both front and rear, are immensely comfortable. I particularly appreciate the automatic bolsters that firm up when the thing is set to Sport mode. Speaking of modes, BMW remains the carmaker that masters these the best, and in the X5, there's a good sense of flexibility within them, allowing this SUV to alter its character according to the task, going from a muscle-car-rivaling monster to a sensible, fuel efficient mall-mobile.
Furthermore, it's loaded with cool toys, some more useful than others, such as an adjustable suspension that levels itself according to your driving manner, a power-retractable tailgate that opens in two sections, real-time traffic alerts and an available Wi-Fi hotspot. That said, while BMW's gesture controls are fun, I don't see their relevance.
The iDrive infotainment system remains among the top choices in the industry for its ergonomics, ease of operation and downright witty interface. Unlike a Porsche Cayenne's system which is now almost all digital, BMW understands the importance of redundant physical controls. Unfortunately, as with all BMW's of late, it's cluttered with sometimes useless features that complicate the user experience. And where the hell is Android Auto?
The 2019 BMW X5 doesn't claim to be a return to form, nor be the benchmark in its class, but it's definitely much more polished than all the generations that came before it. While it does look bizarre, and still needs to prove itself in terms of reliability, it's fast, drives great, and remains an honest-to-goodness well-rounded luxury SUV.
Clavey's Verdict
Review of the 2019 BMW X5 xDrive50i by William Clavey
Luxury Midsize SUV's
Solid performer
Spacious and comfortable cabin (without third row)
Class-leading cargo space
Goofy looks
No Android Auto
Unproven reliability
Clavey's Corner is located in Montreal, Quebec, Canada. Prices and trim levels discussed in this article reflect the Canadian car market.
Special thanks: BMW Canada
Photography: Caleb Gingras
Contact the author: [email protected]