When Cadillac invited me to take the 2020 Cadillac CT5-V for a spin, I figured it would be the same story as all the other cars that have claimed to finally be a "German slayer". In other words, I was expecting this Cadillac to be a big failure. The truth of the matter is that up until now, no carmaker has yet managed to capture the precision and all around driveability of the iconic German sports sedan. Except for some notable exceptions from Genesis with the G70, all who have tried to come at the three German kings have so far failed.
All, except for perhaps Cadillac, who has managed to create a bit of a ripple in the past with the ATS and CTS-V performance sedans. While yes, those cars were scrappy around the edges, they proved that Detroit does indeed have what it takes to shake up the German status quo. Cadillac has decided to take another stab at it with this, the CT5, the brand's latest midsize sedan. And it's rather great.
Where's The V8?
There's a lot of confusion around Cadillac's latest product strategy, and this 2020 Cadillac CT5-V illustrates just how lost Cadillac is at the moment. Allow me to explain what it actually is.
The CT5 replaces the old CTS, but it's smaller, fitting somewhere between a compact and midsize sedan. It's a similar strategy as what Acura is doing with the TLX and Infiniti with the Q50. Cadillac also deployed another, smaller sedan called the CT4. That one rivals other subcompact luxury sedans like the Acura ILX or the Mercedes-Benz A-Class. I'll have one of those to review in a few months.
As expected, the CT5-V is the high-performance version, but not the V8-powered, Corvette-derived monster of the past. Cadillac V doesn't mean what it used to, which is odd considering all the efforts GM injected in the brand.
The car you see here is therefore a mid-level performance model to take on cars like the Audi S4, BMW M340i or Mercedes-AMG C43. It's also priced and packaged to take on the Genesis G70 3.3T. A more powerful, V8-powered CT5 is coming, but it'll be called the Blackwing. Confused? Me too.
Now that you're all caught up with Cadillac's shenanigans, what you need to know is that this CT5 rides on a heavily revamped platform that also underpinned both the old ATS and CTS sedans. But it's GM's Alpha architecture, arguably one of the best rear-drive platforms currently on sale due to its near 50/50 weight distribution. Cadillac went through great lengths to modernize it by increasing its structural rigidity and widening its front and rear tracks.
Power comes from a twin-turbocharged 3.0-liter V6 taken straight out of the old CT6. It's good for a solid 360 horsepower and 406 lb-ft of torque. It's mated to GM's ubiquitous ten-speed automatic gearbox. The good news is while the car I was driving was fitted with all-wheel-drive, it's still possible to opt for rear-wheel-drive CT5-V. Cadillac claims its new sports sedan will sprint to 100 km/h from a standstill in about five seconds flat.
Pricing is also where the 2020 Cadillac CT5-V impresses. It kicks off at a decent $49,798 and will remain under $70,000 once loaded with packages. My tester stickered for $65,523.
That Driving Feel
As you're probably aware, the fact that I drive many different cars in a given month means that it doesn't take me very long to get a taste of what a car is actually capable of. Normally, it takes me a few days to wrap my head around a new vehicle, but it only took me about 15 minutes to realize how good the CT5-V is.
People get all hyped up around German sport sedans mainly because they feel solid, well grounded and impeccably well built. They're also appreciated because they master the ability of going from a comfortable luxury sedan to a fire-breathing track beast at the press a button. If you feel a transmission lagging, a dead steering or any signs of body roll, the car has already failed at taking on the German elite.
These qualities were immediately felt when I drove the 2020 Cadillac CT5-V. The car feels like big rocks are holding  it down on the road, while the suede steering wheel not only feels great to the touch, it reacts to the slightest inputs with immediacy. Those are the kind of reflexes you want from this kind of car, and this Caddy delivers.
Feed the CT5-V hard throttle when exiting a tight corner with traction control off, and you'll feel the rear end rotate in an attempt to create wheel spin. Yet, once you release throttle and correct the steering, the car lines back up in near-surgical precision. And you never have to worry about what the automatic gearbox is doing, because its operation is downright seamless.
Those are all ingredients that constitute a fantastic sport sedan.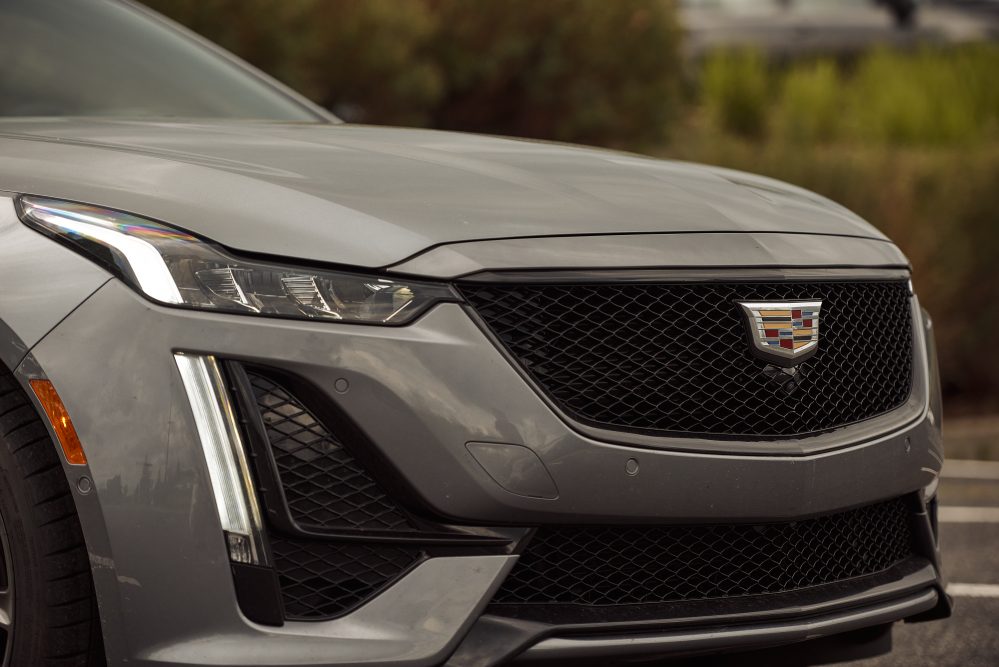 Perhaps, more importantly, is how the CT5-V dances to beat of a different drum. It doesn't try to mimic what its rivals deliver but rather goes about its business in its own unique way. It also has its own character, one which is also deeply routed with flaws.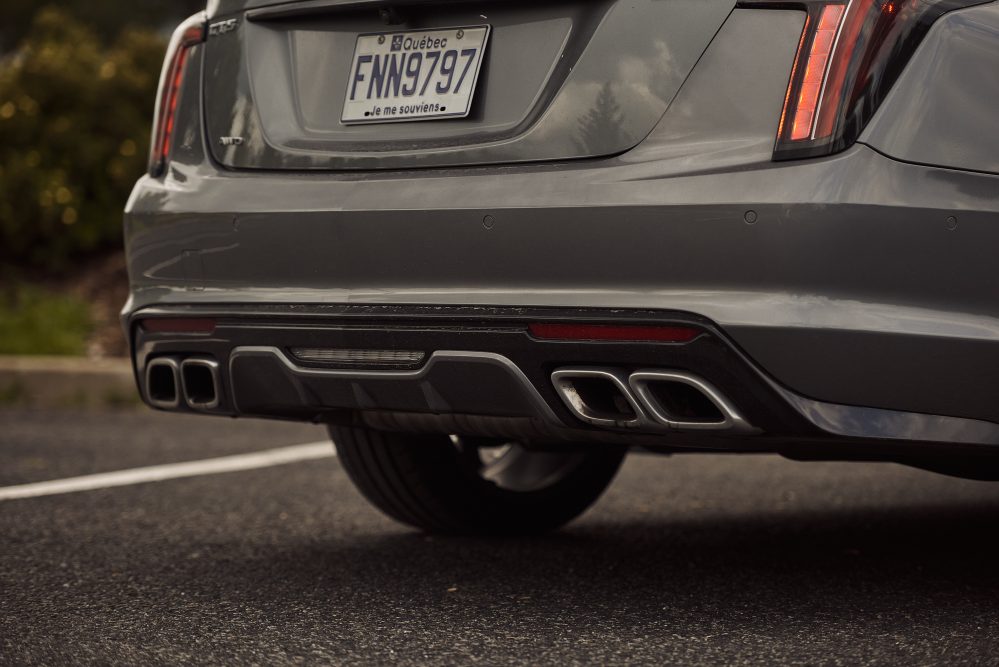 While I adore this turbo V6's linear power delivery, almost feeling like it's normally aspirated by the absence of noticeable turbo lag, it never sounds particularly good nor exciting. There is a sport-tuned exhaust back there, and the CT5-V will blurt out satisfactory exhaust farts when it cycles through the gears, but it always sounds like it's moaning.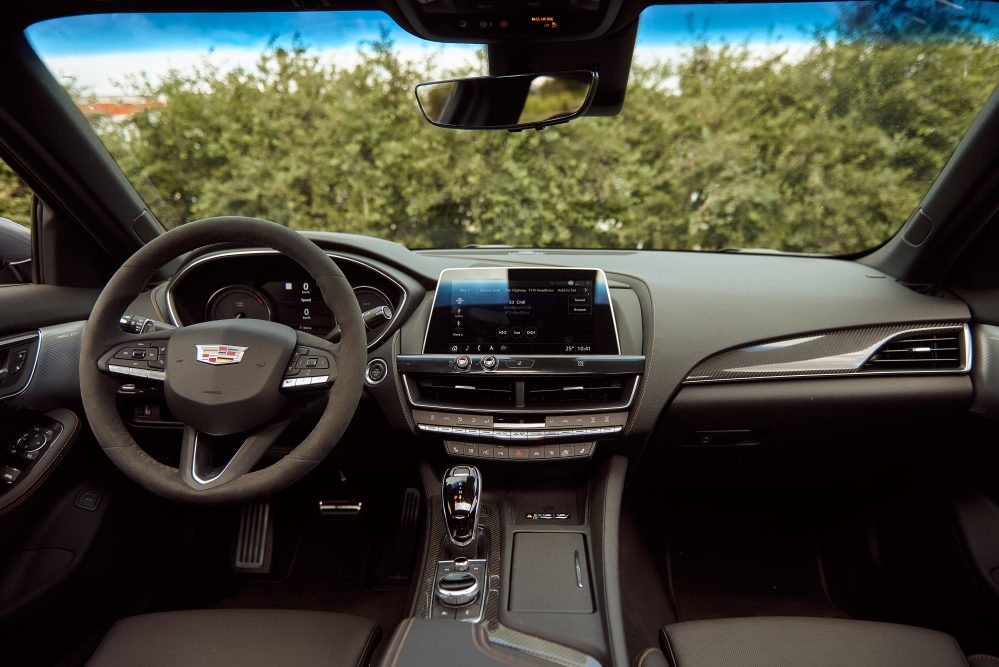 I also don't exactly understand why Cadillac puts three different ways to operate it's CUE infotainment system. Mind you, it's a heck of a lot more enjoyable to use than the old fully haptic unit, and in typical GM fashion, this is a downright intuitive system to use.
There's a BMW-style center knob dial, a touch screen and two weird physical buttons that protrude underneath the screen. It's all a bit much to take in frankly. The CT5's rear seat is also cramped, but so is a Genesis G70's so that's excusable. Perhaps the most important flaw is how the entire cabin never really feels premium.
It's a nice design, and build quality is superb. The front seats are also perfect for long drives and the car's adjustable Magneride suspension certainly helps at making this a smooth sedan on rough roads. But the cabin never feels premium per say. While the subtle carbon fiber accents and great-looking Bose speaker grilles help spice things up a bit, the CT5-V sadly feels like a very posh Chevrolet instead of an actual luxury sedan.
But hey, in all fairness, I'm nitpicking here, and it's time to give General Motors the credit it deserves. The goal with the 2020 Cadillac CT5-V was to deliver a sport sedan that was worthy of the term, and Cadillac delivered the package at a price that finally makes sense. This is a good car and I can't wait to see what the Blackwing will bring to the table. Here's to hoping Cadillac will actually sell this thing.
Clavey's Verdict
Review of the 2020 Cadillac CT5-V by William Clavey
Premium Sport Sedans
German-rivaling driving dynamics
Unique styling and character
A downright great value
Cabin never feels premium
Cramped rear seat
Moaning exhaust tone
Clavey's Corner is located in Montreal, Quebec, Canada. Prices and trim levels discussed in this article reflect the Canadian car market.
Special thanks: Cadillac Canada
Photography: Guillaume Fournier
Contact the author: [email protected]