The Genesis G70 is a car that the more I drive, the more I appreciate. I first sampled the thing in its Sport trim when it came out last year. Then I drove the four-cylinder turbo variant, which, like its mechanical twin; the Kia Stinger, I absolutely adored. Genesis now introduces a new trim level for the 2020 model year. I just had to take the car out for another spin, right? Trust me when I say this guys, this thing is downright fantastic.
Saville Prestige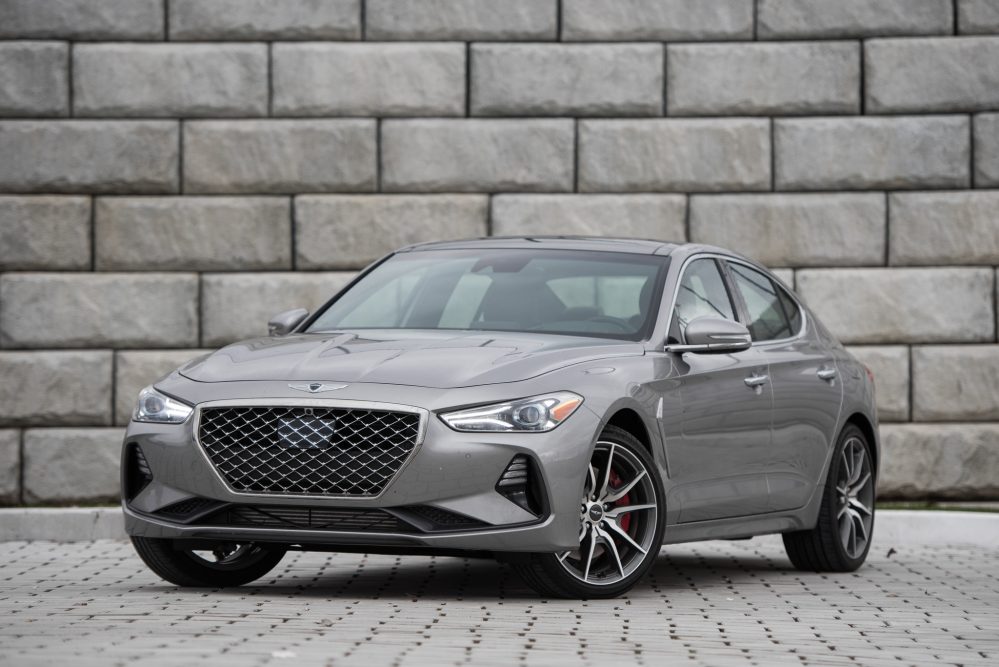 The new trim level is actually the Prestige package which now carries over to the top-shelf V6-powered G70. Until this year, consumers who wanted a luxurious look couldn't get the performance of a Sport and were stuck with the turbo four. Genesis now allows you to combine performance and luxury under one package.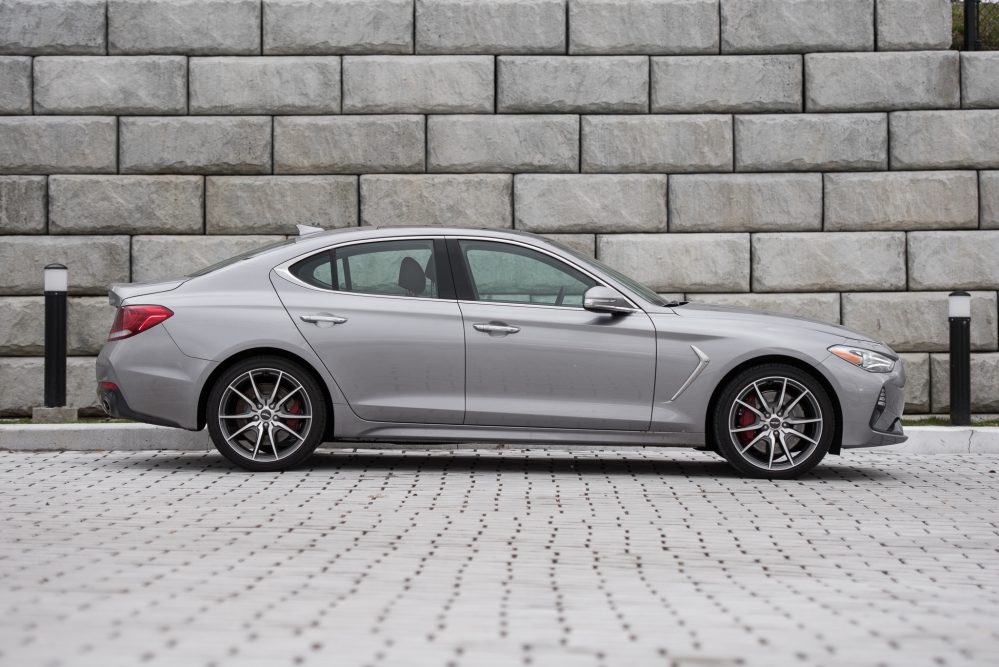 That twin-turbocharged 3.3-liter V6 is actually the same one that found in the Stinger GT, identical specs too, rated at a stout 365 horsepower and 376 lb-ft of torque, and mated to the same eight-speed automatic gearbox and all-wheel-drive system. The Prestige package also inherits the Brembo brakes and variable gear ratio steering rack formerly only available in a Sport.
While technically similar to a Stinger, the Genesis is a significantly smaller and lighter car overall, with a wheelbase that's actually 1.8 inches shorter and a curb weight that's rated at 3,774 pounds (1,711 kg) versus 4,023 pounds (1,824 kg). As a matter of fact, driving this thing right after the Stinger proved how different each car drives, but I'll get back to that in a bit.
The main idea behind the Genesis G70 was to mimic what the European luxury sports sedans have to offer in terms of refinement and performance, but at a more affordable price point. At that, Genesis does a fantastic job of bringing to market a car that's truly unique, well packaged and well priced, with dynamic qualities on par with the Germans, something the Japanese brands seem to still have trouble getting right.
For instance, the car kicks off at $42,000, but very well equipped, undercutting a BMW 3-Series, Audi A4 or Mercedes-Benz C-Class with similar power and equipment. There's even a rear-wheel-drive model available with a six-speed manual gearbox, something none of its rivals currently offer. And lastly, the full-fat, most expensive G70 Sport AWD will never cost you more than $60,000. The model you see here stickers for $56,000, and the damn thing is loaded to the gills.
I don't know about you, but for me, that's the kind of offering that makes me curious to find out more about a car, even if I'm not exactly looking for a sports sedan. That, the art of having consumers ask for a product they didn't know they wanted, is hands down first-class marketing.
Will It Save The Sedan?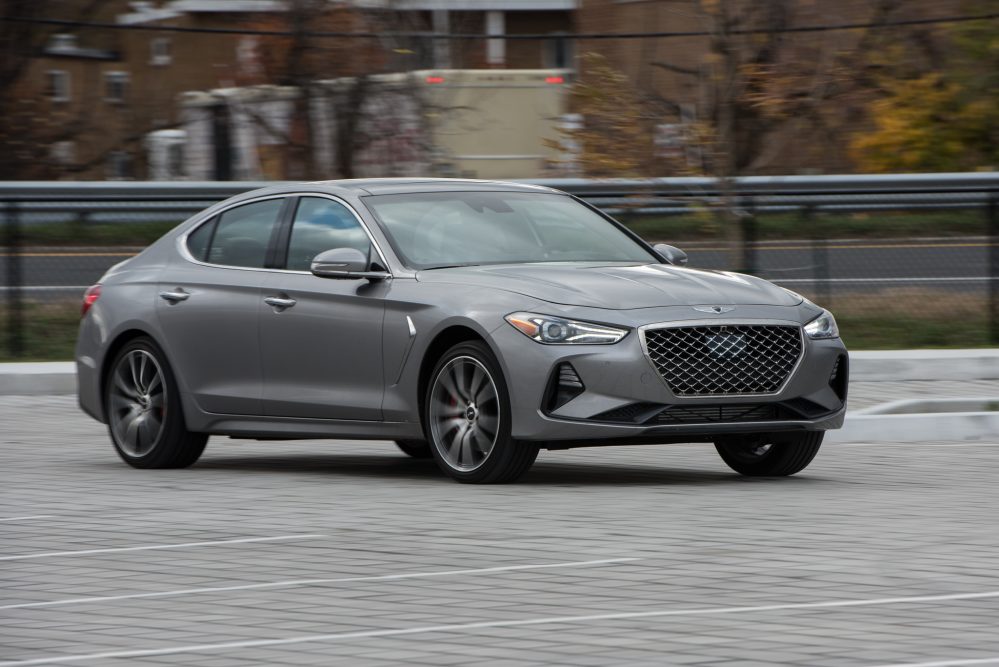 Probably not. And that's sad, because there's frankly a lot to like here. The Genesis G70 is one of those cars that feels fresh, new, different, all while giving you exactly what you expect from a good sports sedan. It even teaches the Germans a few tricks along the way.
But it's far from perfect. This car has flaws, which also ironically gives it character. For instance, its rear seat is really, really cramped given its stubby proportions. And the trunk, well it's not all that deep. So it's not really good at actually being  practical.
What it's really good at doing is making you feel like a million bucks behind the wheel, all while providing some solid performance and handling along the way. Those front seats are immensely comfortable for long rides, and supportive enough to hold you in one piece under hard cornering loads.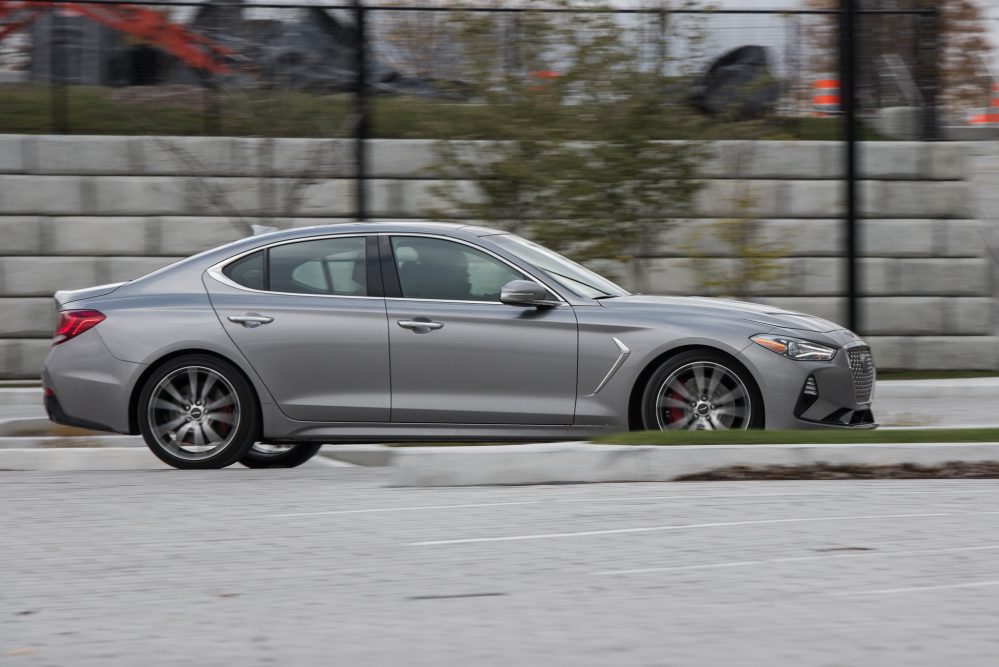 The shortened wheelbase also does wonders in making the G70 corner like the best of them  The car reacts quicker to your commands than a Stinger, feels tight overall, with graceful composure over rough surfaces. Less weight also means body motions are executed with much more urgency, all while allowing the car to launch out of the hole significantly quicker.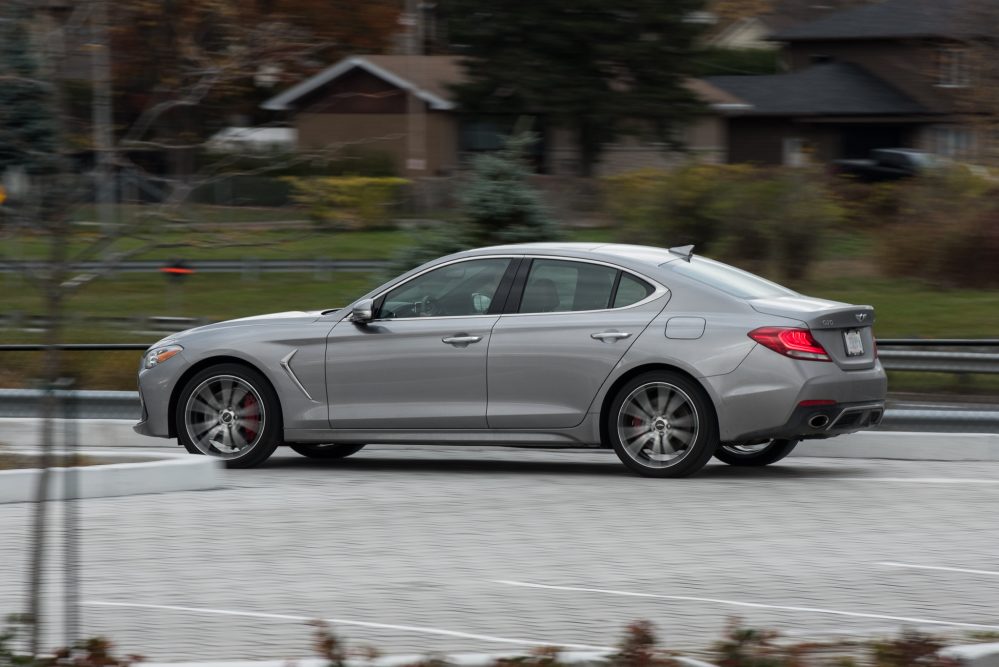 Yet, the G70 is never too stiff, nor too aggressive. It executes its performance in a graceful, friendly manner that will never stress nor scare you, and that can't be found in anything German. It's like the perfect blend between a Lexus, a BMW and an Audi; the kind of performance that grabs your hand and helps you along your day, the sort of dynamic charm you can actually use in the everyday world.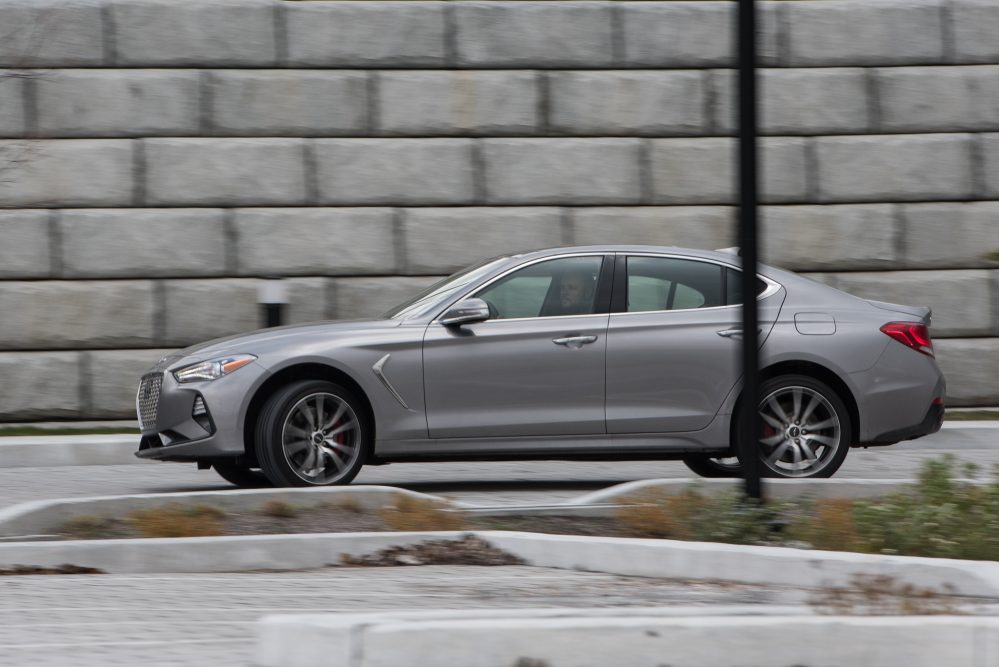 Driving off a highway onramp will make you feel like a child again, kicking the rear out under hard throttle applications will be a piece of cake, and carving your favorite back-road will make you want to repeat the experience.
Power is also solid through the entire rev range, with smooth and rapid shifts from that stellar eight-speed unit. Brakes are good, but like in the Stinger, I was disappointed to see early fade in the pedal. I've always said Brembos are overrated, a claim that couldn't be more apparent when driving these two Korean sedans back-to-back.
And like its corporate twin, irritating synthesized engine sounds are channeled though the car's Lexicon sound system, but at least here, they can be switched off. To Genesis' credit, the sound is more endurable, less immature, more refined, and properly adapted to the car's luxurious demeanor.
Downright Well Executed
I must say I personally prefer this Prestige trim over the Sport, especially in this Saville Silver paint job. It allows the G70's conservative design to appear a tad more flamboyant, accentuating the creases and folds that have been injected into its styling. In this shade, the G70 looks expensive and important.
And it's the same story inside where my tester's Caramel Brown Nappa leather interior contrasted immensely well with the car's silver body. The G70's cabin has a clean, functional design if not lacking a bit of character. Build quality is immaculate, sound deadening is A1, and ergonomics are stellar.
In fact, the German brands should use the G70's simple execution as a lesson in cabin functionality. This Korean sedan has large, easy to grasp knobs to control its climate control system, which feel expensive and of good quality when you grab them.
The instrument cluster is a no-nonsense affair, perhaps too similar to everything else within the Hyundai – Kia parts bin, but nevertheless clear and easy to comprehend. It's the same story for the infotainment system which presents itself through a straight-forward interface, large, bright icons and redundant physical controls that can easily be operated with a pair of gloves.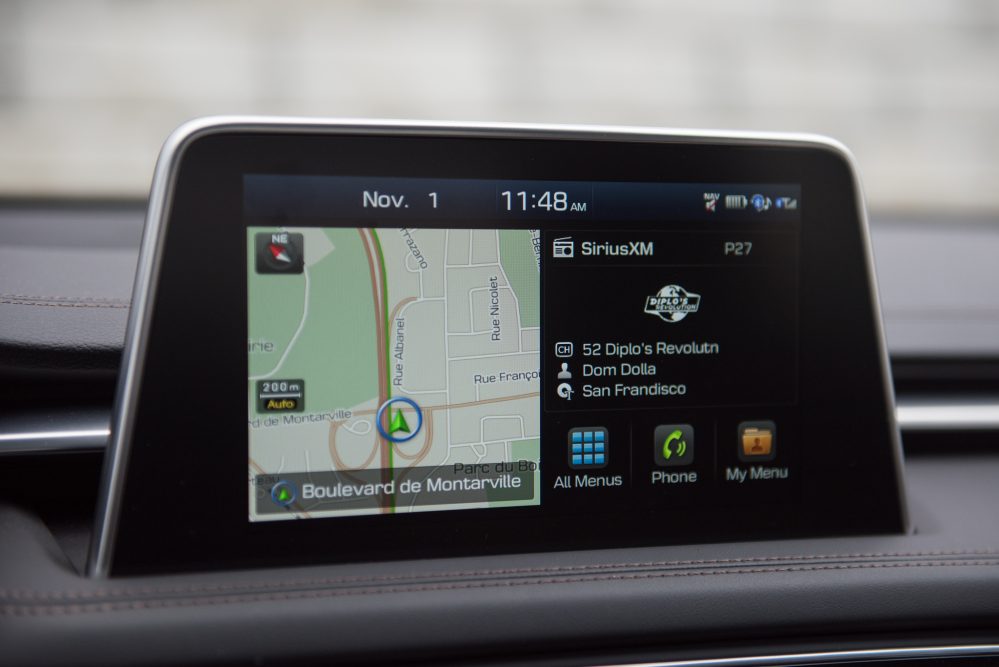 Even the launch control system is an easy to engage adventure. Just set the car to Sport mode through the center-mounted knob dial, hold the brake, floor the throttle, and you're good to go.  And  yes,  this  thing  flies.
Driving the 2020 Genesis G70 reminded me why I do this job in the first place.  I'm here to inform, educate my readers about products they probably know nothing about. And I'm sure that like most people, you're looking at this thing with a lot of prejudice. You're probably thinking it's nothing more than a luxed up Hyundai. But it's more than that. It's hands down one of the best sports sedans on the market right now, even if nobody asked for it.
Clavey's Verdict
Review of the 2020 Genesis G70 3.3T by William Clavey
Sport Sedans
A lot of car for the price
Great performance and handling
Solid build quality
Cramped rear seat
Small trunk
Overall design lacks character
Clavey's Corner is located in Montreal, Quebec, Canada. Prices and trim levels discussed in this article reflect the Canadian car market.
Special thanks: Genesis Canada
Photography: Guillaume Fournier
Contact the author: [email protected]