The 2020 Mercedes-Benz A250 came to Canada last year as a replacement to the now defunct B Class. It's not entirely new, as I reviewed it exactly one year ago on Jalopnik when it first hit our shores. The A-Class has also been selling in Europe for quite some time now.
When I wrote that story, the Americans loved it, mostly due to the fact that they don't get this car in hatchback form,. They're stuck with the sedan, so seeing it fly through their screens in this five-door configuration was like forbidden fruit. Not only do we get this new compact Mercedes in a Golf-rivaling package, ours has more power too. Here's why you should consider this Benz over a Golf GTI, or even a Golf R.
Red Is The Fastest Color
What I like the most about what Mercedes is doing with this new A-Class, is how much it does a good job of attracting young people.  Carmakers often claim they have the right product to please the kids, but in the end, the car ends up being purchased by retired Boomers who drive down to Florida during winter.
One feature I adore of this new A-Class, is that it comes in cool, fresh colors like this Jupiter Red, or the very loud Sun Yellow, by far my favorite paint job for this car. It also comes in a wide variety of different variants, ranging from a hatch, a sedan, all-wheel-drive or front-wheel-drive, and two different power outputs. There's also a super-hot AMG version that's on its way.
Mercedes also does a good job at actually making the car affordable…as long as you stay away from the options list. Base price for an A220 sedan is $37,300, which is reasonable considering you're getting a frankly well equipped and good-looking Mercedes-Benz. You need to add an extra grand for the hatchback.
Of course, if you opt for all the toys and optional packages – plus 4MATIC all-wheel-drive (as tested) – you'll end up paying well over $40,000. That's Golf R, Civic Type R and WRX STI territory, and a few thousand dollars more expensive than a Hyundai Veloster N.
No, the 2020 Mercedes-Benz A250 isn't a hot hatchback. That title goes to the incoming AMG 35. From a performance standpoint then, the A250 is outpaced by all the cars listed above. It does however beat them in other areas, which I'll explain later.
Power comes from a 2.0-liter turbocharged four-cylinder good for 221 horsepower and 258 lb-ft of torque – which is actually 33 horsepower and 37 lb-ft more than the sedan. The only available gearbox – which is a bit of a letdown – is a seven-speed dual-clutch automatic. Not that it's a bad one, but a manual option is always nice, especially in this kind of car. The A250 hatchback can be had with either front or all-wheel-drive.
So Mature Through
What the 2020 Mercedes-Benz A250 lacks in performance and spunk, it makes up for by its immensely mature attitude. While its exterior styling appears young, sporty and dynamic, the car itself is rather grown up, extremely refined and all Mercedes-Benz.
Yet, it still pulls an ace out of its sleeve during performance driving. While not a fire-breathing rocket, it will launch to 100 km/h from a standstill in just under six seconds, which allows it to keep up with pocket rockets like the Honda Civic Si, Golf GTI, Kia Forte GT or even the Acura ILX.
Once it starts boiling, the little four-pot is butter smooth, filled with thick, low-end torque, and impeccably linear. My only complaint with this engine is how lame and clunky it sounds, especially when running on idle.
The nine-speed gearbox works fine, but never seems to encourage performance driving. It does, however, function in a rather seamless manner as its shuffling through gears effortlessly in the background,
It also has a typically German feel on the road. This means that even in its most comfortable setting, it remains very stiff, but also exhibits a solid, well-planted feel, with surprisingly high levels of grip. In other words, the A250 remains quick and agile while retaining the classic Mercedes-Benz virtues.
The high quality theme continues inside where the A-Class once again makes you realize where your money went. This isn't the best interior I've see in a compact car. It's up there among one of the best interiors I've seen in any automobile, period.
What I like the most about it is how Mercedes has managed to capture the expensive, well-put together feel of its high-end models in a smaller, cheaper younger-focused car. While the brushed aluminium finish around the air vents, door inserts and steering wheel may not be made of actual metal like in an S-Class, it still looks rich and of good quality. There's also the enormous LCD screen, which was once exclusive to the E and S classes, and has trickled down to the baby model.
That screen houses Mercedes' latest infotainment interface, or what it likes to call MBUX. I have talked about this system in other Mercedes-Benz reviews, so I won't go too much in detail. What I will say is that it remains a technological tour de force, a first in this segment. The system uses artificial intelligence to record your commands and executes them with frankly impressive precision.
What it doesn't do well, though, is be easy to use. While the features are there, accessing them manually can often prove complicated and unintuitive. A good example of this is the car's heated steering wheel button located somewhere towards the left-bottom area of the wheel column. It took me a while to figure it out. It's the same story when you're navigating through menus using the available track pad. It doesn't work very well.
But the rest of the car is honestly very good. I especially like the optional sport seats which, not only look fantastic with their part suede, part leather look, but are actually comfortable and offer plenty of support. I unfortunately can't say the same about the rear seats, however, as legroom is rather tight back there if you're tall. It's the same story for the trunk. While, yes, the large hatch allows it to be more practical than sedans of the same size, but the A-Class is still outpaced by a Golf or a Civic in cargo space.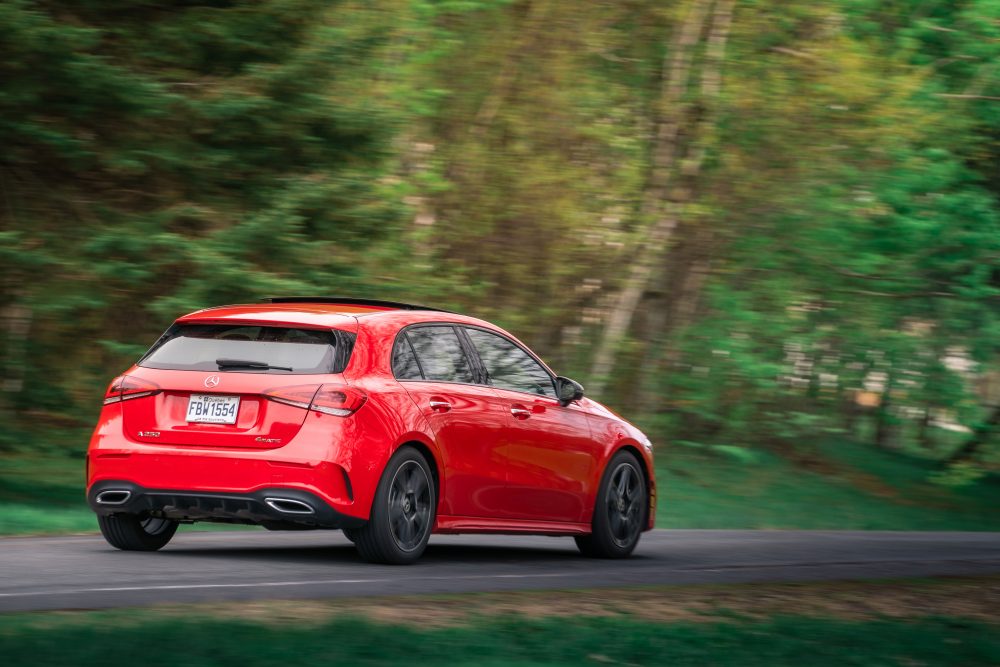 But at the end of the day, the 2020 Mercedes-Benz A250 manages to fulfill exactly what it was meant to do: provide a fun, good-looking and value packed luxury compact for the younger generation. It does that impeccably well. while retaining the solid Mercedes-Benz foundations intact, something the last CLA didn't quite manage to do. So yes, if you're in the market for a great German hatchback, the Volkswagen is no longer your only option.
Clavey's Verdict
Review of the 2020 Mercedes-Benz A250 by William Clavey
Compact Luxury Cars
Attractive value proposition
Hatchback practicality
Refined, smooth and quick
Lame-sounding engine
Complicated infotainment interface
Tight rear seat
Clavey's Corner is located in Montreal, Quebec, Canada. Prices and trim levels discussed in this article reflect the Canadian car market.
Special thanks: Mercedes-Benz Canada
Photography: Caleb Gingras
Contact the author: [email protected]