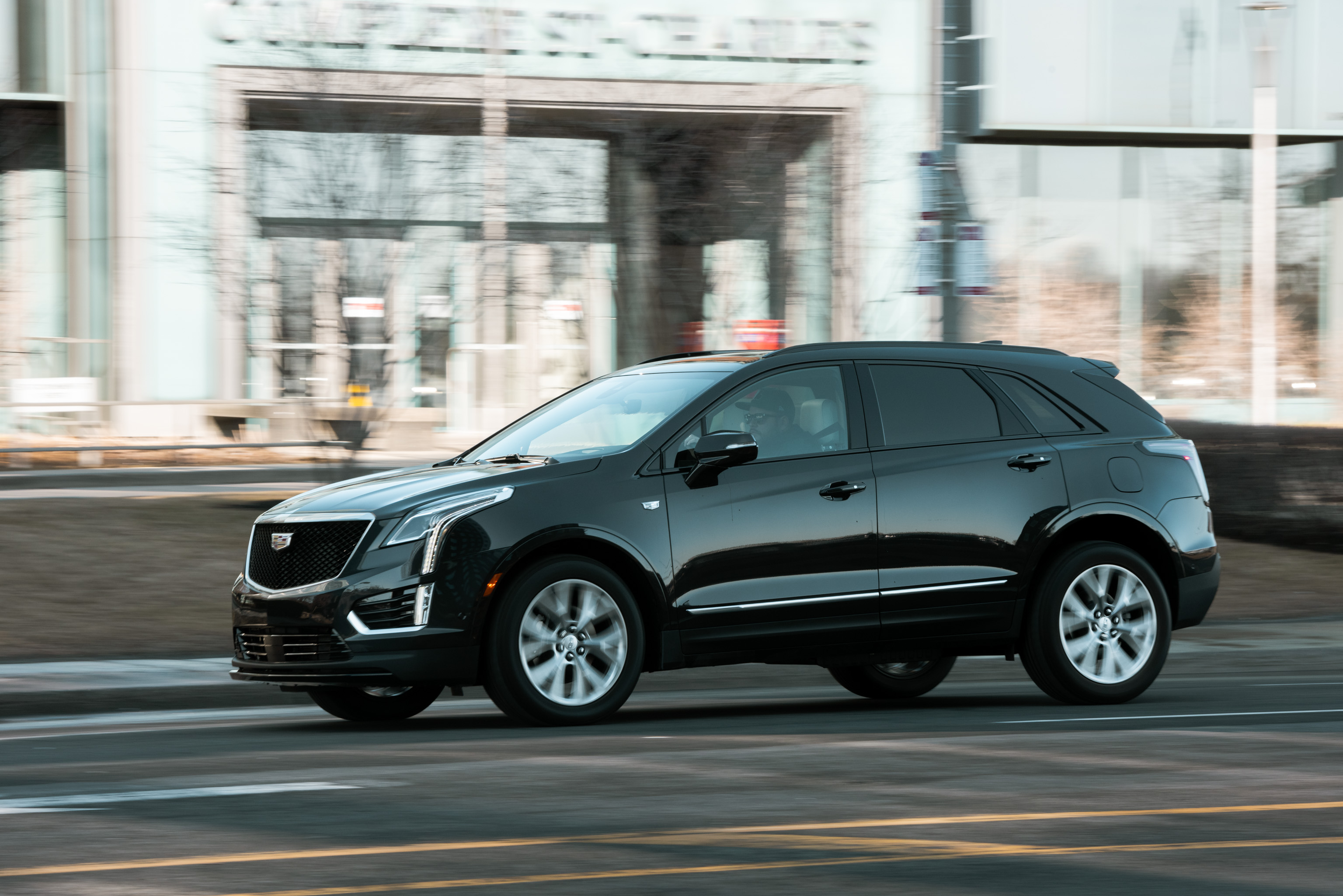 The 2020 Cadillac XT5 sits in a very complicated segment. Compact luxury crossovers are big sellers at the moment, and the ones currently dominating that space typically wear an Audi, BMW or Mercedes badge. Then, somewhere beneath them lies the Japanese carmakers – Acura and Lexus more specifically – who somehow manage to grasp enough market share to remain alive.
And in the middle of it all there's this: the Cadillac XT5, a vehicle that's still working overtime to be respected in its class. Curious to find out why it still hasn't picked up like it should, I took one out for a spin.
It's Got The Looks
The XT5 received an important but subtle facelift for the 2020 model year. Aesthetically, the front fascia was slightly redesigned by way of a different grille and bumper setup, while the rear section gets a new set of clear taillights (for the Sport model) and a redesigned bumper. And to be fair, this is a good-looking premium SUV, housing an expensive, modern look and just the right kind of proportions.
Cadillac also split the XT5 into two distinct trim levels: Premium Luxury and Sport – the one you see here. Each of them offer unique options, colors and packaging, while the vehicle's interior receives a slight update by way of new materials, a revised center console and an updated infotainment system, which I'll get back to in a bit.
A new turbocharged 2.0-liter four-cylinder also makes its way to the XT5,  but my tester had the naturally aspirated 3.6-liter V6 good for 310 horsepower and 271 lb-ft of torque. These numbers are identical to last year's model. The 2020 Cadillac XT5 can be had with either front or all-wheel-drive. My press unit had the latter. A nine-speed automatic transmission takes care of sending everything to the ground.
Pricing for the XT5 is kind of where things fall apart, with a base (Luxury) front-wheel-drive model kicking off at a not-so-cheap $47,348, and topping off the lineup at $59,348 for a Sport model like the one you see here. Unsurprisingly the one I was driving had a full plethora of options piled on top of it, for a total final price of $65,463.
Forget That Price For A Second
Yikes! Ok, so the 2020 Cadillac XT5 is expensive, which is why it's not sales success. Don't get me wrong, it does a fantastic job at looking and feeling expensive, a much better one than some European brands, actually.
For instance, its cabin is filled with fancy materials and upscale-looking themes that do a lot at bumping up the premium tone. I'm a personal fan of those Bose speaker grilles integrated into the door. It matches the carbon fiber trim (only available on the Sport model) super well, and the overall cabin has a unique, high-end feel to it, all while remaining quiet and comfortable. In that respect, it's really good at being a Cadillac.
My issue with the XT5's pricing is that it doesn't drive like a vehicle of this price range. Granted, that naturally aspirated V6 provides a decent amount of power, and I continue to believe it's among one of the better sounding six-cylinder engines currently on sale. But it simply doesn't deliver its power as immediately nor urgently as what the Germans will sell you.
Then there's the way it handles, which is another disappointing letdown. The all-wheel-drive underneath this Cadillac is rather clever. It allows you to disable it run as a front-wheel-drive vehicle. There's also a witty twin clutch system underneath your butt that transfers power from side of the car to the next, applying torque vectoring in the bends for improved handling.
Sadly, none of this brilliant engineering transcends behind the wheel. The XT5 feels heavy, high off the ground and clumsy in the corners. Body roll is immense, understeer is fierce, and the entire structure flexes annoyingly. There's never a sense that it has been calibrated to be driven enthusiastically, which kind of defeats the entire purpose of its "Sport" demeanor.
Let's Focus On The Good
At this point you're probably thinking I'm having a hell of a lot of fun trashing the XT5 because it's a GM. Actually, no, there's a lot to like in the XT5, and to be fair, it does many things supremely well.
For starters, very much like the Cadillac XT6 I drove about a month ago, there's a sense that the XT5 is oozing with first-class engineering. It's not only the all-wheel-drive system that impresses, but the amount of overall technology that was crammed in the thing.
For instance, that V6 engine can shut off two of its cylinders to become a V4 under light throttle applications. So overall fuel economy never really exceeded 10.5L/100 km while I had it. The nine-speed automatic gearbox simply works, the adaptive suspension does a bang up job of keeping things smooth on shit roads, and the camera-operated rearview mirror may appear like a gimmick at first, but it's actually usefull when parking the thing in tight spaces. Then there's how easy it is to navigate through the infotainment system by way of its new console-mounted rotary controls.
In the past, the XT5's infotainment system could only be operated by way of touch-operated controls and it was a disaster. Adding physical knobs has heavily improved its usability, and the integrated one-touch NFC smartphone connection makes pairing a phone so easy and so seamless it should be the standard in all new cars.
Finally, there's the amount of room you actually get in an XT5. While classed as a compact crossover, the XT5's rear seats offers midsize SUV levels of head and legroom. Meanwhile the trunk eats up virtually anything in its class. To put things into perspective, an XT5 will engulf up to 1,783 liters of your gear when the rear seats are lowered flat. This towers the Audi Q5 (1,500 liters) and Mercedes-Benz GLC (1,585), while slightly beating the BMW X3 (1,755 liters).
Essentially, the 2020 Cadillac XT5 has all the right ingredients to fit in the compact luxury crossover segment, yet it still gets bullied by its rivals. Why is that? There's still an image issue here. Cadillac still needs to solidify its brand if it wants to convince an Audi buyer to shift away from one. Young and affluent professionals who shop for a luxury car just don't have the big C on their list.
Most, if not all of them flock directly to a German nameplate. If not, they'll trickle down to an Acura or a Lexus because they're sold a more affordable price point. It's not just Cadillac that's suffering from this. Jaguar, Volvo and Alfa Romeo are having just as much of a hard to time penetrating that space.
In my opinion, there isn't much missing here to make it a standout product. The XT5's main problem is that it's priced like an Audi when it should be priced like an Acura. If this thing was, say, $10,000 less, then perhaps more people would flock to it.
Clavey's Verdict
Review of the 2020 Cadillac XT5 by William Clavey
Compact Luxury Crossovers
Oozing with ingenuity
Classy, roomy and comfortable cabin
Interesting all-wheel-drive system
Expensive
Clumsy handling
Still lacks brand appeal
Clavey's Corner is located in Montreal, Quebec, Canada. Prices and trim levels discussed in this article reflect the Canadian car market.
Special thanks: Cadillac Canada
Photography: Guillaume Fournier
Contact the author: [email protected]