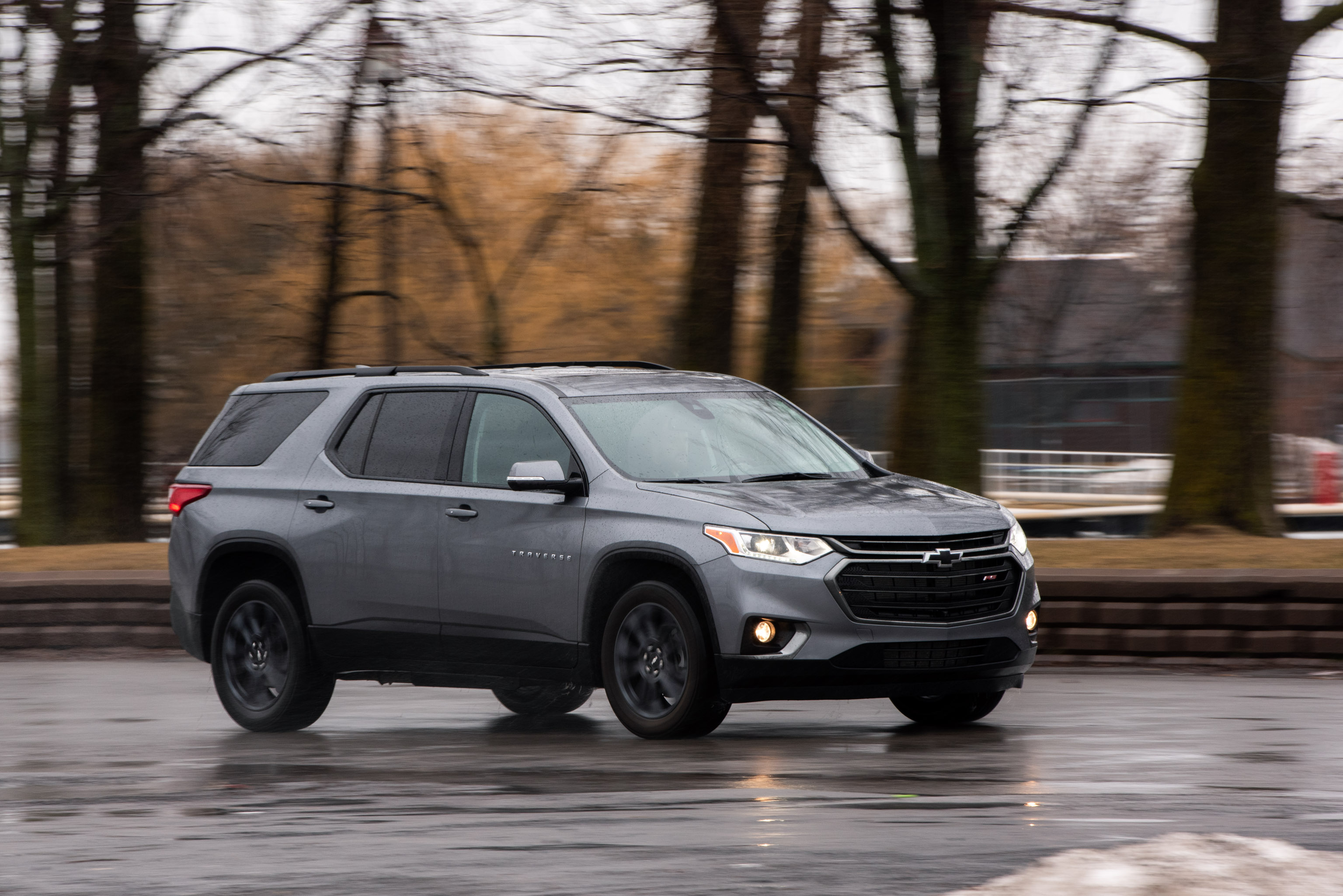 The 2020 Chevrolet Traverse has all the proportions of a minivan, and that's not entirely a bad thing considering GM no longer offers one. Perhaps, more importantly, is how good the Traverse is and how much consumers aren't exactly taking notice. I took one out for a spin and I'm here to tell you why you should consider this thing over a Nissan Pathfinder.
Not Sure About The RS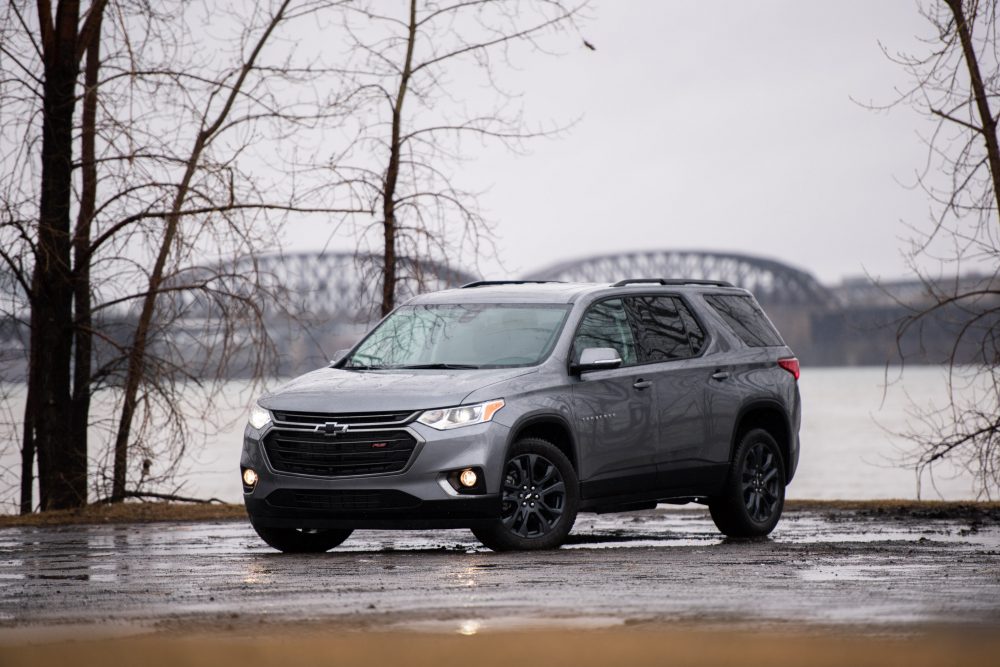 Of course, as it is typically the case with many vehicles out there, the 2020 Chevrolet Traverse comes in a wide variety of different variations. The one you see here, the RS model, is not one I would recommend.
While yes, the RS package does add a few substantial add-ons that change the way the Traverse looks, like 20-inch Dark Android painted aluminum wheels, back accenting, black roof rails, black bow ties, gloss black window trim and a Black Ice front grille with red RS badging. It somewhat gives it a badass look.
It also comes standard with a heated steering wheel, Intellibeam automatic high beam assist, forward collision alert, lane keep assist with lane departure warning, automatic emergency braking and front pedestrian braking.
But the damn package costs $51,348, which is more than $6,000 extra over the already well equipped Traverse LT ($42,648). I'm sorry, but no. If you're going to commit to a fully loaded Traverse, I suggest skipping the RS and opting directly for the True North or even Premier trim levels. You'll be getting a lot more substance for your hard-earned money. But stop there, as the top of the line High Country model ($62,548) is overkill.
Whichever Traverse you select, you'll be happy to know that GM has finally ditched the turbocharged 2.0-liter four-cylinder engine. This means that the only available drivetrain is the tried and proven naturally aspirated 3.6-liter V6, an engine I like very much.  I've talked before about how midsize SUVs needs a good V6 engine for their intended purposes, something competing brands like Honda, Toyota, Nissan and Kia have understood as well for their mall crawlers.
Hence, the 2020 Chevrolet Traverse is good for a class-appropriate 310 horsepower and 266 lb-ft of torque. This also allows this Chevy to tow up to 5,000 pounds (2,267 kg), a magic number in this segment. All trim levels come with a nine-speed automatic gearbox. Front-wheel-drive is standard, with optional all-wheel-drive.
Everything The Kids Want
When I say the 2020 Chevrolet Traverse is GM's minivan, I mean it has all the room and space a modern family needs. This thing is huge! Modern crossovers, due to their transverse engine layouts and front-bias all-wheel-drive systems have replaced the minivan anyway. Chevrolet figured it might as well stretch the damn thing as much as it could so it can haul more kids, more dog and more junk.
These larger than average dimensions lead to the largest cargo hold in its class. Drop all rear seats to the floor and the Traverse will eat up to 2,780 liters of your junk, besting every single one of its rivals, including the equally enormous Dodge Durango or gigantic Volkswagen Atlas.
On the road, the Traverse drives…exactly like a minivan, feeling high, heavy and long. Handling isn't what you'd qualify as exciting and body roll is huge, but its chassis has good composure over rough spring roads, while the cabin remains remarkably quiet and comfortable.
The V6 engine provides more than enough power and torque to get this big guy up and going, and like I explained in my Cadillac XT5 review, it sounds quite good as it revs close to redline. Ironically, the automatic gearbox here isn't as flawless as in its Cadillac counterpart. While yes, it is the exact same unit, I suppose it's not programmed the same way as downshifts do hesitate. There are some unwanted clunks when it's going from one gear to the next.
That said, I did manage to record decent fuel economy numbers with the Traverse, which is presumably why the transmission behaves the way it does. I easily managed to hang around the 9.5L/100 km average, which is rather excellent for this category of vehicles.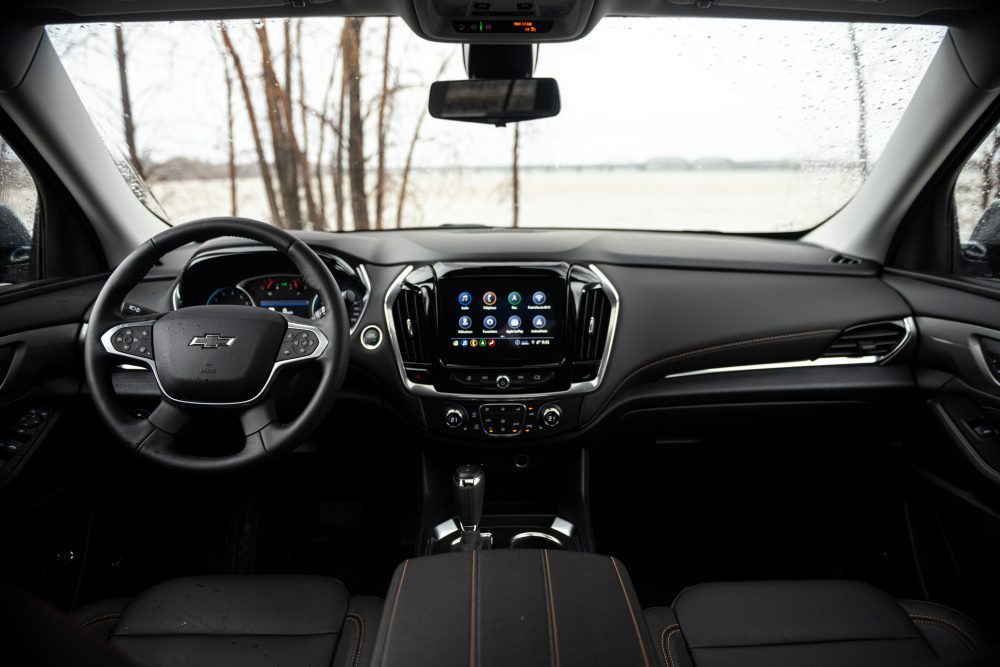 Inside, the Traverse hosts a clean, functional design, where its infotainment system always remains simple and easy to comprehend, compatible with Android Auto/Apple CarPlay and fitted with a handy onboard Wifi feature. While offering good overall ergonomics, that interior could nevertheless use a slight update since it's beginning to look and feel dated. There's also a heavy presence of cheap plastics in there.
That said, Chevrolet's clever use of packaging does lead to plenty of neat storage compartments and cubbies. I'm a personal fan of the hidden compartment behind the infotainment screen. Not only does it look cool as hell, it's actually roomy enough to fit large things. I'll let you use your imagination to figure out what you'd stash in there.
I also had no issue squeezing my large frame into that third row of seats. Once back there, I was impressed by the level of head and legroom I found, so it's not just made for kids.
Another feature I found particularly clever is the ability to remove the all-wheel-drive system for improved fuel economy. This is a neat option that General Motors does really well, as it allows you to set the vehicle's drivetrain manually according to the given surface. The all-wheel-drive system can also be set to Sport mode or configured for for towing situations.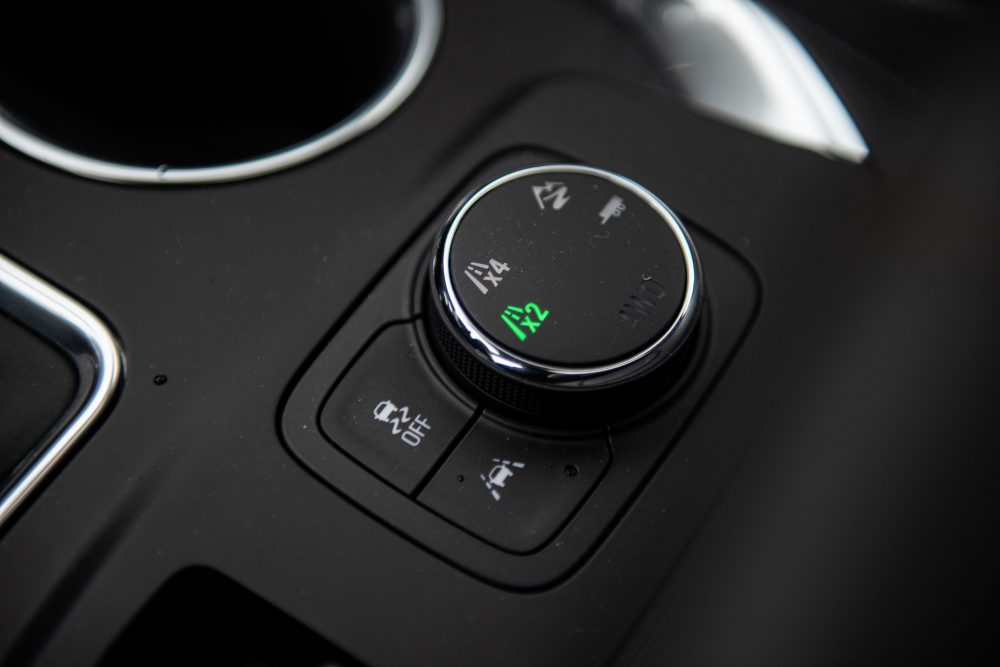 I'll be honest; when I returned this 2020 Chevrolet Traverse press unit, I couldn't help but wonder why it's not selling as much as it should. People seem to default to a Honda Pilot or a Toyota Highlander when buying these things. They just don't typically consider the Chevrolet. Why is that? I can't give you a straight honest answer, but my assumption is that it has something to do with GM's past.
While the General now makes some seriously good cars, it wasn't always the case. The thing is, the majority of parents currently buying this type of vehicle grew up driving Honda Civics and Toyota Corollas in college. Sure, some of them drove Cavaliers, but I doubt many of them have good memories.
Sadly, Chevrolet's past is still haunting it, which presumably explains why the Traverse is so often overlooked. If you can find a way to ignore all that, I strongly recommend considering one, as it's an excellent minivan that tries to be an SUV. That said, I'd suggest waiting a little longer, since an entirely updated Traverse is expected to arrive next year.
Clavey's Verdict
Review of the 2020 Chevrolet Traverse RS by William Clavey
Midsize Crossovers
Largest cargo hold in its class
Punchy acceleration
Fuel-efficient V6 engine
Some cheap interior plastics
Useless RS variant
Can quickly get expensive
Clavey's Corner is located in Montreal, Quebec, Canada. Prices and trim levels discussed in this article reflect the Canadian car market.
Special thanks: Chevrolet Canada
Photography: Guillaume Fournier
Contact the author: [email protected]