Each time I get behind the wheel of one of FCA's LX cars, whether it is the Charger, Challenger, or 300, I can't help but make fun of them for being crude, unrefined and, well simply old compared to pretty much everything else on the market today. By the time I'm done with them, however, I'm usually hooked and reluctant to hand the keys back. These cars are sort of a dying breed in this day and age.
The vehicle you see here is called the Dodge Charger Rallye, another weird glitch in the car world. Rallye? But, why, how? Mind you, I would cherish the idea of a special edition Charger built to drift in the snow at blistering speeds, jump over sand dunes while going all out, or battling it out on WRC stages alongside Subaru STI's and Mitusibishi Evo's. Imagine that! Sadly, that simply wouldn't fly. Then again, coming from the same people that just released a Challenger that does the quarter mile faster than a McLaren P1, anything is possible from FCA at this point.
America's Big Boy Sedan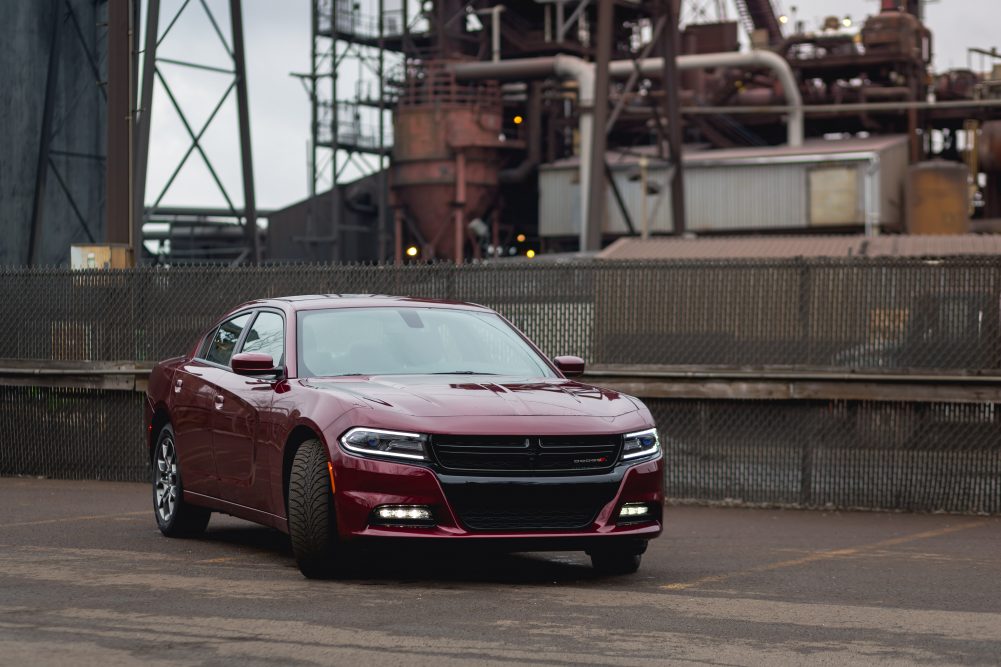 The Rallye package is more of an aesthetic add-on to a V6-powered Charger SXT. It's essentially a $1,395 set of goodies that adds a surprisingly lofty number of toys for the price, like a blacked-out grille and wheels, a rear spoiler, 19-inch wheels, an R/T front bumper, a Beats by Dr. Dre premium sound system, and a slight horsepower bump, from 292 to 300 horsepower. Torque also goes up from 260 to 264 lb-ft.
What the hell does any of this have to do with rallying?
Anyway, the rather cheap package also gives the "base" Charger a badass demeanor that's similar to its more serious R/T and Hellcat brothers, so there's that. Even if it's the little guy in the Charger lineup, it manages to look properly menacing, low, muscular, and mean. I personally dig the Octane Red paint job my tester was covered in. Many people thought I was an undercover cop, which was neat.
The rest remains intact, meaning this is the same large, aggressively designed, muscle sedan we've come accustomed to over the years, the one in which you still seem to get a thumbs up from anyone just for driving it, although it's been facelifted in 2016 with a different set of LED headlights and tail lights, as well as reworked bumpers front and rear.
Personally, I prefer the look of the 300S. But tastes are subjective, I guess.
The Shining Pentastar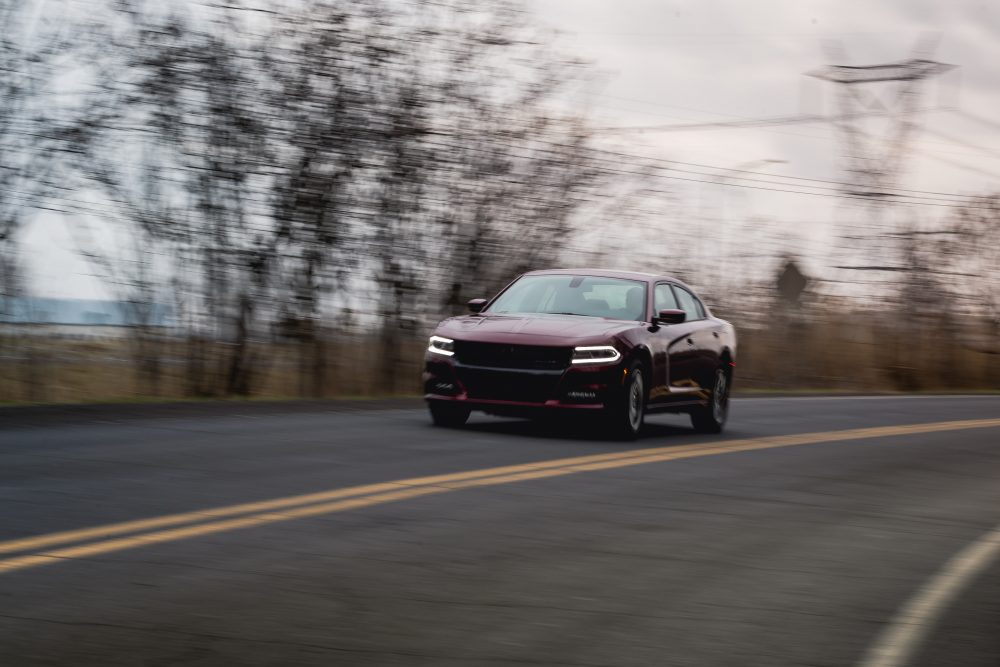 Mechanically, things remain somewhat unmolested for the Charger. In this iteration, power comes from the now popular and frankly excellent Pentastar, 3.6-liter V6, the same one that powered the black Chrysler 300S I reviewed just over a year ago.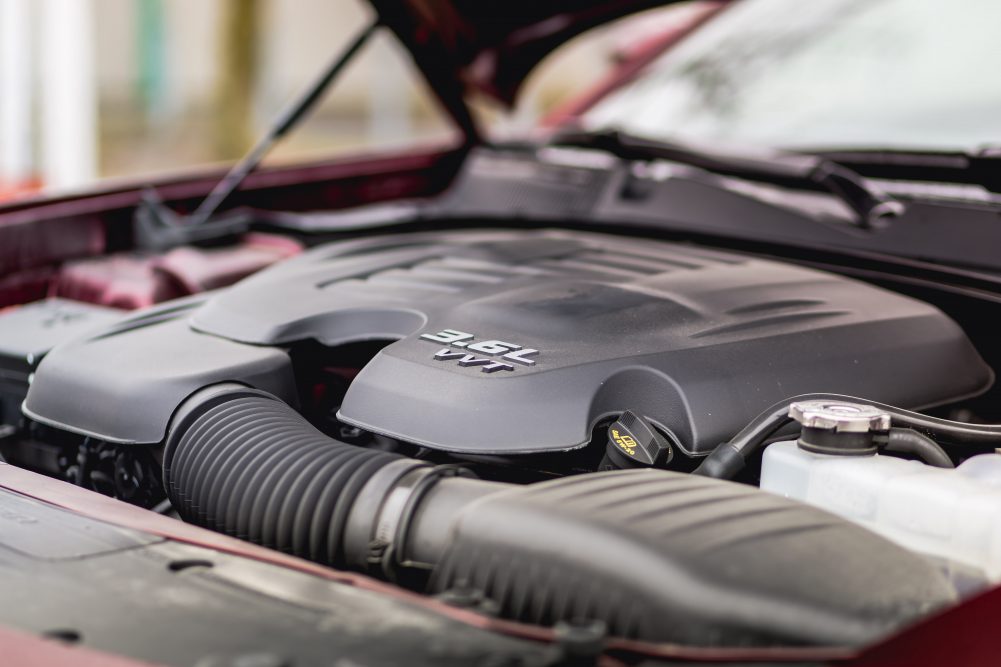 That engine remains a peach, and while all the talk is around the Hellcat and the Hemi these days, oh, and the Demon of course, that V6 is actually FCA's best opus, churning out as much power as the V8 engines from just over a decade ago while returning fuel numbers in the low nines. Lacking the low-end grunt of its eight-cylinder brethrens, the six pot makes it up with a free-revving attitude, happily swinging its tach needle to its near 7,000 rpm redline, all while emitting a raspy, almost exotic intake growl.
As you can see, I really like this engine. It does, however, have some difficulty getting this big guy off the line, where nothing actually happens below 4,000 rpm. Floor it, wait, wait, ah, there she is.
Dodge claims a 0-100 km/h time of 6.2 seconds, so don't worry, your base Charger won't embarrass you against a Toyota Avalon or a Nissan Maxima.
Like in the 300S, which is essentially a mechanical carbon copy of this Charger, power is either sent directly to the rear or all four wheels. My tester had the all-wheel-drive option ticked off. The eight-speed automatic transmission, supplied by ZF, remains the only gear changing option for V6-powered Chargers, Challengers and 300s. It's also the plague of the automotive world these days, typically handicapping some excellent products with laggy shift times, notorious reliability issues, and a habit to never know what it was actually designed to do.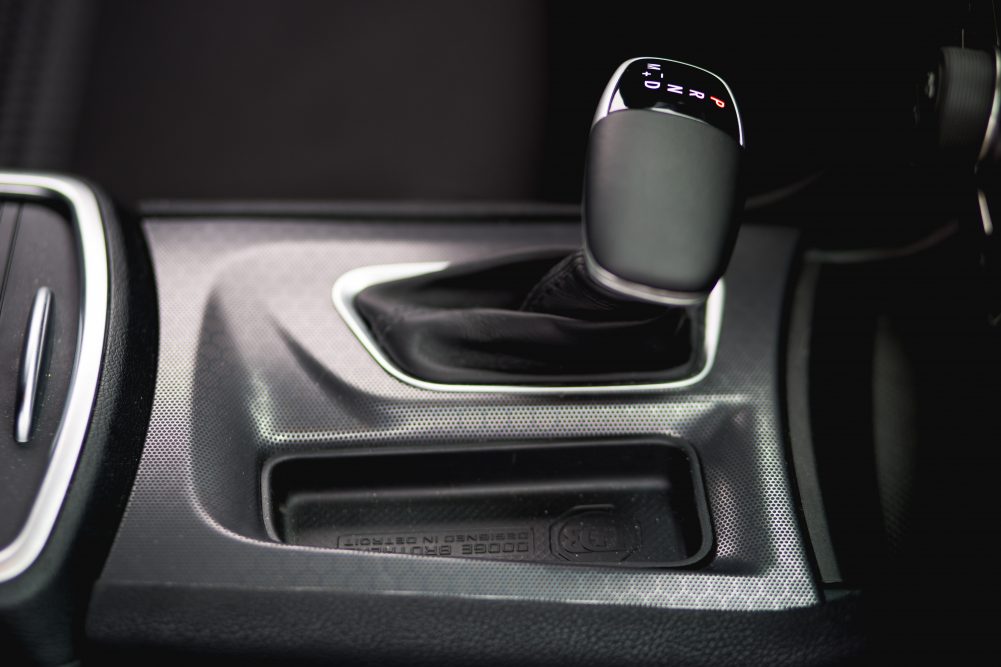 I know that when I reviewed the 300S, I had mentioned how I loved the transmission. The problem is, the more cars I drive, the more I realize how it's lagging behind several excellent offerings in the industry. To be fair, it's in the Charger/300S that it works best, meaning, it isn't all too bad. It's also a net improvement over the old five-speed.
At least the Charger gets an actual shifter, unlike the Chrysler which gets a ridiculous knob dial instead.
There's a Sport setting! With a manual mode too. But it's downright useless. It just makes the whole system become erratic and act up for no reason. Like the old American sedans, just leave your Charger in D, and gun the throttle. That's the best way to get her to boogey – or hunt down the bad guys. Hand on tight to the wheel while doing so, however, because the transmission might downshift an extra gear for no apparent reason, causing the engine to frantically hit the rev limiter.
A Dancing Yacht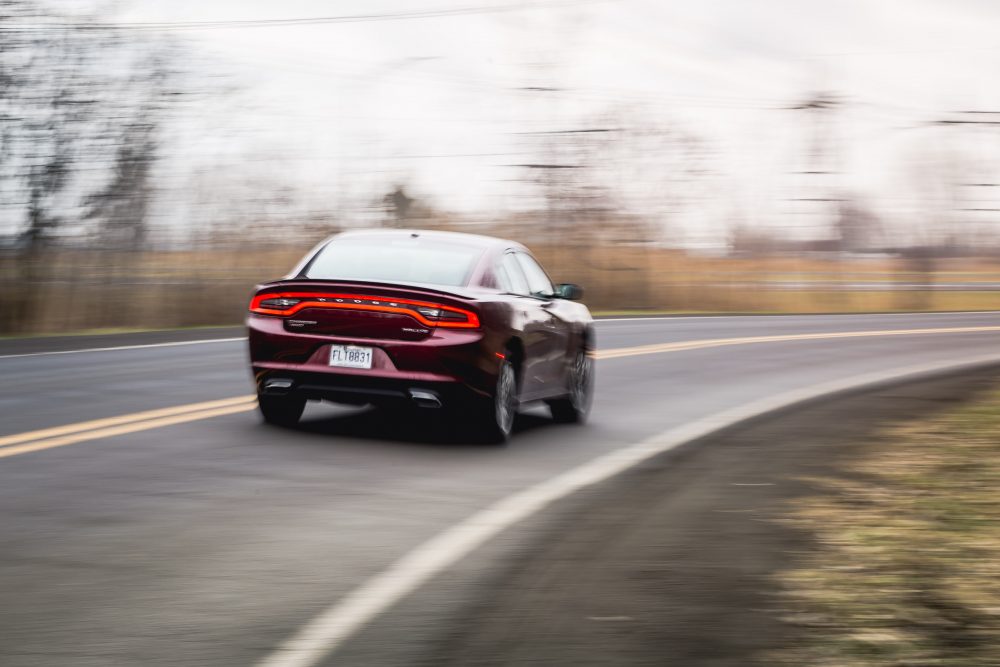 Weighing at just over two tons, the Charger isn't what you would call svelte. The overabundance of heft is, of course, instantly felt behind the wheel, as the Charger exhibits a fair amount of body roll in the bends. Body motions are very present. But FCA has actually done some clever stuff to that suspension and the Charger remains decisively sporty even if it's huge. This thing does handle surprisingly well, adding a fresh breath of agility to what would normally be a barge on wheels and making it rather fun to hustle around.
The electrically assisted power steering is also accurate and hefty, giving the driver plenty of confidence. You'll need to grab this old girl by the scruff of the neck, but she'll handle it. Just be ready to be thrown around.
Also, make sure you've got doggy bags lying in the car for your passengers while doing so.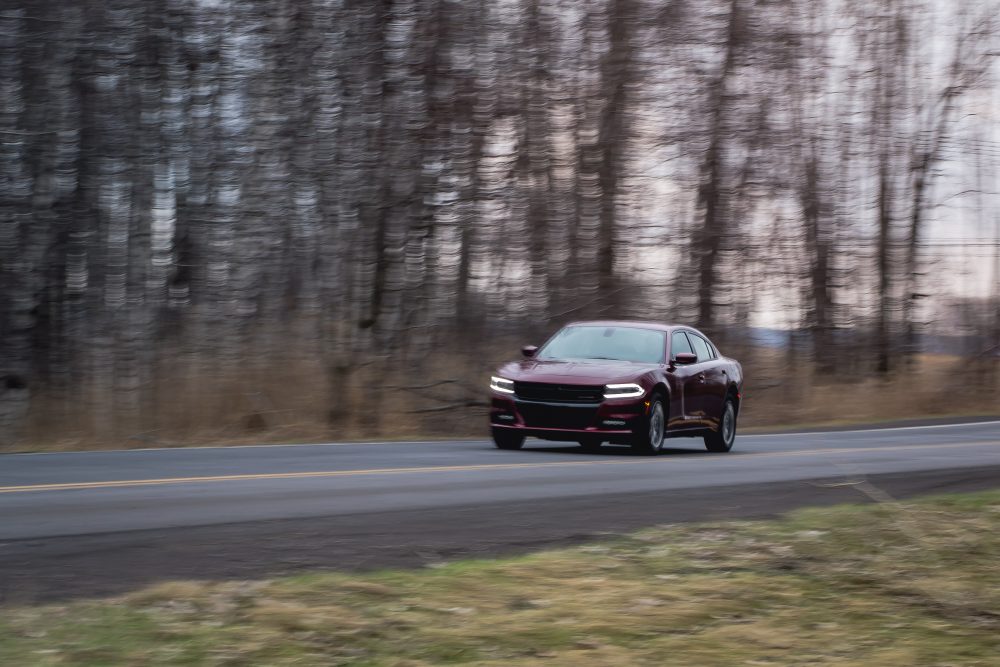 Inside, the Charger is far more spartan and utilitarian than the 300S, which was already dark enough. The Charger's dashboard is also rather bland and old. Forget refinement and fancy materials, this is all plastic and soft spongy stuff. But it's not terrible. Let's say it gets the job done.
FCA's UConnect infotainment interface remains a strongpoint. It's simple to use, well laid out and quick to react. Ergonomics are also straight forward in the Charger, with controls that are simple in operation and easy to find. Unfortunately, the Charger doesn't get the same set of madly comfortable seats as the 300S. At least my tester didn't. Instead, mine was fitted with horrendously hard benches. To make things even worse, the front passenger seat had an awkward bump in the centre which simply couldn't be removed.
Yeah, my passengers hated the car.
To get a Dodge Charger Rallye like the one you see here, you must opt for the $41,090, rear-wheel-drive, Charger SXT, which is the second trim in the Charger lineup (a base Charger starts at $37, 990). The Rallye package can be added to RWD or AWD Chargers. Adding an extra set of drive wheels to your American sedan will cost you an extra $2,000, however, but the Rallye package will cost you $200 less. What a deal!
Oh, and the Octane red paint job is a $50 option.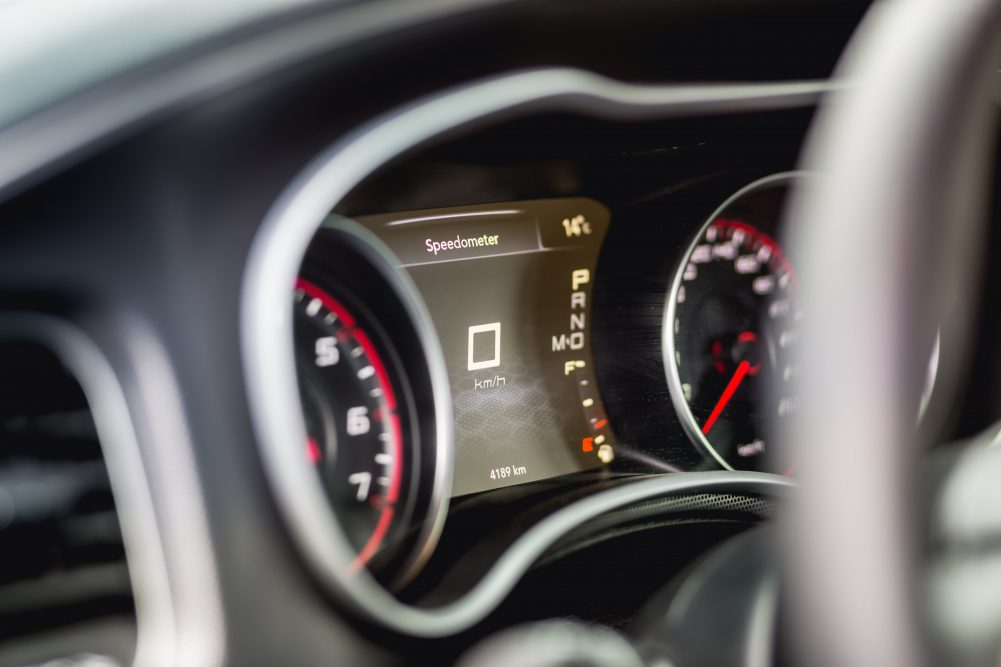 In total, a Charger Rallye, equipped like my tester, will set you back $44,735. That's not exactly cheap for an old brute that costs nothing to build for FCA anymore. It also puts it uncomfortably close to other full-size sedans such as the Nissan Maxima or even the Buick Lacrosse, cars that, although not being rear-wheel drive biased and as sports-car-oriented as the Charger, are newer out of the box and offer more refinement and technology.
Here's my final verdict: there's no denying the Dodge Charger remains an appealing vehicle, even if it's long due for an overhaul. And people really like this car in general; I got a lot of positive comments wherever I went.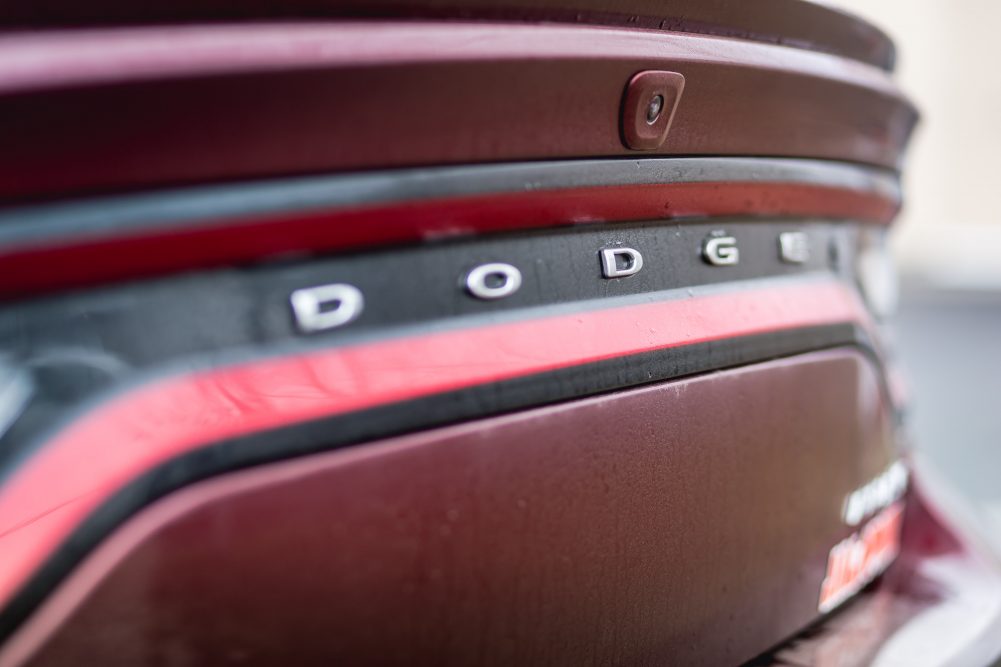 At the end of the day, this is a large four-door sedan that will offer more than ample rear leg room and cargo space for your family and your gear. There's no arguing how useful that can be. And even though it's heavier than a Boeing, it still manages to make you smile behind the wheel. It's just one of those big solid American cars that doesn't mind if you nail on it hard. You get the sense the thing will never die, and there lies most of its charm.

I see owning a Dodge Charger like owning a pet elephant. It's a handful alright. But you simply can't help but love it for what it is.
Clavey's Verdict
Review of the 2017 Dodge Charger Rallye by William Clavey
Full Size Sedans
Fantastic V6 engine.
Well packaged and priced.
Looks cool and fun to drive.
Unrefined and rough around the edges.
Frustrating transmission.
Not as comfortable as it could be.