The 2020 Dodge Challenger Scat Pack 392 is not a Hellcat, or even a Redeye, but it doesn't prevent if from still being super cool and badass. As a matter of fact, if you're looking for the sweet spot within the wide scope of available HEMI engines, the 392 is the one to get, as I explained a few years ago in this Jalopnik Review.
The Halloween Hooligan
I got to say, the timing with this 2020 Dodge Challenger painted in Sinamon Stick was spot on as I had it during the week prior to Halloween. The car contrasted absolutely wonderfully against the grim, dark and wet fall landscape, giving it a proper hooligan look and feel. This also meant that mastering the beast was a bit of a handful, but also fun.
That's precisely why the 392 is a great package as it gives you the right amount of power to have fun with it, but it's also quite easy to manage when it decides to act up. Because trust me, it will, especially on a wet surface. By the way, that number, 392, refers to the 6.4-liter V8 sitting underneath its hood. Contrary to the Hellcat which makes do with 6.2 liters and a supercharger, this gets increased displacement, which in turn gives it a throatier exhaust note.
Power is rated at very respectable 485 horsepower and 475 lb-ft of torque. Two transmissions are available, either a six-speed manual or an eight-speed ZF-sourced automatic like this tester. Rear-wheel drive is obviously the only way to go with this engine.
That big bowl you're seeing on top of the otherwise neatly packed HEMI V8 is part of the Shaker package; a $3,000 option that adds the Shaker cold air intake, which allows you to change the intake's configuration for improved breathing. It even comes with a screwdriver to help you change it on the fly.
It also pops out of the hood like an old muscle car, which is rad only if you're a boomer. I personally don't like that look, but taste is subjective. The Shaker package also includes 392 HEMI badging, a bee fender badge, a black rear spoiler, a SHAKER dash plaque, a gloss black instrument panel, white gauges and a Shaker underhood decal.
The Scat Pack 392 sits right smack in the middle of the Challenger lineup as number four of nine available trim levels. Pricing kicks off at $52,495 (before discounts). To nobody's surprise, my tester included a long list of options for a final sticker price of $64,065. But I'm told Dodge makes crazy deals on these things if you're a good haggler.
For Shits And Giggles
Obviously there's absolutely nothing new about this car. If anything, the more time passes, the more ridiculous these Mopars become, which is also why people love them so much. In a world where even the Mustang is turning into an electric car, there's something soothing and ironically refreshing about a V8-powered muscle car that doesn't give two shits about your environmental concerns. And you know what the best part is? Everyone, and I mean EVERYONE loved this car while I had it.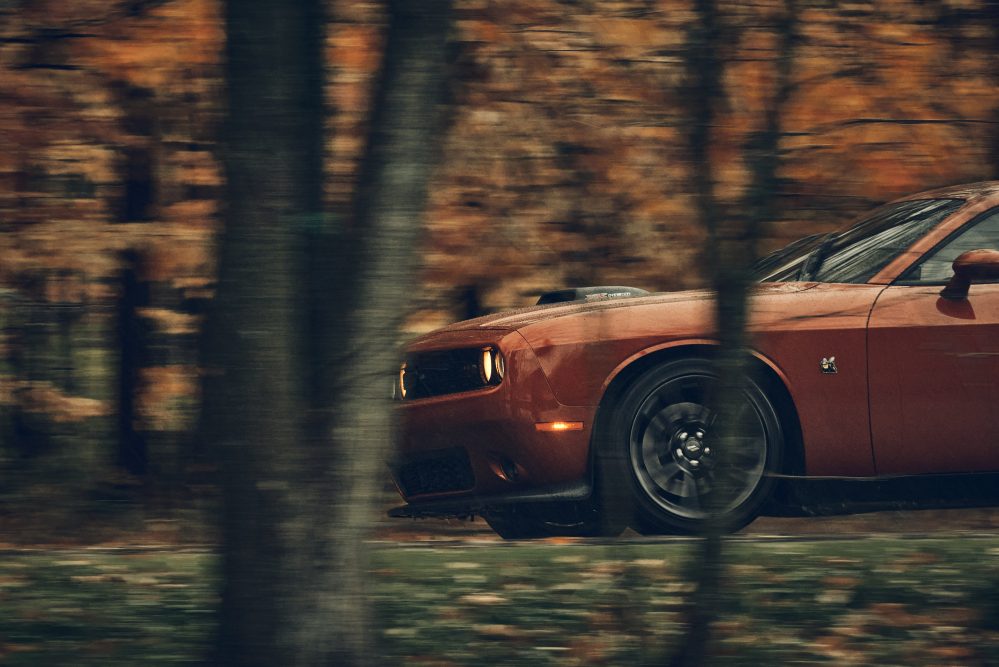 Because the 2020 Dodge Challenger is a throwback to a time that we no longer have the luxury to have, and while the Challenger hasn't exactly changed in almost a decade, it still pushes all the right buttons as far as making you feel good about driving. Dodge, please, keep milking this cow for as long as you can, because it feels fantastic to drive this thing after reviewing a bunch of egg-shaped appliances on wheels.
I'm also a huge fan of the 392 engine for the reasons explained above, yes, but also because of the way it sounds. Its naturally aspirated nature means you only hear exhaust and intake. Contrary to Hellcat's devilish supercharger wine, the 392's smooth rumble and raspy induction rasps lead to an entirely different character of its own.
But it's also respectfully quick off the line, never feeling overwhelming per se. Kick the Challenger's rear out, and you can gracefully bring it back into a straight line by correcting the steering and releasing the throttle. It's all very manageable, coming through as a big softy that doesn't try to kill you all the time like a Hellcat.
The ZF eight-speed remains effective, especially during spirited driving, as it slams in a lower gear with urgency while allowing you to blip them on your own via the steering-mounted paddle shifters. However, it remains a somewhat crude setup during casual driving where annoying thumps are felt and heard at times, especially when approaching an intersection at low speeds. There's just no refinement here.
But it does a good enough job of burying the HEMI's massive torque in upper gears during everyday driving, allowing the Challenger to be a rather fantastic daily driver. In case you're wondering, a Challenger 392 will pull around 11L/km when you're feathering the throttle. It's not good on gas. But who cares, man.
Big Old Brute
That, daily driving, the 2020 Dodge Challenger does it like a champ as its suspension is impeccably compliant over road imperfections. The car is large and wide, giving you a sense of security, while the cabin is spacious as hell, even for a coupe. That said, I'm not a fan of the Challenger's seats. They always feel too hard, with an awkward bump down the middle of the seatback that I couldn't seem to remove.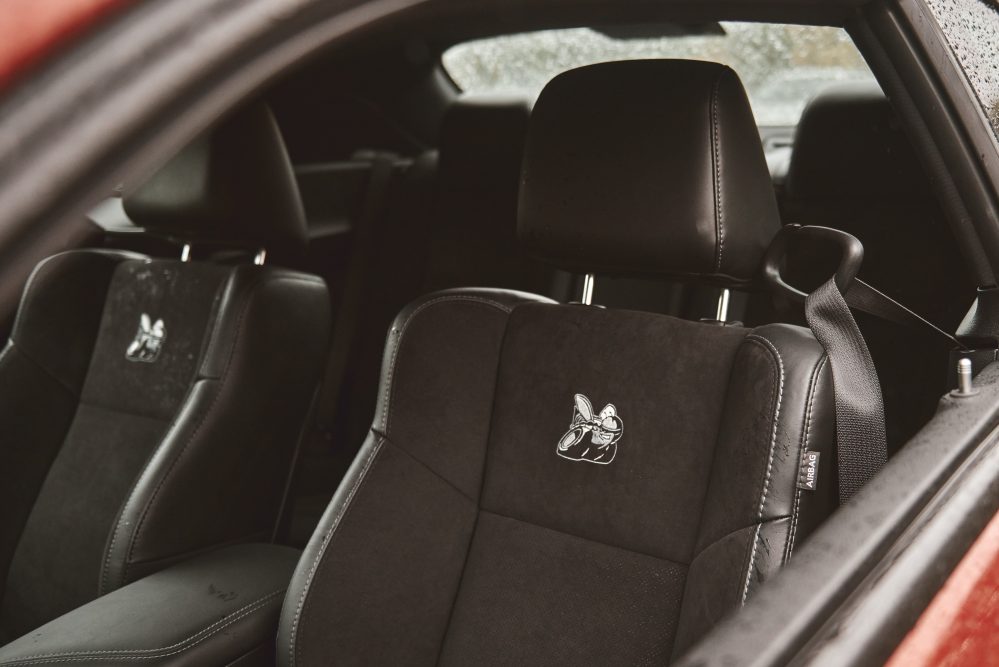 Handling is also only fine in a Challenger, and never great. The car feels heavy in the corners and the steering is vague at best. It's just never nimble nor precise, but it does provide enough grip to attack a corner quicker than most cars. Wait for the straights to arrive, though, and you'll have a blast just ripping through the gears as the exhaust  pipes spit out oh-so-wonderful HEMI soundtracks.
Meanwhile, the car's rental car interior continues to be a letdown, while overall build quality is only mediocre at best. I do however love this car's ergonomics, where everything is conveniently placed and easy to grasp. The analog gauges are totally old school, but the Challenger will still allow you to integrate a digital speedo in the center of the gauge pod for a bit of modernity.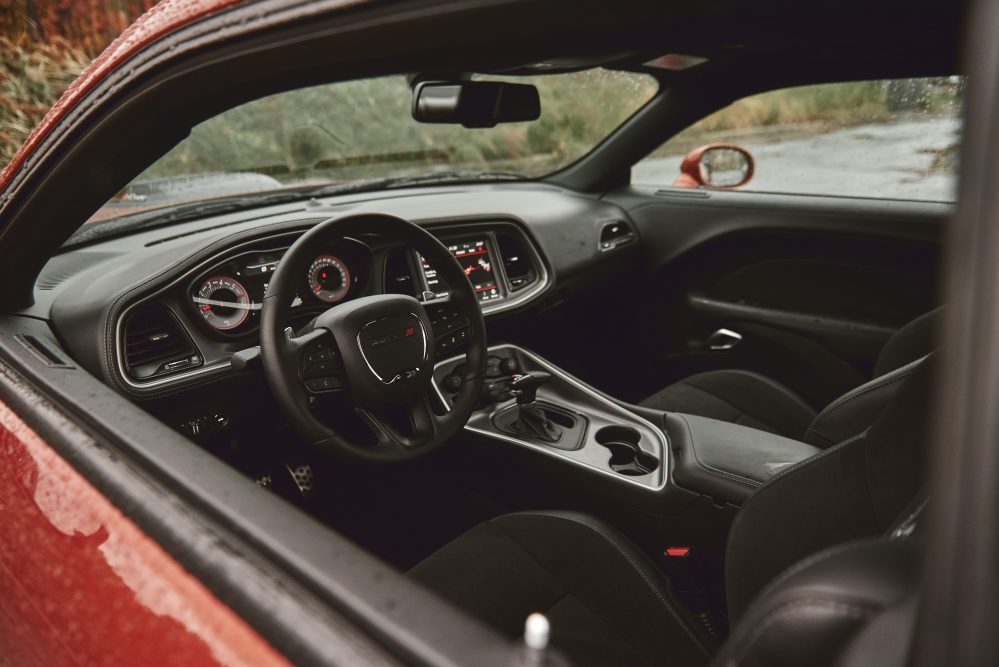 It's the same story for the UConnect infotainment system which remains a peach to operate due to its downright common sense and ease of operation. Although the interface itself is starting to show age, being a bit laggy compared to new setups, it still gets the job done supremely well.
The Performance Pages allow you to tailor the car's driving dynamics to your liking, while linking to Android Auto / Apple CarPlay is rather quick and easy. Touch controls respond fast enough and accessing climate controls is done effortlessly, even when the car has just been turned on.
So there you have it folks, that's my 2020 Dodge Challenger Scat Pack 392 review! Did you learn anything? Probably not! Should you care? Hell no! It's a fuckin Dodge with a HEMI engine, guys. What more do you want to know? It's just an honest to goodness cool car that sounds incredible and that's oozing with character. It's one the most adorable automobiles currently on sale, not because it's modern nor refined, but because it doesn't give a rat's ass. The end.
Clavey's Verdict
Review of the 2020 Dodge Challenger Scat Pack 392 by William Clavey
Muscle Cars
Distinctive HEMI soundtrack
Undeniable road presence
Fantastic daily diver
Rental car interior
Clumsy handling
Vague steering
Clavey's Corner is located in Montreal, Quebec, Canada. Prices and trim levels discussed in this article reflect the Canadian car market.
Special thanks: Dodge Canada
Photography: Guillaume Fournier
Contact the author: [email protected]