One of the key qualities of the 2020 Ford Mustang is that it comes in a wide range of available variants. And if you follow this blog, you'd know that every summer, I make sure to take a Mustang out for a spin. Last year, I was in a four-cylinder EcoBoost Mustang convertible, and a few months before that, I was enjoying the Mustang Bullitt, arguably my best variant of them all. I even drove the hell out of a Shelby GT350 on a track. That was fun too. What you need to know is that no matter which Mustang you buy, you won't regret it, as each model gives you a unique driving experience. This one, a GT convertible with the automatic transmission, makes you feel like summer, all the time.
Already Done?
I'm well aware that as I'm writing this, summer 2020 is slowly coming to an end. But while the COVID-19 pandemic had us all down on our knees, I gotta say, I didn't miss out on driving some stellar automobiles this year. I'm actually lagging behind on my content. I drove this 2020 Ford Mustang GT convertible a month ago, right in the heat of summer. And it felt fantastic.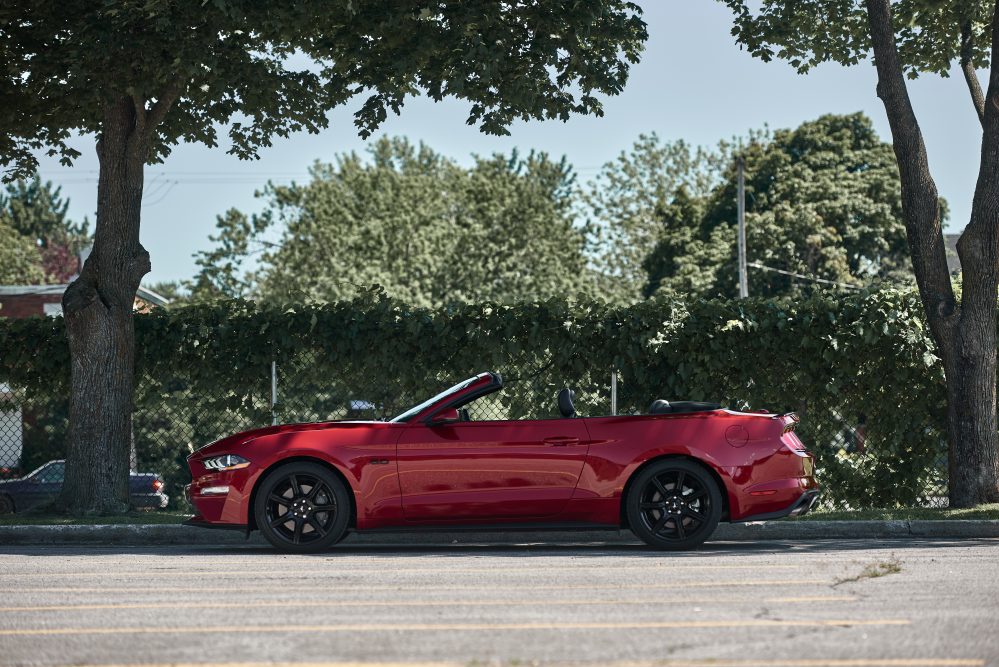 I've pretty much said everything there is to say about the Ford Mustang GT, and you guys know what to expect from one. But I never wrote an entire column on a GT spec'd out with a rag top and the ten-speed automatic gearbox. It's not the package I personally prefer, as it has too much of a baby-boomer vibe to it. But it's still a charming one.
Not much changes for the 2020 Ford Mustang GT this year, as most Mustang updates have been applied to the EcoBoost variant, notably the addition of the new High-Performance package. The Mach 1 is also set to return next year, but the GT carries over relatively unchanged except for new colors like Iconic Silver, Twister Orange, Grabber Lime and Rapid Red paint you see here.
This also means that the drivetrain doesn't change, which is fine, because it's downright perfect. The naturally aspirated, 5.0-liter DOHC V8 engine now pumps out a healthy 460 horsepower and 420 lb-ft of torque, and allows this automatic Mustang to launch out of the hole to 100 km/h about four seconds flat; quick by any standard.
Obviously I'd tell you to bolt that engine onto the available Getrag-supplied six-speed manual gearbox. But the automatic, a $1,750 option, ain't all that bad. It was co-developed with General Motors and has been fitted to virtually everything, from pickup trucks to SUVs and even sport sedans. Also makes this a quicker pony than the stick shift car. Final price for the soft-top Ford you see here was $56,002 due to a few optional packages.
The Good Sound
I say the 2020 Ford Mustang GT convertible always feels like summer because there's something magical about driving an American sports car with the top down while basking in the soothing bellow of a naturally aspirated V8. Ford's Coyote engine is still up there among one of the best sounding engines currently on sale. I love it.
Plus, my tester was equipped with the optional Active Valve Performance Exhaust, a $1,000 option that's worth every penny, as it not only gives the V8 a properly loud snarl, but also allows you to modulate that sound via different exhaust modes.
For instance, Quiet mode is ideal for when you're driving out of your neighborhood in the morning, while Track mode ensures the wilderness hears you coming down the road as you canyon-carve your pony car. Equipped with the optional GT Performance package, my 2020 Ford Mustang was just as agile as the coupe on which it's based, even with the absence of a roof.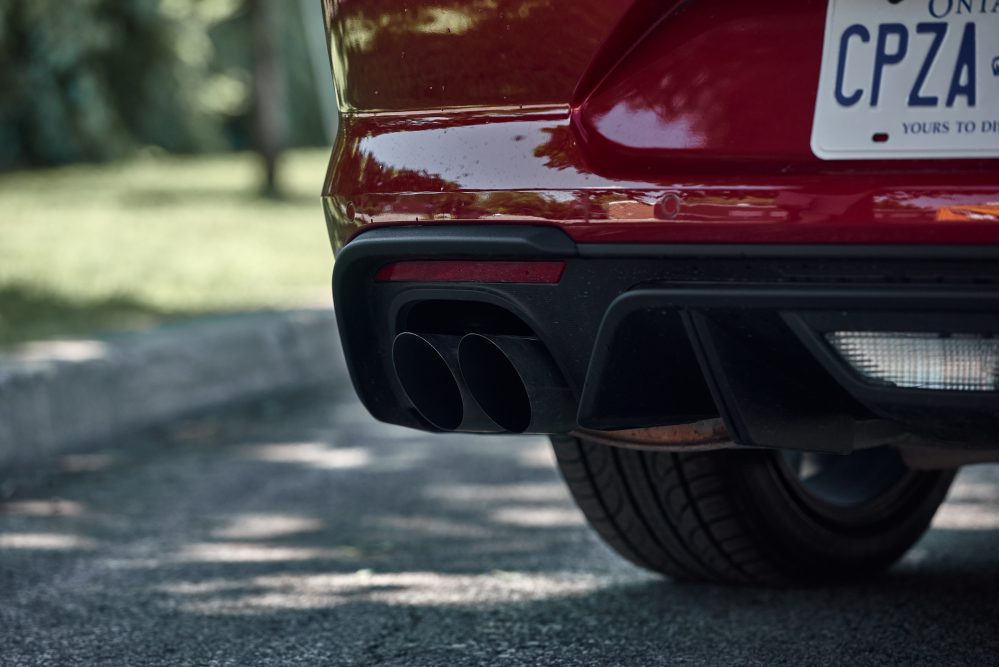 The package, a $4,200 add-on, piles on a slew of performance-enhancing equipment that add precision to an already great-handling car. The package brings things like black 19-inch wheels (but my tester had another wheel package), Brembo six-piston front brake calipers with larger rotors, revised springs, a larger rear sway bar, a K-brace for increased chassis rigidity, a larger radiator and a Torsen rear differential with a 3.55 axle ratio.
I tell you, ever since the Mustang has been equipped with an independent rear suspension, it has definitely stepped up its game in the handling department. Add to that an available adaptive Magnaride suspension, and this 'Stang will have no difficulty hanging with high-end German sports cars on a twisty road. As a matter of fact, I have often compared the current Mustang's driver involvement and out of corner grip to a BMW M4. That's how good this thing is.
To nobody's surprise, the V8 engine provides power all the time, but it feels most at home in the upper rev range, where the sound becomes downright addictive. That said, I do still have trouble getting my head around the ten-speed automatic gearbox. It's not that it prevents you from having fun with the car. As a matter of fact, it provides its driver with even more freedom and flexibility, as one can set up for highway cruising, or set it to manual mode for hardcore track attack. It's just never as engaging as the manual.
But I do love how the digital gauge cluster changes according to your drive modes. Track mode is the coolest one as it gives you a horizontal RPM gauge like the good-old days, and the paddle shifters are handy to quickly grab the next gear when things are running full boil. The Mustang's interior remains a comfortable and attractive place to be, with performance-oriented ergonomics, a retro-inspired design and pleasant throwback design cues. However, some cheap interior plastics don't belong in a car costing over 50 grand.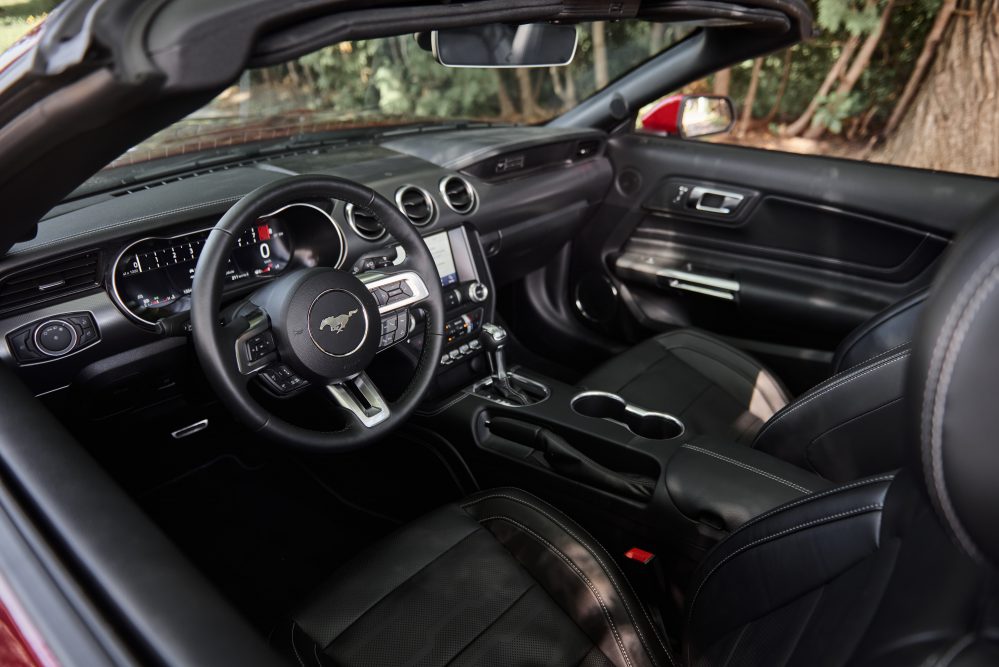 But back to that transmission. My issue with it is that it has just too many gears, and it's always hunting for the ideal one. Mind you, it's a quick-reacting unit that always seems to know what cog to give you for the intended purpose, but the V8 simply sounds like it's moaning it fluctuates from gear to gear during casual driving.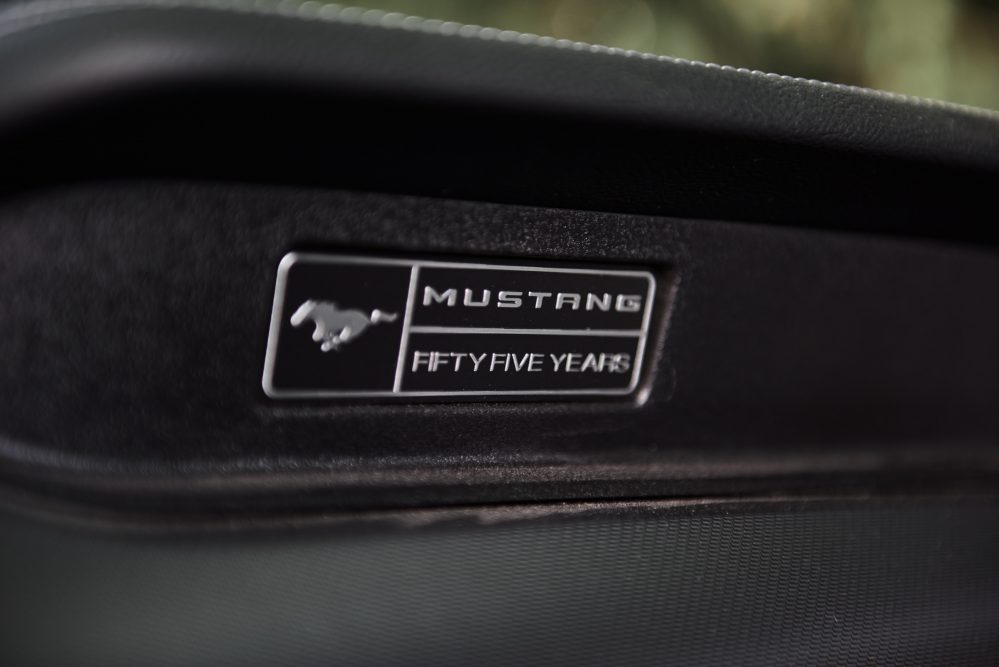 There's a reason supercars like the
But you know what? Even if the 2020 Ford Mustang's automatic transmission isn't as lightning quick as what a BMW or a Mercedes-AMG will offer, the overall package is still fun as hell, proving once more that all possible trim levels and variants of this thing make it a great sports car.
Driving this Mustang, wind in my hair – or what's left of it -, rumbling V8 engine underneath my ass, rear-end pleasingly drifting sideways under hard throttle applications, once again slapped a big fat smile on my face. Each time I drive a Mustang I feel young, wild and free. There are very little automobiles that still provide this kind of experience, which is why the Mustang will always be one of the greats.
Clavey's Verdict
Review of the 2020 Ford Mustang GT Convertible by William Clavey
Sports Cars
Always engaging to drive
Fantastic engine
Still a great performance bargain
Optional packages can quickly inflate price
Ten-speed automatic transmission hunts for gears
Some flimsy cabin materials
Clavey's Corner is located in Montreal, Quebec, Canada. Prices and trim levels discussed in this article reflect the Canadian car market.
Special thanks: Ford Canada
Photography: Guillaume Fournier
Contact the author: [email protected]