Driving the 2020 Ram 1500 Rebel EcoDiesel made me realize that I don't review enough trucks on here. With the COVID-19 situation, I tend to have a bit more time on my hands. Also, trucks are rather essential right now. If there's a vehicle that holds a chance of surviving this pandemic better than the next, it's a truck due to its unquestionable practicality.
This is why I'll be reviewing some trucks during the coming weeks, beginning with this one, the Ram Rebel EcoDiesel, or what I consider to be the perfect truck package at the moment. Here's why.
That "Wow" Factor
Allow me to tell you a little story. When RAM was developing its current-generation 1500 truck, General Motors was also preparing new versions of its Silverado and Sierra brothers.  I don't have official numbers on this, but rumor has it that GM was so confident in its mass-selling rigs, that it invested almost twice the amount of resources as FCA.
Yet, when both trucks hit the market, Ram walked away with the coveted North American Truck of the Year award, leaving General Motors in the dust. And as I write this, I should have attended the world unveiling of an entirely new 2021 Ford F-150, but because of the Coronavirus outbreak, the event has been cancelled and postponed to next year. So don't expect an all-new Ford to arrive anytime soon.
This means that, until further notice, the 2020 RAM 1500 is still the undisputed king of full-size trucks. What's its secret? While it's just as capable as its rivals, the Ram rides smoother, has a better-appointed interior and comes in a wide variety of flavors that do a lot to distinguish themselves from one another. It also has that attractive "wow" factor I quite like. The truck you see here is the sweet spot of that effect.
The Rebel, which sits between a Sport and a Laramie within the Ram hierarchy, is a light off-road package. See it as the Power Wagon's baby brother; a good competitor to a GMC Sierra AT4 or a Toyota Tundra TRD Pro, but not as extreme as a Ford F-150 Raptor. It distinguishes itself visually thanks to a vented, power-domed hood, blackened fender flares, the now iconic Rebel grille design, model-specific 18-inch aluminum wheels and 33-inch-diameter all-terrain tires.
All Rebels come fitted with a set of upgraded Bilstein dampers with external reservoirs at the rear. There's a one-inch suspension lift, a hill-descent control system, an electronically controlled locking rear differential, as well as skid plates to protect the front suspension components, steering gear and transfer case. It's a serious package.
For the 2020 model year, the Rebel can be had in either Quad Cab (as tested) or Crew Cab configurations, with box lengths ranging between 5.7 and 6.4 feet.
Then there's the EcoDiesel V6. The latest trend in full-size trucks is turbodiesel powerplants, something Ford and GM also currently offer. Originally, the idea behind these engines is to offer 1500 buyers workhorse capability comparable to the heavy-duty rigs, but in a smaller, more affordable package.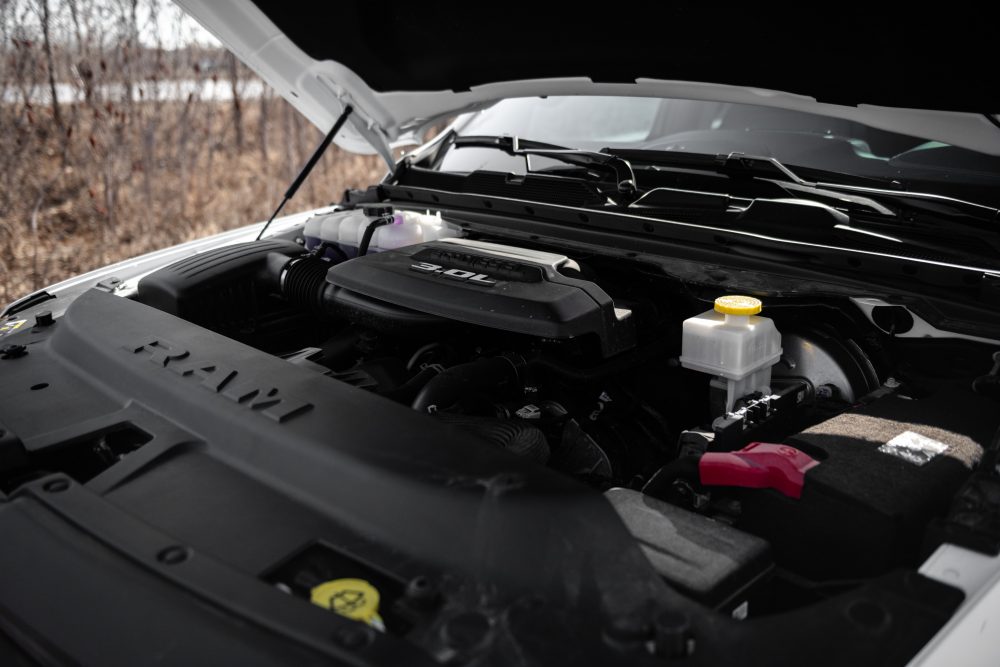 In that respect, the Ram's all-new turbodiesel 3.0-liter V6 has all the right ingredients. Horsepower is rated at 260, with torque at a diesel-appropriate 480 lb-ft. Max towing is also the highest in its class at 12,560-pounds (5,697 kg), besting both the Ford F-150 Powerstroke (11,500 lb / 5,216 kg) and the Chevrolet Silverado 1500 Duramax (9,300 lb / 4218 kg).
Base price for the Ram 1500 Rebel is $60,345 before applicable rebates. You need to add an extra $3,900 for that diesel engine. Of course, the truck I was driving was fitted with a long list of optional packages, as well as the "love it or hate it" multi-function tailgate. Final price for the truck you see here is $78,740.
That Ride And Interior
The new Ram 1500 really shines tall against its rivals for two important reasons: the way it rides and the quality of its interior. This truck is butter-smooth on uneven roads, and while, yes, it rides on an actual frame – the way god intended trucks to be configured – it never actually feels like it. There's a surprising amount of composure from the coil-spring suspension, handling, while nowhere near a sports car, is actually sporty and nimble-ish, and the cabin itself is vault-like quiet.
Speaking of cabins, this is hands down where the Ram pulverizes its rivals. Overall design is modern, attractive and rich-looking, with impeccable build quality (I never thought I'd one day write this about an FCA product). There's just an upscale, expensive feel to everything in there.
I'm a personal fan of the ginormous 12-inch touch screen that houses the always-pleasant Uconnect infotainment interface, but I did find this version to be a tad more complicated due to its touch-heavy controls. Large rotary dials for volume and radio station seeking are appreciated, all while looking like a million bucks. And the subtle REBEL interior design cues like the seats and gauge cluster give this truck a unique and pleasing demeanor.
Power from the turbodiesel V6 is ample, with a lofty dose of low-end torque – expected from this kind of engine -, but it's never as urgent or rev-happy as GM's straight six. It's also a little loud on idle versus the competition, and frankly a tad course in the way it delivers its power.
That said, I have absolutely nothing to say about the eight-speed automatic gearbox. It's well calibrated for the engine's narrow torque band, shifts smoothly and even allows you to configure the maximum of gears for optimal towing or off-roading performance.
This is also a very fuel-efficient truck. I easily managed to pull a low 10L/100 km consumption average, often dropping down below 9.5L/100 km during prolonged highway driving. These are comparable numbers as a compact crossover, by the way.
Think Twice Before Buying
So, the 2020 Ram 1500 Rebel EcoDiesel is off-road capable, tows more than its rivals, has a nicer interior than a BMW and doesn't burn more fuel than a midsize sedan. It has all the ingredients of a perfect truck then, right?
It does. But there's a catch to its value proposition. First off, Ram trucks don't have the best reliability record out there. Compared to Ford and especially GM, Rams tend to break more often and cost more to fix, so consider that before buying.
Then, there's the diesel engine's relevance in this class. Yes, it's more frugal than its gasoline counterpart, but the engine does cost almost four grand more than a V8 to option. Other important fact: diesel fuel is significantly more expensive than gasoline here in North America, and maintenance fees, especially related to oil and additive changes, are considerably higher for a diesel engine.
Consider this truck then only if you're an entrepreneur who can use your business to swallow up these fees. If that's not your case, I recommend sticking to the good-old 5.7L HEMI V8, a fantastic engine nevertheless. As for the 2020 Ram 1500 itself, it's a fantastic full-size truck that offers a lot for the price, by far the leader in its class for many things, but I'd highly suggest you get rid of it once the warranty is over.
Clavey's Verdict
Review of the 2020 Ram 1500 Rebel EcoDiesel by William Clavey
Full-size Trucks
Best ride and interior in its class
Best towing rating in its class
Solid fuel economy
More expensive than gasoline V8
Higher maintenance and refueling costs than a V8
Reliability issues
Clavey's Corner is located in Montreal, Quebec, Canada. Prices and trim levels discussed in this article reflect the Canadian car market.
Special thanks: Ram Canada
Photography: Guillaume Fournier
Contact the author: [email protected]