The sport utility vehicle segment is so crowded that consumers almost get dizzy trying to decide which one to look at. All carmakers now offer some sort of lifted all-wheel drive appliance, and the 7-passenger segment is one of the hottest ones at the moment, rapidly filling up our automotive landscape as the quintessential family shuttle. I don't even know how to call these things anymore – what's the difference between an SUV and a crossover again?
I like to compare this segment to dating. Here's why: shopping for a crossover in 2017 seems to be a necessity that requires shuffling through a variety of different profiles, each offering something unique in their own right, while all seemingly being a carbon copy of one another. With so many fish in the sea, it has become excessively difficult to get noticed in this age of Tinder, Snapchat, and the Donald.
Which brings me to the 2017 GMC Acadia: a 7-seater full-sizer that manages to stand out from the crowd not by the quality of its selfies or originality of its tagline, but by focusing on what it was designed to be: an honest-to-goodness, well put together, family-oriented sport utility vehicle.
Losing Weight is Always a Good Thing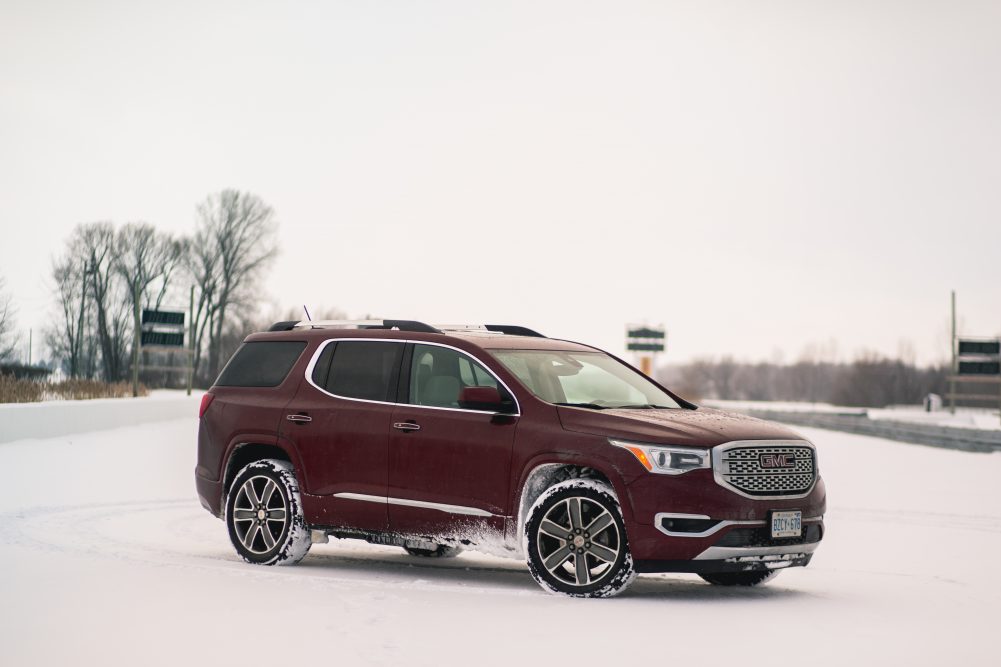 You may find that this new GMC Acadia feels smaller than the one it replaces. And you'd be right. Usually when a carmaker updates a popular model, it typically applies the bloat treatment, where the vehicle suddenly gains several pounds, all while growing significantly in width, height, and length.
Not for this crossover.
Actually, GM realized that although its versatile but ageing Lambda platform was ideal for underpinning a variety of different vehicles throughout its respective brands – which include the GMC Acadia, Buick Enclave, Chevrolet Traverse, and the now-discontinued Saturn Outlook, it made the vehicles uncomfortably close to full-size SUVs such as the GMC Yukon or Ford Expedition. This is why for 2017, the Acadia now rides on the Cadillac XT5 platform and has been put on a serious diet to be more in tune with its full-array of 7-row competitors, notably the Toyota Highlander and Nissan Pathfinder, which tend to lean more towards large station-wagons than actual trucks.
Physical changes are considerable for this second generation Acadia. The wheelbase has been shortened by 162 mm, overall length by 183 mm, and the entire vehicle is now 89 mm narrower. Curb weight also drops significantly by 317 kg. Wait, so this is a crossover that's actually smaller and lighter than the one it replaces? How cool is that?
The end result is a much tidier package, which, thanks to a thorough redesign, complete with squared off fenders, comes through as a rather rugged, yet elegant looking utility vehicle. Add to that the optional Denali package, such as the one my tester had, and the Acadia almost feels like it belongs in the luxury 7-passenger segment next to the Acura MDX, its Cadillac cousin, or the Volvo XC90. What's more, coming out of the Yukon and walking into this svelte crossover felt more like stepping inside a lifted wagon, a very refreshing impression in this age of overabundance.
Will Pull a Car Out of a Ditch
We had the Acadia during the same time we were shooting the Lexus IS 200T for Jalopnik, you know, the one that's sideways in the snow on Sanair's snow circuit? I'm not going to go out and brag about this too loud, but the Lexus ended up pinned in a ditch from overdoing one of the corners. No harm was done to the car, it was only driving about 10 km/h when it happened, with the impact absorbed by a hefty snowbank. But that meant our rear-wheel-drive sports sedan couldn't get out of there using its own power. Thankfully, we had a 7-passenger, AWD utility vehicle sitting around to come to its rescue: the 2017 GMC Acadia. And it was the ideal opportunity to test out its claimed towing capacity of 4000 lb (down from 5200 lb).
And, as expected, the Acadia pulled that Lexus out of the hole with very little drama. But what impressed me the most was how it crawled its way forward in almost one full foot of snow all while having a compact luxury sedan tied to its underpinnings.
That's because the Acadia is fitted with a rather innovative all-wheel drive system that uses an active dual-clutch layout, which distributes power to the rear wheel with the most grip. This was originally designed to give the Acadia improved off-road capabilities over its competitors and enhance its hill climbing potential. In this situation, it proved to be just as competent, where the Acadia barely hesitated before finding the required traction to pull our Lexus out of trouble. That, and the fact that this GMC came with a convenient tow assist feature. Of course, the 3.6L V6 helped a lot (a 193 hp 2.5L 4 cylinder comes standard). With 310 hp and 271 lb-ft of torque on tap, it never ran out of puff, whether it was during hard winter labour or cruising around on the highway, power was abundant the entire time. And the Acadia's reduced weight is immediately noticeable when smashing its accelerator; it gets off the line with little hesitation. 0-100 km/h, according to GM, is 6.8 seconds. Not bad for a 7-passenger mall finder.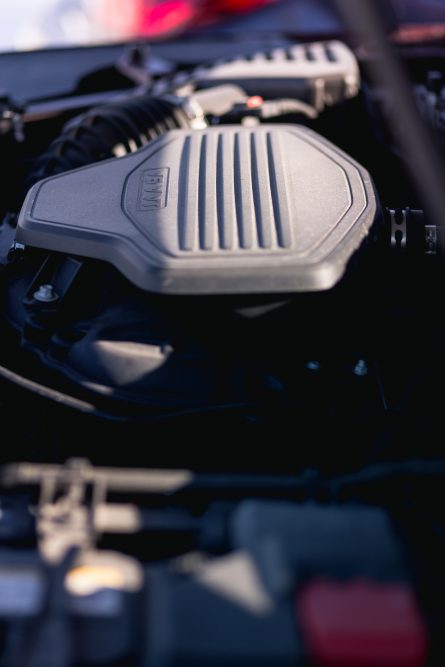 The great thing here is that the Acadia's AWD system can be fully disengaged to default back to front-wheel drive, adding the feeling of lightness when putting it through its paces – and causing an overabundance of torque steer under hard acceleration.
Everything can be controlled from a rotary dial located on the centre console, which also alters the Acadia's steering effort, throttle response, and transmission shift points depending on each drive mode. And that V6, man does it pull strong. It delivers solid mid-range punch all while emitting a satisfying intake bark – the trademark of a naturally aspirated V6. That power is sent to the front or four wheels via a 6-speed automatic, which, as with all GM transmissions of late, operates smoothly all while helping this big guy achieve equally impressive fuel economy numbers in the low 10s. But alas, it's best to let the transmission do the shifting for you, because manual mode is laggy, slow, and downright useless.
On the road, the Acadia is quiet, smooth, and supremely comfortable. The feeling of driving a lifted station wagon is further emphasized by a low cowl, with excellent visibility all around. Body motions are kept at a minimum and the chassis is stiff, but like most GM products, the suspension leans more towards smoothness rather than sportiness. The electrically assisted steering feels light and precise, something usually not typical of large crossovers.
Overall, the Acadia's road manners are satisfactory, without going overboard. I was expecting an unrefined, rental-car grade people hauler. But like the Malibu and Cruze I reviewed not too long ago, this Acadia shined through as an impeccably well-balanced vehicle on and off the road.
Unexciting, but There's a Lot to Like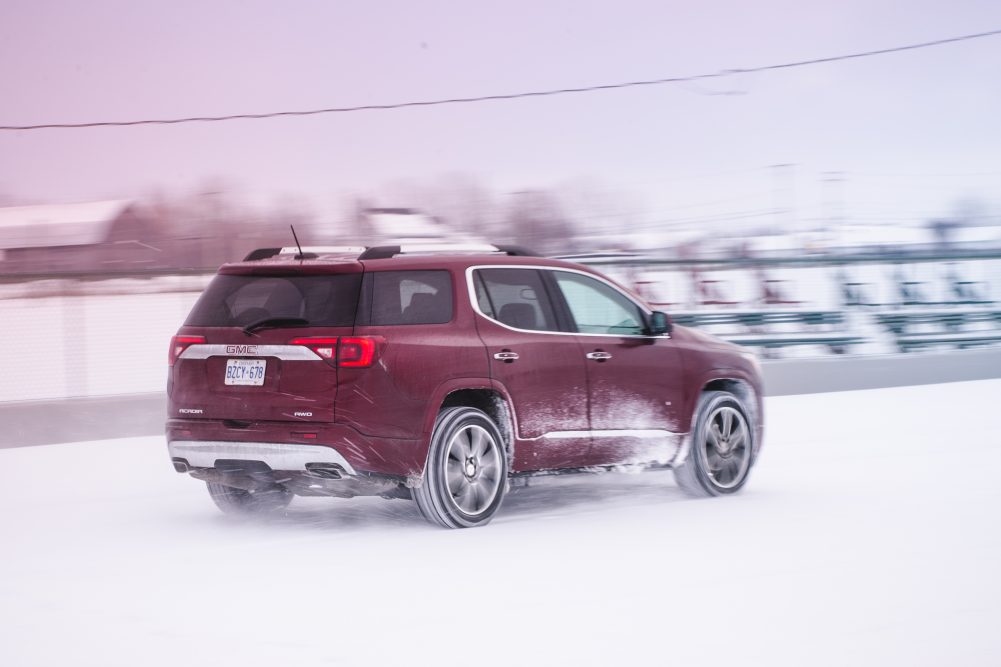 Step inside the 2017 GMC Acadia and its interior is equally impressive. My tester, being the Denali model, came with elegant and insanely comfortable tan leather seats. Seating position is excellent, with an overabundance of different settings. It's a well put together cabin, with brown leather on the dashboard and steering wheel, soft plastics, and the presence of fake wood trim here in there to give the Acadia an upscale look. It's pleasing in there, nothing ultra exciting, but good enough to go: "Wow, I'd actually buy one of these."
General Motors' infotainment system remains a no-brainer in the industry. I've said it before and I'll say it again, the Japanese, especially Honda and Toyota, need to take notice, because Detroit presently sells the most intuitive, quickest, and easiest to understand interface. The Acadia also offers all the latest in smartphone connectivity features such as Android Auto, and Apple Carplay. It also features cool tech such as integrated WiFi and a rear seat reminder system in case you forgot you had a toddler or dog sitting back there. Yes, that's actually a thing. I'm also a fan of the Acadia's stubby physical knobs for the HVAC and audio controls, since they can be easily manipulated wearing a pair of thick gloves.
As with other GM products, the Acadia's ergonomics are questionable. There's just no consistency from one model to another in GM's lineup of cars and trucks, where simple controls such as the engine start button, headlights, and wipers are never at the same location, and often located at odd areas in the car, requiring a learning curve each time I sit in one of their vehicles.
The Acadia's shrunken dimensions also mean it loses in rear seat room and cargo space. Where the last generation model could seat 8, for 2017, human-capacity is down to 7. It's comfortable back there though, especially in the first row of captain chairs. The rear three-seat bench is easily accessible, but I'd recommend it only for children since leg room is somewhat comprised.
Total cargo space with all seats folded down in the Acadia is rated at 2237 litres, just a tad under the Toyota Highlander and Nissan Pathfinder. Lift those seats back up, and the trunk gives way to 362 litres of space, 28 litres less than the Toyota, and considerably less than the Honda Pilot's class-leading 467 litres.
Prices for a 2017 GMC Acadia start at $37 047 for an entry-level front-wheel drive SLE-1 model. This is right smack in the same ballpark as the Highlander, but a good $5000 more expensive than an entry-level Pathfinder. All-wheel drive Acadia models start at $40 045, a smidge cheaper than the Toyota. The Denali trim you see here, which comes with almost Cadillac levels of luxury thanks to its abundance of chrome, leather interior, fake wood trim, all the latest safety tech such as adaptive cruise control and a collision mitigation system, sells for $56 845, making the Acadia's top trim level considerably more expensive than its main Japanese rival. As luxurious as this GMC attempts to be, however, I can't seem to be able to justify the price premium over the Toyota which felt equally luxurious and serene in SE trim.
The final verdict for the 2017 GMC Acadia is that General Motors sells a very competent 7-passenger crossover that's good enough to trade punches with the best Japan has to offer. There's a lot to like here, and I'd recommend trying one out while shopping for your next school-run mobile. Downsizing the Acadia hasn't only given it much more livable dimensions for the everyday world, but has also given it a dynamic prowess that isn't negligible. It also boasts some rather impressive off-road credentials – just in case your other press car ends up stuck in a snow bank. Like today's dating apps, it's easy to get lost in the sea of available candidates in the large crossover segment. But sometimes, it's the profile that tries the least to attract your attention that ends up having enough substance for you to fall in love with it.
Clavey's Verdict
Review of the 2017 GMC Acadia Denali by William Clavey 
+
+ Impressive all-wheel drive system.
+ Well put together and pleasing interior.
+ Ample power from V6 engine.
–
– Questionable interior ergonomics.
– Rear bench rather cramped for the segment.
– Cargo space significantly lower than main rivals.
---
Clavey's Corner is located in Montreal, Quebec, Canada. Prices and trim levels discussed in this article reflect the Canadian car market.
Special thanks: GM Canada
Photography: Appearance
Join the Tribe
Contact the author: [email protected]