The 2021 GMC Yukon marks the first major overhaul for GM's fullsize family of SUVs in six years, but also the first time the GMC variant is more interesting than its mechanical twin, the 2021 Chevrolet Tahoe. GM Canada actually had me test drive both versions in pre-production form, but the Yukon is by far my favorite of the duo. Allow me to explain why.
Modern Big Boy
The full-size body on frame SUV segment may appear useless at first sight, but these things actually fill very specific needs. And GM has been killing it with its four offerings – the Chevrolet Tahoe, Chevy Suburban, GMC Yukon and Cadillac Escalade -, dishing out well over 200,000 units a year in the US and Canada alone. As a matter of fact, combined, GM's large SUVs are currently the most sold fullsizers in the world.
It's therefore no surprise to see the General overhaul the entire family. After all, something needs to pay for GM's electric future, and after pickup trucks, fullsize SUVs are its second most lucrative segment. The 2021 GMC Yukon therefore rides on an all-new platform, essentially GM's T1 body on frame architecture; the same one that also underpins the GMC Sierra I drove last spring. The benefits of this new platform are numerous, as it allows GM to fit the trucks with both an independent rear suspension, like the – ahem – Ford Expedition, as well as GM's Air Ride and MagneRide adjustable suspension systems.
And like its predecessor, the 2021 GMC Yukon comes in a wide range of trims and available engines, which are essentially carried over from last year, but with improved efficiency by way of variable cylinder deactivation. Base trucks are powered by a 5.3-liter V8 good for 355 horsepower and 383 lb-ft of torque, while the second engine option is the much more interesting 6.2-liter V8 that develops 420 horsepower and 460 lb-ft of torque.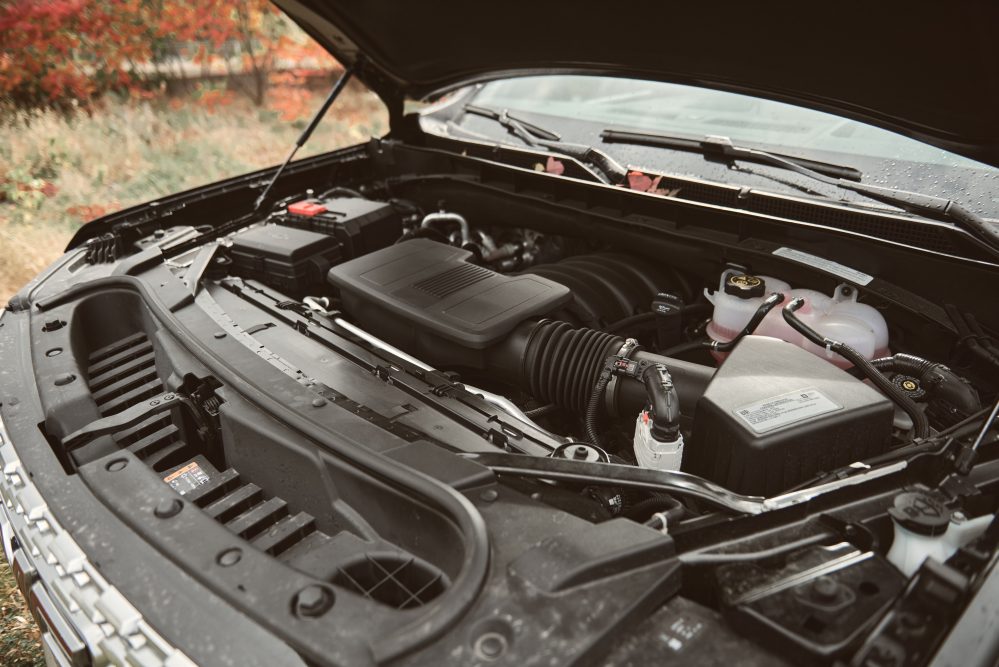 A turbodiesel straight six Duramax is also scheduled early next year, promising 277 horsepower and 460 lb-ft of torque. All engines are mated to GM's new ten-speed automatic gearbox, while two-wheel drive is standard on base trucks. All-wheel drive is optional on some models, standard on others.
Max towing ranges between 7,400 and 8,400 pounds depending on trims and drivetrain. There's both a "standard" Yukon and a long wheelbase Yukon XL, with prices ranging between $57,998 and $82,798 for a top-shelf Denali XL. The truck you see here is a standard Denali with max towing rated at 8,000 pounds when conveniently equipped. It stickers for $79,798.
Ridin' Smooth
It was interesting to drive the 2021 GMC Yukon immediately after the Tahoe because I was able to sample both available V8 engines, but also notice how much better the GMC is. What I'm going to say is that both engines get the job done, but the 5.3 feels dated, because it is, but also a tad underpowered for this behemoth. You really want to opt for the 6.2 for its smoothness of operation, immediate low-end torque and impressive frugality. Yes, frugality.
While it's not exactly comparable to a Highlander hybrid, the 6.2-liter engine, when paired with the ten-speed automatic gearbox, will pull a steady 11L/100 km if you're careful. Meanwhile, I could barely keep the Tahoe's 5.3 under 13L/100 km.
But the most impressive standout feature really is how this thing drives. While it still isn't as buttoned down as a unibody setup, this body on frame rig rides a lot smoother than anything else in its class. Unwanted body motions and oscillations are now almost non-existent. There's a general sense of smoothness and refinement in the way this Yukon drives that's pleasing and relaxing.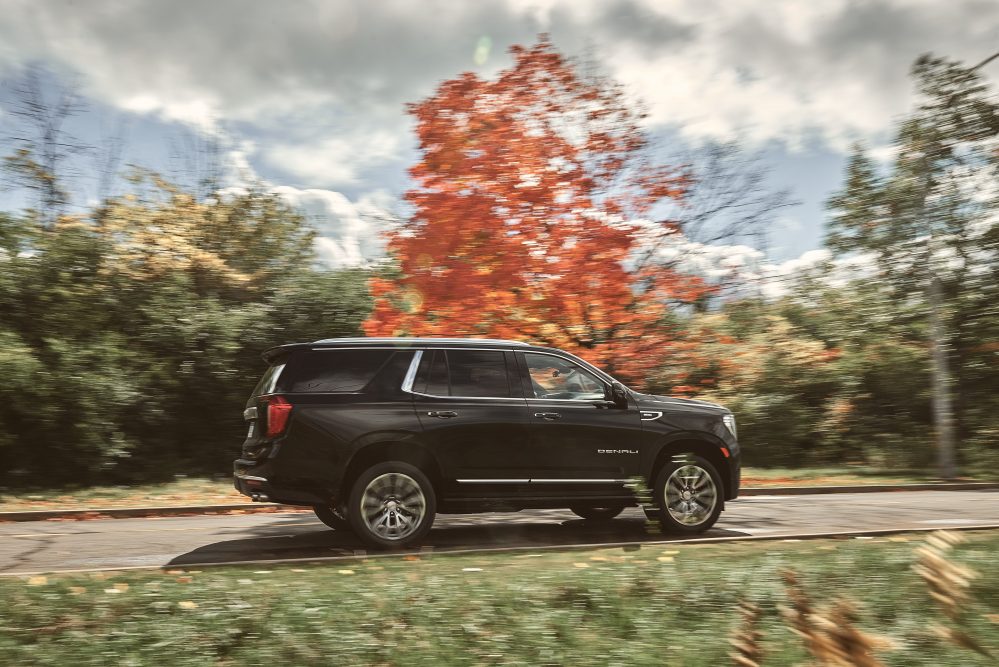 GM's Magnetic Ride Control takes care of soaking up road imperfections as the truck takes them on, while the Air Ride system constantly adjusts the truck's ride height according to different drive modes and conditions. But it quickly gets annoying, especially when parked; the truck constantly levels itself. Where's the off button?
But set the 2021 GMC Yukon in 4×4 Low, and it'll raise its suspension to a downright big-foot height, yielding up to 2 inches of additional suspension travel. Turn another knob, and the system slams the Yukon down to a sleek rap music video stance.
On the road, the Yukon not only exhibits near luxury grade road manners, it's also surprisingly quick off the line. Slam the accelerator pedal and the transmission quickly locks onto the ideal gear, allowing this big block to sing glorious Detroit muscle melodies while allowing itself to rev to its 5,800 rpm redline. It'll never win lap times at your local autocross event, but this Yukon feels well-planted and rock solid, exhibiting impeccable road manners at all times. It never feels large nor clumsy like its predecessors, but rather light and energetic.
It's Basically A House On Wheels
Inside, the Yukon steps the game up the way no other fullsize SUV has done so far, all while offering significantly more substance than its Chevrolet twin. The immediate observation is the dashboard layout which presents itself through a cleaner more upscale design than in the Tahoe.
For instance, the 10.2-inch infotainment screen – which, in typical GM fashion, sets the benchmark for user ergonomics and available technology – is embedded directly within the dashboard instead of protruding from it. The entire presentation is downright better executed in the GMC, with good quality materials and impeccable fit and finish. The Denali trim adds classy wood trim and thick leather seats. It's all rather inviting and refreshing.
GM also utilizes this new platform to incorporate ingenious storage solutions as well, like the removal of the transmission stalk to free up the steering column, or the enormous center console that moves rearward electronically, revealing additional storage areas underneath. The center console hosts a second, smaller, but just as useful storage space, including cup holders and a wireless induction charge tray.
Out the rear, the smart use of interior dimensions continues with a vast second row and easily accessible third row which, according to GM, gives way to 10 inches of additional leg room and up to 66% more total cargo space. I sat back there, and it's impressive, comfortable even. I typically never find third rows comfortable.
As for cargo, the 2021 GMC Yukon will engulf up to 3,480 liters of your gear once all its seats are folded flat, which also eats up its main Ford rival (2,961 liters). Two screens are imbedded directly to the rear of the front seats, allowing both streaming and hardware connectivity, all while controlling some of the infotainment's main features. It's even possible to set a GPS destination from back there.
That said, I do find it lame that there's no more integrated Blu-ray player. You'll either need to connect your own, or stream your content, and that could be costly.
If you're wondering why GMC still offers both a body on frame and a unibody fullsize SUV like the Acadia,  it's simply because it wants to fulfill two different segments. Remember, the Yukon is basically a pickup truck with an SUV body bolted onto it, which means it's the ideal vehicle for a large family who also needs to tow. In a world of reduced emissions, these utilitarian vehicles are a bit of anomaly, but they remain useful and highly attractive. With its latest trio of heavily updated rigs, General Motors is set to once again dominate the fullsize SUV segment.
Clavey's Verdict
Review of the 2021 GMC Yukon Denali by William Clavey
Fullsize SUVs
Smooth ride
Spacious third row
Highest cargo space in its class
Where's the diesel engine?
Air Ride suspension never knows what it wants
Not cheap
Clavey's Corner is located in Montreal, Quebec, Canada. Prices and trim levels discussed in this article reflect the Canadian car market.
Special thanks: GMC Canada
Photography: Guillaume Fournier
Contact the author: [email protected]