The 2021 Honda Civic Type R is on its final stretch. That's right, this is the last production year for Honda's big-winged hot hatchback. A new Civic is scheduled to hit our roads in a few weeks, but we'll have to wait another year until we see the next-generation Type R be added to the lineup. You guys already know what I think about this car. I reviewed it many times and I loved it at each occasion. But that doesn't mean I'm not interested in driving it one last time. After all, the car was submitted to an important facelift last year, so why not give it another shot?
A Bit Less Ugly
In all my Civic Type R reviews (there are three in all), I have called it ugly and said that its styling won't age well. And I still stand by that claim. I will however admit that last year's facelift, along with this Polished Metal paint job (which was new in Canada last year), does a good job of making it appear a bit prettier.
But just a bit, because there's still too much going on here. I also still find the Type R looks really weird from the side profile. It's just too long and too high, so the wheels appear to be lost in the enormous wheel wells. There's also a weird cut-out where the rear door meets the fender flare, and from some angles, it looks like the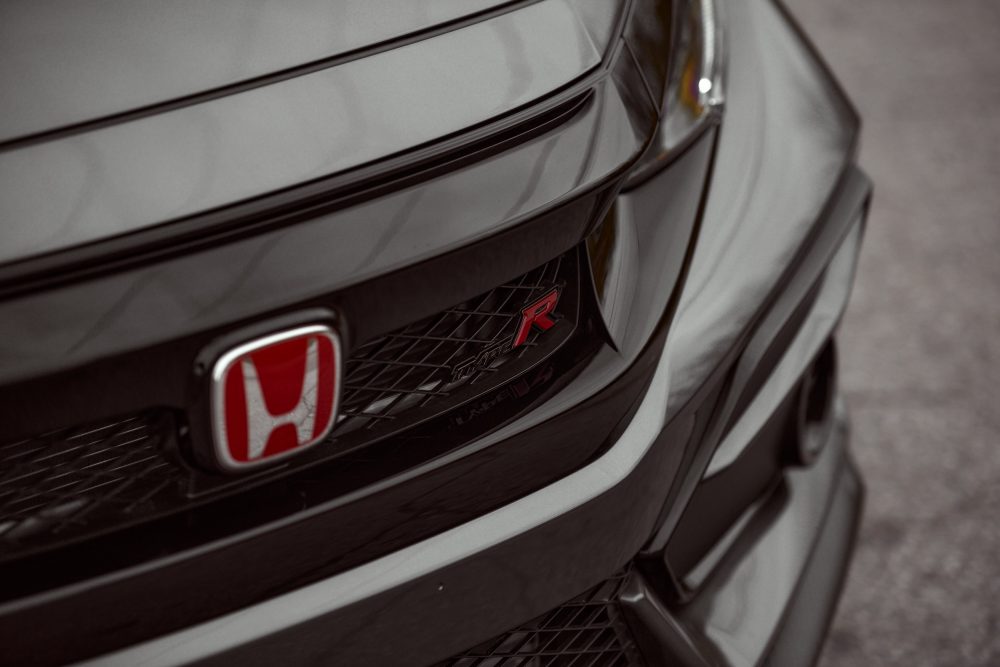 That being said, Honda did clean up the car's front fascia by removing most of the fake air intakes. There's also a larger opening at the bottom in front of the intercooler for better breathing. Honda also added splitters over the fake vents front and back (which are now plastic caps) to break them up a bit. It's much better.
Anyway, what you really need to know is that Honda applied changes where it counts. It's geeky stuff, like a slimmer, short gear lever for quicker throws. But when combined, the improvements allow the Type R to be an even more effective performance tool.
There are new brake rotors and pads to reduce fade at the limit. The front suspension was also retuned for improved steering feel, and the engine's cooling was reworked to better withstand track abuse. Honda even threw a new steering wheel in the mix wrapped in suede, as well as pumped in digital audio. But I'll get back to that one.
As for the rest, the 2021 Honda Civic Type R is unchanged, and that's fine, because it was already a masterpiece of engineering in its own right. While the busy styling may not be for everyone, there's actual aerodynamic and downforce wizardry happening around its body to keep it firmly planted to the road at high speeds.
Power comes from a a turbocharged, direct-injected 2.0-liter inline four good for 306 horsepower and 295 lb-ft of torque. All of it is sent directly to the front wheels via a mechanical limited slip differential, and operated with a six-speed manual transmission. Honda also threw a shitload of trick technology on the car's front axle to limit torque steer. And it actually works.
At this point in the review I'd be talking about the $48,015 price tag, but it's irrelevant now, because the Civic Type R is sold out in Canada. You'll have to wait until the next-generation model hits showrooms to buy one new.
The Road Warrior
Obviously what you want to do when there's a Civic Type R parked in your driveway is hit the road and attack a winding piece of tarmac. That's exactly what I did with this bad boy.
Every. Single. Evening.
Seriously folks, this is a machine that commands to be driven, and as far as driver involvement goes, the Type R is up there with things like a BMW M2 Competition and a Porsche Cayman GT4. It's one of the best driver's cars money can buy.
The Type R's engine is relentless. It's a tower of power and torque that serves you massive amounts of it on a golden platter and at any gear or RPM. There's a bit of turbo lag, but since this employs VTEC valve timing technology, the engine gives itself the power it needs before the turbo spools up. And when boost finally kicks in, the Type R just goes berzerk. It also likes to rev, like the fun old naturally aspirated Hondas of yore, but I do wish it sounded a littler meaner. That pumped in audio also doesn't help, it just sounds like a buzzy electronic noise resonating through the cabin. And it can't be turned off.
What's ironic about this is that I was among the original journalists who said that I'd prefer pumped in audio over the lame organic sounds the Type R's drivetrain generates. But not this Honda. This is not what I had in mind. Why not just do like Hyundai with the Veloster N? That thing sounds mean as hell.
Anyway, the Type R is fast, but not from a standstill, because it needs to find grip to get up and go. It also doesn't have all-wheel drive or a fancy launch control system, so trying to impress your friends at the dragstrip with it won't get you anywhere. This thing is best appreciated in the twisties. The level of grip it generates in the corners is astonishing, and I've never drove a front-wheel drive vehicle that tucks in its nose when applying throttle in a corner. Saying this car is fun and highly addictive to drive is an understatement. You'll be out of fuel way before wanting to stop.
What I also discovered throughout the four reviews that I've written for the Civic Type R is how tame and docile it becomes during daily driving. The more high-performance German machines I drive for my job – including my own MINI Cooper and BMW E39 5-Series – the more I realize how well sorted out the Type R's suspension is for beaten roads.
Honda gives you three preselected drive modes which adjust the adaptive dampers accordingly. R+ is basically a touring car for the road, while Sport is kind of useless as it doesn't change much, Comfort mode, however, is superb as it grants any other Honda Civic compliance. Meanwhile, the racing sports bucket seats offer more support and comfort than a BMW. Oh, and did I mention how perfect that gear lever feels when you snap it from one gear to the next? This is arguably the best manual gearbox ever built.
And then there's the enormous rear seat and massive cargo hold that'll swallow a mountain bike in one bite. The Type R is a race car for the road alright, but one that wears its Civic suit in absolute humbleness.
On that note, I'd like to finish this review by saying that Honda nailed it with the 2021 Honda Civic Type R, especially from a driving and technical standpoint, but it missed out on styling and the car's rambunctiousness. What I want to see from the next-generation Type R is the same great drivetrain and brilliant driving dynamics, but enveloped in a cleaner, more attractive body with a properly loud exhaust note.
Clavey's Verdict
Review of the 2021 Honda Civic Type R by William Clavey
Hot Hatchbacks
Brilliant chassis
Fantastic power delivery
Comfortable, spacious and easy to live with
Still looks like a cartoon
Buzzy pumped in audio
Needs a fully customizable drive mode
Clavey's Corner is located in Montreal, Quebec, Canada. Prices and trim levels discussed in this article reflect the Canadian car market.
Special thanks: Honda Canada
Photography: Guillaume Fournier
Contact the author: [email protected]