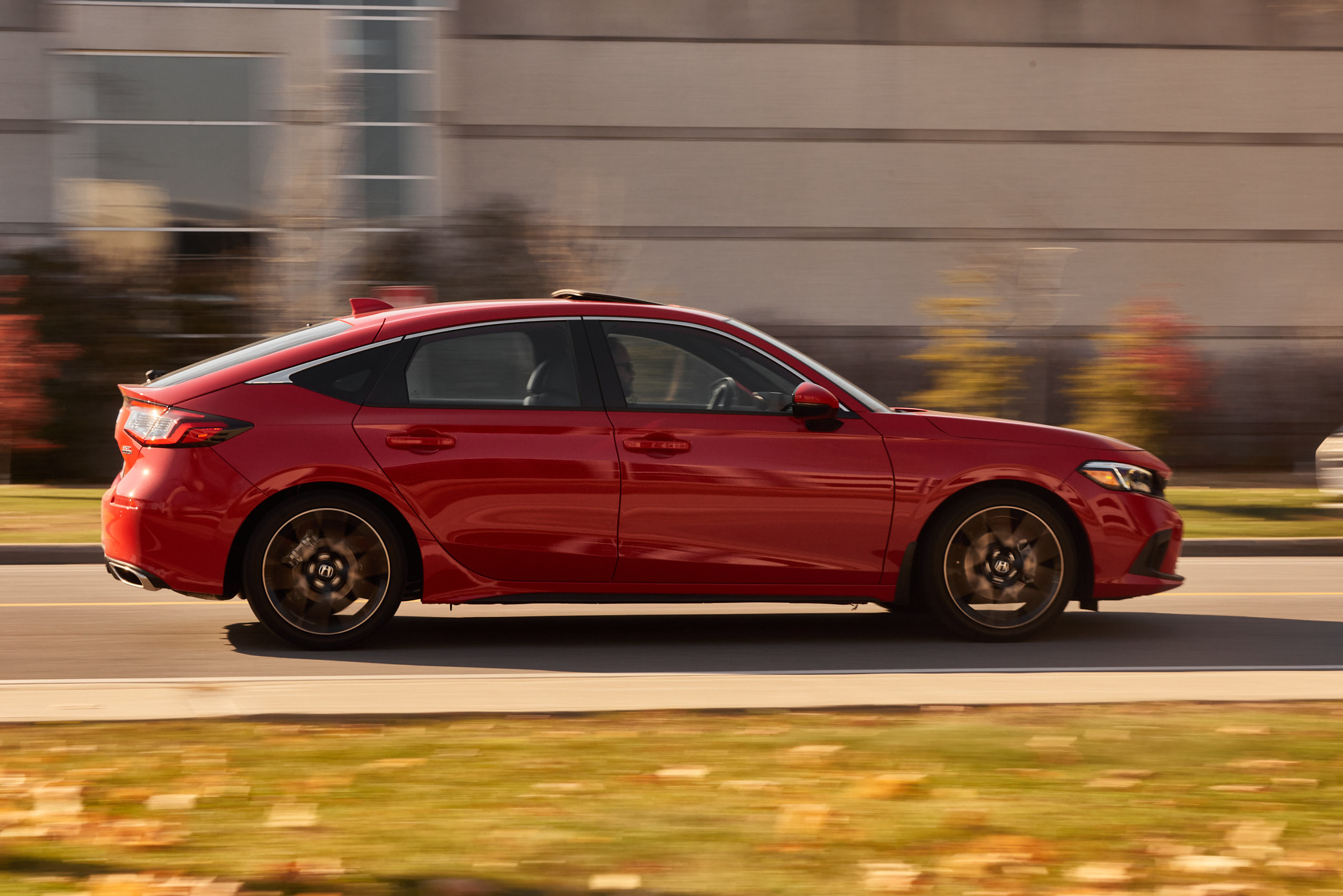 The 2022 Honda Civic is a fine compact car, but the sedan no longer comes with a manual transmission option. That's sort of a bummer for enthusiasts like you and me. Sure, the Si and Type R still only come with a stick, but now that the coupe Sport is gone, what other affordable alternative is there to the mundane Civic sedan? This new hatchback with a stick seems to fit the bill. It's really good.
Looking A Lot Cleaner
The 2022 model year marks the arrival of an all-new 11th-generation Civic. The first thing I have to say about it is thank god Honda took care of its design, because the last car is not ageing well. The sedan looks good, but it's a little too bland for my tastes. The hatchback, however, hits the nail right on the head. I like how clean and grown up everything looks now. This almost looks European.
But this Civic is enormous. It's longer and wider than the car it replaces, to the point where it could very well be sold under the Accord nameplate. That's sadly where the Civic hatchback looks a little goofy. From the side, it appears to be too long, looking like some sort of disproportionate wagon. It almost feels like the rear end was chopped off.
Now that the coupe is behind us, Honda wants to market the hatchback as the sportiest Civic of the lineup. See it as some sort of sweet spot between the lukewarm CVT-only sedan, and the 200-horsepower stick shift Si. The hatch comes with the same engine choices as before: base models are powered by Honda's tried and proven naturally aspirated 2.0-liter four-cylinder. It's good for 158 horsepower and 138 lb-ft of torque.
My Civic had the available turbocharged 1.5 liter which cranks out a much more engaging 180 horsepower and 177 lb-ft, but on 87-octane gas now. Both engines and all trim levels can be mated to a continuously variable transmission or, in this case, a six-speed manual. And there's no extra cost for the stick.
Pricing for a 2022 Honda Civic hatch starts at $28,000. The car tops off at $35,000 for a Sport Touring like the one you see here. There aren't really any options, except for my tester's $300 Rally Red paint job.
Feels Light And Urgent
Although the new Civic is a much larger and heavier car than its predecessors, the feeling behind the wheel is actually quite the opposite. It feels light on its feet, agile and fun to drive actually. Obviously, the manual transmission helps improve these qualities. Honda is well known for manufacturing brilliant manual gearboxes, and this one is no exception. Throws are short, cog engagement is precise and the clutch is light. This all makes you want to keep rowing it for days on end.
The turbocharged 1.5-liter engine is also a peach. It was fantastic in the last Civic, and it's just as good here, even if there's a lot of synthesized pumped in audio going on. While low on displacement, this tiny engine churns out a healthy dose of low-end twist, with max torque kicking in at just 1,700 rpm. Yet, it also loves to be thrashed up in the revs. Max horsepower is generated at 6,000 rpm, so it does need to be revved to generate power. That's because it now employs VTEC on the exhaust valves, just like the Type R.
Honda also applied several changes to the car's suspension in order to improve its road-hugging abilities. For instance, while this is the same platform as before, it's stiffer both torsionally and in bending response. There are new suspension bushings as well.
This all comes into play when you throw the 2022 Honda Civic hatch hard into a corner. It's well planted, with quick turn in, and a mature, buttoned down feel. The steering itself is light, but there's no feedback from it whatsoever. And there is some rev hang. But this is a sporty hatch nevertheless. It's fun and engaging at the limit to the point where you'll want to repeatedly beat the snot out of it for shits and giggles.
While the new Civic may not have changed much from a technical standpoint, its interior is a much more upscale affair than before. Just like the exterior design, Honda designers decided to clean everything up in order to create an uncluttered, open feel. There's fantastic visibility thanks to a low, forward-slopping hood, as well as thin A pillars.
There's a pleasant mesh grille design that spans the dashboard from left to right, although I'm not sure it'll be easy to clean. Build quality is excellent and overall ergonomics are spot on. There are easy to comprehend menus from the fully digital readouts, and an infotainment interface that's now mostly operated via large physical buttons and big bright icons. Honda learned a valuable lesson from the last Civic's awful touch-operated controls. Although I would have appreciated two rotary knobs like in the Accord. That said, the system did connect quickly to my Android without requiring a cable.
My only gripe with the new Civic's front passenger area, is the removal of the witty lower storage area to stow you phone. Honda also removed the old Civic's massive center storage compartment, which is sorta weird, because that thing was perfect for throwing a whole bunch of junk. Storage is therefore not as generous in this new generation Civic.
Just like its predecessor, this new hatch has a massive rear seat with more than ample leg and head clearance, even for tall passengers. Cargo space also remains among the best in this class at 679 liters when the seatbacks are in place. Although for some unknown reason, that cargo space is 29 liters lower than in the old car.
There will probably never be another Civic Si hatchback, but at least the normal one is one heck of a fun car. The 2022 Honda Civic hatch finally gets rid of its spaceship looks and comes through as a mature, well engineered and engaging compact car. If this sets the table for the next-generation Type R, consider me impressed. It's safe to say Honda still understands what enthusiasts look for in a car.
Clavey's Verdict
Review of the 2022 Honda Civic Hatchback by William Clavey
Compact Cars
Engaging drivetrain
Well sorted out chassis
Hatchback practicality
Less storage than previous model
Less cargo space than previous model
Rev hang punishes spirited driving
Clavey's Corner is located in Montreal, Quebec, Canada. Prices and trim levels discussed in this article reflect the Canadian car market.
Special thanks: Honda Canada
Contact the author: [email protected]