As you all know, I'm a huge fan of the 2021 Land Rover Defender. When I drove it last winter, I was not only in love with its "toy truck" looks. but I was also impressed by how smooth it is on the road, and how capable it is in a beaten path. I even compared the damn thing to my shoe during a YouTube video. But as much as I loved that green 110 model with its four doors and enormous roof rack, there was still something missing. It wasn't a 90.
Two Doors And Properly Brown
The Defender 90 is Land Rover's way of calling it a two-door model. At this point, you may be wondering why I prefer the less practical one. You see, two-door off-roaders, weather they be a Ford Bronco or a Jeep Wrangler, are not only considerably more attractive than their four-door counterparts, they're also better at doing off-roading things. Why? Because shorter wheelbase, which makes them more agile in the rough stuff, but also less weight to carry around.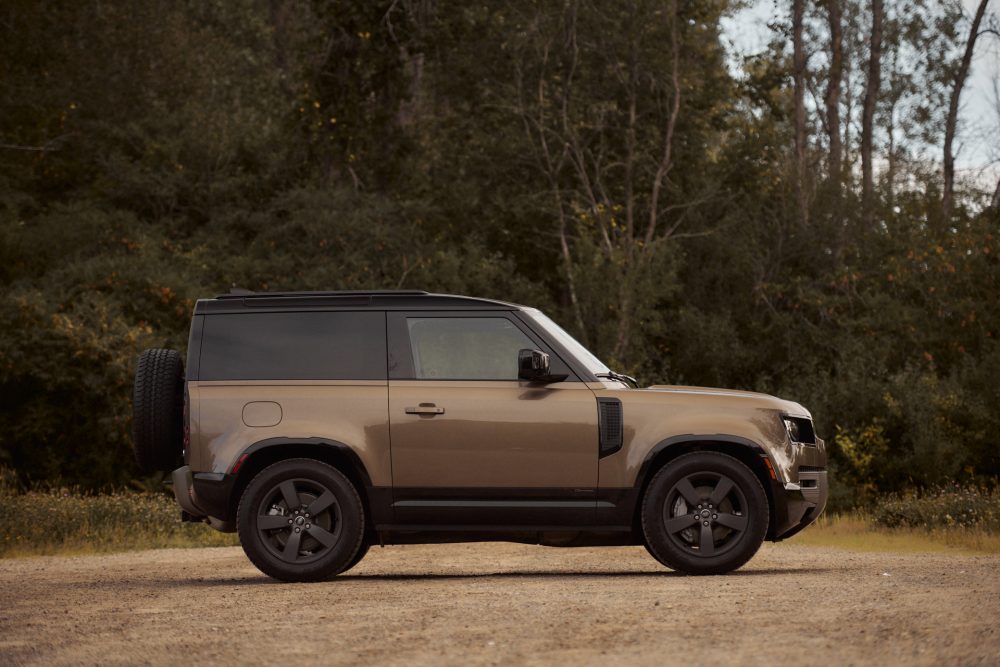 Mechanically, however, things remain pretty much identical between a Defender 90 and 110, and that's good news because the drivetrain options are plenty adequate. The only thing that has changed since the last time I drove this thing is the addition of a V8 engine underneath the hood, which in my book, is completely insane, but also way too cool to ignore.
And just like its big brother, the 2021 Land Rover Defender 90 can be customized to a full array of different configurations, as well as a full battalion of available accessories. The properly brown model you see here is a P400 X-Dynamic which comes standard with those blacked out wheels, but doesn't come with that snorkel air intake, or the enormous roof rack and rear ladder. It's a tad more simplified than the four door rig I drove in the snow, but considerably more fun to look at. I absolutely love how that rear end just stops as if it was cut in two.
Power for a Defender still comes from either a turbocharged 2.0-liter four cylinder or a much more potent turbocharged 3.0-liter straight six, complete with a 48-volt mild hybrid system. Total power output is rated at a healthy 395 horsepower and torque, at 406 lb-ft. That engine is mated to an eight-speed automatic transmission. Four-wheel drive, as well as all the off-roading technology that comes with it is of course standard equipment.
Pricing for a Defender 90 kicks off at $62,800, which is frankly decent considering the nameplate. But then, it's the packages that get you. They cost an arm and a leg, because of course they do. As it sits in these pictures, my Defender stickered at a very bloated $89,140, including freight and delivery.
Not As Smooth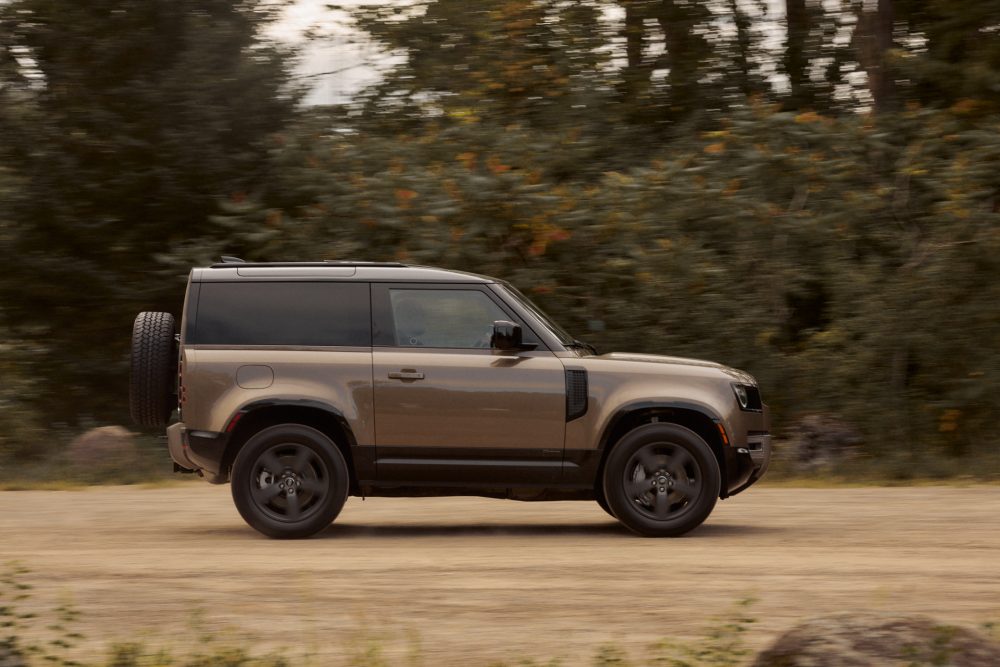 So, no, a Defender 90 isn't as smooth as its four-door counterpart. I mean, yes, it's still a LOT smoother and more refined than a Bronco and a Wrangler. Driving one of these bad boys around town is just as fun as it is driving it in a muddy trail. The Defender drives like a car, because it kind of is. There's no steel frame here, nor are there heavy differentials and levers to activate its adventure-going hardware. It's unibody – yes, unibody! – and most of its all-wheel drive gear is controlled electronically. Yet, it all works fine.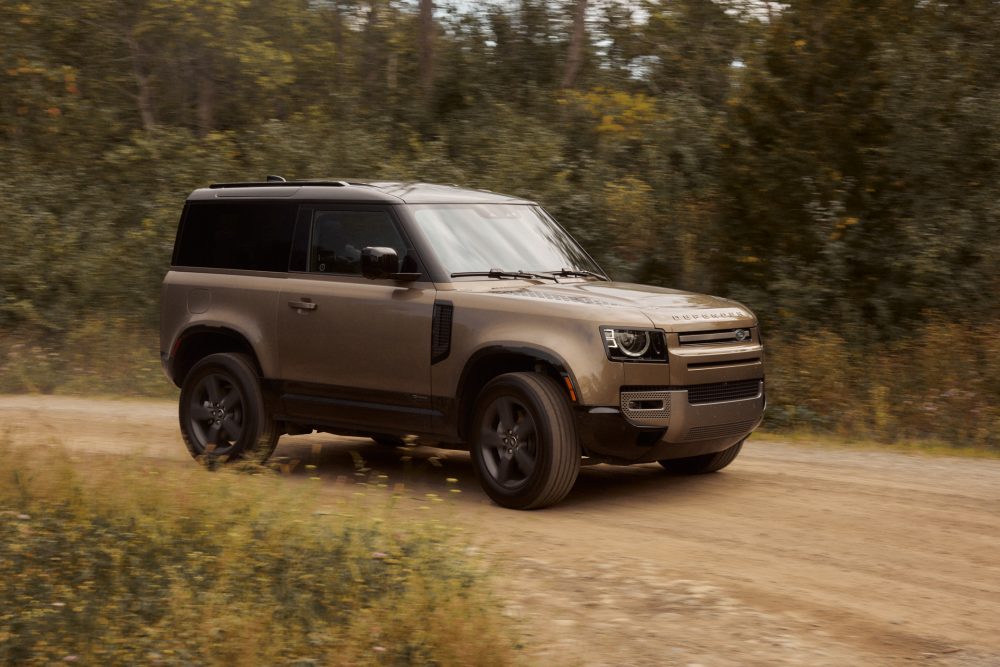 Unfortunately, the shortened wheelbase does remove some of the Defender's refinement in the sense that it's a very bouncy vehicle that that gets easily unsettled when driving it over road imperfections or train tracks. What I mean by that is the fact that it's so short and so high off the ground that it's somewhat clumsy in the corners. At least, a lot more than a Defender 110.
That all being said, there's absolutely nothing wrong with the way this Defender performs. That turbocharged V6 remains a peach to operate, with massive low-end torque and an ability to rev. It's fast! But also fun to drive, properly European: refined, mature, capable and oh so rad. People really like the Defender. Especially painted in brown. I got a hell of a lot of thumbs up and positive comments while I had this thing in my possession. I also loved checking it out parked from a distance.
Contrary to the last two Defenders I had the chance of driving, I didn't do much off-roading with this one. I already know what it's capable of anyway. Instead, I enjoyed revisiting all the things this Discovery does well, but also some of the things it sort of misses. Overall, this retro-inspired Land Rover does a bang up job of blending outdoor capability and ruggedness with the civilized, buttoned down demeanor of an urban vehicle. When not busy climbing its way through a snowy trail, the Defender is always comfortable, always quiet inside and consistently eager to follow you on your next adventure.
For instance, its storage solutions remain absolutely brilliant, and I'll never get bored of its highly functional yet highly stylish interior, complete with rugged, water-resistant materials and large, meaty rubber handles to grab onto when the road gets bumpy. The infotainment system is a bit much to take in at first due to small icons, lots of glare and A LOT of toys to play with, but you quickly get a grasp of it.
Overall HVAC and offroad controls are also rather simple thanks to clever multi-function buttons that are easy to operate. Extra points go to large physical knobs that can be operated wearing a pair of gloves in winter. I also dig the pistol-grip gear lever.
Obviously, being shorter means there's a bit less room back there for your kids, dog or friends. Rear seat room is however spectacular, as long as you can fit yourself through the two front doors. Once back there, leg and head clearance are ample and the seats themselves are rather great.
Unsurprisingly, it's the total cargo space that takes a hit. Contrary to a 110 which can engulf up to 2,231 liters of your gear, the 90 is limited to only 1,642 liters when the rear seat is folded flat. I mean, that's still a tad better than an Audi Q5 (1,500 liters).
Perhaps the most important question that comes to mind after driving the 2021 Land Rover Defender 90 is the following: is it worth getting this over the new Ford Bronco? I'd say yes, because it sits over the Bronco in terms of sophistication, design and downright coolness, as long as you can afford buying one. Because once you start piling on the options, these things aren't cheap. I mean, for the price of this, you could have two two-door Broncos, complete with steelies and a manual gearbox. Imagine that. But then, when you'll head down at the pub with your mates and they'll ask you which truck you've bought, you'll answer Ford and they won't react, because everyone drives a Ford. Say Land Rover, though, and they'll shut up and buy you a round.
Clavey's Verdict
Review of the 2021 Land Rover Defender 90 P400 X-Dynamic by William Clavey
Luxury Sport Utility Vehicles
Iconic styling
Solid off-road capability
Functional and well engineered cabin
Gets expensive fast
Choppy ride
Reliability shenanigans
Clavey's Corner is located in Montreal, Quebec, Canada. Prices and trim levels discussed in this article reflect the Canadian car market.
Special thanks: Land Rover Canada
Contact the author: [email protected]