It's not the first time I drive the 2021 Lexus IS300 AWD. I drove it during its Canadian launch last fall, alongside the IS350. There's even a YouTube video on my channel about it. But I felt I didn't give the car enough of a chance the first time I reviewed it. I was harsh with it. I said it wasn't exactly new, which is only half true. So I asked Lexus to lend me one for an entire week so I can properly understand it. Look, I like the IS quite a lot actually. But it's seriously lagging behind the competition in terms of modernity.
Cool Stance
Perhaps where the 2021 Lexus IS300 really kills its rivals is in the way it looks. This is a properly gorgeous compact luxury sedan. It's also properly stanced, appearing low and wide and purposeful. Plus, the wheel package my tester was fitted with harmonized beautifully with the silverish-blue Iridium paint job.
It's also important to underline that this new IS is mostly a facelift and not an entirely overhauled model, which explains why Lexus didn't change much underneath the skin. It did however considerably retune the car's suspension and transmission mapping, and gave its interior a few updates here and there as well as an upgraded infotainment system. There was also a reshuffling of available trim levels, with more standard features. The rest is pretty much left intact.
Within the IS lineup, the IS300 AWD is the middle child. It's squeezed between the turbocharged IS300 RWD and the more powerful IS350. There's also a V8-powered IS500 coming soon. The car you see here is therefore powered by the same naturally aspirated 3.5-liter V6 as an IS350, but it's slightly detuned to churn out 260 horsepower instead of 311, and 236 lb-ft of torque instead of 280. It comes standard with all-wheel drive in Canada, hence the AWD lettering in its name, and it can only be mated to a six-speed automatic transmission.
Pricing for an IS300 AWD kicks off at $43,400. My tester was fitted with the $7,600 Ultra Luxury package which adds a slew of neat creature comforts like ventilated leather seats, a 10.3-inch infotainment screen, the amazing sounding Mark Levinson 17-speaker audio system and Android Auto/Apple CarPlay connectivity, among others. The final sticker price for the car you see here is $53,225. By comparison, an entry level BMW 3-Series starts off at $51,226. Equip the BMW this way, and you're knocking at the door of $60,000.
More About Experience Than Performance
I'm not going to say that the IS300 is slow, because it's not, but it feels slow because its naturally aspirated engine has quite a bit of weight to carry around. In a world of turbocharged engines and quick-shuffling ZF transmissions, the Lexus IS simply feels outpaced by more modern European offerings and – ahem – the Korean-built Genesis G70.
But it makes up for it in other ways. While that V6 is seriously outdated in terms of technology and performance, it's still a peach when pushed to its limits. It loves to revs, always butter smooth and sounds absolutely glorious when it approaches redline. Sadly, the six-speed automatic never seems to follow along. The gears are too long, and unevenly spaced, so you never quite grasp the engine's powerband. It's just frustrating, because you know the car can do more, but it simply feels strangled. The IS300 desperately needs the eight-speed unit found in the four-cylinder IS300 RWD.
Smoothness, refinement and exceptional quality constitute the IS' ace up its sleeve. While never an overachiever from a performance standpoint, this Lexus envelops you in its thick and comfortable leather seats, soft touch materials and downright relaxing driving experience. It also handles a corner rather well, with loads of grip and a willingness to kick out the rear at times. Sadly, Lexus' intrusive traction control system often ruins the party. I'm also not a fan of the new steering calibration. There's a large dead spot on center, which makes it feel loose and disconnected from the front axle. This is weird, because the last IS had impeccable steering feel.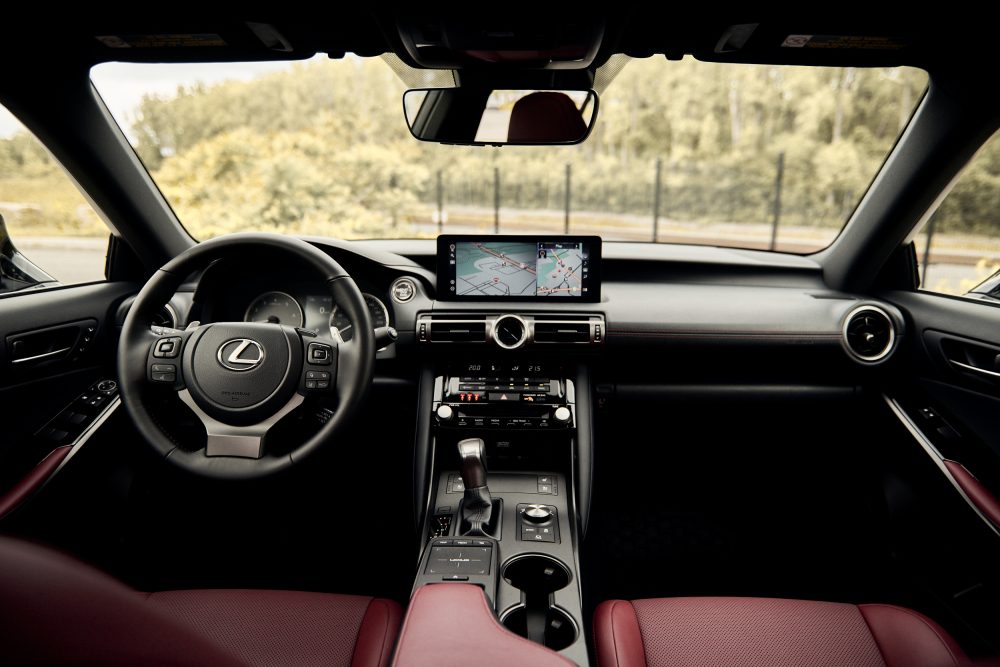 The facelift did bring a few neat cabin changes, like new circular air vents, slightly redesigned HVAC controls, and that new screen, but it's all way too subtle to truly make a difference. Since my tester wasn't fitted with the optional F Sport package, it didn't have the cool central and movable RPM gauge. It made due with traditional analog gauges in a world where pretty much everyone in this segment has gone digital.
There's also no wireless phone charging and a serious lack of storage space inside. The center console is stacked with buttons and knobs. It's all well put together and honestly quite attractive, but none of it actually works when it comes time to fill the cupholders, drop your wallet and connect your phone.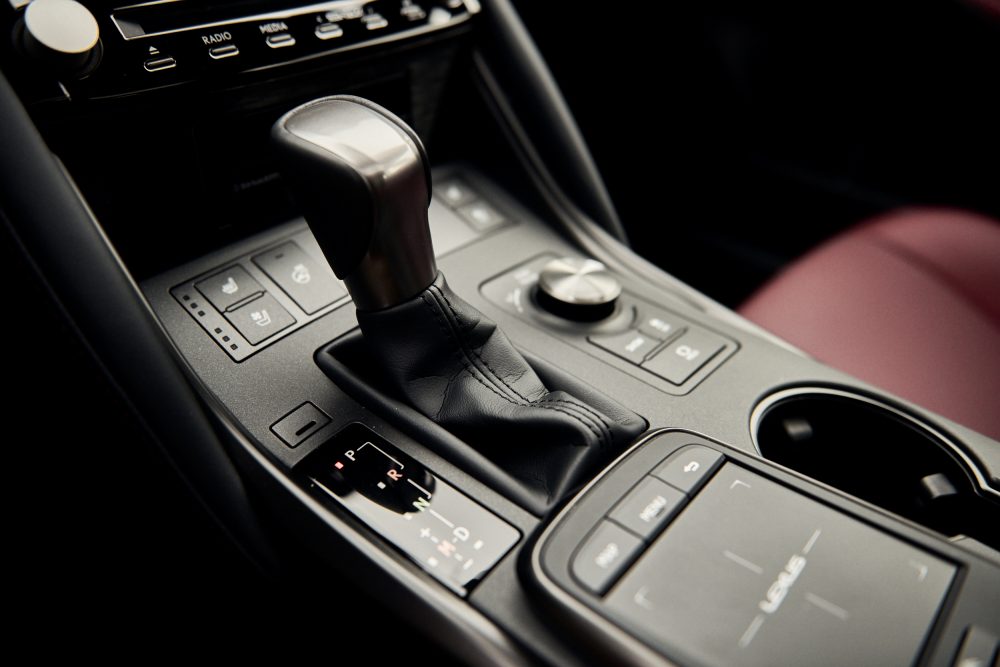 Lexus encourages you to store your device underneath the arm rest by putting the USB ports there as well, but there's no actual tray to hold it in place, so it quickly gets tangled up with other junk you've thrown in there. And while the screen looks sharper than before thanks to better graphics, it's still an ergonomic mess due to the trackpad setup put there to operate it.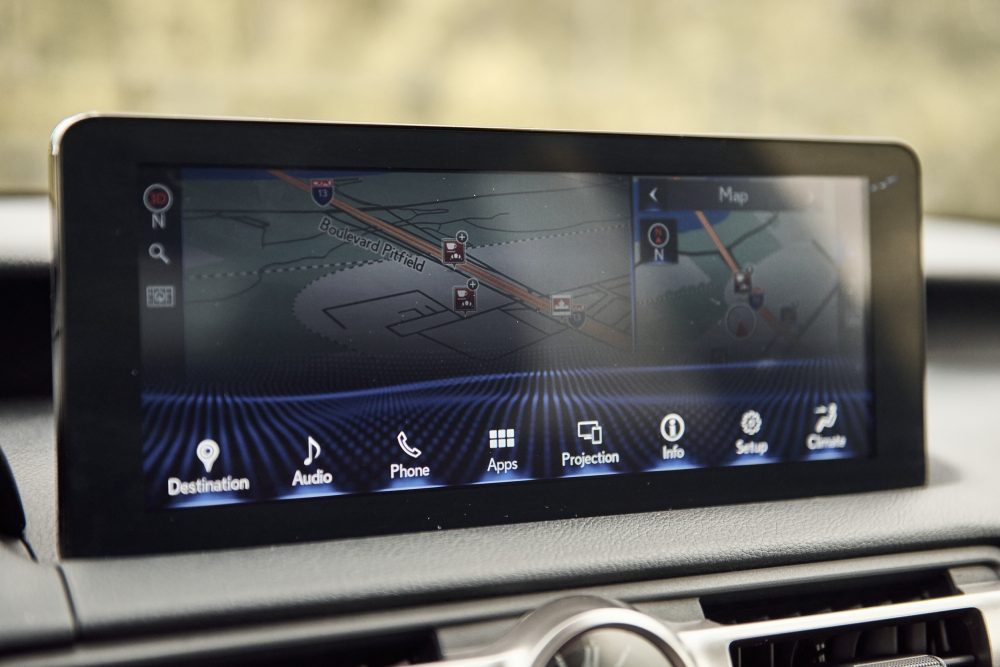 Performing simple tasks like activating Android Auto or changing radio stations is tedious and downright distracting. And no, that screen doesn't have touch controls. Rear seat room in a Lexus IS is also a serious issue for tall people. The upside for Lexus is that this seems to be a common problem with its rivals as well.
So here's the deal with the 2021 Lexus IS300 AWD: it's really not up to par with some of the industry's best sport sedans, weather it be from a performance, ergonomic or a technological standpoint. But it's immensely well put together, comfortable and astonishingly satisfying to drive. It's also reliable. Very reliable, something none of its German competitors can brag about. United, these qualities allow the IS to keep remaining relevant in a highly competitive segment.
Clavey's Verdict
Review of the 2021 Lexus IS300 by William Clavey
Luxury Compact Sedans
Beautiful exterior design
Fantastic naturally aspirated V6
Class leading quality and reliability
Slower than main rivals
Cabin lacks crucial technology
Needs a transmission transplant
Clavey's Corner is located in Montreal, Quebec, Canada. Prices and trim levels discussed in this article reflect the Canadian car market.
Special thanks: Lexus Canada
Contact the author: [email protected]