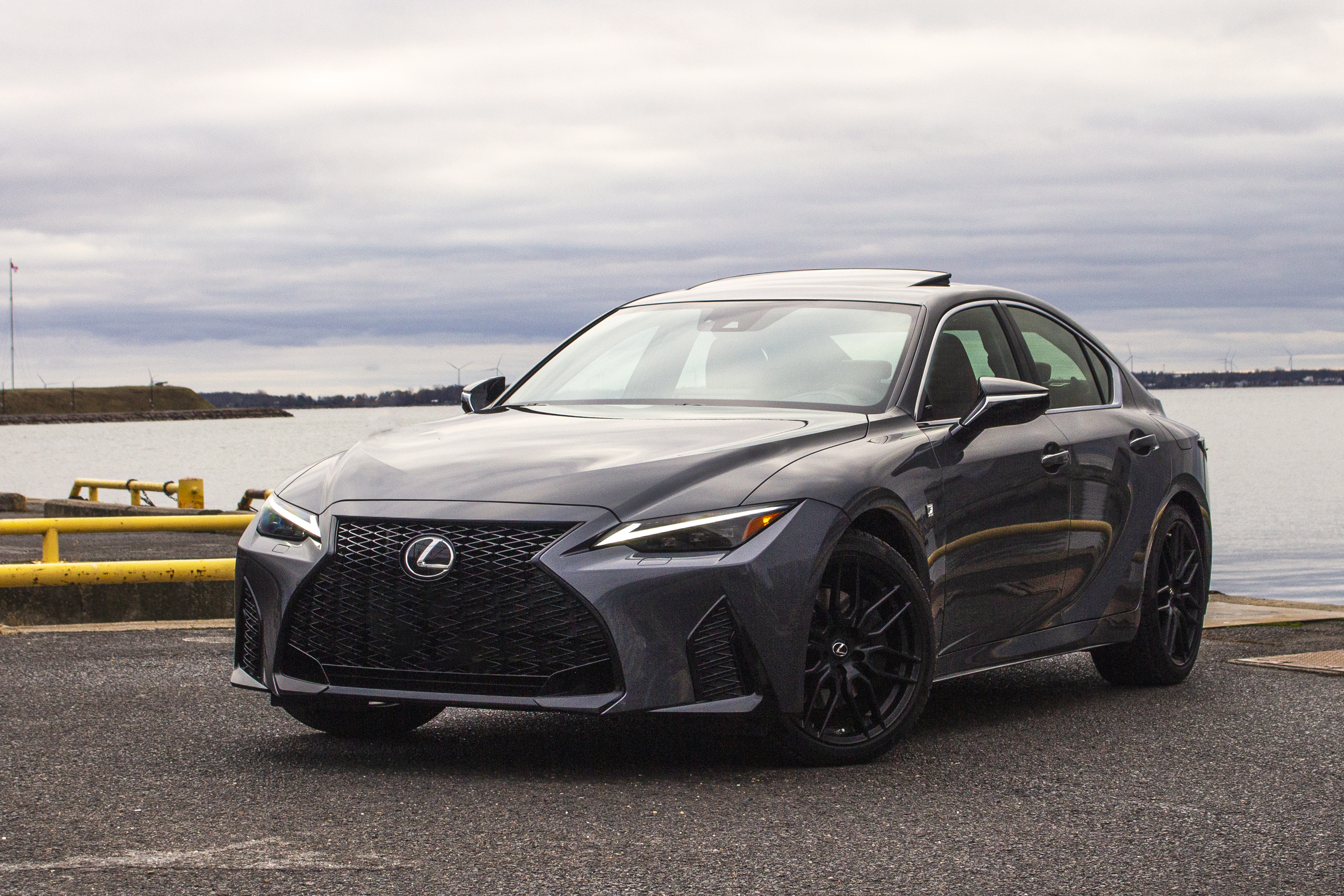 I just finished a first drive of the 2021 Lexus IS350 – which explains why you're not seeing the usual rolling shots from our man Guillaume Fournier -, and I've come to the conclusion that Lexus really doesn't care about numbers anymore. What it's after now is offering consumers a sensorial experience, something that became very clear after my drive of the exquisite LC500. This new IS follows the exact same ethos.
A Grown-Up Predator
When the last-generation IS arrived on the market in 2013, it shocked the entire world with its enormous predator-resembling front end. That was also the beginning of things to come at Lexus. And, well, we're all used to it now, to the point where even BMW now incorporates weird-looking grilles on its cars.
But this IS's front end is a lot more mature, and so is the entire Lexus design language now. And I must say, this is a fine-looking sport sedan. The 2021 Lexus IS350 looks low, wide and properly sporty. I'm a personal fan of that thick lateral character line that kinks up towards the C pillar. It blends well with the car's widened hips, and takes inspiration from the Toyota Supra's design. Out the rear, there's a completely new fascia as well with a full horizontal LED taillight treatment, which looks rather fantastic.
In case you're wondering, no, this isn't an all-new IS, but a heavily facelifted version of the former car. So it's still technically at its third generation and rides on the old rear-wheel drive bias "New N" platform that also underpins the GS and RC. I'm not exactly sure why Lexus didn't use the excellent TNGA-L architecture from the LC500. Perhaps it has to do with the fact that sedans are now low-selling vehicles? Then again, the next generation hydrogen-powered Toyota Mirai will ride on it. I just don't get carmaker decisions sometimes.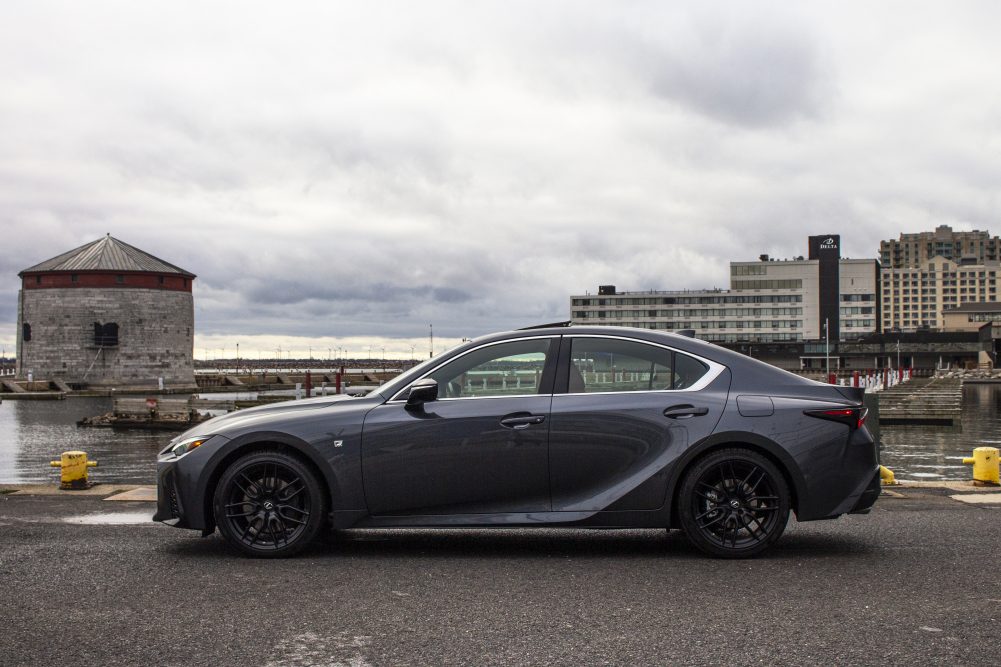 But Lexus does promise to have heavily revamped the car's structure and slightly widened the tracks for improved handling. The result is a car that's wider and longer by about 30 mm, all while receiving a slew of rigidity increasing improvements by way of a better integration of high-strength steel. Lexus says it also completely retuned the car's chassis and suspension dynamics on a newly built race track in Japan that apparently mimics sections of the Nürburgring. Why not just bring the car to the Nürburgring for testing instead?
Anyway, what comes out of all this is definitely a luxury sport sedan that looks mean, fresh and modern. Since this is a facelift, not much changes underneath the hood. Like before, you basically have three drivetrain options to choose from, either a turbocharged 2.0-liter four (IS300 rear-wheel drive) good for 241 horsepower. That one is mated to an eight-speed automatic gearbox.
You then climb the ladder to the IS300 all-wheel drive which gets the same tried and proven 260-horsepower 3.5-liter V6 as before and six-speed automatic. The one I was driving was of course the top flight IS350 F Sport, which comes only with all-wheel drive here in Canada. Power still sits comfortably at 311 horsepower and 280 lb-ft of torque. However, the 2021 Lexus IS350 now comes standard with the F Sport 2 package, which is great, because Lexus' just look better with it anyway.
Pricing is somewhat similar but with a reshuffling of available packages. Expect to pay $42,950 for an entry level IS300 turbo, $43,400 for a base IS300 with AWD and $52,300 for an IS350. The car you see here sat at the top of the lineup with a sticker price of $58,000.
Some Greatness, But Some Pitfalls Too
Because this is a first contact and that I didn't get to drive the car very long, I'm not going to go in detail like I usually do in these reviews. What I'll say is that yes, Lexus has greatly improved the way this car handles on a winding road. There's a nice sense of fluidity in the way it performs. I also find that they've really improved the V6 – six-speed transmission combination. In the old car, that gearbox would take forever to react, at times not even give you the proper gear. It's now a lot quicker and smarter, so that settles that.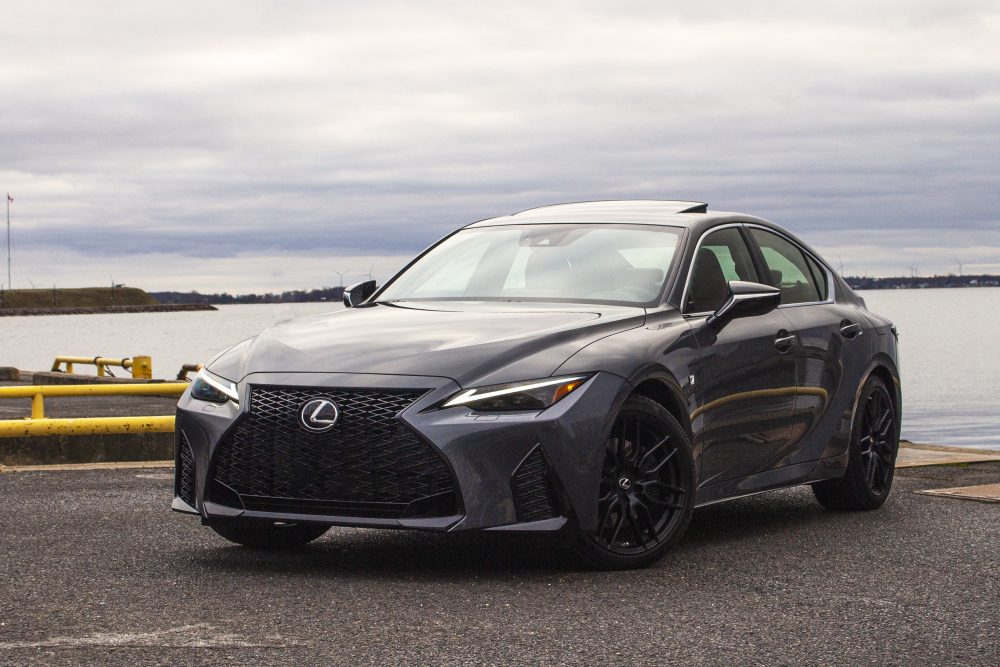 Lexus also fitted the car with the same intake sound amplifier as the GS-F, RC-F and LC500, which means you hear that V6 sing a lot more than before. That's wonderful given that the 2021 Lexus IS350 is one of the last naturally aspirated sport sedans currently on sale. You just don't get bored from hearing that V6 rev to its redline. It's also silky smooth the entire time, and it now lets you bounce off the limiter instead of shifting for itself, leading to a unique and immensely pleasant driving experience.
Where the IS let me down though was in its dead on-center steering feel, which is odd, because the old car had it perfectly tuned. Now they've somehow ruined it. It just never feels connected to the car, which is annoying, because the rest of the chassis is exquisite.
I also need to address the elephant in the room: the lack of power. Not that the IS350 is slow or anything, but in a world where everything is turbocharged, the lack of low-end torque from this V6 is apparent. Off the line, the IS350 just takes a while before it picks up and goes. As a matter of fact, I drove up to the event for this – which took place in Kingston, Ontario – in a Genesis G70 and, sadly, I must say, the G70 is a much quicker and athletic machine.
But not all is lost. What the 2021 Lexus IS350 lacks in sheer numbers, it makes up for it by enveloping you in one of the finest interiors of this segment. In typical Lexus fashion, attention to detail is mind blowing, build quality is obsessive, materials look and feel expensive and you sense that the entire car is a high quality item. I also absolutely adore this red interior which contrasts super well with the car's dark grey finish.
Overall cabin design is very much a carryover from the last car except for some subtle changes like circular air vents and a slight repositioning of some controls. The god-awful trackpad to manipulate the infotainment system is still here, but Lexus did try to fix things by finally making the screen touch-operated. It's better, but even with efforts to simplify the system's interface, it's still a cluttered, feature-intensive layout that's not all that intuitive to use.
I was also surprised to not find wireless phone charging or a heads up display, technologies that are now offered in some Toyota models. Hey, at least Lexus still gives you a CD player! The IS350's climate control settings are also virtually the same, but changes were made to the available Mark Levinson sound system. And I got to say, that sound system sounds absolutely unreal. Like I said: this car is all about the experience.
And yes, the photo below is from Lexus because I'm a sucker for driving shots, but also because it looks damn good in blue. That's an IS300 by the way. Doesn't it look sleek?
The 2021 Lexus IS350 is a warmed up version of the last car, but it retains a lot of its qualities and improves them on many levels. However, I do wish Lexus hadn't ruined the steering, and perhaps now is a good time to try turbocharging this thing. Then again, reliability has always been a Lexus promise, and we all know this V6 will never die. If you're willing to let go of some performance in exhange for how a car makes you feel, then you're definitely not going wrong with a Lexus IS.
Clavey's Verdict
Review of the 2021 Lexus IS350 F Sport by William Clavey
Luxury Sport Sedans
Stunning design
Well-tuned chassis
Feels like it's worth twice the price
Dead steering feel
Lacks low-end torque of turbocharged rivals
Misses features found in some Toyotas
Clavey's Corner is located in Montreal, Quebec, Canada. Prices and trim levels discussed in this article reflect the Canadian car market.
Special thanks: Lexus Canada
Photography: William Clavey / Lexus
Contact the author: [email protected]