The 2020 Lexus ES 350 is no longer a revamped Toyota Camry. Wait, I mean, it's still based on a Camry – rides on the same platform, powered by the same engines -, but it now doesn't look nor feel like one. In other words, Lexus has finally done a bang up job of distinguishing both cars. What I find even most impressive, is how well the ES is still selling given the crossover-intensive market it's up against.
Big Grille, Tapered Rear
The Lexus ES has really grown since the last time I drove it. Not only does it ride on Toyota's new modular TNGA-K (Toyota New Global Architecture) platform, its styling clearly tells you it's a completely different animal now. Perhaps more intriguing is how Lexus has attacked the midsize luxury sedan segment with it.
Remember, up until the end of this year, Toyota's luxury division sells not one, but two medium sized cars; this, the front-wheel-drive ES, and the rear-biased GS, which will sadly be removed from the lineup at the end of this year. This also means we'll lose the charismatic, V8-powered GS-F. Interestingly enough, consumers weren't buying into the GS' performance-oriented promise, but rather preferred the ES' softer, snowbird-friendly ride.
I mean, Lexus itself says that almost half of the 60,000 units that were sold on this continent last year were shipped to southern U.S. states, more specifically Florida, where consumers of 40 years of age and older ended up owning one. Is it therefore safe to assume that the 2020 Lexus ES has replaced Lincoln and Cadillac as the official car of retirement?
Perhaps, but one thing's for certain, this kind of demographic is a problem for Lexus as it doesn't exactly secure long-term customer loyalty. In an attempt to rejuvenate its image, Lexus injects its ES with modern, edgy, and dare I say sporty styling. And it looks good! The ES' face is now all Lexus with the expected Predator grille, squinting headlights and Gundam-inspired lines. It sure looks different than anything else out there.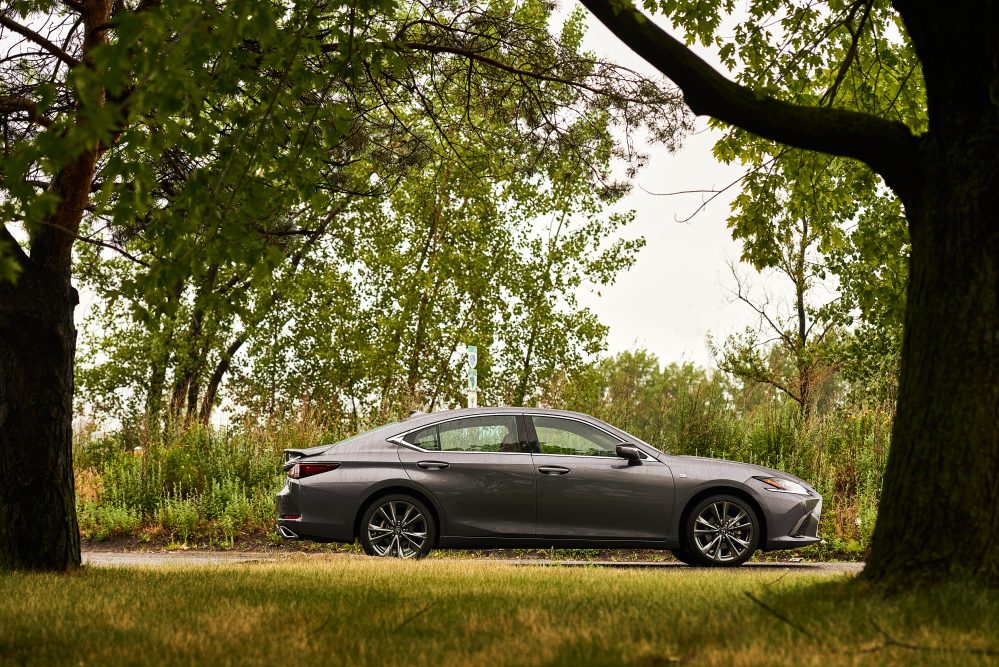 Sure, it's a busy design language, but it somehow works. I personally adore how its tapered roof blends well with the low, wide rear fascia. Like the Camry, there's a sense of purposefulness in the way the ES' mashup of intersecting lines come together. It's rather well done.
The model you see here is the ES 350 with the optional $11,300 F SPORT 2 package (gulp), which adds a slew of mostly aesthetic upgrades, like a rear spoiler, 19-inch F SPORT wheels, a sportier-looking heated steering wheel, wireless charging, F SPORT seats, a 17-speaker Mark Levinson premium sound system, and heads-up display. The package also improves overall handling thanks to an adaptive variable suspension and the addition of a Sport S+ mode.
Power comes courtesy of Toyota's tried and proven 3.5-liter V6. It's good here for a conservative 302 horsepower and 267 lb-ft of torque. The only gearbox available for this engine is an eight-speed automatic. Front-wheel-drive is also the only way to get the power down for the ES, even here in Canada. However, since the Camry just got all-wheel-drive, the ES could very well get it soon as well.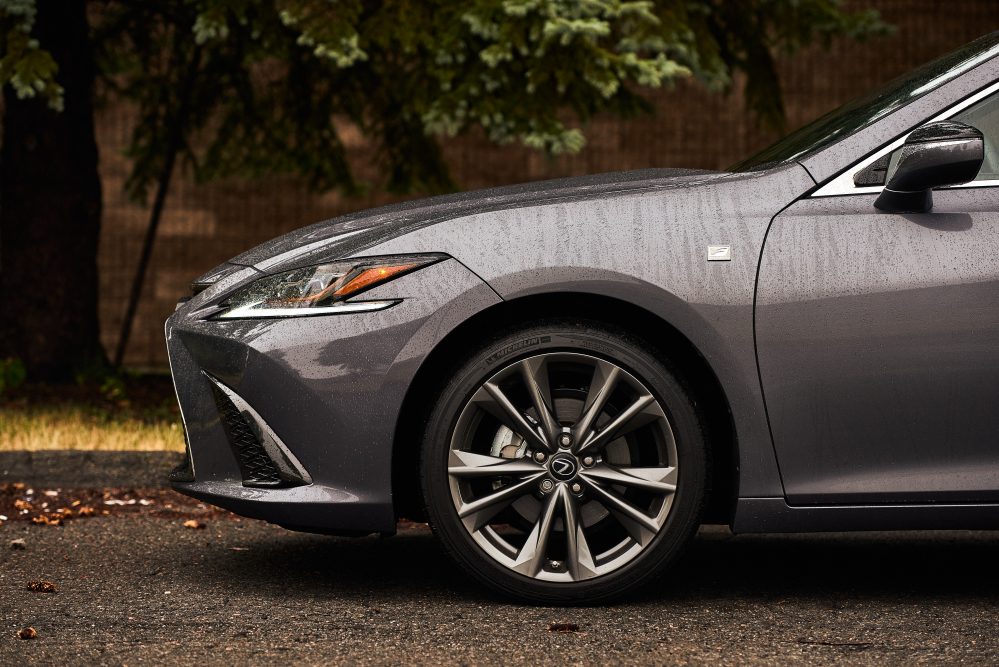 Pricing for a 2020 Lexus ES 350 kicks off $47,690. The one you see here is loaded with optional packages, for a final price of $58,658, which is frankly alright considering the amount of luxury you're getting. There's even a hybrid version that starts at $49,690.
Extra Cream Performance
I continue to be impressed by Lexus' way of making all of its cars feel like they're riding on double cream. The ES is a particularly good example of this, the poster child, if you will, for the entire brand. The car feels solid, well built, luxurious and comfortable. Smells good in there too, like an expensive leather suitcase.
Yet, where the ES really separates itself from its predecessors in its ability to still be a solid performer. The last-generation car had the dynamic charm of a fridge, while this actually has some good-old hooning engineering baked into its handling.
That said, don't expect the 2020 Lexus ES to handle like, say a BMW 5-Series, but it will allow you to throw it into a corner rather quickly without squealing its tires. When set to Sport + mode, the ES has a nice, flat and anchored down feel as it's plowing down the road. Handling is composed, and the ride is forgiving, but although the F SPORT package goes through great lengths to let that brilliant chassis shine out on an open road. But it remains a front-wheel-bias setup that quickly defaults to torque and understeer.
It's the same story with the V6 engine. It makes ample power and gives this velvet-smooth sedan some spirited acceleration, sounds fantastic too. But it's never as immediate or urgent as some turbocharged offerings. The eight-speed gearbox works fine, but takes a moment to react, especially during performance driving. Shifts are crisp, but gears are long, and the system never really encourages speed, but rather prefers chilling casually in the background. In other words, while the 2020 Lexus ES is a much more agile performer than it once was, its main purpose in life remains being a plush luxury sedan.
That, being luxurious and plush, the ES does better than even some of its German rivals. My tester had the fancy red on black interior which not only looks like a million bucks, but wraps its occupants in thick, highly supportive vented leather seats, premium materials and one of the best insulated cabins currently on sale.
The ES' gets its own bespoke dashboard design, with the now iconic Lexus pod-like gauge cluster that shifts from left to right. It's all well presented, where every button, knob or surface feels of exquisite quality. Seating position is fantastic and so is visibility. That Mark Levinson sound system also sounds ungodly.
What Lexus didn't get right with the ES is its infotainment system. It's actually
It's confusing, hard to comprehend and downright distracting to use. Lexus tried to integrate physical buttons, which sort of help. But the overall user experience is disastrous at best.
So, at this point, you're probably wondering what kind of cars the 2020 Lexus ES is up against. Well, it doesn't handle as well as a rear-wheel-driven German equivalent, but it doesn't sell for the same kind of money neither. You could compare it to an Acura TLX or even an Infiniti Q50, but the ES is much too refined and luxurious to be compared to those cars. Perhaps the upcoming Genesis G80 would fit the bill?
In all fairness, the ES is kind of left alone in its own space, which probably explains why it's still selling alright. And honestly, it's a fantastic automobile, a reliable, quick, well-balanced and well priced midsize luxury sedan that actually looks and feels of good quality. In other words, it's the embodiment of what a Lexus should be.
Clavey's Verdict
Review of the 2020 Lexus ES 350 F SPORT by William Clavey
Midsize Luxury Sedans
Smooth and comfortable, all the time
Better priced than main rivals
Proven reliability, impeccable build quality
Irritating infotainment system
No all-wheel-drive
Not as athletic as some competing models
Clavey's Corner is located in Montreal, Quebec, Canada. Prices and trim levels discussed in this article reflect the Canadian car market.
Special thanks: Lexus Canada
Photography: Guillaume Fournier
Contact the author: [email protected]