By now, you guys know what I think of the 2020 Lincoln Continental. This is the third time I drive this car. Ever since it was relaunched back in 2016, it has helped redefine the entire Lincoln brand, all while offering consumers Bentley-grade levels of luxury at a surprisingly attainable price. Unfortunately, Lincoln didn't manage to rejuvenate its branding with the Continental the way it expected, which is why the car will be removed from the lineup next yer. Like the Honda Civic Si coupe I drove a few weeks back, I'm sadly reviewing this one for the last time.
Rhapsody Blue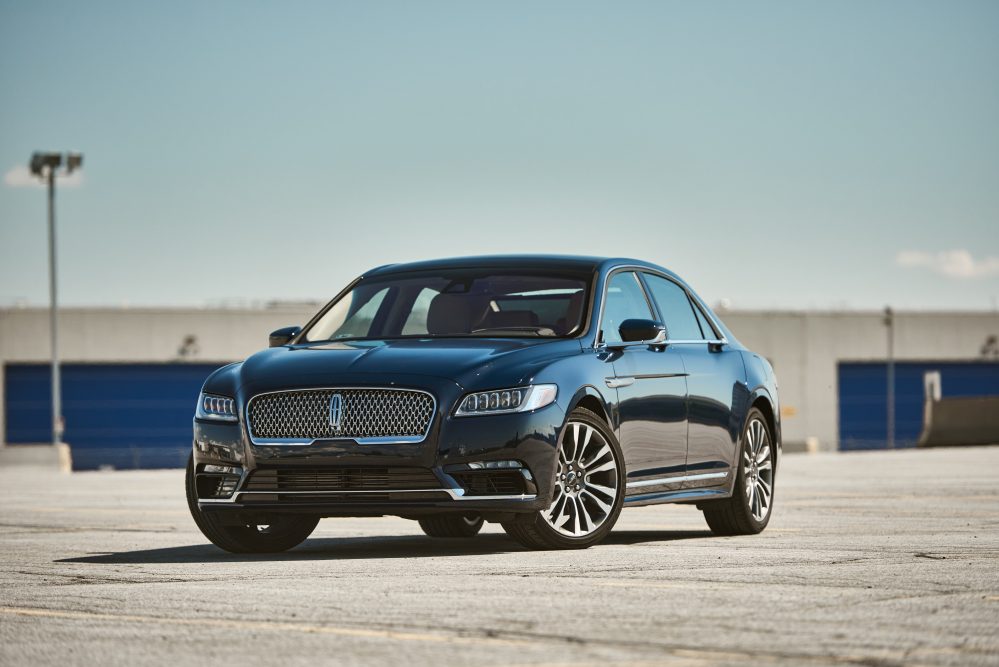 I gotta say that even four years into this design, the Continental still looks fresh, modern and properly exclusive. My tester had the optional Rhapsody Blue paint job, with contrasting white interior, which made it look like it was worth twice the price Lincoln is asking for this thing. The 2020 Lincoln Continental is a proper executive sedan that's elegantly styled. For that alone, it doesn't deserve to be killed off.
Obviously, Lincoln's decision comes from the fact that consumers who walk into its showrooms buy SUVs now, things like the equally opulent Lincoln Aviator. It's also because people simply aren't buying sedans anymore, especially not ones that have a Lincoln logo slapped on their grille.
The problem with the Continental is that it was simply too little too late. By the time Lincoln had managed to actually build something that had the potential of attracting a younger audience, consumers were already buying German by the masses. Also, since the Continental nameplate reminds us of our grand-parents, us millennials and gen-exers simply don't want to be seen driving one.
And that's too bad, because we're all missing out on what is arguably the best American luxury deal currently on sale. And with the car leaving soon, you can be sure Lincoln dealerships will do everything to get them off the lots, meaning you'll probably get a great deal on one. This is definitely a future classic for anyone wanting to invest in an automobile, Buy it new, don't put too much mileage on it and keep it clean, and you can be sure to get a lofty sum of money for one in about 10-15 years.
Because it's leaving us, the 2020 model year brings very little changes except for a heavily simplified model lineup. While the U.S. market still gets three different trim levels and a very cool coach door edition, we only get the Continental Reserve. All-wheel-drive is also the only way Canadian-market Continentals can be spec'd. However, two engines remain available.
Base models are powered by a 2.7-liter twin-turbocharged V6 good for 335 horsepower and 380 lb-ft of torque, while consumers can step things up to a much more potent 3.0-liter twin-turbo V6 (as tested) that pumps out a healthy 400 horsepower and 400 lb-ft of torque. Whichever engine you choose though, it'll be paired to a six-speed automatic transmission.
Pricing for the 2020 Lincoln Continental kicks off at $66,500. My model had a few options ticked off, as the cars I drive typically do. Final price for the Conti you see here was $76,330. That's under 100 grand for a executive sedan such as this.
Feeling Presidential
Perhaps the 2020 Lincoln Continental's best quality is that it quickly immerses you into its immensely quiet and luxurious cabin. And considering how much Lincoln is asking for this car, you're getting a lot for your money. Some German brands, especially BMW, need to take a look towards this Lincoln's cabin for inspiration.
It's mostly the perfect blend of art deco- inspired retro styling with modern Lincoln cues that really make the Continental's cabin feel like a special place to be. I'm a personal fan of the gauge pod, which hearkens back to old Lincoln vehicles of the sixties, while the infotainment system sits inside what appears to be a vintage television set. It's all too cool.
And Lincoln's Perfect Position seats, which allow up to 30 available adjustments, are still up there among some of the most comfortable car thrones I have ever sat my ass in, Don't they look cool as hell or what?
The attention to detail is also rather impressive. Buttons, switches, door handles and even screens seem to have all traveled back in time to Lincoln's glory years. Meanwhile, the car's rear seat offers all the creature comforts a CEO expects from his Learjet (notice how we shot the car at a plane hangar?).
However, I did find the seating position back there to be a little weird. You sit high, so if you're a little tall, you could find your head rubbing on the ceiling. And while I love the controls Lincoln has integrated into the center armrest, I feel the Conti deserves to have some screens installed directly on the seat backs like in the Aviator.
Driving a 2020 Lincoln Continental continues to be a solid blend of comfort and performance. While quick off the line and capable of sprinting to 100 km/h from a standstill in about five seconds flat, the Continental was never designed to be a sport sedan, which is kind of where it lags behind its European competition.
You can put the car in Sport mode by hitting the S button next to the infotainment system. That will stiffen up the adaptive dampers and recalibrate the transmission's reaction times. And the changes are noticeable, giving the Continental a fresh, spirited feel. But it remains clumsy in the corners, nose-heavy and front-biased. This means it will easily get unsettled if you flog hard into a corner.
There are also issues with the entire drivetrain's consistency. While the automatic gearbox does operate smoothly most of the time, it sometimes emits worrying clunks when downshifting. At low speeds it also feels rough around the edges, while throttle response sporadically goes from smooth to overly aggressive for no apparent reason.
The Continental's tour de force really is during casual driving, where it'll allow you to bathe in its exquisitely quiet cabin, sumptuously comfortable seats and impeccably clear audio system. The Continental is one of the rare large sedans that made me feel like my best self while driving it, partly because it feels like the underdog against the German elite, but also because it reminds me of all the large American luxo barges my grand parents would drive me around in growing up. There's character and substance in the product, another reason Lincoln should reconsider killing it.
Maybe this is also why Lincoln is pulling the plug on this thing, to finally let go of its past. Personally, if I were in charge of things over there, I would have left it in the lineup, even if meant bleeding cash on every one that was built. Because the Continental is more than just another car in Lincoln's lineup. It's a legend, a nameplate that has an over 50-year legacy and the halo vehicle for an entire brand.
At least, the Continental did a great job of putting Lincoln back on the map. It was the car that jump-started the styling for all the other SUVs Lincoln currently sells. Goodbye, Lincoln Continental. It was good knowing you, and you will be missed.
Clavey's Verdict
Review of the 2020 Lincoln Continental by William Clavey
Midsize Luxury Sedans
Timeless styling
Ample performance
A lot of luxury for the price
Clunky gearbox
Inconsistent throttle response
Not as agile as main German rivals
Clavey's Corner is located in Montreal, Quebec, Canada. Prices and trim levels discussed in this article reflect the Canadian car market.
Special thanks: Lincoln Canada
Photography: Guillaume Fournier
Contact the author: [email protected]