Yeah, I know more rain right? We can't control Mother Nature, and each time we've been shooting cars for the past month, it's been pouring. Sucks. Anyway, the 2019 Lincoln Continental. As you know, it's not the first time I drive this thing. I drove it two years ago when it first came out, and back then, I was impressed with its level of luxury for the price and impeccable road manners.But after driving expensive BMW's and Mercedes-Benz', I felt it was fitting to get back on what is arguably  the more polished luxury American sedan currently on sale. I was curious to see if the Continental was still relevant, and it turns out it is.
Styling Is King
Lately, Lincoln has understood that styling sells cars. With the Continental, it literally rebooted its entire brand image. And now, Ford's luxury division is focusing on an all-new lineup of rather good-looking SUV's, with vehicles like the Corsair, the Nautilus, the Aviator and the updated Navigator.
The Continental, along with the MKZ, is the only sedan it currently sells. It does, however, remain the brand's halo car, and even two years since its inception, it remains absolutely beautiful.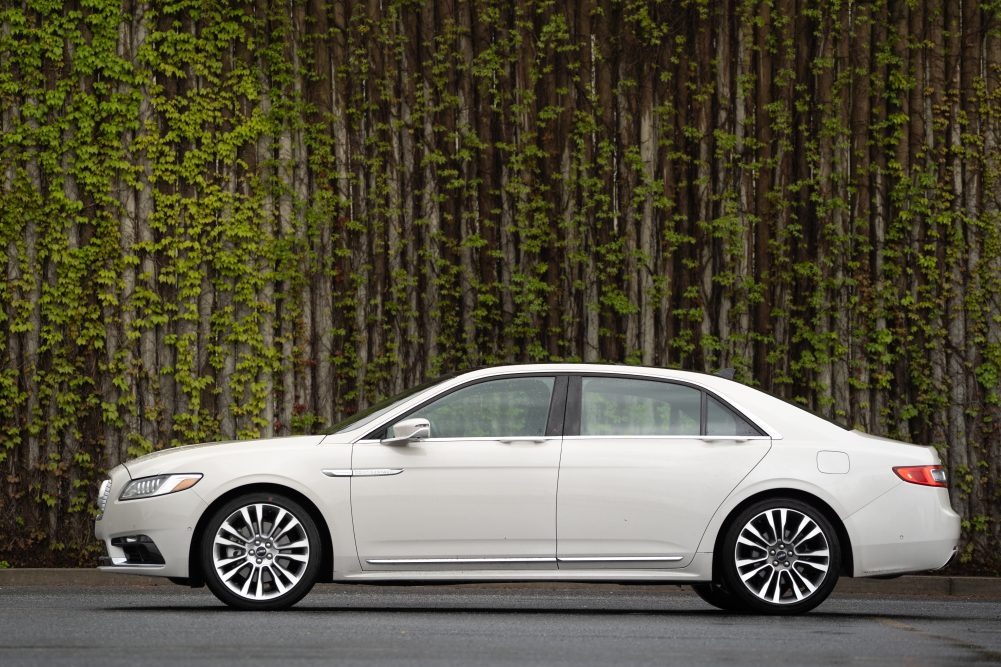 The secret to its design is its Art Deco style that hearkens back to Lincoln's golden era, the 1960's when Presidents like John F. Kennedy would ride in the rear seat of a Lincoln. Back then, a Lincoln was top of the line in terms of glamour and utmost luxury. Sadly, things didn't stay this way for American carmakers.
When the Germans, the Japanese and now, the Koreans entered the luxury sedan game, building better, more compelling and more reliable luxury sedans, Lincoln had to re-imagine its entire ethos to avoid being eaten up doing what it does best. The Continental was going to be the car that saved the brand.
It worked, but then it didn't. The Continental isn't Lincoln's bread and butter car. North American consumers barely bought 20,000 units of these things since they've been around. So it's kind of a failure from a business standpoint. What it did, though, is spawn an entire line-up of equally gorgeous SUV's which are, in their own right, all selling quite well.
The Continental is therefore the soul of Lincoln. It's a poster-child for the entire company, the car that comes to mind when you imagine a Lincoln. It's an absolutely gorgeous machine with its elongated appearance, wide stance, enormous chrome grille, one-piece LED taillight and signature door handles that look like nothing you've ever seen on a car.
Engine Choices
A luxury American sedan wouldn't be a luxury American sedan without a wide variety of engine choices, and that's precisely what you get with the 2019 Lincoln Continental. In the U.S., three V6 engines are offered, with the base one being a naturally aspirated 3.7-liter that pumps out 305 horsepower.
Canadian Conti's kick off with a 2.7-liter, twin-turbo V6 good for 335 horsepower. The model you see here, the Reserve trim, sits at the top of the pyramid with a 3.0-liter twin turbo six good for a stout 400 horsepower and 400 lb-ft of torque.
Both engines are paired to a six-speed automatic gearbox, and all models sold in Canada come standard with all-wheel drive. My tester could sprint from a standstill to 100 km/h in a brisk five seconds flat, which is a quite quick considering this luxobarge's size and weight. It's actually that, the fact that the Continental is respectfully quick, that makes it feel refreshing and nothing like what we expect from a Lincoln sedan.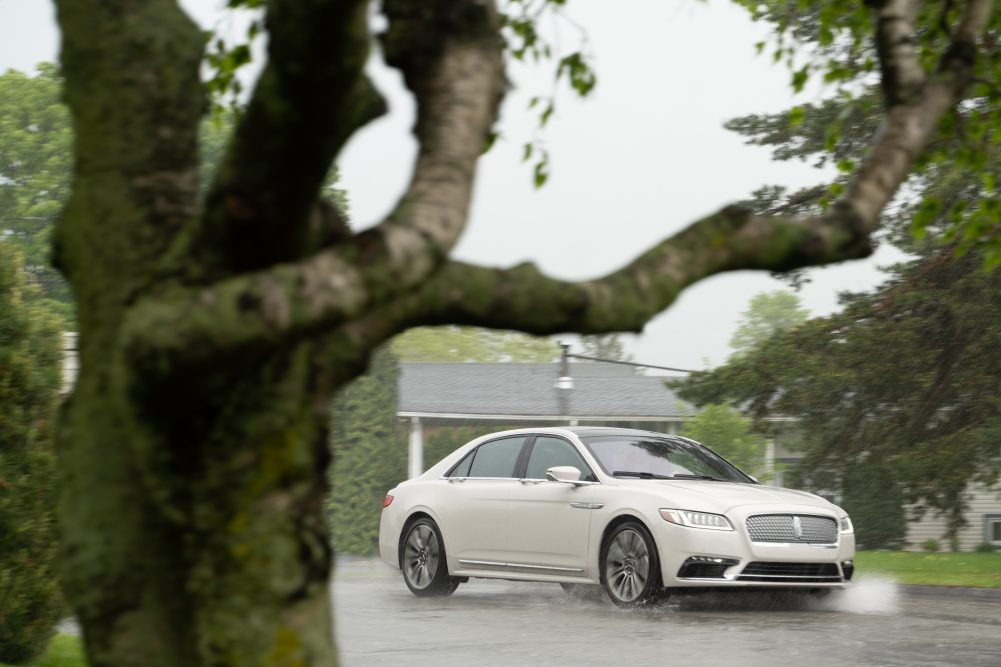 These cars have always been associated to smooth, soft-riding comfort rather than athletic performance, but the Continental actually feels nice and buttoned down, with a surprisingly stiff chassis and a willingness to turn in sharp and pick up quickly when commanded to do so.
Just don't expect this thing to be German stiff or Japanese high-tech because it does have a clumsy side to its flamboyant personality. That transmission does occasionally knock upon downshifts. Yes, knock. It also takes a few seconds to hunt for gears when gunning the throttle. But there's enough dynamic charm here to make this a capable car during spirited driving. At least, enough to outrun paparazzi. Because the cabin in a Continental is on par with some of the best luxury sedans out there.
At least, out the rear it is, where occupants can bask in the massive legroom they'll be getting from a stretched wheelbase, enormous leather thrones and a full LCD interface inserted directly inside the center armrest to control virtually everything inside the car; from climate control, to the rear shade visor, or the car's sound system.
Fancy a massage before that important meeting? No problem, the Continental has that covered too. Just tap the button located in the door and you're all set, even if you're sitting in the rear seat. Hell, you can even cool your butt off through three different settings. No biggy.
Some Givaways
So, yes, the 2019 Lincoln Continental is luxurious and massively comfortable, especially when you set it to Comfort mode where its adaptive suspension becomes all soft and compliant, feeling as though the car is gliding over the road. That's appeasing. There's also a sense of solidity in the car, especially when shutting those massive doors with their vault-like thump as they click into their respective positions.
Sadly, there are areas where the Continental falls a bit short.
While its seats, both front and back, can be set to any possible configuration, and the amount of chrome inserts found in the cabin would put a Bentley to shame, some of its cabin materials are sub-par for the segment. For instance, that elegant wood grain on the center console, that's all fake. It's actually a large slab of plastic. Things become even more worrying when you discover switchgear taken directly out of a Ford EcoSport. At $71, 965, that's a hard pill to swallow.
At least, the 2019 Lincoln Continental remains several thousand dollars cheaper than the closest German sedan with this much comfort, features, rear leg-room and performance. The only fat sedan than comes close to this in terms of price is the Volvo S90. While it does walk all over the Conti in terms of build quality, it's not as quick nor as elegant on the road.
What you want from a luxury sedan is presence, something the Continental executes without fail. And you can't argue what you're getting for your dollar, there's a lot of value here. If the Continental served as a first effort to put the Lincoln brand back on the map, it was mission accomplished. But if Lincoln wants to be taken seriously in the luxury car game, it needs to step things up a notch. Here's to hoping the next Lincoln sedan well actually feel like a bargain-basement Bentley Continental.
Clavey's Verdict
Review of the 2019 Lincoln Continental by William Clavey
Full-size Luxury Sedans
Looks like a million bucks
Quick off the line
A lot of luxury for the price
Clunky gearbox
Some questionable interior materials
Still not a German rival
Clavey's Corner is located in Montreal, Quebec, Canada. Prices and trim levels discussed in this article reflect the Canadian car market.
Special thanks: Lincoln Canada
Photography: Caleb Gingras
Contact the author: [email protected]