The 2024 Nissan Z Nismo is back for a third generation with more power, more torque and even more go-fast accessories. There's only one problem though, it's not available with a manual transmission. Curious to find out if Nissan's weird decision has hindered the Z's character and because I'm a big fan of the current-generation car, I flew down to northern California to give the new Nismo a run for its money, on the road and on the track.
2024 Nissan Z Nismo Review: Lots Of Enhancements
Nismo (for Nissan Motorsports International) is an interesting performance brand. While it has been orbiting around Nissan since the early 1980s, acting mainly as a parts specialist while helping it with the development of its race cars, we've only seen Nismo-branded Nissans in recent years. The 350 and 370Z Nismo were such cars, as well as the GT-R Nismo. There was also a Sentra Nismo, but it kind of sucked.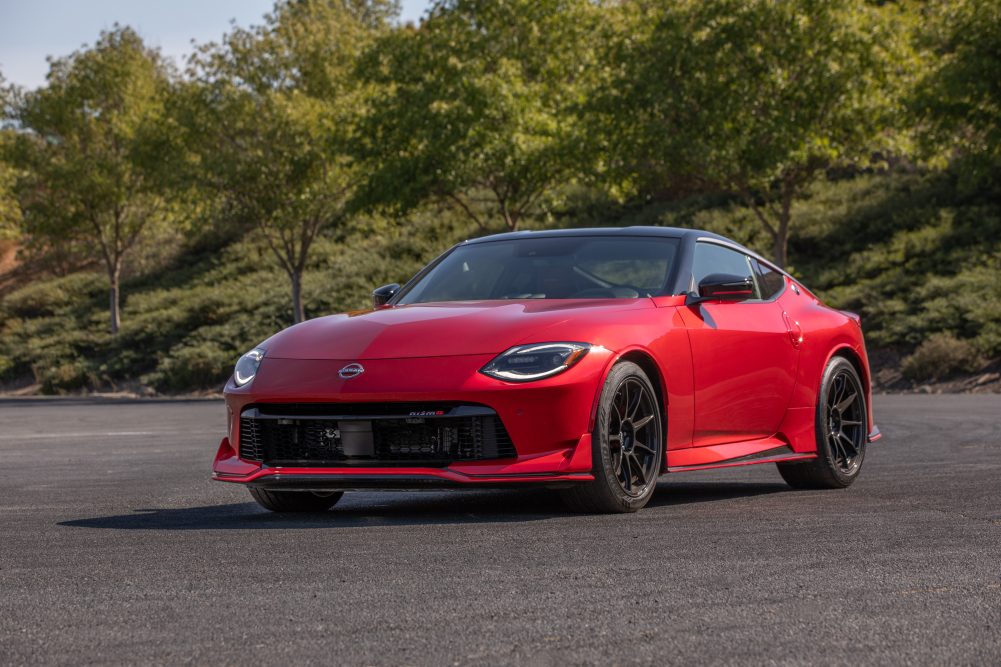 The thing is, Nismo was always more of an aftermarket specialist rather than an actual performance division, like, say, BMW M or Mercedes-AMG. For this new Z, however, Nismo and Nissan claim to have given birth to an actual performance model. No longer just a modified Z, the 2024 Nissan Z Nismo promises to be an entirely different animal, one that apparently comes with its own personality.
To achieve this, several key changes were applied to the car, some more subtle than others. The immediate visual differences between a Nismo and a normal Z are the set of new bumpers, skirt kits and rear duckbill spoiler, all of which, according to Nismo, create actual downforce, help keep the car more stable at high speed and cool down the engine and brakes during the process. The rest is mainly chassis, suspension, brake and engine tuning.
For instance, Nismo engineers reinforced the car's floor for improved rigidity and added torsion bars up front, out the rear and in the roof. Torsional rigidity is now 2.5% stiffer. Dampers and springs are all new, discs and calipers too. Even the damn steering rack was modified for quicker steering response, while all bushings were replaced for stiffer ones. This all leads to a 12.2% improvement in lateral rigidity. 19-inch Rays aluminum wheels reduce unsprung weight, while model-specific Dunlop performance tires, developed in house in collaboration with Nismo (the same set as on a GT-R Nismo), complete the handling package.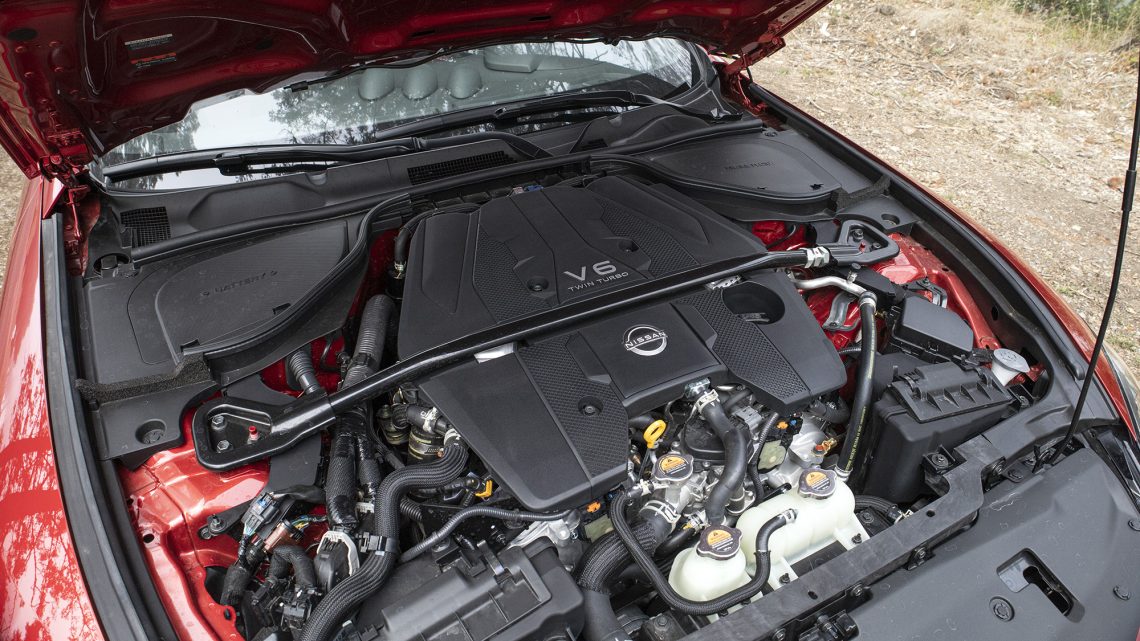 The twin-turbocharged 3.0-liter V6 also sees considerable improvements. There are new intake and exhaust systems, improved cooling and a reprogramming of the boost pressure control unit. Nismo even threw in the GT-R's independent ignition-timing control for optimized combustion. The end result are significant increases in horsepower and torque, climbing from 400 to 420 hp and 350 to 384 lb-ft. The 9-speed automatic transmission, sourced from Mercedes-Benz, gets new clutch plates for quicker shifts and an additional drive mode – Sport + – that you don't get in a standard Z.
Pricing, as expected, isn't cheap. The 2024 Nissan Z Nismo, which sits at the top of the Z trim ladder, costs $75,998 including freight. Here in Canada, it's available in only three colors, black, red or Stealth grey. Why is the Nismo not available with a stick? I asked, and Nissan told me a Nismo buyer seeks ultimate lap times. Only an automatic transmission can provide such precision. If you ask me, that's just a crock of shit to protect the Mercedes/Jatco manufacturing contract. However, Nissan did mention that if demand is there, it could eventually add a manual. You now know what to do if you want one.
Fantastic Chassis And Engine, Annoying Transmission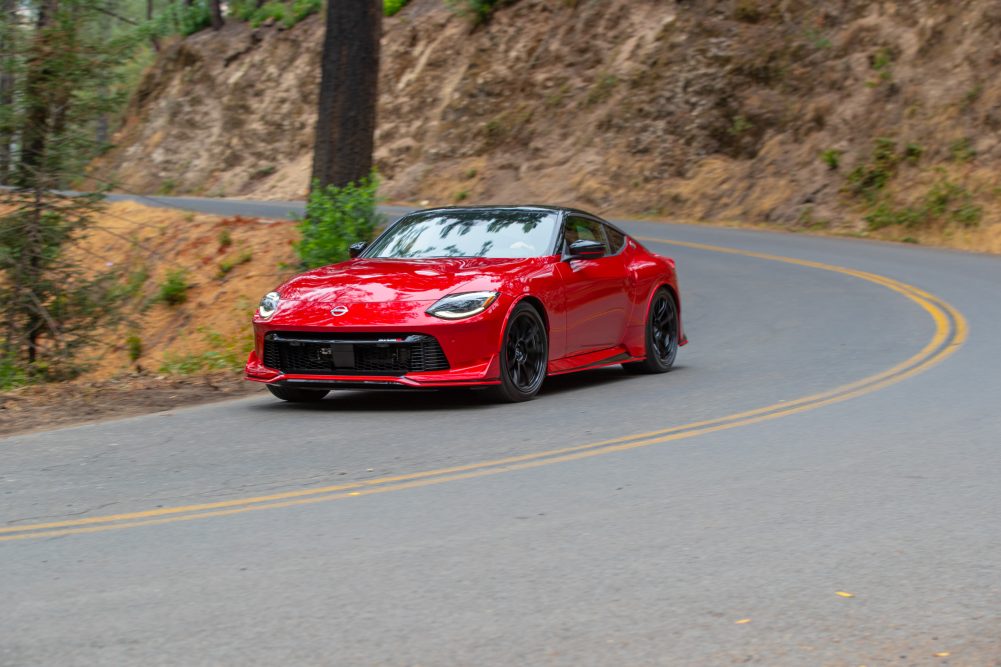 Nissan had prepared a two-section event, the first on the road, the second on the track at Sonoma. Immediately after beginning my run, it was clear from its burbling exhaust that this was no ordinary Z. If the standard car sounded way too muffled due to its turbocharged powerplant, this one exhibited the kind of vocals we miss from the old VQ engines. No, the Nismo is not as loud as a 350 or a 370Z, but it's loud enough to give it a sense of purpose. And the sounds are all organic, meaning they're not pumped into the cabin.
Climbing up and down Napa's picturesque mountain roads, I quickly felt at ease with the 2024 Nissan Z Nismo's immensely precise steering and rock-solid platform. It's way less tail-happy than the standard car, always well planted and forever confidence-inspiring. Sadly, that automatic transmission doesn't follow through. Even in its sportiest setting, pulling a paddle will have you waiting for that next gear. Unsurprisingly, it shifts just like a Mercedes-Benz.
It was on the track that the Nismo really showed me what it's worth. If you've been at Sonoma, you're well aware of its inclination changes, blind corners, fast esses and straights that can overcook a set of performance brakes if you're too hard on the pedal. Nissan had thrown us the keys to the standard Z prior to driving the Nismo, and boy were they entirely different machines out there in the wild.
That's because the standard Z is not a track car per se, but rather a street fighter of a sports coupe. This means its suspension damping is at times too soft for track duty, It's an ideal candidate for public roads, albeit its awful rearward visibility. Nevertheless, I loved the way the Z felt on beaten Quebec pavement, but out here on the track, it felt way too soft and bouncy.
Not the Nismo. Climbing up Sonoma's first corner, after the straightaway – an area that puts a lot of pressure on the rear of a rear-wheel driven automobile – the Nismo was always glued to the pavement. Entering turn 2, a blind corner at the top of that hill, the razor-sharp steering allowed me to tuck the nose right into the apex.
And once I had reached the end of turn 4, where you're essentially driving back down that hill while turning left, I could dig into the throttle a lot earlier. Power is relentless, and brakes never fade. The Nismo is at home on a track. You sense that it was engineered by people who actually understand the fundamentals of driving quickly to set lap times. Unfortunately, it's all kind of ruined when the shifting happens.
Mind you, that dimwitted gearbox did operate a lot better in full automatic mode, but it was never as precise as, say, Porsche's PDK, Volkswagen's DSG or even BMW's ZF automatics. It's a shame, because the rest of the car is absolutely brilliant.
Perhaps, more importantly, is how capable the 2024 Nissan Z Nismo is for the money. There's no doubt that it will hang with a BMW M2 and even a Porsche Cayman GT4 in the twisties. It's that good. Let's therefore pray that Nissan will give it a third pedal. Until then, this is without question a unique sports car that speaks directly to enthusiasts.
Clavey's Verdict
Review of the 2023 Nissan Z Nismo by William Clavey
Sports Cars
Fantastic chassis tuning
Stellar engine
Definitely a future classic
Not cheap
No manual transmission
Awful rearward visibility
Clavey's Corner is located in Montreal, Quebec, Canada. Prices and trim levels discussed in this article reflect the Canadian car market.
Special thanks: Nissan Canada
Photography: Nissan
Contact the author: [email protected]