The 2023 Porsche Macan T is a new version for an SUV that I personally adore. What's interesting about this trim level is that it's an extension of the base model, adding accessories and extra gear to the least expensive Macan. But does it actually work? I ask, because Porsche has a tendency of making you feel like you haven't paid enough money, forcing you to constantly yearn after fancier versions. Curious to see if the Macan T makes a compelling case for staying at the bottom of the lineup, I took one out for a spin during one of the coldest weeks we've had in Quebec this winter.
Paint To Sample Yellow
Yes, that's one hell of a flashy yellow paint, and I tell you, it was hard to keep it clean at -44 degrees Celsius. That color is part of Porsche's unique paint program called Paint to Sample. The option itself costs $13,050. But hey, at least it does allow the already beautifully sculpted Macan to pop in this desolate winter landscape, especially with those 20-inch Macan Sport wheels. It got people wondering what was so special about it.
I must say, I'm not a fan of the recent facelift the Macan's been submitted to, particularly its new face. That massive black section simply looks like the car was smeared with black makeup around its lips. From far away, it just looks dirty, but the wrong kind of dirty. At least the Macan T does swap some of that black for Agate Grey, but you'll only notice it if the car is clean.
The T model fills a new gap within the Macan's trim hierarchy. With the Turbo model now gone, leaving the GTS as the lineup's top dog, the T fits in nicely as a spruced up entry level model. The Macan lineup now goes as follows: Base, T, S and GTS. Porsche says the decision for the Macan T came from the fact that 60% of Macan sales in North America have mostly been base models fitted with options anyway, so it basically created one from the factory.
Powering a Macan T is the same turbocharged 2.0-liter four-cylinder as in the base Macan. This engine is also shared with the Audi Q5. It makes here the same 261 horsepower and 295 lb-ft of torque and it's still paired to Porsche's excellent 7-speed dual-clutch (PDK) automatic transmission. All-wheel drive comes standard on all Macans sold here in Canada.
From a technical standpoint, the T gets larger anti-roll bars, adaptive dampers and the Sport Chrono package as standard equipment. The latter yields a launch control program. My tester was equipped with some optional equipment such as Porsche's PTV Plus torque vectoring system, an air ride suspension and a performance exhaust system, raising the sticker price from $67,950 to a whopping $91,900.
The Little Brat
If there's an area where Porsche excels, is in its ability to inject fun into any type of vehicle. The 2023 Porsche Macan T perfectly proves this point. Although it's far from the fastest Macan currently on sale, it's arguably the more charismatic in the lineup.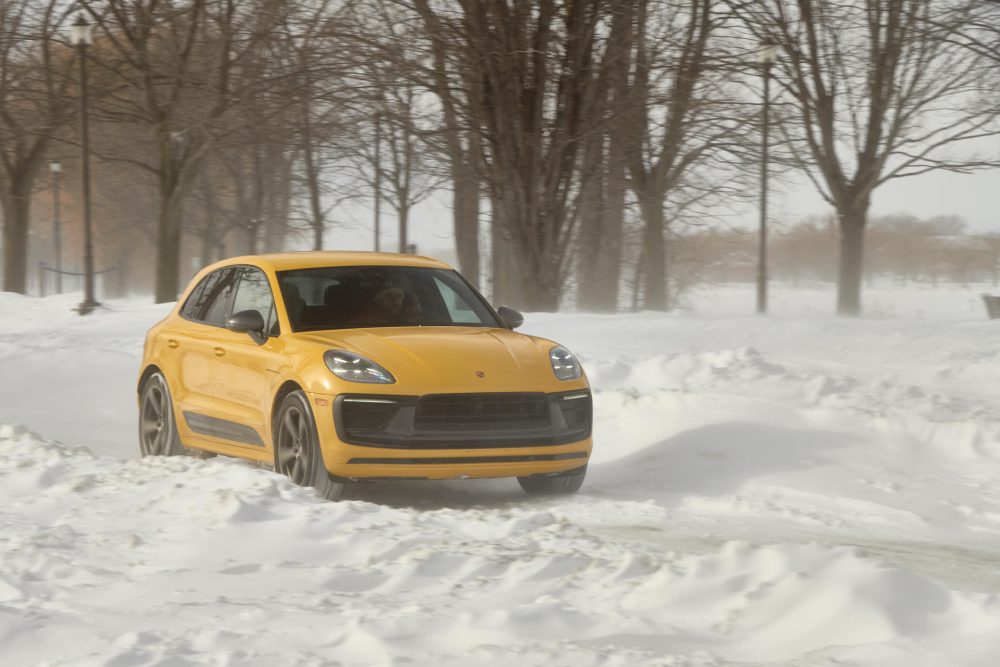 Equipped this way, with the Sport exhaust and Sport Chrono package, there's plenty to love about this SUV. The fact that there's considerably less weight sitting on the front axle means the Macan T is a lot more playful at the limit, with a sense of lightness as it carves its way around a corner. Mind you, because I was driving this thing during a polar vortex, it was hard for me to sample its road holding abilities. But a few controlled drifts on ice and snow did allow me to experience its exquisite chassis balance.
That's really what shines through the most when driving all versions of the Macan: balance. The darn thing somehow always feels light on its feet, easy to maneuver and, more importantly, responds to your inputs at lightning speeds. The Macan turns quickly thanks to its small and direct steering. It rides smooth all the time, even when its dampers are at their firmest. And the entire thing wraps around you, giving you a sense of being at the helm of a genuine performance item.
Extracting that tiny engine's full potential will require you to rev it out a tad more than the V6, and the decibels that spurt out of its exhaust system, while pleasant, are nowhere near as audible as in the six-cylinder models. But it's still a gem of an engine, providing a pleasant swathe of torque down low with an endearing tendency to rev eagerly to redline. It all leads to a smooth, linear and engaging delivery of performance.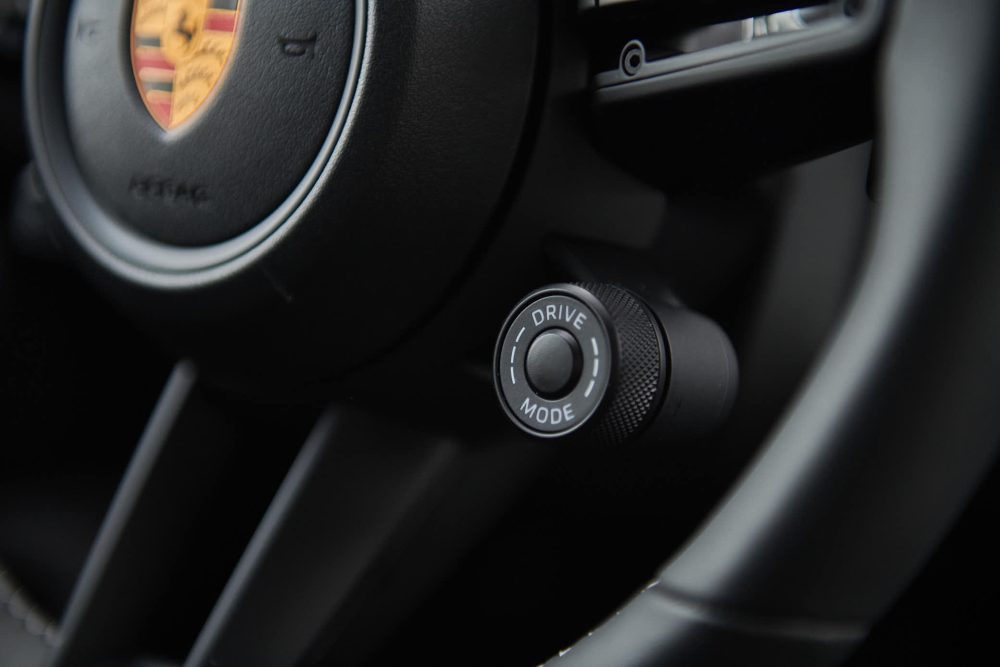 Of course, to maximize your gains, you'll want to activate the Boost feature. One hit of a tiny botton located on the steering wheel will put the engine and transmission in hyperactive mode during 20 seconds, adding a fresh dose of excitement to your drive.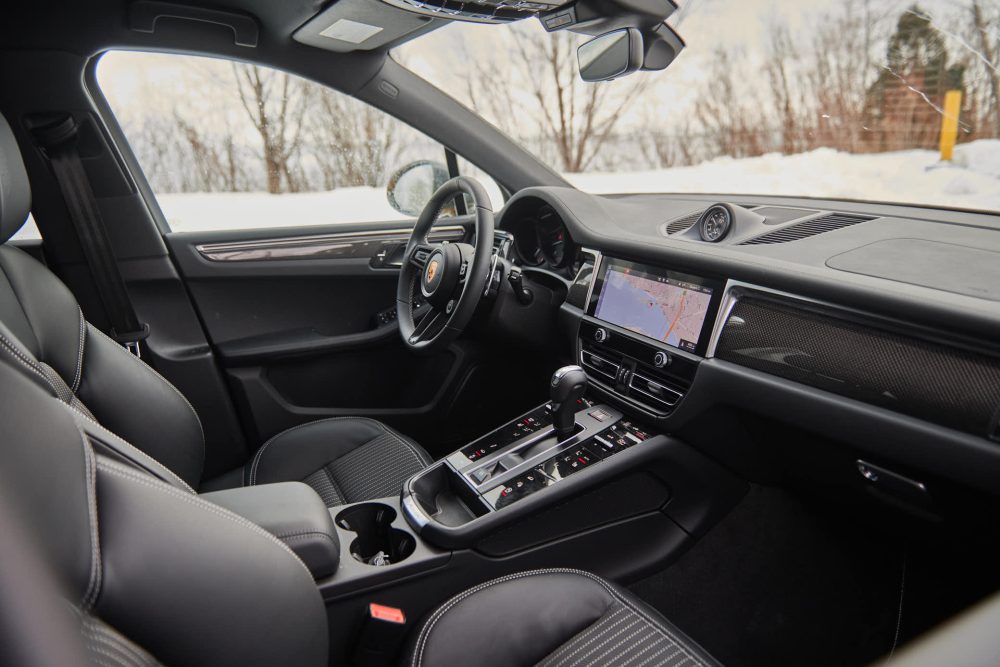 Inside, the Macan T does very little to distinguish itself from other Macans. But that's also what I personally love about this SUV. It's as German premium as German premium gets in the sense that everything has a purpose to it. Yet, it's all presented through impeccable build quality and high-end materials. The Macan's cockpit is a fun place to spend some time in due to its sporty nature, but also its class-leading ergonomics.
Sure, a digital gauge cluster could have helped this thing be more in tune with the times, but those analog readouts are timeless and easy to grasp. The center console is just as loaded with buttons as before and it does get some getting used to. But once you've wrapped your head around it all, it all makes total sense.
It's the same story for the infotainment system. While cluttered in information and menus, it quickly somehow all works, operating in total seamlessness and effectiveness. Connecting wirelessly to Android Auto was a breeze.
Perhaps where the Macan continues to show its weakness versus other premium SUVs is in its lack of actual utility. That rear seat is mostly reserved for children or small adults, while total cargo space, with all seatbacks lowered flat, is only rated at 1,472 liters. That's low compared to a BMW X3 (1,775 liters) or even an Audi Q5 (1,502 liters).
Then again, the 2023 Porsche Macan T was never designed to be an SUV, but rather a Porsche that appears to have SUV qualities. While still practical for daily commutes, it's mostly the way it drives and performs that constitute the reason for its existence. As for the T variant, it simply proves that at Porsche, the base models no longer need to suck.
Clavey's Verdict
Review of the 2023 Porsche Macan T by William Clavey
Premium Compact SUVs
Just enough power and torque
Telepathic steering
Well put together and ergonomically brilliant
Not cheap
Tight rear seating area
Some rivals offer more cargo space
Clavey's Corner is located in Montreal, Quebec, Canada. Prices and trim levels discussed in this article reflect the Canadian car market.
Special thanks: Porsche Canada
Photography: Guillaume Fournier
Contact the author: [email protected]