The 2022 BMW X3 M40i is the SUV I've told many people to get so far. You see, because of my job, I receive several messages from readers asking me what vehicle they should buy. Some of them have asked me if they should buy an Audi SQ5. Others wanted to know if the Mercedes-AMG GLC 43 was worth their hard-earned money. And each time, I'd tell them something along the lines of: "those SUVs are cool and all, but did you consider an X3?"
Everyday Sweet Spot
Pretty much each time I'd tell people to consider the BMW, they'd get back to me saying they loved it and decided to buy one. The thing is, not only is the X3 the king of the hill in its segment, in M40i form, it really is the perfect balance between badshit models like an X3 M or an Alfa Romeo Stelvio Quadrifoglio, and something a bit more lukewarm, like, say, an Acura RDX.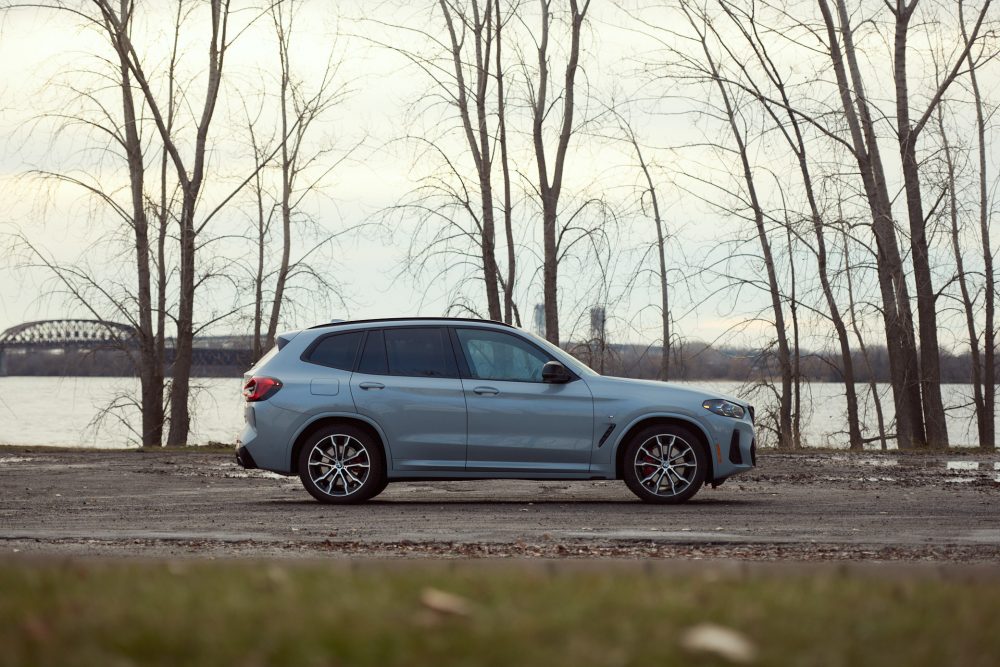 The X3 simply offers more of everything, yet, it remains a BMW, meaning it's built like a rock, feels and looks like a premium item and, most importantly, still drives like a sports car. This is one of the last SUVs on sale that still utilizes a longitudinal straight six layout, meaning it sends the power to the rear wheels before channeling it to all fours. In other words, it's a sports car wearing a family friendly suit.
The 2022 model year brings a mid-cycle refresh. BMW likes to call these LCI for Life Cycle Impulse, a fancy rich snob term to designate new headlights, a new grille, new taillights – that somehow look like lobster claws now for some reason -, flashier colors, new wheels and minor cabin tweaks. I mean, sure, the LCI kind of helps making the X3 look a bit more like BMW's latest models. But it still looks dorky as hell.
The 2022 BMW X3 M40i remains the most powerful version before stepping up to the full-fat X3 M. It's part of BMW's M Sport lineup of vehicles, models that aren't exactly M cars but that offer enough M injection to deserve the famed letter. These versions are typically more powerful than their standard counterparts, and come fitted with improved suspension components and brakes.
In this form, power comes from the same turbocharged 3.0-liter straight six as before, except it now has a mild 48-volt hybrid system grafted onto it. Total combined output remains unchanged at 382 horsepower and 369 lb-ft of torque. What the electric motor does is improve overall efficiency and fill in during shifts. Those shifts are provided by a ZF-sourced eight-speed automatic gearbox. All X3s come standard with BMW's xDrive all-wheel drive system. With these specifications, the M40i will launch out of the hole to 100 km/h in a brisk 4.4 seconds, making it quicker than anything else in this class.
Pricing, in typical BMW fashion, isn't cheap. You need to pay $66,900 to access the darn thing. Of course, that's before piling on all the optional packages, which will cost you an arm and a leg. Special mention goes to $7,900 Advanced Luxury package of my tester, or the equivalent of a second hand MINI Cooper. The final sticker price for the Brooklyn Metallic Grey X3 you see here was $84,335.
Brutal Acceleration
The 2022 BMW X3 M40i may look dorky, but there's nothing dorky about the way it performs. Set it to its most aggressive Sport+ setting, remove traction control and activate its launch control sequence, and it'll claw itself to the ground and accelerate brutally until you decide it's time to stop. Power is absolutely relentless, but also smooth. Where BMW really shines here is in the drivetrain's eagerness and its ability to generate power at any RPM. As long as this engine has revs left, it'll pull all the way to the last increments of the rev counter. Oh, and it loves to fart. The farts are loud.
It also sounds absolutely perfect, although I could do without the fuck-tard pumped in audio. At least BMW's fake sounds aren't as irritating as other carmakers, like say Honda in the Civic Type R.
Apart from blistering acceleration, the M40i puts down impressive grip considering its top-heavy nature. There's a pleasant buttoned down feel during hard launches, but also a light, controllable sensation when throwing it hard into a corner. If anything, this feels just as composed as the company's sport sedans. Brakes bite super hard, body roll is always kept low and the M40i's steering is arguably the best in the business. Wait, scratch that. The best in a business where the Alfa Stelvio wouldn't exist.
The LCI update also gave the X3 a bit more color inside. Past BMWs had the annoying tendency of always being black, grey or tan inside. Not anymore. With the new M3 and M4 sisters now arriving with more color combinations than a party pack of Mr. Freeze freezies, the X3 kind of had to follow the trend as well.
That's why my tester had the beautiful (and optional) Fiona Red Merino leather interior. It really popped against that battleship grey exterior paint. Those seats are immensely comfortable and supportive. There's something about how BMWs feel when sitting inside them, and how all controls seem to be at arms length.
While most of the X3's cabin design is relatively unchanged, there's an all-new 12.3-inch screen for the always excellent iDrive infotainment system. BMW continues to allow touch controls, but the center-mounted knob dial is where it's at. Aside from a tad more complexity in the way one can personalize the system's menus (BMW always overengineers things), the system remains highly enjoyable to use.
What I don't get is why BMW fiddled with the gear leaver. The old X3 M40i had a nice, thick knob to grab onto. It made driving the X3 in manual mode using the stick a much more pleasant affair than with the paddle shifters. Sadly, it's been replaced by a smaller, stubbier shift knob that's been wrapped in a gloss black plastic finish that looks and feels cheap, but also deletes all pleasure from operating it. It also looks way too generic, appearing like some sort of aftermarket ornament from eBay Motors.
Finally, the main reason why I'd tell you to get the 2022 BMW X3 M40i, is that on top of being super fast off the line, immensely fun to drive, well put together and more comfortable than a leer jet, it's the most spacious compact luxury SUV in its class. At 1,775 liters of total cargo space (with the rear seatbacks folded flat), it walks all over a Stelvio (1,600 liters), a Q5 (1,503 liters) and a GLC (1,149 liters).
So there it is, the BMW X3 is the best compact luxury SUV money can buy. If the X3 M is a hilariously fast. physics-bending performance machine, this M40i is the sweet spot that throws all the good stuff into a blender and serves you the best compromise of the lineup. There's just nothing better in this segment – is what I would say if the Porsche Macan didn't exist.
Clavey's Verdict
Review of the 2022 BMW X3 M40i by William Clavey
Compact Luxury SUVs
Brutal acceleration
Sport sedan handling
Best cargo space in the segment
Optional packages have stupid prices
Looks goofy as hell
What's up with that shifter?
Clavey's Corner is located in Montreal, Quebec, Canada. Prices and trim levels discussed in this article reflect the Canadian car market.
Special thanks: BMW Canada
Contact the author: [email protected]