The 2019 Toyota Tundra TRD Pro is now far behind its American rivals in terms of refinement and technology. Even if Toyota's been injecting it with updates, its second-generation rig has been around since 2007 virtually unchanged.
Meanwhile, the big three – FCA, Ford and General Motors – have been dishing out seriously advanced trucks, with better transmissions, higher towing ratings, and superior fuel economy. We'll have to wait another two years before seeing an all-new Tundra, imagine that. Until then, I need to ask: why are people still buying these things? I took one out for a drive to find out.
Trusty Work Horse
The thing is, reliable transportation is hard to look away from, and there's no denying how rock solid the Tundra is. After all, Toyota's made a name for itself with reliability, and its full-size truck is no exception. Factor in class-leading resale value, and you start to understand why these things remain appealing.
The Tundra is also quite capable. Fine, it won't tow 11,000 pounds, but it can still haul around a 9,400 pound (4,264 kg) trailer when powered by its most powerful 5.7-liter i-Force (don't say that in French) V8 engine. For many people, that's enough.
That's the engine my tester was equipped with, pumping out a still competitive 381 horsepower and 401 lb-ft of torque. It's mated to a six-speed automatic gearbox which, like the truck itself, has been around since the Y2K bug. Meanwhile all three American rivals come standard with at least eight gears.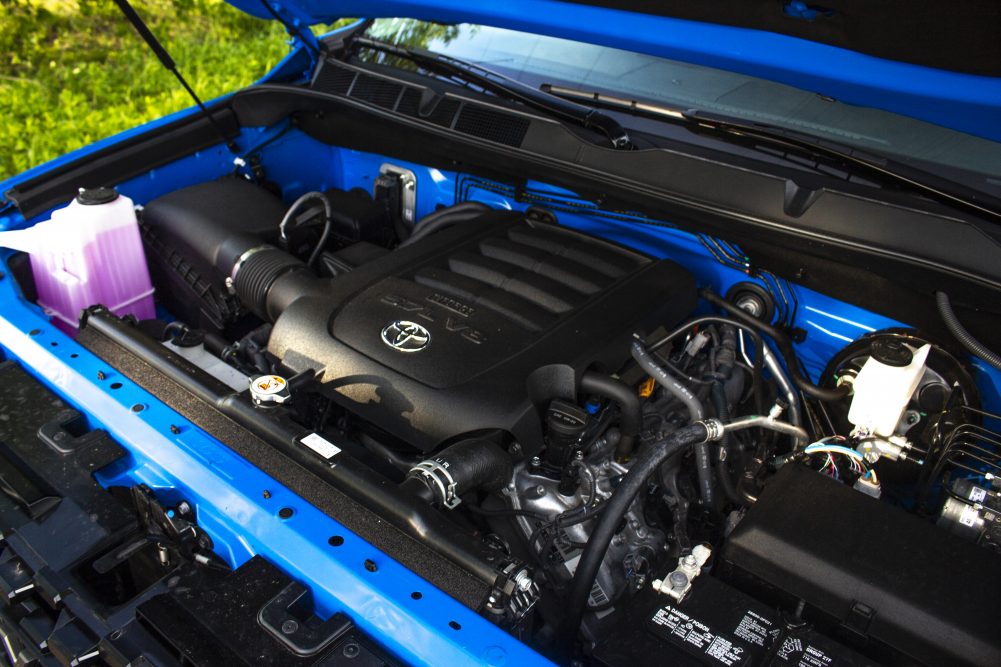 Base Tundra's are powered by a 4.6-liter V8 good for 310 horsepower and 327 lb-ft of torque, mated to the same six-speed automatic transmission. But that one only tows 6,499 pounds (2,978 kg), which is less than a midsize Chevrolet Colorado. It's not worth it.
The TRD Pro really is the most interesting trim package within the Tundra lineup. It's also the most expensive one, especially in CrewMax mode. My tester stickered for a whopping $65,842!
But you do get quite a lot for your money. On top of being fully loaded, complete with leather seats and Toyota's full suite of semi-autonomous safety features, the TRD Pro gets a slew of off-road dedicated goodies. Like its little brother, the Tacoma TRD Pro, the Tundra gets a Fox Shocks suspension upgrade – 1.5-inch front lift, 2.0 inches rear -, skid plates, Rigid Industries LED fog lights, off-road dedicated tires, 18-inch BBS wheels, and a bad-ass-sounding sports exhaust. The standard Tundra's four-wheel drive system remains unchanged, as well as power and torque.
All TRD Pros also get unique styling cues, such as not one, but two (fake) hood scoops, TRD badging and a kick-ass front grille with classic TOYOTA lettering. Ever since the very first Tundra TRD Pro appeared four years ago, each model year gets a unique color. For 2019, it's Voodoo Blue, and I quite like it!
Come At Me World
Each time I drive a Tundra TRD Pro, I feel like driving to other side of the world with it. As a matter of fact, I did exactly that the last time I drove one. The problem is that these things drink so much fuel, that your roadtrip will end up costing you more than your mortgage.
The best I could get while I drove this thing was a 15L/100 km average. And that was on the highway, unloaded, feathering the throttle. It's easy to get close to 20L/100 km with a Tundra, which is ridiculous considering a GMC Sierra powered by a 6.2-liter V8 can easily hang in the mid elevens.
That six-speed transmission certainly doesn't help. To its credit, it's a smooth operator when it does shuffle between gears, but the lack of available cogs means it downshifts violently the moment you ask for more power. That, or it holds on to a gear since it only has six to choose from, leaving you with a lack of puff. That's because that engine is most at home at higher revs.
I will say this though: the V8 sings rather satisfying melodies; a nice, deep, throaty exhaust note that gives the 2019 Toyota Tundra TRD Pro plenty of character, making you feel invincible behind the wheel. It's also a rather quick truck when you gun the throttle.
Getting Tired
Generally speaking, the 2019 Toyota Tundra TRD Pro is a smooth-riding truck, and still incredibly quiet given its age, but there's no denying its dated interior. The American competition is miles ahead in terms of material quality, ergonomics and overall design. This thing still requires a physical key to start it. That's how old it is.
That said, the Tundra's CrewMax cabin remains a spacious and comfortable one, both front and rear, with supportive seats and plenty of head, leg and shoulder room. I personally dig the ginormous centre console in which you can toss virtually anything, or the rear glass that slides down electronically like in a 4Runner. And all controls are simple and easy to find, especially the enormous knob dials to control the HVAC system, perfect when wearing a pair of gloves during winter. 
Sadly, the infotainment system lacks the modern toys we expect from today's vehicles, especially the ones sold at this price point. While it's easy to get simple tasks done, it's still not Android Auto or Apple CarPlay compatible. That'll come next year. Also, the screen itself is tiny, and the interface is way behind when compared to the competition.
It's hard to get around the fact that for similar money, you can go out and buy a Ford F-150, a RAM 1500, a Chevrolet Silverado or a GMC Sierra with more capability, more bed and cabin options, improved fuel economy and better appointed interiors. When compared to the segment, the Toyota Tundra doesn't make sense.
But when observed alone, it remains a charming truck. It's reliable, solid, capable enough, and oozing with character. It's a good machine, a dependable work horse, but a tired one that's begging for a break. As for the TRD Pro variant, it'll probably be worth twice, if not three times the price of a Ford, a Ram or a GM in ten years. Call it its last trick up its sleeve. Its for that reason alone that the 2019 Toyota Tundra TRD Pro gets my respect.
Clavey's Verdict
Review of the 2019 Toyota Tundra TRD Pro by William Clavey
Full-size Trucks
Proven reliability
High resale value
Spacious and comfortable cabin
A gas hog
Dated interior
Entire drivetrain needs an overhaul
Clavey's Corner is located in Montreal, Quebec, Canada. Prices and trim levels discussed in this article reflect the Canadian car market.
Special thanks: Toyota Canada
Photography: William Clavey
Contact the author: [email protected]