The 2024 Subaru Forester is arguably one of the most non-enthusiast friendly vehicles currently on sale. Sure, Subaru once sold a rather quick XT version and a Forester STI did at one time exist somewhere on the planet, but apart from that, there's nothing about this bread box that allows it to really attract automotive geeks like you and me. It's, a car, or rather, just another SUV. But you know what? Spending the week with one had me realizing how important these kinds of vehicles are. If anything, the Forester added value to the daily driver, a type of car we way too often take for granted.
2024 Subaru Forester Review: Big Box With Googly Eyes
Subaru does many things right, but styling is not one of them. The 2024 Subaru Forester is a perfect example of this as it's one of the ugliest new cars on the road. I mean, there's nothing about this design that's particularly inspiring nor attractive. It's almost as though the entire design team gave up and went to the bar instead.
Essentially looking like a big box with googly eyes, plastic cladding and some awkward red finishing touches here and there (part of the Sport trim), the Forester does at least preserve the utilitarian look that we expect from this nameplate, and frankly, the Wilderness version is pretty cool. It's the inevitable evolution of the model, basically giving the #subaru fans a reason to vape longer.
The Forester was mildly updated for the 2022 model year, so there isn't anything new this year per se. It's essentially the same tried and trusted formula as when this fifth-generation SK model was released back in 2019. This means that it still rides on Subaru's Global Platform and it's still powered by only one engine, in this case a 2.5-liter Boxer four-cylinder that's good for fine 182 horsepower and 176 lb-ft. It's too bad to not see Subaru stuff the BRZ's 2.4-liter unit or even the same turbocharged engine that's under the WRX's hood. Imagine that. Instead, we're stuck with the boring option, paired with an even more boring CVT. I know, this sucks.
At least Subaru's fantastic symmetrical all-wheel drive system does come standard, along with the neat X-Mode technology, which allows these things to be surprisingly agile in a beaten path.
Pricing for the new Forester remains somewhat affordable in this day of the inflation. Here in Canada, the lineup kicks off at $34,511 and tops off at $45,111 for a Premier. There are six trims to choose from, with this Sport model sitting right smack in the sweet spot of the pricing hierarchy at $40,811.
Dad Mode
Perhaps where the 2024 Subaru Forester continues to impress is how fantastic it is at being a parent mobile. As a dad, I now pay a lot more attention to cars that have a lot of room and feel safe behind the wheel. The Forester is all of those things thanks to a high roofline, yielding massive headroom and a lot of windows. It feels like you're in a fishbowl in there, but it also allows you to have a commanding view of the road. Dads like that kind of shit.
There's also the typical grounded feel of a Subaru that I have always loved. These things literally feel glued to the tarmac, because, well, they are. That's all thanks to that low Boxer engine and the superb all-wheel drive system. Of course it's always best to savor this quality during a cold winter's day, but since I was driving the Forester during fall, I had to work with what I had.
Power is fine. I mean, it's not supposed to be a fast car and while I do wish Subaru seized the opportunity to relaunch a sleeper-fast Forester, the standard 2.5-liter mill gets the job done the way you expect it to. Subaru engines don't sound as loud as they used to, especially not on idle, and that's great. But the fucking CVT inevitably creates the dreaded droning effect that's typical of these systems. To Subaru's credit though, its CVT is rather good. I know, this sounds like an oxymoron. How can a CVT be any good?
Well, it adequately exploits the car's power and torque, so it never feels like a nuisance. It makes the car sound like shit, yes, but at least it works. You can also modulate its characteristics through a tiny button on the steering wheel. S is a "sportier" drive, while I, for intelligent, lets the system automatically adapt. It all works very well. And shit, this Forester returned a 8.5L/100 km average. So if that CVT gets me good fuel economy, dad's totally ok with that.
Well Built And Super Practical
And my god Subarus are well put together now. Nothing about this lunch box on wheels is revolutionary. It still utilizes old analog gauges and its dashboard design is as awful as its exterior. But everything just, works. Fit and finish in there is second to none and the damn thing is comfortable, also well equipped, even in this Sport trim.
Seats offer fantastic lumbar and lateral support, while all controls are easy to grasp and operate. I mean, even its infotainment system, while laggy at times, is easy to understand. It'll also allow you to manipulate it with a pair of gloves in winter, which is rare and handy, especially when you live in a northern climate like I do.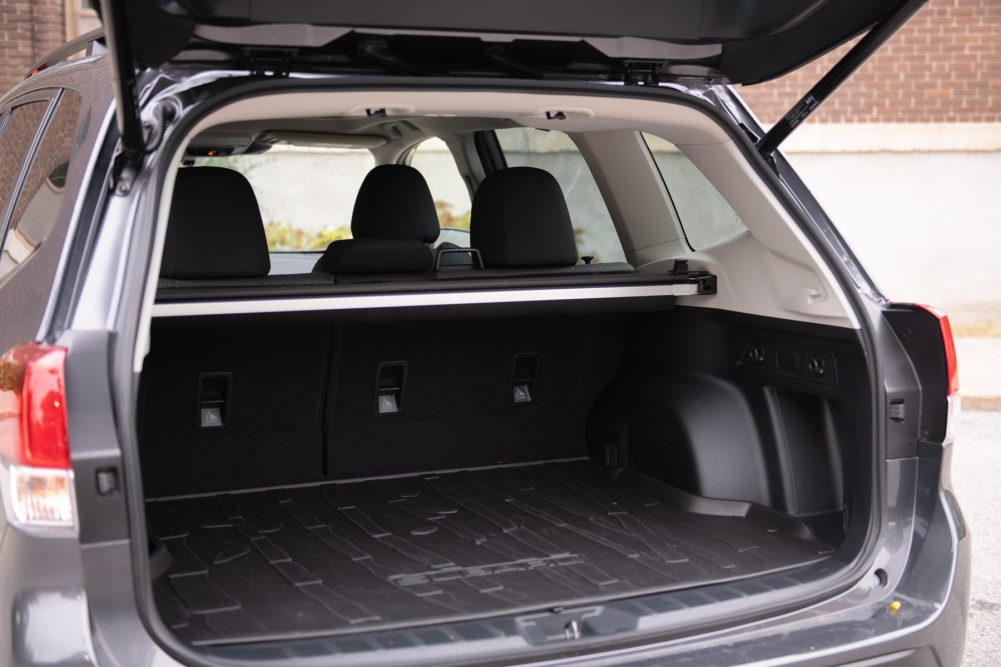 Out the rear, the Forester maximizes its boxy shape by offering its passengers a ton of headroom and more than decent legroom. I had absolutely no issues fastening the baby shell back there and never did my spouse feel the need to move her seat forward. The Forester is also one of most practical SUVs in its class with up to 1,953 liters of available cargo space when the seatbacks are folded flat. Sure, a Honda CR-V can hold more gear (2,166 litres), but how much cargo space do you really need?
So there you have it, a very ordinary review of a very ordinary car. Yes, the 2024 Subaru is fine, but sometimes, fine is precisely what you need to get your groceries home or your kid to the hospital after he banged up his knee. The Forester is affordable, reliable, spacious and practical. You can be also be damn sure that it'll take on a tough Canadian blizzard head on no sweat. At the end of the day, it's those kinds of cars that are the real heroes of the automotive industry.
Clavey's Verdict
Review of the 2024 Subaru Forester Sport by William Clavey
Compact SUVs
Tried and proven drivetrain.
The best all-wheel drive system in the business.
Spacious, practical and affordable.
Buzzy drivetrain.
Only one engine option.
A face only a mother can love.
Clavey's Corner is located in Montreal, Quebec, Canada. Prices and trim levels discussed in this article reflect the Canadian car market.
Special thanks: Subaru Canada
Photography: Guillaume Fournier
Contact the author: [email protected]