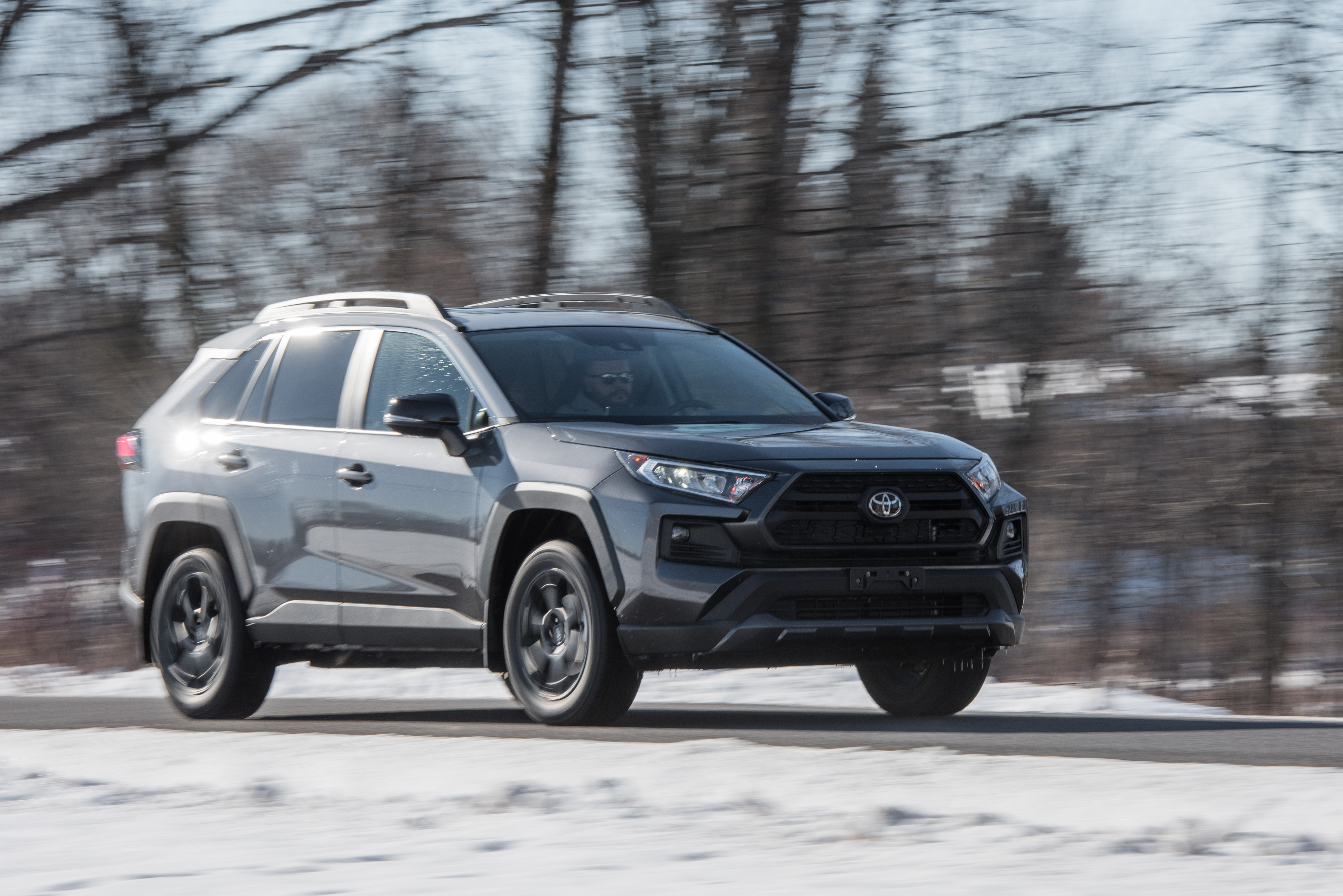 The 2020 Toyota RAV4 is impossible to write about. Because the gist of my job is to guide people into the purchase (or not) of a new automobile, a vehicle as good as the RAV4 is such a no brainer of good purchase that I suddenly become irrelevant. When people ask me what I think of a RAV4, I typically respond with "it's a good purchase". And then, I have nothing else to add. That's how good these things are.
So when Toyota Canada offered me to take the latest model for spin, I didn't exactly know what to do with it. I already knew it would be fantastic. Fine, I hadn't driven the new RAV4 yet, so I was curious to find out what it's like. It's the same guys. It's the same good Toyota RAV4 as before. This review has therefore no purpose.
But Much Cooler
Where past Toyota RAV4s weren't great was in the way they looked and made you feel. The RAV4 was never a particularly exciting product, nor one you necessarily dreamed of owning. It was rather a rational, reliable and affordable form of transportation.
Now though, Toyota had given its compact SUV some presence by making it look blockier, more adventurous. Longer and wider than its predecessor, this new RAV4 rides on Toyota's modular TNGA-K architecture, which also underpins the Camry and Highlander. The vehicle's center of gravity was lowered for better handling and improved interior packaging. It's also more aggressive now, appearing more like a mini 4Runner than a bloated minivan, which I quite like.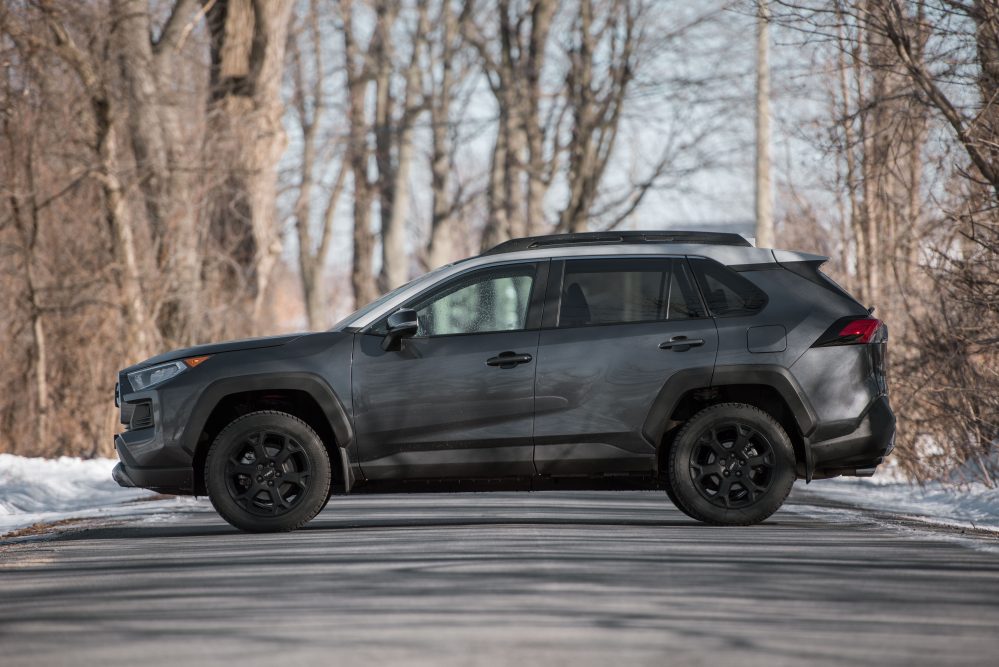 Power in the 2020 Toyota RAV4 comes from two engine choices, either a naturally aspirated 2.5-liter four-cylinder (as tested) good for a claimed 203 horsepower and 184 lb-ft of torque, or a 219-horsepower hybrid. While the hybrid is bolted to a continuously variable transmission (CVT), the 2.5-liter gets an eight-speed automatic gearbox. Front-wheel-drive is standard, with available all-wheel-drive.
My tester was a new trim level for the 2020 model-year, the one Toyota calls TRD Off Road. It's essentially an all-wheel-drive RAV4 Trail ($41,229) with a $2,820-dollar package grafted onto it. The kit adds model-specific 18-inch wheels, TRD tuned "off road" suspension, LED fog lights, an 11-speaker JBL sound system and an eight-inch screen. It only comes in three colors: Super White, Magnetic Grey Metallic (as tested) and Lunar Rock. You need to pay $540 extra if you want a white roof like this one.
The TRD Off Road package also comes with what Toyota calls, a SofTex interior, with contrasting colors and red TRD logo on the seats, which give it a distinguished sporty presence. Final price for the adventurous-looking urban crossover you see here is $44,589.
Still The Same Underneath
While the 2020 Toyota RAV4 has a sportier and more adventurous look, it's still the same tried and proven formula underneath, which means it drives well, but never lights your hair on fire.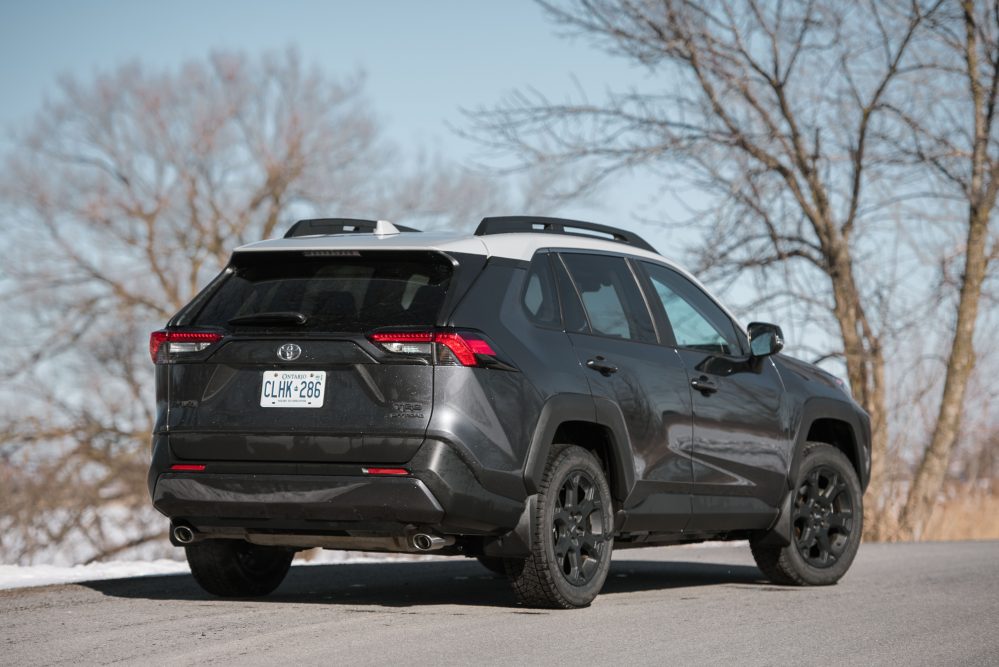 But, when you think about it, isn't this what we all want? Let's face it, even if Toyota tries really hard to convince consumers that you can take this new RAV4 out in a trail, most owners will probably never hit the mud in one. And that's fine, because Toyota still sells the 4Runner and the Tacoma for those who absolutely must bring a Toyota out in the beaten path.
The RAV4 does at least have a "Rock & Dirt" mode, which adjusts its traction control system and transmission mapping for better grip on the rough stuff. It's handy out in a slightly bumpy trail with a bit of mud, but don't expect to partake in some wall-climbing action in your RAV4.
Instead, this crossover is perfectly content completing the daily grind, i.e. bring the kids the school, carry your groceries or allow you to shove a new IKEA bookcase down its trunk. Power delivery from the 2.5-liter is smooth and there's plenty of torque down low for urban commuting. If you decide to gun it, you'll find it's not particularly quick off the line, but that its engine at least revs eagerly while emitting an ok soundtrack.
The eight-speed automatic is fine, but as I have always said, these things work better on higher displacement engines. So in the RAV4, it's often chasing gears, lagging when you ask it to instantly downshift for more power. The RAV4 also doesn't handle particularly sporty or actually entices you to hoon it in any way. It get's the job done. In other words, it's a car, that tries to look like a truck. The end.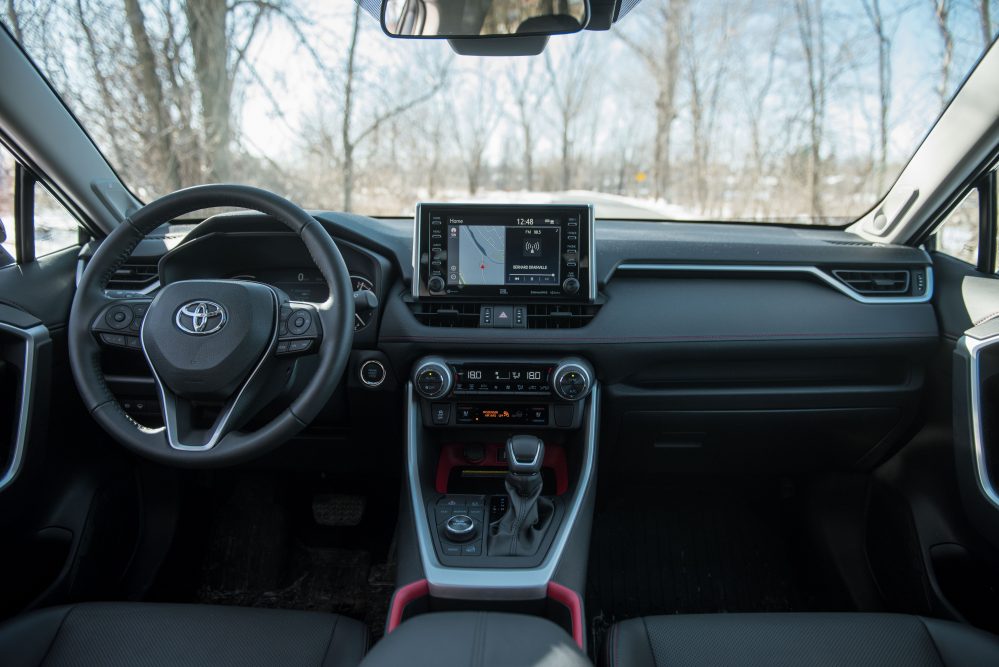 What the RAV4 does better than its rivals is envelop you in a secure feeling of quality and craftsmanship. This vehicle feels rock-solid, quiet and smooth, feeling like a budget-minded Lexus. I also dig the way its interior looks, with plenty of storage compartments, large knobs, USB ports and ample leg and headroom out the rear. Material quality is superb and fit and finish is exemplary. It does what compact SUVs do well, but in a cool and fresh-feeling package.
As for cargo space, this RAV4 got larger than its predecessor, but still doesn't beat the segment leader; the Honda CR-V (2,146 liters). Fold its rear seat down flat, and it'll give way to 1,976 liters of space, which is still enormous when compared to a Nissan Rogue (1,951 liters) or a Chevrolet Equinox (1,809 liters), for instance.
It's also rather good on gas, even if it isn't a hybrid. During the time I had the RAV4, in winter, I managed to pull a steady 9.5L/100 km, which, for an all-wheel-drive vehicle running in the cold, is rather impressive.
Toyota also significantly improved the RAV4's infotainment system. It's now compatible with both Android Auto and Apple CarPlay – finally -, and the large physical knobs and buttons are appreciable when wearing a pair of gloves during winter. That said, the interface itself remains cluttered and often hard to comprehend. There's just too much information presented at once.
Look, if you came here expecting me to say the 2020 Toyota RAV4 is a piece of shit, I'm sorry to disappoint you. This thing is so good it makes me wonder why I'm still doing this job. Fine, it's not an enthusiast vehicle, far from it. Yes, it's another lame crossover, but Toyota did a fantastic job of at least not making it look or feel lame.
At the end of the day, we all need a reliable and affordable daily driver, something the RAV4 has always done impeccably well. Hey, Toyota sold over 500,000 of them in the US and Canada alone last year and resale value is through the roof, so I guess it's doing something right. Buy one, it's a good vehicle. As for me, I'm going to go puke now.
Clavey's Verdict
Review of the 2020 Toyota RAV4 by William Clavey
Compact Crossovers
Looks pretty cool
Proven reliability
Spacious, roomy, and great on gas
Boring to drive
Laggy gearbox
Cluttered infotainment interface
Clavey's Corner is located in Montreal, Quebec, Canada. Prices and trim levels discussed in this article reflect the Canadian car market.
Special thanks: Toyota Canada
Photography: Guillaume Fournier
Contact the author: [email protected]