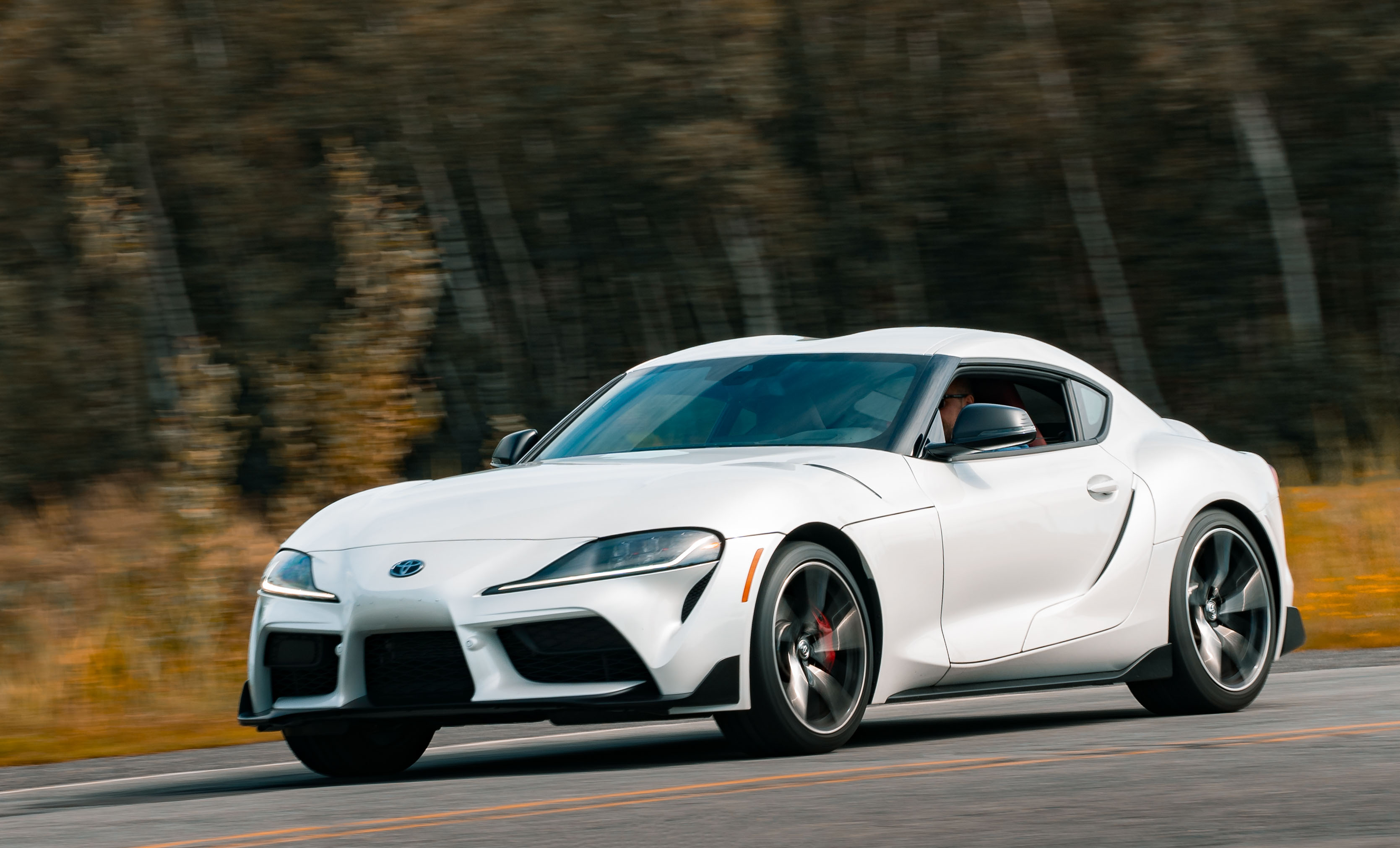 It took me a while to put the 2020 Toyota Supra on here. I just needed some time to think about it. While yes, I drove it last summer – among the first Canadian journalists to do so, actually -, I had then used it as a comparison test against its mechanical twin: the 2020 BMW Z4. Back then, I simply couldn't digest the fact that Toyota's legendary halo sports car was built and engineered by the Germans. I even went along and said I preferred the Z4, a claim I still stand by today.
But now that I look at the Supra with a bit more afterthought, it's actually the car that impressed me the most in 2019. So much so, that it made my Best of Everything List 2019. It's downright the best sports car I drove all year. I also didn't review it alone. So here it is.
Let's Talk About Its Looks
The 2020 Toyota Supra's looks are growing on me. While that Absolute Zero white paint job gives it a cool JDM demeanor, I'd personally get mine in more vibrant colors, like red or yellow. The reason being its curvaceous nature and wide fenders. Bright colors simply accentuate all that.
Toyota did a bang up job of maintaining the original FT-1 concept's design intact. Well, somewhat intact, considering all the safety and aero regulations it had to go through. This is still a good looking car overall.
The thing is, the Supra looks a lot faster than it should. It has creases and air vents all over the place, some at areas that don't even make sense; several of them aren't even real.
What saves the Supra from looking dorky are its hips and its stance. It has that low, wide rear you want from a sports car. Coming from a distance the front end is simply epic, appearing sporty, modern and of good quality. It's a relatively small car, smaller, actually, than its predecessor. Remember, the Mark IV Supra was first and foremost a grand tourer; a big, wide, heavy, but highly technological and very powerful sports coupe. This, however, is much more precise, more compact and tauter in every way.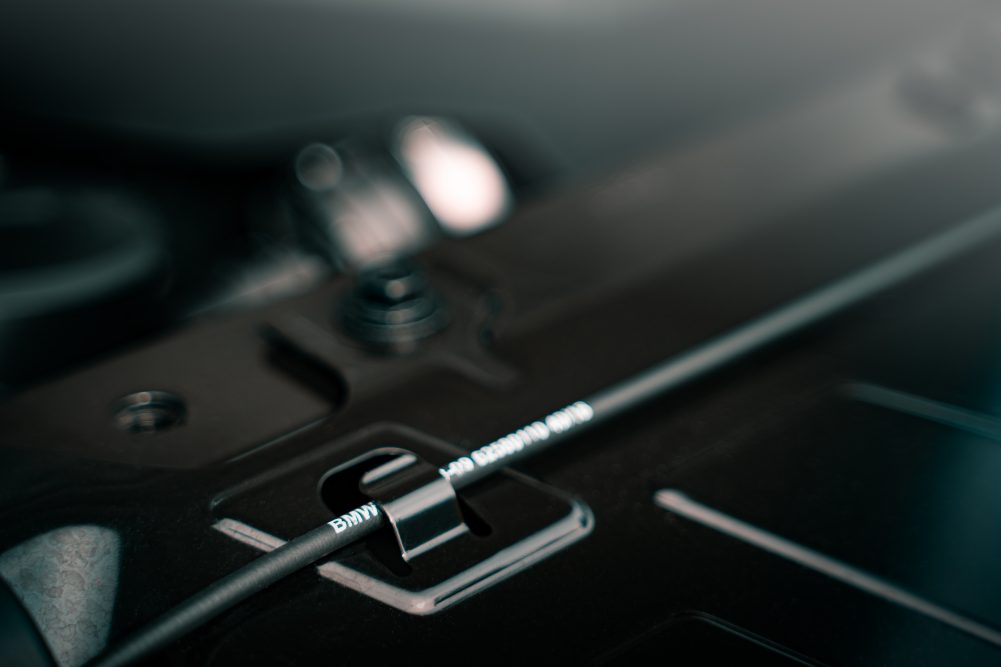 I promise I won't make cliche BMW jokes – I've had my share of cracks myself on Instagram and Twitter -, but it's hard to talk about the Supra without mentioning its origins.
At its heart sits BMW's 3.0-liter turbocharged straight six, internally known as the B58 and shared with, yes, the BMW Z4, but also the BMW M340i. Power is claimed at 335 horsepower 365 lb-ft – 46 hp less than the Z4 -, but some dyno tests have revealed even higher numbers, suggesting the Toyota actually generates more than 400 lb-ft of torque.
Power is sent exclusively to the rear wheels. Riding on BMW's modular CLAR architecture, which is also shared with the BMW 3-Series, the 2020 Toyota Supra is built at the Magna Steyr manufacturing center, in Graz, Austria. It comes exclusively mated to an eight-speed ZF-sourced automatic gearbox.
It Wants You To Drive It
The Supra is a loud and lively car. Switch it to Sport, its only available drive mode, and it spits out satisfying exhaust howls and low-bass shifting farts.
One thing's for certain, the Supra wants you to drive it, and drive it hard. Hold the brake and smash the throttle at a stoplight, and you could use the available launch control. Or you could simply let it squat there and burn its rear tires, the way a proper analog sports car should.
You sit very low in a Supra, with the roof being aggressively raked, so much in fact that it blinded part of my lateral vision. No joke. I had to duck my head to check my blind spots. Seats are nevertheless magnificent. You immediately feel at ease and in control the moment you strap yourself in.
To nobody's surprise, the dashboard is all BMW. Everything from the center console to the infotainment system is taken straight out of the Bimmer parts bin. The Supra does have its own distinct design cues, with different air vents, color combinations and unique gauge layout.
Being a coupe also means there's a handy pass through opening between the seats, allowing you to toss your junk in the trunk from the driver's seat. The Supra is actually a practical car given its sporty pretensions. Its hatchback trunk gives way to a healthy 10.1 cubic feet (286 liters) of space, which as a tad smaller than the trunk of a compact sedan.
That said, the giant hole that connects it to the car's cockpit is a recipe for bad turbulence. Drive the Supra with the windows down at highways speeds for instance, and the vibrations caused by the venturi effect will quickly get on your nerves. I mostly drove the car with the windows closed and the AC on.
I have nothing negative to say about the car's infotainment system, though. It's essentially BMW's excellent iDrive interface. You control it either from that center console-mounted knob, or by the touchscreen itself. Menus are clear, straight forward and intuitive. Its only main downfall is the lack of Android Auto compatibility. At least, it's not available for the time being.
Weird interior aside, this is a fast – a blisteringly fast car. Accelerations are brutal and rather immediate, with 100 km/h coming from a standstill at a proper four seconds flat. Torque is massive as the giant turbo spools up, heard loud and clear through the cabin. It's an urgent, rev-happy engine, the way you'd expect a high performance BMW unit to operate. And yes, I can confirm from my seat of the pants experience: the Supra makes more than 335 horsepower. Way more.
This is a proper 400 horsepower car. At least, from the behind the wheel it is. It loves to wag its tail under hard throttle and will fight back if you dare tease its temper. Yet, it has tremendous reflexes. Steering is precise, heavy, fun to grab – even if the wheel itaelf looks kind of dorky.
Yes, the Supra drives like a BMW – it has the same rock-solid feel on the road, feeling wider than it is and blurting out all the right Bavarian sounds. It's the same story for the gearbox, which, although I'm disappointed to not see a manual gearbox option, is rather magnificent. Shift are immediate, downshifts are crisp and fluid, and the paddle shifters respond with surgical immediacy.
It's a fun car to drive, but also a fun car to look at as it's being driven around. I say this, because during the time I had this thing I got all the stares, all the questions and all the Instagram stories. The Supra attracts attention mainly using its looks, but also the legendary status associated to its name.
That's also part of why it's that much more exciting to drive that several other sports cars. I admit that at $67,259 all included (the Supra has no options), it's a frankly attractive price, especially considering the amount of performance you'll be getting.
The 2020 Toyota Supra is downright fun, spirited, energetic and engaging, It's all the things you want a sports car to be. But as much respect that I have for this carmaker, the Supra's greatness is not the result of a Toyota effort, but rather BMW.
Clavey's Verdict
Review of the 2020 Toyota GR Supra by William Clavey
Sports Cars
Blistering performance
Adept handler
Unique presence
No manual gearbox
Awkward blind spots
No Android Auto
Clavey's Corner is located in Montreal, Quebec, Canada. Prices and trim levels discussed in this article reflect the Canadian car market.
Special thanks: Toyota Canada
Photography: Caleb Gingras
Contact the author: [email protected]