At this point you're probably stuffed with turkey and chocolate wondering where the entire year went. Yes, it's the end of another one, which means I drove a shitload of cars. This year was a particularly bumpy ride for me, as I quit my full-time job at The Car Guide in order to become a freelance writer. I know, I'm nuts. But things turned out alright. I now collaborate to a variety of popular media outlets, both in French and English, and I even have my own radio show on CBC radio. Well shit
As always, the cars on this list are the ones I drove, which is why there's no Corvette C8 or Porsche Taycan. That's coming though. Also, not all the cars I drove appear on these pages. Some of them I drove for the media platforms I now collaborate to. You guys asked for it, so without further ado, here's Clavey's Best of Everything 2019.
Best Subcompact SUV – Mazda CX-30
In my last two Best of Everything, I had named the Honda HR-V as the best all-around subcompact SUV. While the little Honda did little to excite me behind the wheel, it at least allows its owner to carry a lot of cargo thanks to its innovative Magic Seats that fold in all possible configurations.
But then, Mazda came along with a new entry this year. It's called the CX-30, and no, it's not the new CX-3. It slots just under the CX-5 in Mazda's lineup of SUVs, and it not only looks like a million bucks, it also drives rather well. That's because it's based on the Mazda3, my favorite small car of 2019. The CX-30 is essentially that car on stilts, powered by the same 2.5-liter 186-horsepower four-cylinder,  mated to the same six-speed automatic gearbox, and utilizing the same all-wheel-drive system.
Now, it may not be as roomy as the Honda, but the CX-30 surpasses the entire segment in build quality, a fantastically well designed interior and driving dynamics that mimic those of a Porsche Macan. I'm not kidding. I'd know, because I drove this thing rom San Diego to Palm Springs this Fall, and I beat the hell out of this thing? Only let-down? No manual gearbox.
Best Subcompact Luxury SUV – Mercedes-Benz GLB
It's not just Mazda that's having fun introducing new micro-segments. Mercedes wants a piece of that pie as well. Having only the GLA to take on BMW's trio of small crossovers – the X1, X2 and MINI Countryman -, Stuttgart's luxury brand has decided to expand its small utility offering with this: the GLB.
Essentially riding on the same architecture as the A Class, the GLB's wheelbase was stretched so it can better haul your kids and your gear. It comes in two flavors, the GLB 250 or the GLB 35. Both of them are powered by a 2.0-liter turbocharged four, the first pumping out 225 horsepower, while the AMG-tuned 35 pumps out a healthy 302 horsepower. That's the one you'll want, as it drives like an oversized Golf R, has one hell of an exhaust note, and loves to fart when it shifts gears. Also looks like a mini G-Wagen. Did I mention how comfortable these things are?
Best Compact Car – Mazda3
If you're seeing more crossovers than cars on this list, that's because sadly, cars are taking a solid hit to SUVs. Even if I and other automotive experts have been screaming loud and clear that a small wagon, or even a hatchback, are just as practical, people continue to adore their god-forsaken "utility" vehicles.
At least, amidst all this craziness, the cars that are still among us are rather good. The Mazda3 is a case in point. Available as a hatch, a sedan, with front or all-wheel-drive, and mated to a good-old six-speed manual gearbox, it gives you pretty much everything you could hope for in a compact car. It looks fantastic, drives like a little sports car, is quick enough, and won't destroy your wallet along the way. I'd get mine as a hatch with a stick. Surprised?
Best Luxury Compact Car – Mercedes-Benz A Class
One of the biggest letdowns with the current crop of small luxury sedans is the fact that none of them actually feel like luxury cars. Whether you opt for an Acura ILX , an Audi A3, a BMW 2-Series or a Mercedes-Benz CLA, they all feel like overpriced economy cars with premium badges. Well that all changed this year with the A-Class.
Available in both a hatch or a sedan, the Mercedes-Benz A Class not only sells for under $40,000, it actually looks and feels like a luxury automobile. Mercedes was so serious about making its cheapest car a real Mercedes, that it introduced its all-new infotainment system – MBUX – in this car first. Then, there's the A-Class' interior which looks like a million bucks all while feeling expensive and special. What's more, in its A250 variant, it's actually rather quick, feeling like a more refined Volkswagen Golf GTI. All we're missing is a fire-breathing AMG version. Oh, right, that's coming too.
Best Hot Hatch – Honda Civic Type R
I once said the Honda Civic Type R was the best driver's car I had ever driven and many of my colleagues mocked me for blurting out such a ridiculous claim, telling me there are much better cars out there that I had simply still hadn't driven. For the most part, they were right. When I said that, I still hadn't driven the BMW M2, the Ford Mustang Shelby GT350, the Toyota Supra, the Acura NSX, the Jaguar F-Type, or the McLaren 600LT.
Yet, even after driving all of those fantastic machines, I still prefer this Civic. Because none of them get me as connected with the art of the driving as the Type R. Yes, it looks absolutely ghastly, and as the years pass, I do not believe it's going to age well. But there's a fluidity in the way it drives. It's always easy, smooth and non-dramatic, yet, it'll allow you to hit an apex faster than in a Porsche 911, or hunt down Camaros and Mustang down a backroad. The Type R is a superhero of a car, one that that will still bring the kids to school, carry your dog to the park, or haul your grocery bags.
Best Sport Compact Car – Mazda MX-5
The Mazda MX-5 has been on my Best of Everything list since the very beginning, and as long as Mazda keeps it the way it is, it will return each year. I've said everything there is to say about this brilliant little roadster. Last year, Mazda added more power, which made it even more fun. It's also quick now. Finally.
Whether you choose an RF (retractable fastback) or a standard soft-top MX-5, these things are sure to put a smile on your face. Their lightweight construction, near 50-50 weight distribution and impeccably precise drivetrain make them pure entertainment on wheels. If you happen to be too fat, or too tall, you won't even fit in the thing. This is a car that doesn't apologize for what it is. It's just here to have a lot of fun, a quality not a lot of automobiles can brag about these days.
Best Roadster – BMW Z4
It was hard to put the 2020 BMW Z4 ahead of the Mazda MX-5, but I have to admit: the BMW is fuckin' good. So good in fact that while I had this thing, I also had the Toyota Supra parked next to it, and I preferred the Z4 over the other car.
One of the reasons is while the Z4 is a significantly more expensive car than the Supra, it's also a lot more car. For starters, it's a drop top, which instantly makes it more fun during the hot summer months.
It also makes more power and torque out of the box. The interior feels more luxurious, the seats are more comfortable and there are more available drive modes, which make it easier to live with on a daily basis. But above all that, the Z4, especially in its fastest M40i trim, is fast as hell, sounds amazing and makes you want to drive the wheels off of it the moment you get behind the wheel.
Best Sport Sedan – BMW 3 Series
The 2019 model year served us some fine sport sedans, which made choosing the winner for this category one of the hardest ones on this list. To my biggest surprise, the runner-ups for this class were not German, but actually Swedish and Korean. Volvo, out of all carmakers, released a new S60 earlier this year, and while the Polestar Engineered model is a fine car, I'll say the T6 R Design is the one to remember. It not only looks absolutely gorgeous, it also drives rather well, all while being properly quick off the line.
But then, I drove the other new sport sedan for 2019, the Genesis G70, and the Volvo suddenly vanished behind it. The G70 is so good, that I was about to call it the best car I've driven this year. No joke. In many ways, it does things better than the BMW 3 Series. Its interior is better appointed, ergonomics are bang on and, it still offers a manual gearbox, something BMW has given up on.
That said, while it does have some annoying quirks, the BMW 3 Series is still the queen when it comes to driving dynamics. Its new platform is rock-solid with a magnet-like center of gravity. Steering is perfectly weighted and the available turbocharged straight six not only makes all the right noises, it makes this stealthy sedan as quick as several sports cars out there. Yes, BMW still manufactures the best sport sedan.
Best Compact SUV – Mazda CX-5

I know that's a lot of Mazda, but the little Japanese brand has been killing it lately, releasing good-looking cars that are fun to drive, reliable, frugal and not all that expensive. Just like the CX-30, the CX-5 didn't make this list because it's necessarily the most practical in its class, nor the most modern. These things have been around for quite some time now.
But I recently drove the all-new Signature trim. the one with the fancy interior and the turbocharged 250-horsepower engine. It felt fresh, modern and quick? Mazda says it's trying to go upmarket with the Signature series. Believe it or not, people are actually trading in their overpriced German SUV's for CX-5's. That's how good these things are. It's also significantly cheaper than anything European, feels just as premium and will take them on at the drag strip – if that's your thing.
Best Luxury Compact SUV – Acura RDX
Acura may have lost its way with its cars lately, but it sure knows how to market a good SUV. The MDX is still up there as one of the top sellers in its class, even if it's getting old. Can Acura apply the same formula to its baby SUV, the RDX? I drove one, and, well, it's quite good.
One of the reasons it's so fantastic is that, for the first time in ages, this Acura doesn't ride on a revamped Honda architecture. So no, the RDX is no longer a luxed up Honda CR-V. It's solid, high-end, unique and very high-tech. I particularly love this thing's interior. Then, there's the fact that it shares an engine with the Honda Civic Type R – a turbocharged 2.0-liter four -, and comes standard with Super Handling All-wheel Drive. The RDX is quick, fun to drive, and spacious. Acura's back!
Best Midsize Sedan – Honda Accord
Midsize sedans are a dying breed, but that won't stop the excellent sedans to remain alive. The Honda Accord is probably the best interpretation of of a good family sedan. While its exterior styling does nothing to excite the senses, the Accord comes in a variety of cool configurations, so it adapts super well to its owner.
For instance, there are two excellent turbocharged engines to choose from, a 1.5 liter and the same 2.0-liter that powers the almighty Civic Type R. Granted, the 1.5L has had its share of oil consumption issues, but Honda has been busy fixing the faulty units. But no matter which engine you choose, your Accord can be fitted with a slick-shifting six-speed manual gearbox and one of the best-tuned chassis in the business. Heck, whichever Accord you take, you're guaranteed to have fun driving it. Even the CVT is great. Coming from a guy like me, that means a lot.
Best Midsize Luxury Sedan – Mercedes-Benz E Class
The Mercedes-Benz E Class is often the forgotten Benz within the brand's enormous lineup. After all, why get an E when there's a more affordable and just as quick C Class available? And if you're looking for more luxury, just step it up to the almighty S Class.  What if you could blend all of Mercedes' charming attributes into a single car? That's precisely what an E Class does.
The model you see here isn't the sedan, but rather the coupe in its most powerful AMG E53 variant. It's one of the E-Class' standout features; the fact that it can be had in a variety of different configurations, ranging from a coupe, a sedan or a wagon, the later being available with a 600-horsepower twin-turbocharged V8.
But no matter which E Class you choose, they're all fanatically well put together, immensely comfortable, technological and an absolute peach to drive. While typically qualified as land missiles, especially when wearing the coveted AMG letters, these cars never scare their occupants per se. Everything is controlled, buttoned-down and serene. Hell, it'll even massage your back along the way. At the end of the day, isn't that what a Mercedes should be?
Best Midsize SUV – Ford Explorer
The midsize SUV segment is a tough crowd, and this year we got new entries that deserved to be on this list, vehicles like the Kia Telluride / Hyundai Palisade brothers, the Subaru Ascent, and the all-new Toyota Highlander, which I drove a week before writing this down in San Antonio. I almost chose it as a winner. I still think the Highlander Hybrid is a more pragmatic choice over this Ford.
However, what the Explorer does better than all its rivals is offer substance. First, it looks quite good, better than the entire segment, actually. Second, it sends the power to the rear wheels first, something nobody does in this price range. Add to that three different towing ratings, with the hybrid pulling  5,000 pounds, and a frankly impressive and quick ST version that will perform like a big German sedan in the twisties, and you end up with quite the homerun from Ford. My only letdown? The interior, it's built like a 1993 Ford Escort, also looks quite bad. But overall, the 2020 Explorer is great and you should get one.
Best Midsize Luxury SUV – BMW X5
Just like in the mainstream world, choosing the best midsize luxury SUV is no easy feat. There are a lot of great entries here, think vehicles like the Mercedes-Benz GLE, the Audi Q7 or even the Porsche Cayenne. But just like the Mazdas that are on this list, the BMW X5 didn't win for rational reasons. As a matter of fact, the week I drove this thing I had just gotten out of a Cayenne S, a vehicle which should be superior to this BMW in every way.
Yet, no. Even in its most top-spec'd variant, the X5 M50i, an X5 still costs $10,000 less than a Cayenne S. Yet, it's just as luxurious, offers more cargo space and the twin-turbo 4.4 liter V8 not only sounds gnarly as hell, it cranks out 456 horsepower.  It also handles like a gigantic hot hatch in the bends, and when you set it to Eco Pro mode, it'll return a 9L/100 km average. Hot damn. But above all, the X5 has a soul, even if it was first and foremost designed for mall-finding.
Best Full-Size Luxury Sedan – BMW 7 Series / Alpina B7
In the world of large presidential sedans, it doesn't get much better than the BMW 750Li. Yes, Mercedes builds a damn fine S-Class, and Audi manufacturers a stunningly quick S8, but only BMW combines the opulent excess of a luxury land yacht with the performance of a genuine performance machine.
Not only does a 7 Series give you massive amounts of rear legroom, a full rear infotainment system with integrated i-pad, a scented interior and a place to hold your wine bottles, it rides with the same kind of solidity and smoothness as a Rolls-Royce. That's because BMW now owns Rolls-Royce and learned a few tricks from  it.
Then, there's the amount of power you can extract from these things. Many engines are available. Whether you opt for the twin-turbocharged 4.4-liter V8 in the 750i, or the fire-breathing twin-turbo V12 from the M760Li, which cranks things up to 600 horsepower, you're sure to get to that appointment on time. Want something a little more unique? Then why not check off the Alpina B7 option? With a 325 km/h top speed, it's the fastest production sedan currently on sale. Nothing less.
Best Sports Car – Toyota Supra
Yes, I know, even though I wrote on Jalopnik that I prefer the BMW Z4 over the Supra, I still put the Toyota on this list. Why, you ask? Simply put, the Supra is a solid performance machine, no matter who it was engineered by. Granted, its heart, chassis and transmission are all German. And it even sounds like an M car when it shifts. But for under 70 grand, it's hard to argue against the amount of performance you'll get from a Supra.
Also, the simple fact that the car is back feels amazing. It also looks quite stunning, and everywhere I went with the car, I got solid reactions, people shooting me positive thumbs, and grabbing Instagram stories as I drove past them. What's more, Toyota and BMW engineered the thing to pump out way more power than its 335-horsepower suggest. From where I was sitting, the Supra felt faster than the brochure advertised.
Best Muscle Car – Dodge Challenger Hellcat Redeye Widebody
It's pretty easy to name the best muscle car on sale when there's only one left. Since the Camaro and the Mustang have evolved into full-fledged sports cars, the Challenger is now alone in the muscle car space. Ok, fine, I could also consider the Ford Mustang Bullitt, a pony car I also liked very, very much.
But the Challenger Hellcat Redeye is just that more much more special. For starters, it makes 800 fuckin' horsepower. It sounds like it's coming to murder your children, and looks like nothing else on the road. It's bloody fast. It's scary, handles like a drunk and when you set the darn thing in Comfort mode, it's actually quite comfortable and easy to live with. More importantly, cars aren't made this way anymore, which is why it's so charming.
Best Grand Tourer – Aston Martin DB11
Grand Tourers are typically very large, very heavy and very powerful. In many ways, that purple Challenger up there fits the bill. But they also need to be immensely luxurious, which is why I came really close to including the BMW 8-Series on this list. However, while that 850i does a fantastic job at carrying two adults in utter comfort at blindingly fast top speeds, it's missing two crucial ingredients to be a real grand tourer: it doesn't have a V12 and it's not British.
This is why I chose the Aston Martin DB11, the textbook definition of what a GT car should be.  It's been a while since I drove a DB11, the last time I was chasing poutine in one.  But it remains one of the best Grand Tourers currently on sale. It looks stunning, is utterly smooth and its V12 engine isn't just utterly powerful, it's a full Aston Martin effort, contrary to the Vantage , which relies on a Mercedes-AMG heart to get things moving.
Best Supercar – McLaren 600LT Spider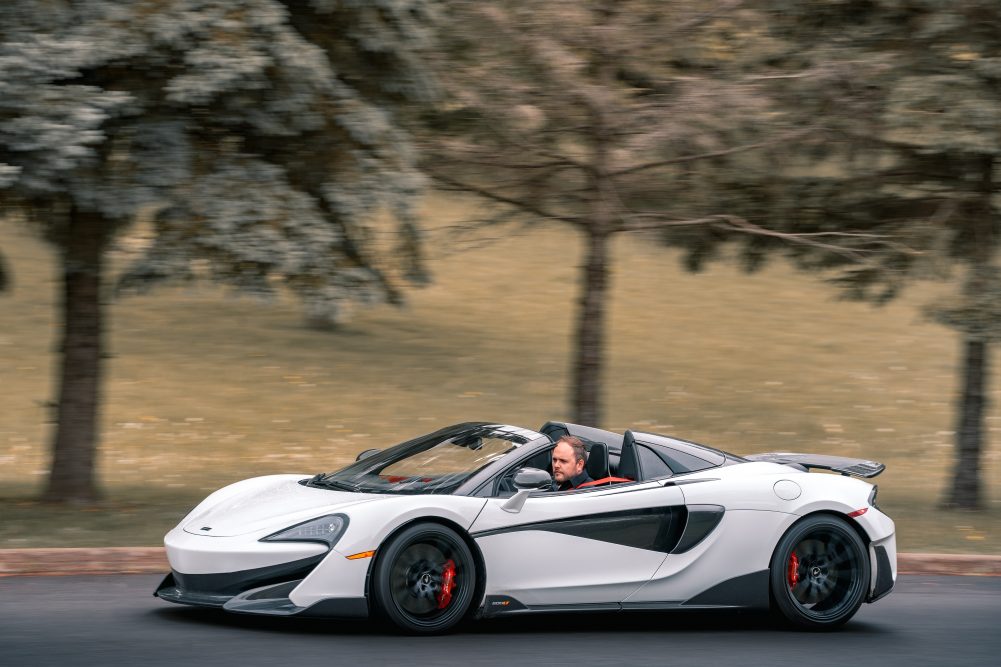 I haven't had the chance to drive a lot of supercars in my career, but what I can say is while the Acura NSX and Nissan GT-R are fantastic machines, the McLaren 600LT Spider is in an entirely different league. Now, it's important to underline the word "Spider" here, since it's the removable top that makes this McLaren feel that much more special. First because people will see your mug as you cling on for dear life. Two; you'll hear what's going on behind you.
The 600 LT is a more hardcore version of the already intense 570S. It's lighter, longer (hence the LT nomenclature for Long Tail) and more powerful than the car it's based on, which probably makes it the most wild supercar currently on sale. It's also more affordable than a Lamborghini or a Ferrari offering similar performance. How does that not make it a winner?
Best Wagon – Volvo V60 Cross Country
It's quite easy to win the Best Wagon award when you're the only carmaker left in the class. But hey, the Volvo V60 Cross Country is a cool battle wagon, so why argue against it? It's also more fun to drive than the larger V90 wagon, which I also like very much. Yet, the V60 looks better somehow and has a ton of sporty flair to it too.
My only real letdown is that it can't be powered by the twin-charged T6 engine. That would make it just as quick and spirited as the sedan on which it's based. Nevertheless, the simple fact that Volvo sells not one, but two lifted wagons is a beautiful thing. Even if I were to tell you it has just as much cargo space as your crossover, you probably won't care. And that's a shame, because this all-wheel-drive station wagon is a Scandinavian treat.
Best Midsize Truck – Chevrolet Colorado
It's weird that the Colorado wins so much, because it's not exactly new. These things have been on the market for over five years now, with very little changes. Plus, we now have new contenders from Ford and Jeep, with the latter, the Gladiator, being pretty damn great. It's also a convertible!
But the Colorado wins not thanks to one defining feature, but by its wide list of attributes. For starters, it can be powered by three engines, one of which being a diesel. It comes in two available cabin and box configurations, and there's even a seriously badass ZR2 model which will follow a Ford F-150 Raptor down a bumpy trail, no sweat. And don't get me started on the almighty ZR2 Bison. It not only looks seriously bad-ass with its AEV equipment, it can do just as much overlanding than the Jeep. Its V6 engine also sounds fantastic and it's a rather quick truck, too. Oh, did I mention it's still the towing king when it's equipped with the diesel engine?
Best Full-size Truck – GMC Sierra
While many automotive journalists have praised the RAM 1500 as being the best new truck currently on sale, I say you should get the GMC Sierra instead. There are many reasons for this, and you're also wondering why I don't mention the Chevrolet Silverado, its mechanical twin. The fact of the matter is the GMC actually looks better than the Chevrolet. It also comes in an AT4 variant which allows it to do some pretty nifty offroad things a Chevy Trail Boss simply can't.

But where the Sierra wins over its rivals Ford and RAM is in its wide variety of V8 engines and a clear understanding of what workers actually look for in a truck. Sure, its interior is shit compared to its rivals, but in Heavy Duty form, it can tow up to 35,000 pounds for Christ's sake. Plus, the entire cabin was lowered to better see what you're towing, and the bed was even engineered to welcome a goose neck. Did I mention you can even see through the trailer thanks to a witty camera system? I'd get my Sierra in AT4 trim with the 6.2-liter V8, thank you very much. That's the same engine that powers the Chevrolet Corvette, by the way.
Best Affordable Electric Car – Chevrolet Bolt EV
The 2019 model year brought us some pretty cool little electric cars. The most noteworthy ones came from Korea, where Hyundai and Kia launched a nice trio of urban runabouts – the Kona EV, the Kia Soul EV and the Kia Niro EV. They're all great. Nissan even increased the range on its LEAF too. All of these cars sell for just under $50,000, and will get you up to 400 km of range.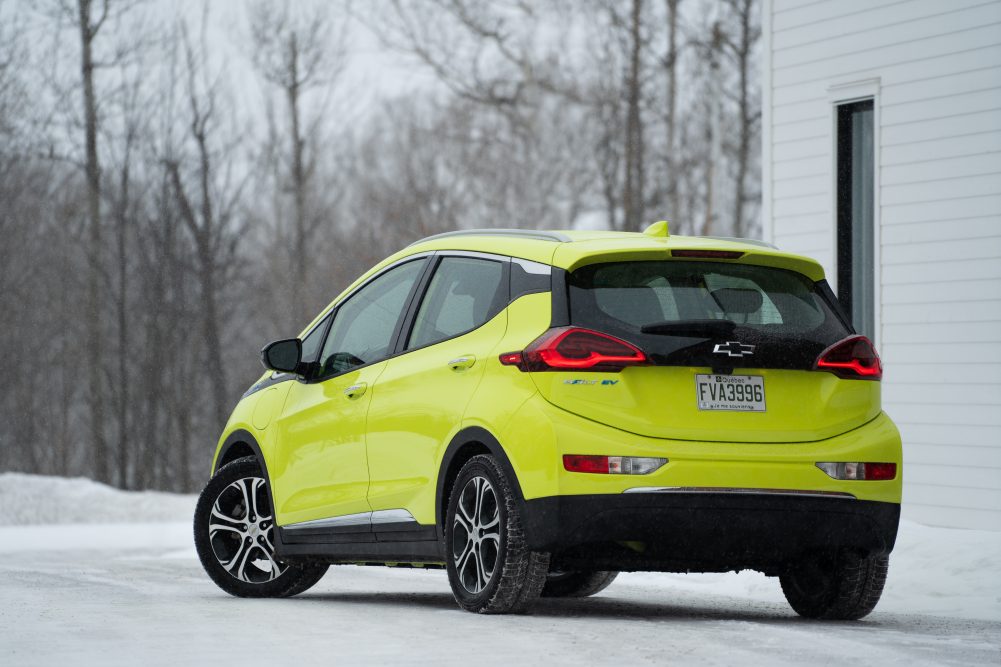 Yet, the ageing Bolt still does everything better. For starters, it's cheaper than the Korean and Japanese opposition, kicking off at just under $45,000, which means it's eligible to a $13,000 government rebate in Québec. Its trunk is also roomier than the entire segment, and the performance is not bad either, accelerating at similar speeds as a Golf GTI. Furthermore, it's tremendously resilient in the cold, as I demonstrated in my winter adventure for Jalopnik. In my book, the Bolt continues to be GM's smartest automobile.
Best Expensive Electric Car – Tesla Model 3 Performance
Awful build quality, shady materials, boring ride, no soul. Yeah, none of that came through when I drove the Tesla Model 3 Performance. If anything, it was one of the most entertaining sedans I drove all year. No wonder they're all over the place now.
I will say this though: Tesla owners are a crackpot group of individuals who believe they drive the best automobile on Earth. It's not. Teslas have their share of issues and problems which, if you'd associate them to a mainstream brand, would become the most controversial story of the year. But while Tesla still has a lot of learning to do to be considered a real carmaker, I must say, the engineering behind these things is rather remarkable.
Sure, a Performance model, like the one you see here, costs $100,000. But it'll blow the doors off any gasoline-powered sport sedan. It also looks rather good, it's immensely smooth and quiet on the road, and will pull more range than the $200,000 Porsche Taycan. Say what you will about the big T, it's still kicking ass and taking names.
Clavey's Corner is located in Montreal, Quebec, Canada. Prices and trim levels discussed in this article reflect the Canadian car market.
Photography: William Clavey, Caleb Gingras,  Guillaume Fournier
Contact the author: [email protected]