The 2021 Audi Q3 is a subcompact luxury crossover that I was really looking forward to reviewing. It's also the first Audi I'm driving in a very long time due to Audi Canada's questionable attitude with the media. I wanted to drive the Q3 so much because, one, a lot of people are buying theses things, and two, it's essentially a lifted VW Golf with a fancier interior. And since I'm a huge fan of the MK7 Golf, I figured: what could go wrong? Turns out the Q3 isn't exactly what I was expecting.
October Orange
The fact that my example is covered in Audi's optional Pulse Orange paint job is rather amusing considering Halloween is just a week away. That color is only available when you tick off the Technik trim level, which towers the Q3 lineup.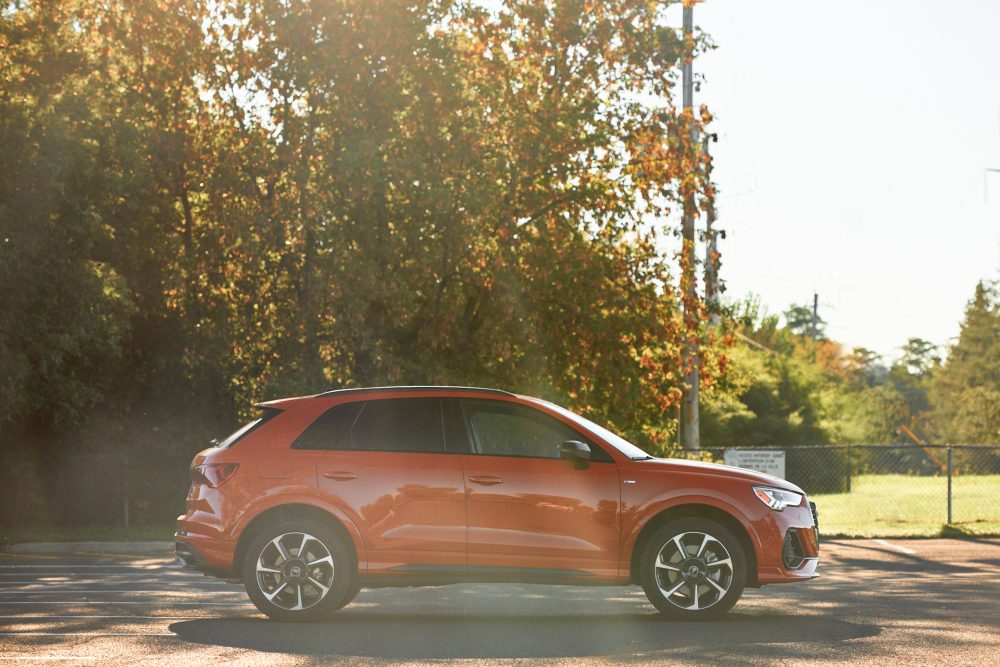 The 2021 model year didn't bring much to Audi's smallest utility vehicle albeit a simplification of its trim hierarchy. Next year, it'll receive even more standard features, like blind spot monitoring, rear cross traffic monitoring and parking sensors. Makes you want to wait for a 2022 model doesn't it?
The styling is still very much all Q3, but I really like the changes Audi brought to its design when it overhauled the thing back in 2018, The grille is even more prominent than before, the headlights are thinner and you can easily mistaken this thing for a baby Q5, The Technik trim level also gives the Q3 a sportier demeaner, with slightly larger lower (fake) air intakes in the bumper and blacked out body accents here and there, as well as trim-specific wheels. It all looks modern and sporty.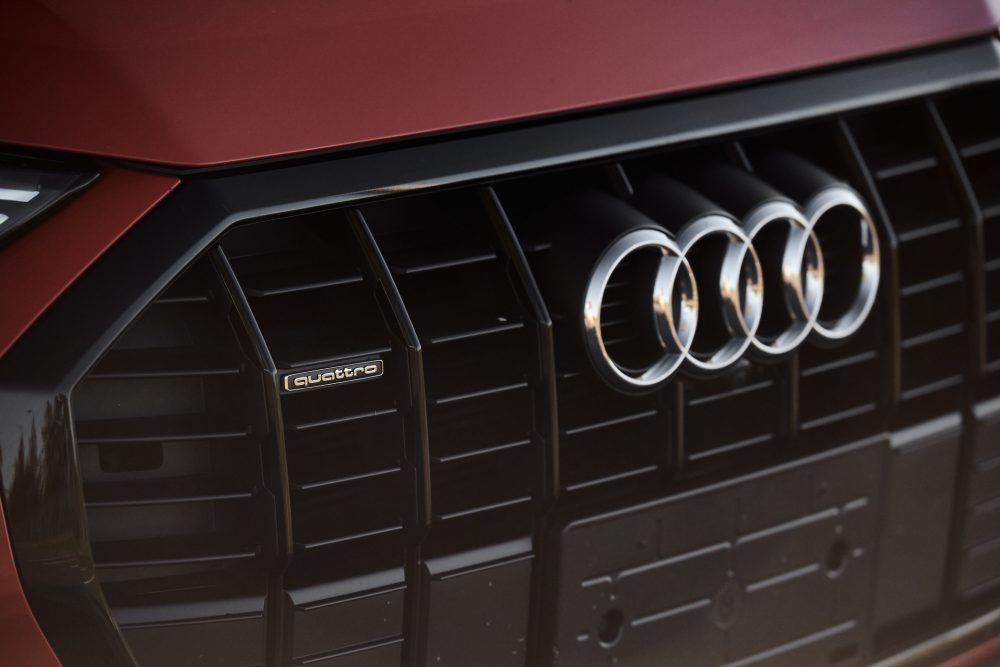 Power for a 2021 Audi Q3 comes from a choice of two turbocharged 2.0-liter four-cylinders dubbed under the 40 and 45 nomenclatures. It's essentially the same engine, but with different specs due to different computer and turbo tuning. For instance, the 40 cranks out 184 horsepower and 221 lb-ft of torque, while this one, the 45, is clearly the more interesting one due to its 228 horsepower and 258 lb-ft of torque. This is more or less the same engine as in the Volkswagen Golf R, except it's mated here to a conventional eight-speed automatic gearbox versus the R's dual-clutch setup.
Speaking of the Golf, the Q3 rides on the Volkswagen group's MQB A2 platform, which is an evolution of the MK7 Golf's architecture and what VW currently uses to underpin the Tiguan. Except, unlike the Tiguan which can be had with front-wheel drive, all Q3's sold here in Canada come standard with Quattro all-wheel drive.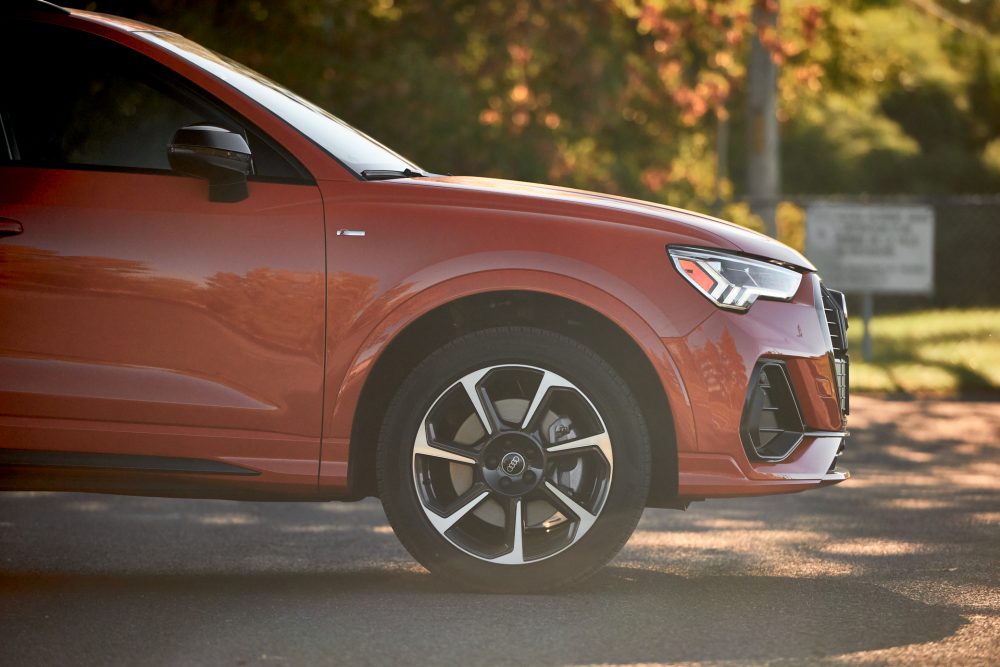 Pricing for an Audi Q3 kicks off at $40,950, including freight and delivery, which is right smack in the meat of other subcompact luxury crossovers likes the BMW X1/X2, Mercedes-Benz GLA/GLB and Volvo XC40. My tester, equipped to the gills, stickered for a not-so-cheap $52,070.
Solid Bones, Choppy Ride
So, yes, that MQB platform gives the Q3 a buttoned down, rock-solid feel. That's appreciated on trash roads like the ones we have here in Quebec. What I wasn't expecting is how choppy the Q3's road composure is. I'm not sure if it has to do with the vehicle's lifted ride height and short wheelbase, but it's always bouncing from its trajectory and it's easily unsettled the moment it hits a road imperfection too fast.
Then there's the immense amount of turbo lag, which really surprised me considering the Golf R responds considerably quicker than this. Obviously these two engines aren't tuned the same way, but there are enormous delays between the moment you stomp the throttle and when the Q3 decides to get going. Things appear even worse due to the transmission's unwillingness to respond fast. At times, it won't even downshift when you floor it, which is downright dumb.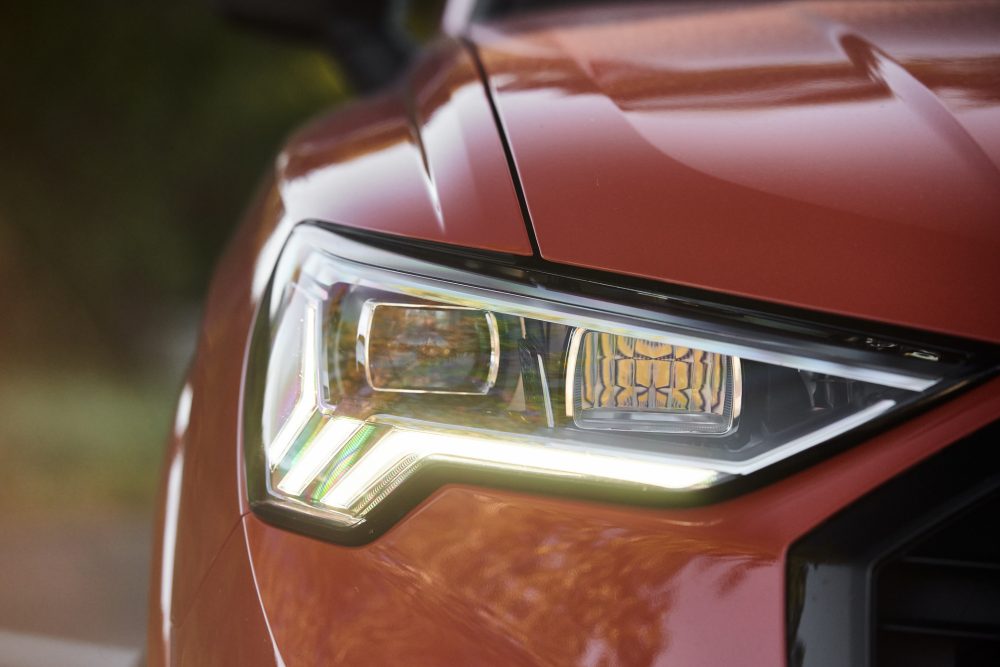 However, not all is lost for the 2021 Audi Q3. Although it wasn't the athlete I was expecting it to be on a winding road, I figured there must be a reason more than 30,000 people bought one of these bad boys in the US and Canada combined last year, right?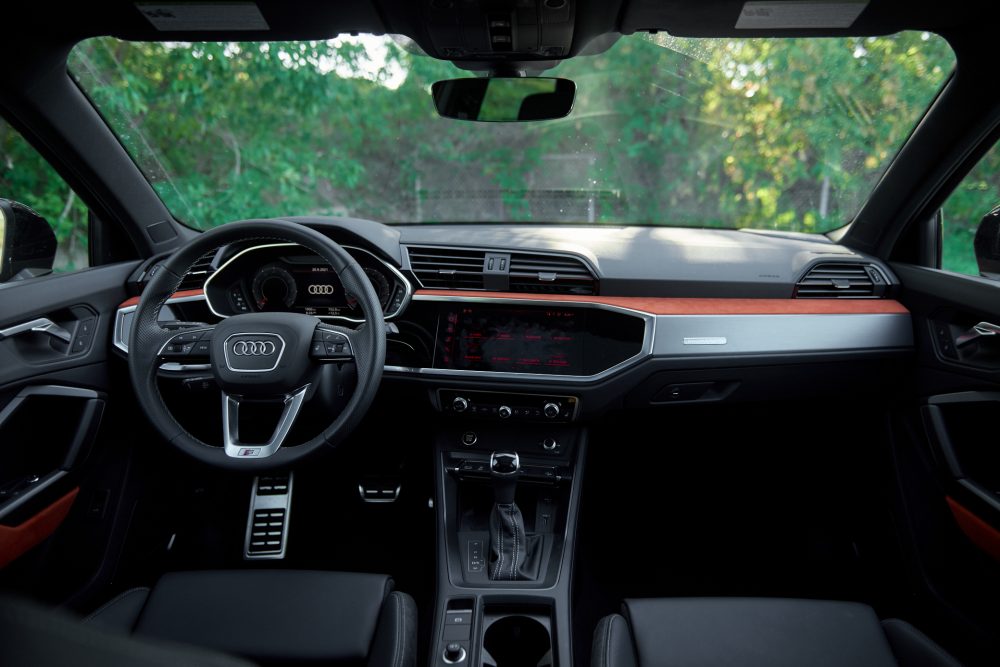 One of the reasons people like the Q3 is because it's a formidable allrounder. It looks sorta cool, it drives sorta well and, more importantly, it looks and feels high end. And that couldn't be more true when you step inside its beautiful cabin. If the Q3 fails at providing Golf R vibes out there on the road, it sure as hell convinces you it's a posh Audi even though it isn't sold at a posh Audi price.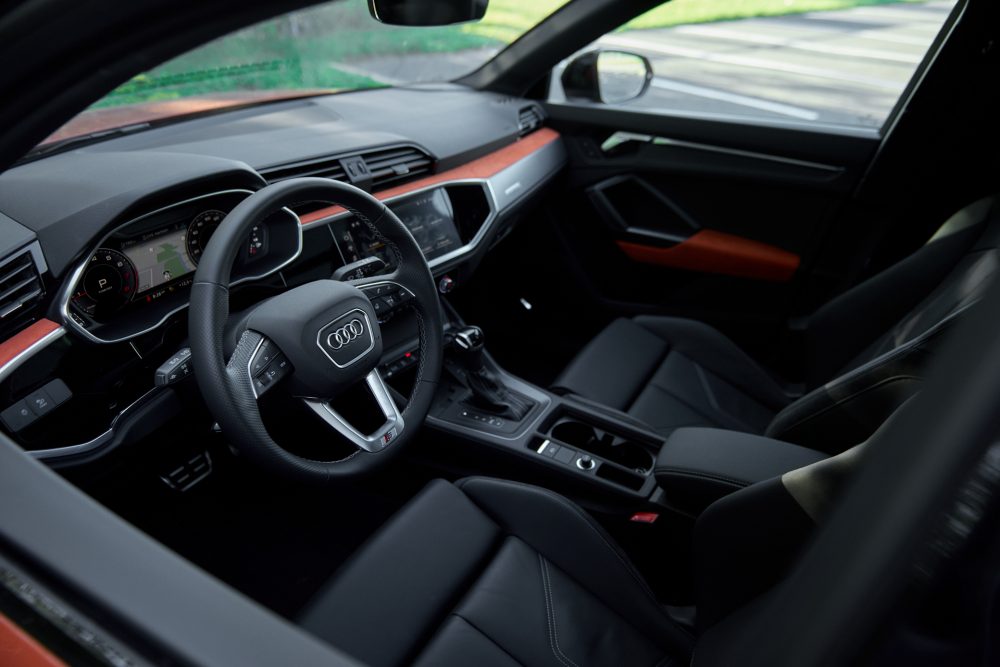 First, there's the overall design theme of the cabin, which is loaded with angular shapes, sharp edges and a neat three-dimensional feel in the way the dashboard segments are put together. The fact that my tester had the optional orange alcantara material on the dashboard and door inserts certainly helped making things pop even more.
Fit and finish in a Q3 is superb, albeit a few flimsy cabin materials down in the lower segments of the cabin. Audi's MMI infotainment interface is a peach to use thanks to large colorful icons, quick-reacting menus and easy Android Auto/Apple CarPlay integration. Although wireless Android Auto is still not available, which is weird considering a Kia now offers it as standard.
My tester had Audi's super rad Virtual Cockpit digital gauge pod, which allows you to fully customize what's displayed and even have a full map as the main layout. It's crystal clear, with virtually no lag and sharp, bright colors. Seats are comfortable, plush and supportive, and that steering wheel feels just right in your hands. The proper size, the proper thickness and the proper shape.
Rear seat room in a Q3 is fine, but not great, but that's the case with most of the current offerings of small luxury crossovers. Cargo space is low though compared to other competing vehicles. For reference, the Q3 will engulf up to 1,359 liters of your gear when its rear seats are folded flat. By comparison, you'll get up to 1,642 liters from a BMW X1 and 1,755 liters from a Mercedes-Benz GLB.
So no, the 2021 Audi Q3 didn't end up driving like a Golf GTI on stilts like I was expecting. That praise actually goes to the Golf SportWagen. But the Q3 isn't entirely disappointing. What it lacks in driving dynamics, it makes up for in styling, comfort, technology and build quality. It's the perfect vehicle for urban young professionals who want to look good and pretend they have a lot of money, even if they don't. However, if you're looking for the most subcompact luxury crossover for the price, I'm afraid to report that BMW, Mercedes-Benz and even Volvo offer more compelling products in this segment.
Clavey's Verdict
Review of the 2021 Audi Q3 45 Technik by William Clavey
Sucompact Luxury Crossovers
Sharp styling
Well put together cabin
Loaded with neat technology
Choppy ride
Turbo lag, transmission delays
Smaller cargo hold than main rivals
Clavey's Corner is located in Montreal, Quebec, Canada. Prices and trim levels discussed in this article reflect the Canadian car market.
Special thanks: Audi Canada
Contact the author: [email protected]