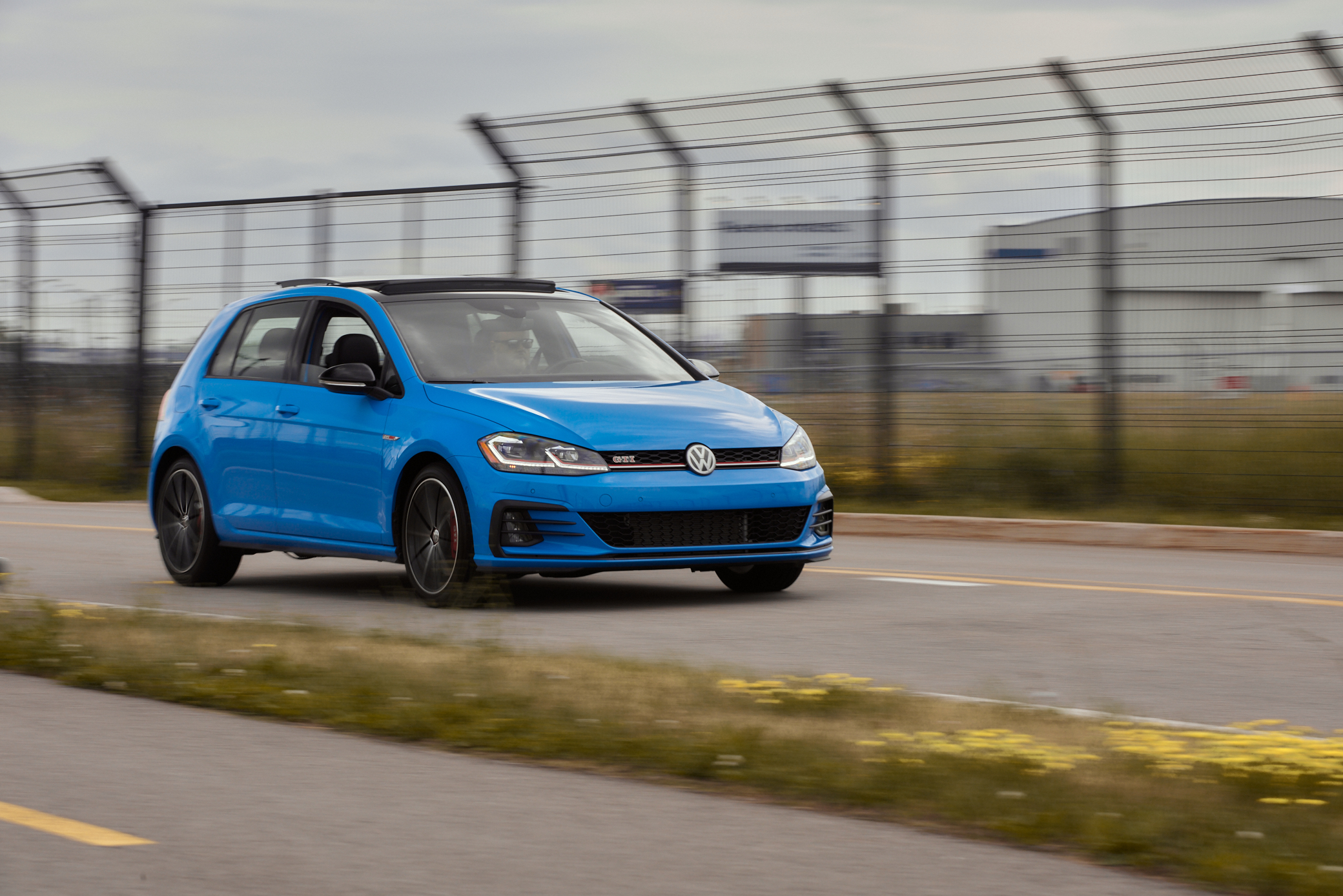 The 2021 Volkswagen Golf GTI is one of my favorite cars of all time. But you guys already knew this. I wrote many reviews about the MK7 Golf. Weather it be all electric or disguised in R form, it's just a downright brilliant little package. I fear Volkswagen won't be able to top it off with the MK8, which is scheduled for our market next year. So I made sure to give the current car one last thrashing before it's officially gone.
With A Clutch!
If you've been following this blog since the start, you probably noticed that all the Volkswagen press units I've driven were fitted with an automatic transmission. And there's a very specific reason for this. The story goes that a Montreal-based journalist once booked a Golf R equipped with a manual transmission, but seriously fucked up.
As he was driving on the freeway at high speeds, he shifted the car into third instead of fifth, which blew the gearbox to pieces. So ever since that incident happened, no Volkswagen press vehicle that was sent to the province of Quebec has been equipped with a manual transmission. According to Volkswagen Canada's own public relations person – who I won't name because I have tremendous respect for -, and I quote: "Quebec journalists can't drive stick".
I'm not sure if it's because the seventh-generation GTI is on its last leg, or because we just showed the Tampa Bay Lightning what we're worth by taking them on in the Stanley Cup finals, but we, the members of the media that live in the Montreal area, have received the very first manually equipped VW in years. And it's an MK7 GTI, the best car Volkswagen builds.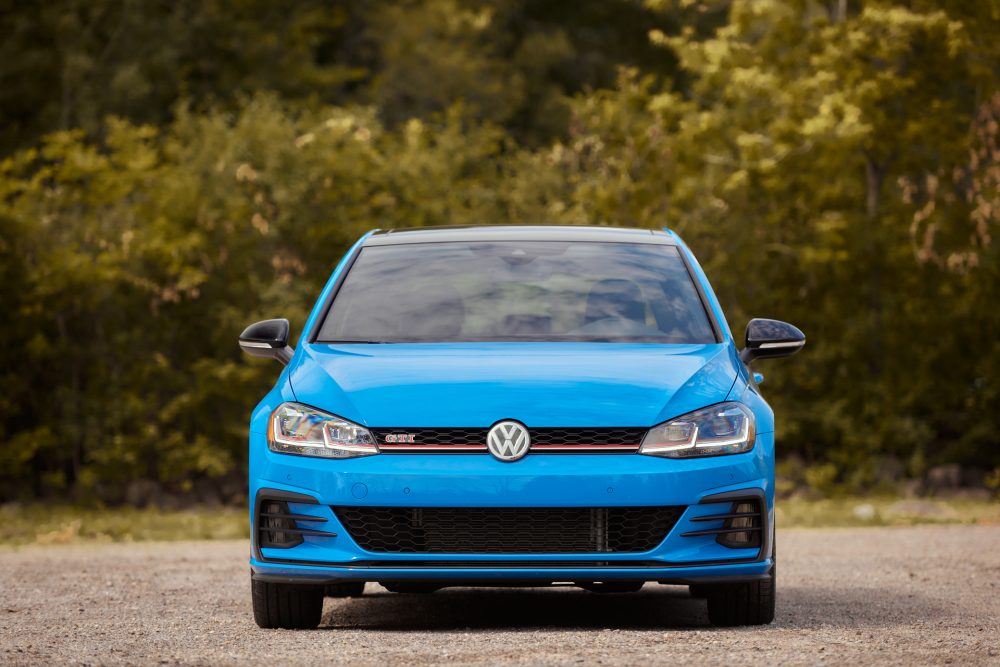 But three pedals or not, the GTI is great in any configuration. For the 2021 model year, it only comes in one complete package called the Autobahn. Power is still provided by the tried and proven turbocharged 2.0-liter four good for 228 horsepower and 258 lb-ft of torque.
If you're not doing the shifting yourself via the six-speed manual gearbox, VW will sell you an equally fantastic seven-speed dual-clutch unit. Front-wheel drive is the only way to go in a GTI. If you're looking for all-wheel drive, the Golf R should suit your fancy.
Also note that the Volkswagen Golf will no longer be sold in Canada next year, which is a huge bummer. It'll be replaced by the Toas crossover. Surprised? But don't worry, as the GTI and R variants will remain. We should expect the MK8 GTI to hit our shores towards the end of this year.
Until then, you can still get your hands on what will go down in history as the best GTI of all time. The Autobahn sells for $35,995 (before freight) and comes fully loaded with leather seats, 18-inch Belvedere wheels, a panoramic roof, a Fender audio system and VW's Dynamic Chassis Control feature. If you're in the plaid seats corner, you're sadly out of luck. The option is no longer available.
Just Flog It
It's crazy that no matter how many fast cars I drive, I'm still immensely satisfied when driving a Golf GTI. And each time I spend time with one, I rediscover its brilliant chassis dynamics. The thing is, no matter how hard you push a GTI in the corners, it'll just take it in and come asking for more. This car defines the term "flog the car hard into a corner".
Because flogging, or throwing, is really what you'll do with it. And when you will, its front end will provide grip for days while the rear will love to kick out the moment you'll lift off the throttle. It's the kind of chassis balance you normally get from vehicles wearing a Porsche badge. Then again, wasn't it a Porsche engineer who calibrated the GTI's handling?
Then there's the way the turbocharged four-cylinder puts the power down. It's just a tower of power, but it's also loaded with low-end torque while not being bothered by the rev limiter. It's just always on and ready to fire at any RPM. Sure, there's a bit of turbo lag, but nothing a quick downshift can't fix. Ah, yes, downshifts. You'll be doing a lot of those in a manually equipped GTI, because that gear lever is downright perfect.
The GTI doesn't have many faults, but the ones it does have do remain highly irritating. First, there's Volkswagen's Soundaktor pumped in audio system that enhances the car's engine note. It just sounds so fake and, well, not like a four-cylinder. I do wish the GTI had a but more real exhaust pops like, say, a Hyundai Veloster N.
Ride quality remains harsh on our roads due to an unbelievably stiff suspension. And while I do appreciate the new flashy colors Volkswagen added to the lineup – like this bitchin' Cornflower Blue -, the GTI is still a bit too understated. It's difficult to distinguish it from a standard Golf.
I am however nitpicking here because what you have here is a car that truly does everything well. Its cabin is still immensely well appointed and put together, even if it's starting to show age. Overall ergonomics are also class-leading, and Volkswagen's updated 8-inch infotainment system, now with wireless Android Auto integration, is a charm to operate.
Rear legroom does remain a problem in the GTI, but cargo space is still up there among the best in its class. As a matter of fact, at 1,521 liters of total cargo space (with the rear seat folded flat), the current Golf is the cargo king in this category. Even a Honda Civic hatchback can't beat it.
But honestly, are you surprised to read a review from yours truly that only says good things about the 2021 Volkswagen Golf GTI? I'm not. What you should be worried about is what's coming next at Volkswagen, things like the all-electric ID.4 or the Taos crossover. Because I just got out of an ID.4 (which I'll review here next). And it's not this. Nothing will ever be as good as this.
Clavey's Verdict
Review of the 2021 Volkswagen Golf GTI by William Clavey
Hot Hatchbacks
Fun to drive, all the time
Brilliant transmissions
Immensely practical
Stiff ride
Pumped in audio
Plaid seats are gone
Clavey's Corner is located in Montreal, Quebec, Canada. Prices and trim levels discussed in this article reflect the Canadian car market.
Special thanks: Volkswagen Canada
Contact the author: [email protected]