The Chevrolet Colorado ZR2 Bison is an underappreciated truck. And that sucks, because when you spend some time with it, like what I did for two full weeks, I guarantee you'll immediately fall in love with it. As a matter of fact, the entire Chevy Colorado lineup is solid, even if it's old, spanking newfound rivals in the areas that matter. Here's my full rundown of why you should care more about this thing.
Let's GTFO
Earlier this year, I drove the 2020 Jeep Gladiator and I was frankly impressed with it, saying it had just smashed the entire midsize truck segment.  I still stand by my claim, FCA has done a bang up job of manufacturing a truck that can actually tow heavy loads all while attacking a gnarly trail. Plus, it's a convertible!
But where the Colorado wins over the entire segment is in its immense diversity and surprisingly fun to drive attitude. While yes, it's built on a body on frame setup, its handling is so good it actually almost feels like a unibody Honda Ridgeline in the urban jungle.
The fact of the matter is you can get a Colorado in two different cab and box configurations. There's also a choice of three engines: a naturally aspirated 3.6-liter V6, a 2.5-liter four-cylinder or even a 2.8-liter turbodiesel inline four. And it's still the towing king at a max rating of 7,700 pounds (with diesel engine). Then you factor in this ZR2 variant, which is arguably the most extreme truck on sale this side of a Ford Raptor, and what you end up with is the Swiss army knife of the segment.
The Colorado ZR2 can either come with the aforementioned V6 or the diesel. The six-cylinder is good for a healthy 308 horsepower and 275 lb-ft of torque, and it's mated to an eight-speed automatic gearbox. The ZR2 will only tow 5,000 pounds, however.  Something  to  do  with  its  modified  suspension.
And it's a significantly altered beast compared to the standard truck. It's serious stuff, not some gimmicky sticker package like a Ford Ranger FX4. Out of the box, the ZR2 comes with front and rear lockers, protective rock rails, 31-inch tires and a 3.5-inch wider track, a two-inch lift, skid plates and greater suspension travel – 8.6 inches front, 10.0 inches rear.
But the ZR2's standout feature is its Multimatic integrated spool-valve dampers which help it better soak up hard jumps. It also looks seriously cool with its fender flares and chopped off bumpers.
As for the Bison, Chevrolet partnered with American Expedition Vehicles (AEV), adding several key parts to create a unique adventure truck capable of taking on even more extreme terrain.
It's the most hardcore version of a Colorado currently on sale, adding, for starters, a CHEVROLET lettered grille – not at all copied from the Toyota Tacoma TRD Pro -, different and more rugged bumpers, more robust off-road rocker panels and skid plates, a rear exoskeleton around the bumper, as well as the addition of three extra skid plates to protect the fuel tank, rear differential and transfer case. Hardcore, nothing less.
It's also plastered with seriously bad-ass Bison logos. And it costs a whopping $60,295. Still, that's only three grand more than a Tacoma TRD Pro which is nowhere near as capable as this, and it's more affordable than a Gladiator Rubicon. See? Told you this truck rocks.
Go Ahead, Try To Break It
Usually when I get these press units I do my best to be kind with them. Carmakers typically don't appreciate you returning their cars broken, dirty or with destroyed tires. But with the Chevrolet Colorado ZR2 Bison, my local GM rep literally told me I could do what the hell I wanted with it. "Go ahead, try to break it" – he told me.
So I did.
That's how confident the General is about its adventure machine, and I have to admit, the trail I brought this thing into was one hell of a tricky place. As you can you see in the pictures, I was in deep, yet, the little Chevy gobbled it up.
What made the trail harder than average wasn't the simple fact that it was muddy and filled with enormous water holes. It was because it was winter, and those puddles had transformed into tiny ice rinks, meaning I had no idea how deep the holes actually were, nor if my truck would cave through under its weight.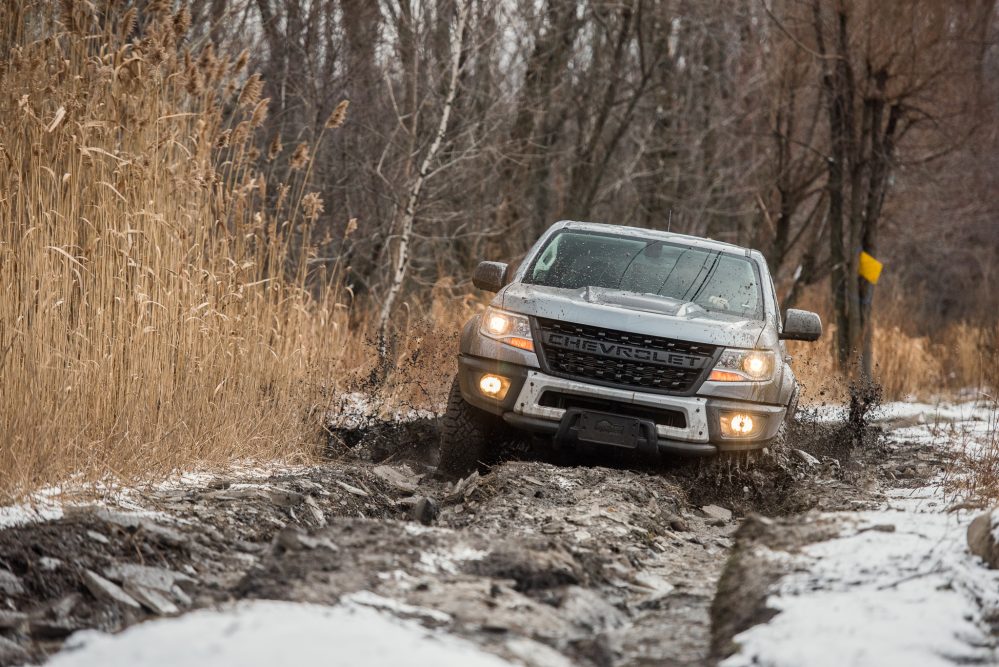 And when it eventually did break the ice, I'd end up half submerged in brown water and thick ice sheets, not the ideal place to leave a press unit. We should have brought another truck with us – I thought.
But while I did get worried at a few instances, the Colorado's lockable diffs, 4×4 low and "offroad" modes allowed this badboy to crawl its way through the holes no biggy. One of this truck's qualities are its narrow dimensions, which make it significantly more maneuverable through a tight trail.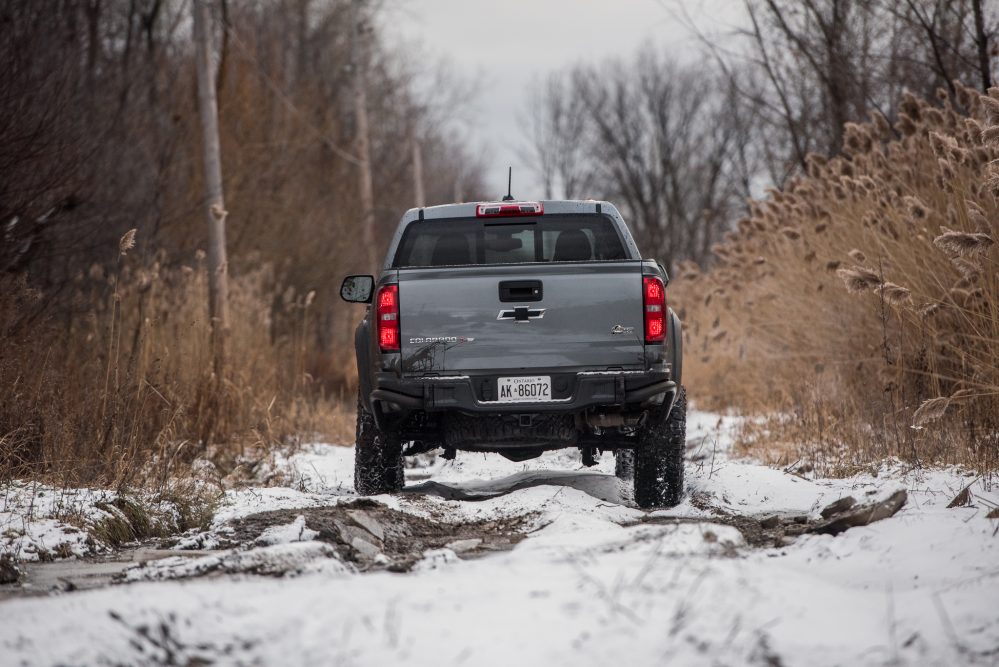 It also feels lighter than most trucks when its suspension bottoms out in the deep stuff. It's a fantastic machine, this, one that will hold your beer and follow you in all your crazy adventures.
The Companion You Need
Once back on the road, you realize how great this little truck really is. Yes, the first immediate thing you notice is how dated its plastic-tastic interior is. This is an ageing truck. And frankly, not having a push-button start in a $60,000 vehicle these days is quite the letdown.
But while the Colorado's interior materials are crap, its seats are hard and the rear bench is tight, it's immensely practical and filled with cool toys in there. Mine was loaded, which meant it had wireless phone charging, onboard Wifi (membership required), Android Auto / Apple CarPlay connectivity, and one of the best infotainment systems in the business.
Then, there's the way the upgraded suspension glides over rough road patches. While I had this thing, I also had a Gladiator Rubicon for a comparo on GM Authority, and it's nowhere near as smooth as this Chevrolet on the road. What's more, the Colorado is properly quick off the line, its V6 engine makes wonderful intake sounds and I have absolutely nothing to say about its eight-speed gearbox.
At the end of the day, what makes the Chevrolet Colorado ZR2 Bison so adorable isn't the toys General Motors grafted onto it. It's the fact that it feels like a quality product. Yet, when you compare its price tag to its rivals, it doesn't feel like Chevrolet is trying to rip you off. As I write this, the only stock midsize truck that can follow a Bison through a real off-road course is a Gladiator Rubicon.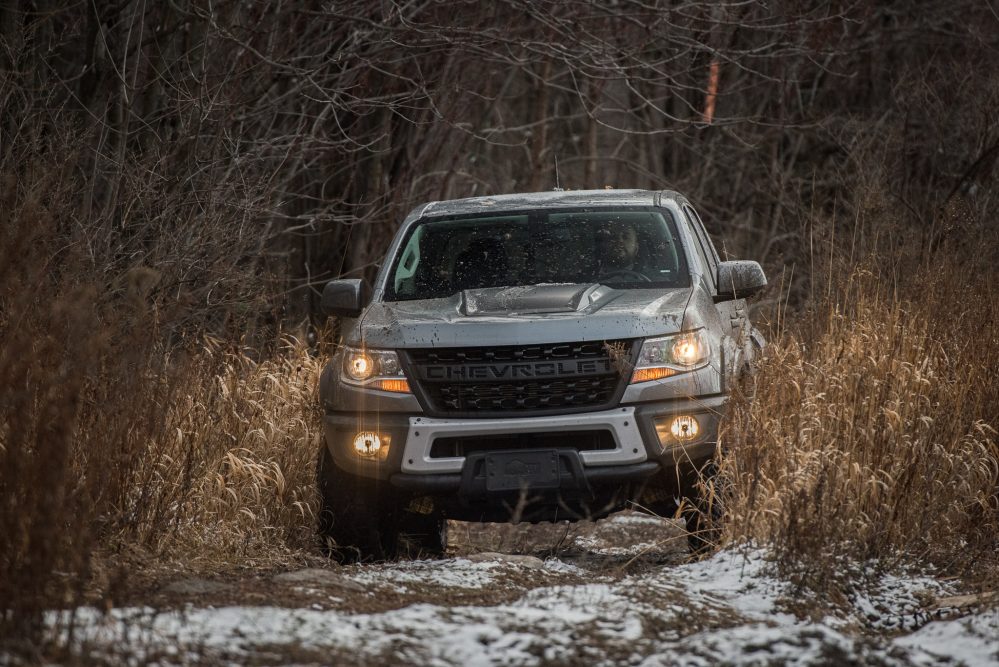 If you're looking to hit the trail, forget the Tacoma, the Ranger, the Ridgeline, or the Frontier. None of them can do as much as this one can. And that folks is why the 2020 Chevrolet Colorado ZR2 Bison is currently my favorite small truck.
Clavey's Verdict
Review of the 2020 Chevrolet Colorado ZR2 Bison by William Clavey
Midsize Trucks
Solid off-road capability for the price
Great power and handling
Easy to live with
Truck is getting old
Crappy interior
Not cheap
Clavey's Corner is located in Montreal, Quebec, Canada. Prices and trim levels discussed in this article reflect the Canadian car market.
Special thanks: Chevrolet Canada
Photography: Guillaume Fournier
Contact the author: [email protected]