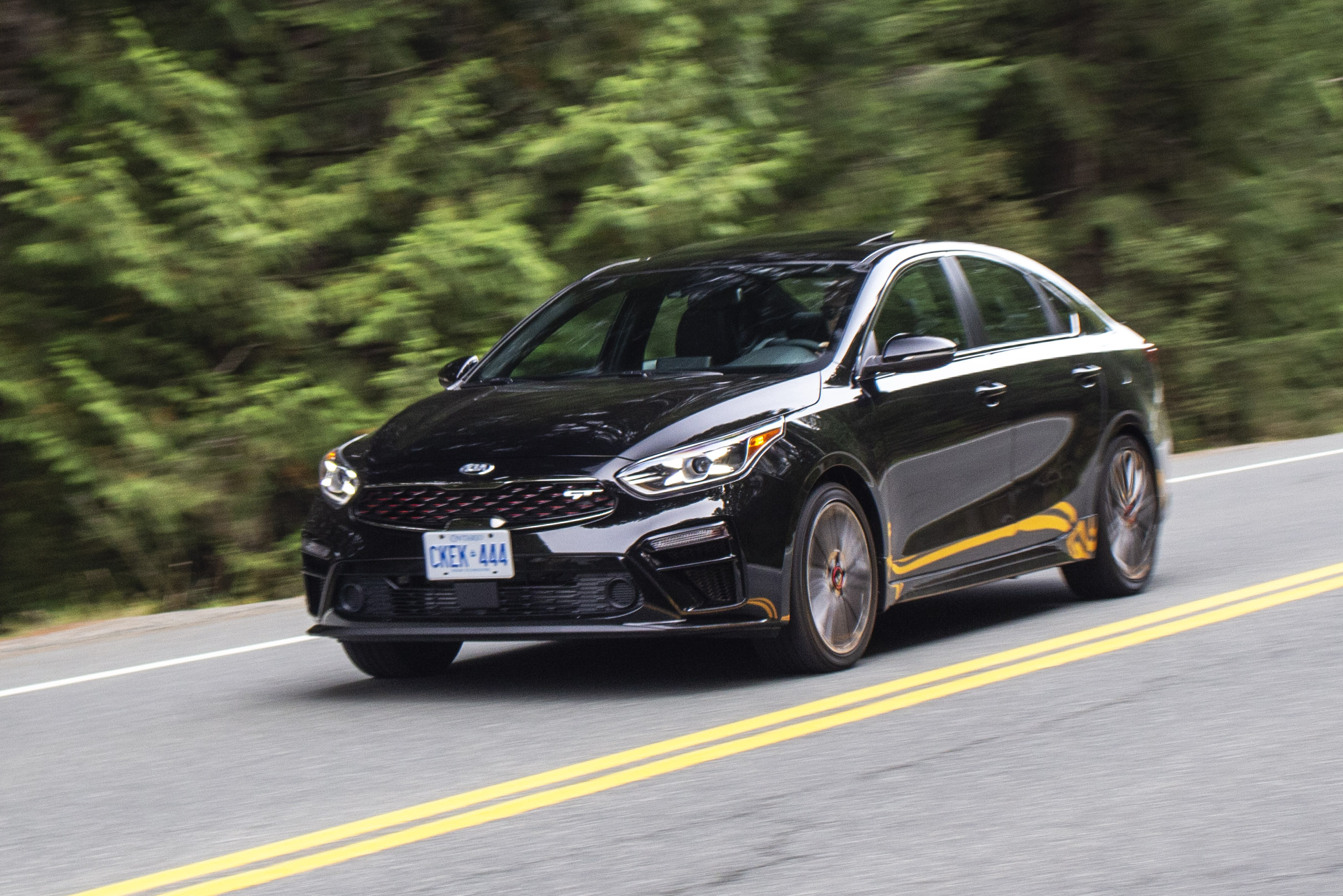 I've always loved the sport compact car segment, especially the sedans. And the current automotive landscape offers a good variety of them. There's the Honda Civic Si, the Volkswagen Jetta GLI and the Hyundai Elantra Sport.
Sport compact sedans offer ample performance and practicality all at an attainable price. And now, there's a new kid on the block here to crash the party of established nameplates. Yes, it comes from Kia, the least probable carmaker to build a car like this. It's called the 2020 Kia Forte GT, and it' s, well damn good. I flew over to Vancouver Island to take it for a spin during its Canadian debut.
Goodbye Schreyer
If you find this Forte, or any other modern Kia attractive, it's mostly thanks to Peter Schreyer, the German automotive designer who made his teeth over at Audi before he shifted to the Korean brand just over a decade ago. Under his administration, Kias suddenly became attractive and desirable, and the 2020 Kia Forte GT is no exception. It's a clean, uncluttered and coherent design that makes the Honda Civic look like a toy, and the current Jetta look too immature. If anything, this Kia is the more mature-looking of the entire compact sport sedan segment.
Schreyer is now moving on to other projects, with Luc Donckerwolke taking over his position, and Montrealer Karim Habib, formerly at Infiniti and BMW, in charge of drawing the next Kias. Let's hope they'll carry on the great work Schreyer's done for the brand.
The Forte got an entirely new generation last year. The GT, along with the Forte 5 five-door hatchback are joining the party this fall. Entry-level Fortes are powered by a naturally aspirated 2.0-liter four good for a lukewarm 147 horsepower, and mated to either a six-speed manual or a CVT gearbox on higher trims.
For the GT, things become slightly more interesting as Kia promises a genuine pocket rocket. For starters, the car looks the part, with a set of frankly sharp-looking 18-inch wheels, a more aggressive front and rear bumper design, a decklid spoiler, dual exhaust tips and subtle red inserts within the car's grille and lower-rear section. The interior also gets the red touch on the steering wheel, gear lever and seats, which have been replaced by sporty, more supportive units.  I'll  get  back to  them  in  a minute.
Power comes courtesy of a turbocharged 1.6-liter four cylinder good for a stout 201 horsepower and 195 lb-ft of torque. An independent rear suspension and beefed up 12-inch discs (versus 11 inches) were added to back up the extra power. The only available gearbox is a seven-speed dual-clutch automatic unit. Sadly, there's no manual here in Canada. Meanwhile, our US friends get the stick.
But get this, the fully loaded 2020 Kia Forte GT sells for $28,995. You can even get one as a hatchback (in Canada), under the Forte5 model, for $29,995. This undercuts the Civic Si, the Jetta GLI and the Golf GTI by several thousand dollars.
Feelin' Good Value
As you know, I'm a big fan of cheap performance, and this Kia is up there among the great cheap quick cars currently on sale. What I love the most about this one, is that it doesn't punish you for paying less than a Volkswagen or a Honda. If anything, it teaches these cars a lesson.
Now, I realize the Forte GT is roughly the same price as that Mazda3 Sport I recently drove, I small car I also adored.  While the Mazda puts the emphasis on styling, comfort and driver engagement, this Forte GT simply gives you more go-fast goodies for your dollar. The Mazda3 lacked an engaging engine. Also, its rear torsion beam led to some unwanted bouncing on uneven ground. The Forte, on the other hand, has proper handling dynamics.
One of the reasons is, yes, that independent rear, but also its impeccably solid chassis. Shared with the Hyundai Elantra Sport, and tuned by none other than Albert Biermann; the other German dude in charge of making Kias handle great – also responsible for tuning past BMW M cars, the Kia Stinger and the Genesis G70 -, the 2020 Kia Forte GT is a car I was not expecting to have this much with behind the wheel.
There's immense fluidity in the way the Forte GT attacks a winding road, with quick turn in, and an ability to remain nice and planted to the ground no matter at which speed you're flinging the car. It feels solid, confidence-inspiring, and, dare I say it, German.
The flat-bottom steering wheel has a thick, meaty feel to it, and that turbo engine offers plenty of mid-range punch all while sounding alright along the way. Its best aural quality is during mid to high range throttle inputs where it emits a nice raspy bark through the cabin, almost sounding atmospheric. The dual-clutch unit is also lightening quick.
I was also quite pleased by this car's interior. While yes, you will find some cheap hard plastics on the lower sections of the dashboard, revealing its cost-cutting tricks, build quality is superb, with a stylish, clean design, and one of the easiest infotainment systems in the business. Also: physical handbrake!
Seating position, however, isn't the Forte GT's best asset. At least, not for tall people. Compared to the standard Forte, the GT's sports seats, while plenty supportive during hard driving, are bolted high in the cabin, leading to a sensation of rubbing your head on the headliner. The steering wheel, while reactive, feels numb compared to the standard car, which doesn't exactly make sense for a performance-oriented sedan.  I would  have  preferred  more  feedback  here.
Finally, while the GT puts the power down surprisingly well for a front-wheel-drive vehicle, the lack of a limited-slip differential means it won't claw its way out of a corner as gracefully as a Golf GTI or a Civic Si. It's a bit more of a hooligan, this one, where you'll need to be a tad more patient before putting the power down. That said, Kia has somehow managed to do a lot with what it had  to  work  with.
And that's really what shines through with the 2020 Kia Forte GT. Kia tried to build a fun little car without having to develop mechanical components to get there. Yes, this is a mashup of Hyundai and Kia parts bin components, but its a clear example that when talented people get together to build the car they want to drive, the end product is nothing short of excellent. The 2020 Kia Forte GT is cheaper than all of its rivals, but will still stick to their tales on a twisty winding road. I say that's mission accomplished for a carmaker who's entire business model is based on value.
Clavey's Verdict
Review of the 2020 Kia Forte GT by William Clavey
Sport Compact Cars
A lot of performance for the price
Solid handing and chassis tuning
Quick-shifting dual-clutch automatic
No manual gearbox
Lack of a limited-slip differential
High seating position
Clavey's Corner is located in Montreal, Quebec, Canada. Prices and trim levels discussed in this article reflect the Canadian car market.
Special thanks: Kia Canada
Photography: William Clavey
Contact the author: [email protected]