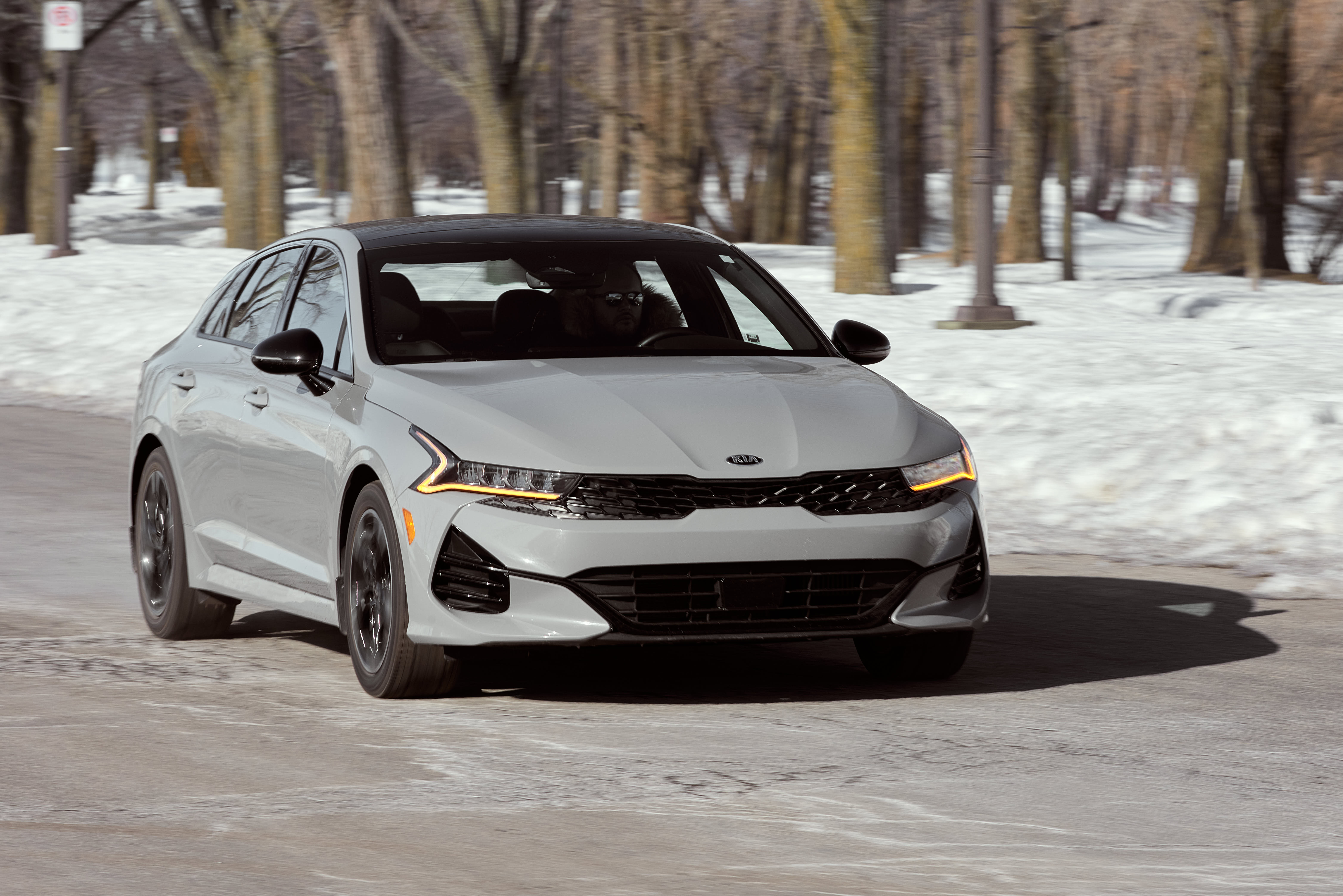 The 2021 Kia K5 is just another indication as to how good the South-Korean brands have become. It also breathes new life into the midsize sedan segment, a category of cars that's been on a rapid decline in recent years. While it's still uncertain if it'll save the sedan as we know it, the K5 is a fresh new addition that's good enough to have you reconsider SUV ownership.
The Real Name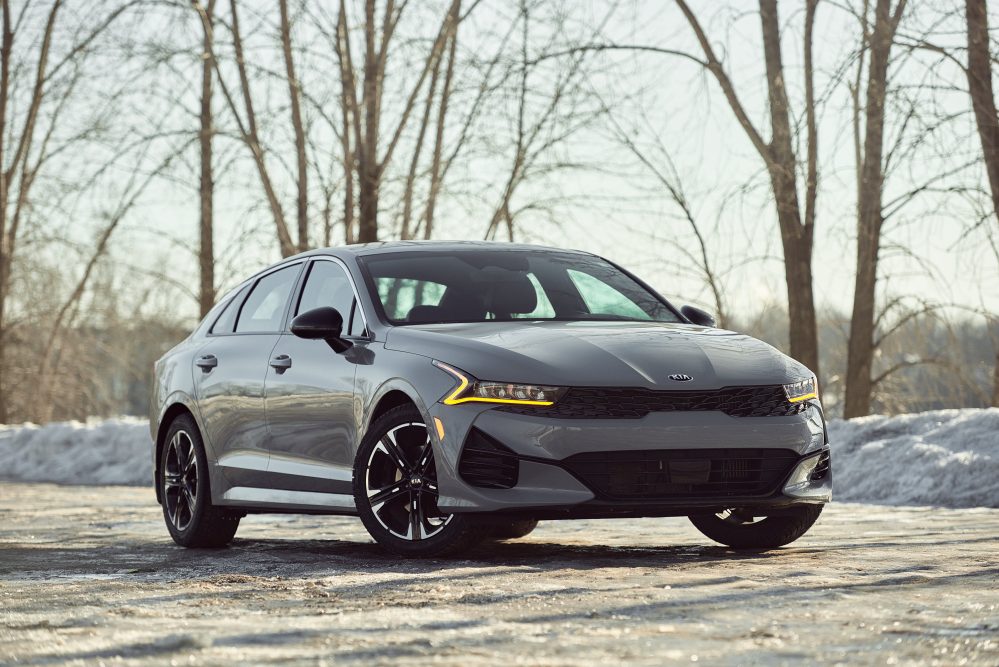 The K5 name may be new to us, but it's been what the rest of the world used to call the Optima. Kia just finally gave it the name it had everywhere else on the planet, which makes sense considering how quickly information travels from one continent to the next these days.
The K5 is all-new from the ground up, and rides on the Hyundai-Kia N3 platform that was originally engineered for the Hyundai Sonata in 2019. There are new engines, new transmissions, a new interior and a bitchin' exterior design. Now, I won't go as far as say that this is an attractive car – I mean, that front end reminds me of the Covenant in the Halo video game – but it is striking and gets people to stop and take a hard look at it.
Perhaps the biggest news is standard all-wheel drive with the baby engine, which is how my car was spec'd. In other words, this thing is four-wheel-driven out of the box until you check off the top-spec engine, which then turns the car back to front-wheel drive. Which is weird, because you'd expect to be able to choose one or the other on the most expensive trim level.
Anyway, the base engine is a turbocharged 1.6-liter four taken out of the Hyundai/Kia parts bin. It's good here for a healthy 180 horsepower and 195 lb-ft of torque, and mated to an eight-speed automatic. This puts the K5 neck to neck with a Toyota Camry all-wheel drive or even a front-wheel-driven Honda Accord.
The more powerful engine, which is only available in the K5 GT, is a 2.5-liter turbocharged four-cylinder, the same one found underneath the hood of that Kia Sorento I drove during the holidays. It's good for a stout 290 horsepower and 311 lb-ft of torque. Sadly, the old V6 is now a thing of the past, and there's no hybrid option for the K5.
In typical Kia fashion, pricing for the 2021 Kia K5 is rather aggressive. An entry level LX model, with all-wheel drive, kicks off at $29,595. My tester was the GT-Line model, essentially the most upscale variant available with the baby engine. It stickers for $35,995. The K5 GT tops the lineup at $39,995.
Just A Damn Good Car
Ok, so I know that it's hard for me to talk about reliability because I drive brand new cars with very little mileage on them. So I still don't know how this K5 will age. But as a new midsize sedan covered by a warranty, I must say, this  is damn good. It doesn't have the same sense of mechanical fluidity as a Honda Accord or the same buttoned-down bulletproof feel as a Camry, but it does punch well above its weight. You're also getting a lot for your dollar.
The tiny turbo engine has good low-end twist, but doesn't like to rev. It operates better in the low to midrange areas of the powerband where it'll allow this midsizer to hustle forward with very little hesitation. The K5 is not a quick car per se, but it's no slouch either. That eight-speed gearbox also does a good job of handing you over the proper gears when you need them, but under hard throttle, it does take time to figure out what it wants. The irony here is that this drivetrain combination operates better in the Hyundai Sonata. My theory is that the all-wheel drive system has something to do with it.
The K5 feels well put together and the damping of its suspension is superb on beaten roads. Turn in is quick. with a well weighted steering that leans towards a sport sedan feel. There's a good blend of sportiness and everyday drivability here, similar to what you'll find in a German car. I'm also a fan of the transmission's T-shaped shift lever.
It's just fun to grab, even if you can't do the shifting yourself. Fuel economy is also decent in a K5. I averaged 10,3L/100 km in my tester during winter. Not bad considering this puny engine is powering all four wheels.
Inside, the K5 continues to impress with a highly technological and fancy cabin layout. There's a mismatch of textures; fake wood, piano black, chrome and stitching on some sections of the dashboard. It's not exactly coherent, but it is well presented. Build quality is also excellent and the materials used do a very good job of appearing and feeling more upscale then they actually are.
The 2021 K5 GT-Line has a large 10.25-inch infotainment interface that's easy to operate. It's all touch-controlled and responds quickly to your commands. However, I don't get why Kia and Hyundai don't get a similar setup as in the Genesis G80 and GV80 with that console-mounted knob dial. I mean, BMW does it with MINI, so why not Hyundai? It's also a little weird to see plain analog gauges next to an enormous digital screen.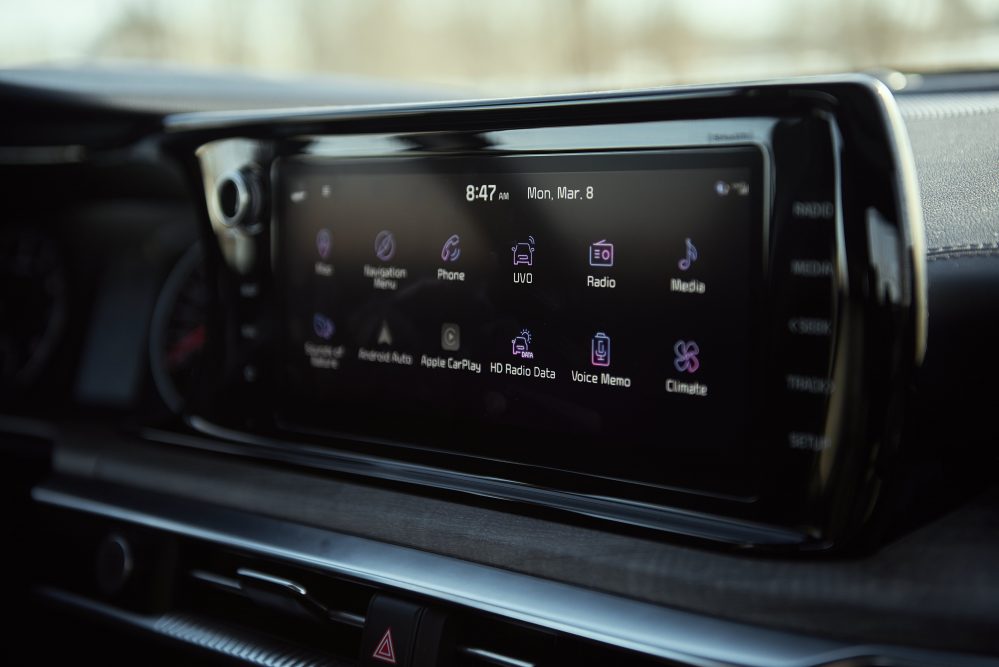 Overall seat comfort is excellent in a K5, and rear seat room is rather impressive. I drove the K5 from Montreal to Mosport and the entire ride was rather enjoyable. Those seats never gave me back aches or made me want to exit the car. It was all rather refined and pleasant to live with.
In a world where midsize sedans are taking a serious hit from crossovers, carmakers have never dished out such exciting models. The 2021 Kia K5 is a case in point. With a striking design, a long list of standard equipment and driving dynamics that put a Volkswagen to shame, I can now confidently say that Kia's midsize automobile is part of the greats. Now I'm curious to drive the GT model to see if it's as fun to drive as a V6-powered Camry TRD.
Clavey's Verdict
Review of the 2021 Kia K5 GT-Line by William Clavey
Midsize Sedans
Striking design
Upscale features
Standard all-wheel drive
Mashup of interior styling
No all-wheel drive with larger engine
No hybrid variant
Clavey's Corner is located in Montreal, Quebec, Canada. Prices and trim levels discussed in this article reflect the Canadian car market.
Special thanks:  Kia Canada
Photography: Guillaume Fournier
Contact the author: [email protected]