The 2021 Kia Sorento is no longer Kia's flagship full-size SUV. That spot is reserved for the Telluride now, an SUV that's so damn good, that it has rendered the poor Sorento obsolete. So how does Kia deal with this? By completely changing the Sorento's position in Kia's lineup, and allowing it to fight against a new crop of two-row midsize SUVs. The end result, I must say, is rather impressive, but this new Sorento is sadly losing something important along the way.
Looking Sharp
There's no denying how good this new Sorento looks. Kia's design language in recent years has really allowed it to distinguish itself, and there are no ugly angles on this new kid on the block. The front end incorporates a more prominent Tiger grille, with slim LED headlights that comically mimic Acura's Jewel Eye setup. The 2021 Kia Sorento has a bolder, sportier stance, a raked roof line and arguably one of the most interesting rear fascias to have been slapped onto a midsize SUV.
And I personally adore the Aruba Stone green paint my tester was covered in. It fits well with the #makegreengreatagain hashtag, and contrasts beautifully with its black wheels, black grille and black bumper inserts. The model you're seeing here is an all-new X-Line package, which slots between the Sorento LX Premium and EX, or if you prefer, the third of six available trim levels. X-Line basically gives the Sorento a more "adventurous" look, with a slightly lifted ride height and just the right of equipment without going all out.
That new, two-row midsize SUV segment I mentioned earlier is one that's been recently boiling with new and existing entries, things like the Chevrolet Blazer, Ford Edge, Honda Passport, Nissan Murano, Volkswagen Atlas Cross Sport, Toyota Venza and even the Jeep Grand Cherokee. Except, unlike its rivals, this new Sorento comes with a third row of seats like its predecessor. It's a tight third row, however, but one that remains handy for throwing a pair of extra kids when leaving soccer practice.
Being an all-new Sorento also means it gets all-new engines, which is where things become interesting, but also a bit disappointing. Base models are powered by a naturally aspirated 2.5-liter four good for 191 horsepower and 181 lb-ft of torque, and mated to an eight-speed automatic gearbox. The one I was driving had the upgraded and all-new turbocharged 2.5-liter four-cylinder engine, essentially the same one that powers entry level models of the Genesis G80 and GV80. It's good here for 281 horsepower and 311 lb-ft of torque. It's also mated to an eight-speed transmission, but in dual-clutch form. All-wheel drive is standard across the lineup.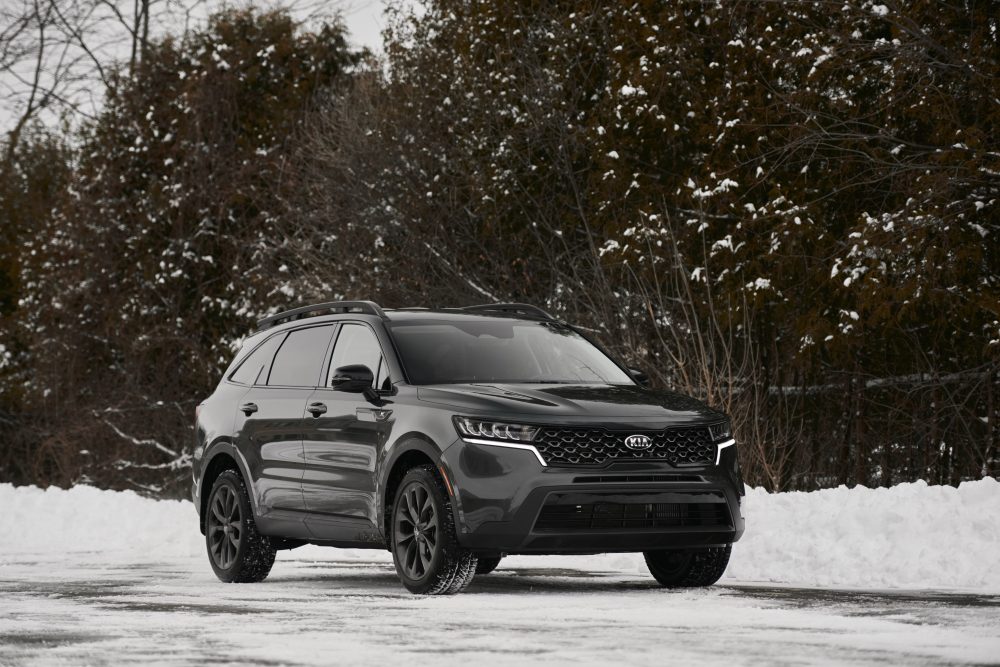 While that turbo engine makes 9 horsepower less than the old 3.3-liter V6, it cranks out 59 lb-ft more torque. That said, I totally respect what Kia is doing here to give the now sportier and more dynamic Sorento a technical edge on the Telluride, its towing ratings drops considerable, from 5,000 to 3,500 pounds. Kia could have gone full Honda by simply shrinking a Telluride and calling it a day, but it seems global markets had other plans for the Sorento, which explains the downsizing of its engines.
Pricing, in typical Kia fashion, remains very competitive. A base LX+ model, which comes quite well equipped to boot, with things like lane keep assist and adaptive cruise control, sells for $33,995. My X-Line model, which sits at the center of the lineup, stickers for $39,495. The top-flight Sorento SX sells for $47,495, which makes it a real bargain when you compare it to a Honda Passport.
Punchy And Fresh
I was lucky enough to spend the entire holiday season in company of this 2021 Kia Sorento. Kia Canada even had it shipped directly to my home, then picked it up in the new year. Perhaps what shines through the most in the way it drives, is how modern and fresh this SUV feels. That turbo engine delivers a smooth and punchy delivery of power when you barely feather the throttle, and the dual-clutch transmission makes sure to swiftly hand you over the gear you need for the task.
Kia also excels in drive modes, where the vehicle clearly exhibits very different characteristics depending on the configuration you choose. In Eco mode, it's actually "eco", returning a more than acceptable 9.5L/100 km average. In Sport mode, it channels enhanced inductions sounds through the car's speakers, shifts faster and responds quicker to throttle inputs, and actually feels energetic and "sporty".
That said, Sport mode did add some jaggedness in the throttle's operation. While always eager to get up and go, the level of sensitivity is downright annoying, making it difficult to cruise around town in. My personal favorite was Comfort mode, which gave it a nice blend of sophistication and performance. While never quick per say, the Sorento's ability to quickly pick up speed on a highway offramp is welcomed, and there's more low-end torque here than one would actually need.
Then, there's the interior, which garnered a lot of mixed reactions when I posted the Sorento on social media. While some hated the shape of the air vents, some adored it. Since I have tremendous respect for any carmaker that dares  to do things differently, I'm going to say that I like what Kia has done here. What counts is how functional everything is, and in typical Korean fashion, switchgear, buttons, controls and the infotainment system all operate with fluidity and simplicity.
It goes even further than that. The Sorento has one of the most comfortable in-door armrests I've ever laid my arms on. It follows almost perfectly the shape of your limb, which leads to a sensation of ultimate relaxation, while allowing you to easily access window or door lock commands.
The new 8-inch (or 10,25-inch) infotainment interface remains a gem to operate thanks to a nice combination of digital and analog controls. Kia adds wireless Android Auto and Apple Carplay as standard equipment, which is not only super easy to use, but makes you downright forget the car's default interface.
There's even an included UVO telemetric system (with X-line models or higher) which allows you to activate a full battalion of accessories from an app on your phone, like starting the engine, activating climate control, check the car's surroundings through its cameras or even find your lost Sorento in a crowded mall parking lot. Not like that's going to be useful during this pandemic, but it's still a cool gimmick.
Finally, there's the amount of space back there. The model I had was equipped with the captain seats for the second row, which gave way to massive leg and shoulder room. Access to USB ports is ample, while rear HVAC controls are a handy feature, especially in this price range. And while this Sorento is about the same size as its predecessor, total cargo space actually increases a bit, going from 2 067 to 2 139 liters. This allows the new Sorento to be the third most spacious SUV in its segment, only to be slightly beaten by the Honda Passport and Volkswagen Atlas Cross Sport.
The 2021 Kia Sorento is therefore off to a good start, on its way to become a leader in its new segment. However, the drop in towing ratings and the absence of its beloved V6 engine could force some consumers to flock towards a Honda or a Volkswagen dealership. We also don't know how this new turbocharged engine and dual-clutch duo will perform from a reliability standpoint, and we know Kia has had some issues with both in the past. But if you're looking for something a little more dynamic than a three-row full-sizer, and don't necessarily need to tow, this one is definitely worth considering on your shopping list.
Clavey's Verdict
Review of the 2021 Kia Sorento X-Line by William Clavey
Two-row Midsize SUVs
Punchy turbo engine
Good design, filled with technology
Class-leading cargo space
Low towing rating
Unproven reliability of turbocharged engine
Questionable third row seating
Clavey's Corner is located in Montreal, Quebec, Canada. Prices and trim levels discussed in this article reflect the Canadian car market.
Special thanks: Kia Canada
Photography: Guillaume Fournier
Contact the author: [email protected]