I didn't drive the 2021 Genesis GV80 very long, but I'll have it for a longer test period some time next year. I did however drive it long enough to realize that it'll give its rivals a very hard time when it hits Canadian roads. Because within only five years, the Koreans have managed to achieve what the Japanese are still trying to do after over 30 years: disrupt the Germans.
Changing The Game
It's obvious that in recent years, the south-Korean machine – meaning Kia, Hyundai and Genesis – have been exceedingly aggressive. I personally visited Hyundai's enormous design and testing facility outside of Seoul two years ago, and I was flabbergasted by how efficient, hard-working and downright clever they are at manufacturing automobiles.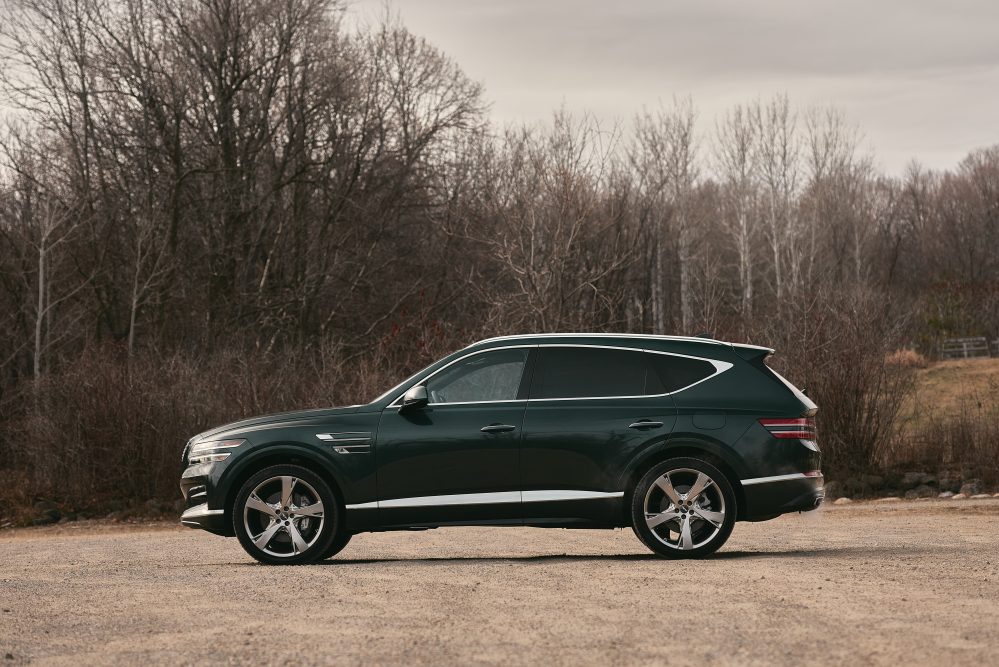 The 2021 Genesis GV80, then, reflects the best of what Korean engineering has in stock, but it also raises the bar of what we should expect from a luxury midsize SUV. So yes, this technically goes against a slew of good products, vehicles like the Acura MDX, Cadillac XT6, Lincoln Aviator, Volvo XC90, and, of course, the trio of German alternatives, the Audi Q7, BMW X5 and Mercedes-Benz GLE.
Except, the GV80 kind of eclipses a large chunk of that list, especially SUVs from Acura, Cadillac and Lincoln. Why? Because it just excels at its art, offering consumers considerably more substance at a comparable price. And did I mention how expensive it looks?
What you need to know is that two engines power the 2021 Genesis GV80. Base models come with a turbocharged 2.5-liter four-cylinder good for 300 horsepower and 311 lb-ft of torque. But the one I was driving had a twin-turbocharged 3.5-liter V6 that pumps out 375 horsepower and 391 lb-ft of torque. Both engines are mated to an eight-speed automatic gearbox. All models sold in Canada come uniquely with all-wheel drive.
Pricing is where things become very interesting, and rather simple too. Genesis distinguishes itself from its rivals by allowing you to buy the car online and delivering it straight to your home. It also offers what it calls, an "all-inclusive" price". This means that there aren't any options on a Genesis, but only four total packages, two for each engine. Prices therefore kick off at $64,500 for a "base" 2.5T Select model, which already comes fully loaded to begin with.
The lineup caps off with this 3.5T Prestige variant at $85,000. All that's left to do after that is choose your favorite color combinations, which, I must say, look fantastic. I personally adore this Cardiff Green with Chestnut Brown and Smoky Green Nappa Leather interior. Green leather seats!
Always In "Wow" Mode
Perhaps where the 2021 Genesis GV80 impresses the most is that everything about it feels fresh, new and reimagined. There's a "wow" factor to everything it does, which really allows it to stand tall against its rivals. And I'm not saying this because Genesis paid me, because, as you know, no carmaker pays me. This thing is just brilliant.
Let's begin with the way it drives, in other words solid. Just like the G70 and G90, there's a fantastic balance between sport and comfort which allows the GV80 to come through as its own unique machine. The fact that it rides on a rear-wheel drive architecture certainly helps, but there's also immense power from that V6.
Yes, there's turbo lag – which is expected from these things – but once the GV80 get up and goes, the surge of power is smooth, progressive and constant. Meanwhile, the eight-speed transmission shuffles through gears effortlessly, and contrary to a Lincoln or a Cadillac, there's absolutely no delay when it downshifts. From a mechanical standpoint, this is as focused as a BMW.
As focused, but not as agile. Don't expect this thing to be as athletic as an X5 in the corners, but it will provide a smooth ride and a supremely well damped suspension. And then there's the way the entire thing looks. Many people thought I was driving a Bentley and, well, I'm sorry, but this GV80 not only looks as posh as a Bentayga, but it's downright better looking as well.
That "wow" factor doesn't end in the way the GV80 drives and looks. The cabin, especially in this heavily spiced up model with its GREEN quilted leather seats, looks like nothing I have sat my ass in within this price bracket. Makes a Maserati Levante feel like a Daewoo by comparison. That said, I'm not sure about the steering wheel. It's ugly, but what do I know?
In typical Korean fashion, build quality in a GV80 is impeccable, while materials not only look and feel up there with the best of them, there's also an ingenious use of making materials look and feel like they're something else. For instance, look at the wood pattern on the center console around the transmission knob and infotainment controls. Isn't that cool?
Those controls, however, are a bit of a letdown in the sense that they're not as intuitive as what you'll find in other Hyundai/Kia products. That weird trackpad knob thingy is a bit of a mess when you're trying to use it while driving and I don't get why Genesis put the volume controls on that large horizontal roller up there. It looks cool, yes, but what ever happened to the good old volume knob?
Except for these minor details, ergonomics are rather stellar in a GV80. Among other noteworthy toys is the 3D digital gauge cluster, which is downright cool as hell. It's the first time we see this in an automobile and it fixes the problem of LCD displays not feeling as genuine as analog gauges. I actually thought this thing had real, physical components in the gauge pod. You can't see it in picture, but in real life, the final result is game-changing.
And it's the same story for the infotainment interface, which makes big strides in the way it displays the information and allows its user to interact with it. This really is the next-generation of infotainment systems which presents itself through a much less distracting presentation and one that flows organically while you're driving.
Genesis even integrated little themes with a background music to go with it. Sure it's a gimmick, but a cool one. There's something enjoyable about listening to the sound of crashing waves while you're driving.
Perhaps the 2021 Genesis GV80's biggest letdown is its cramped third row of seats. If you're looking for a real seven-seater, the competition does a better job at that. Ditch the third row, however, and you shouldn't be disappointed by the level of comfort and sophistication a GV80 has to offer, but you may find the 2,144 liters cargo space a little small compared to an Aviator (2,200 liters) or an XT6 (2,228 liters).
But Genesis currently isn't in a position to offer more trunk space than its rivals. It's in a position to convince consumers that it can build a proper luxury SUV. And in that respect, the GV80 absolutely kills its mission. Aggressively priced, beautifully styled, well packaged and loaded with capability, the 2021 Genesis GV80 is a new player that its competition needs to start taking seriously.
Clavey's Verdict
Review of the 2021 Genesis GV80 by William Clavey
Premium Midsize SUVs
Fantastic Design
Well-sorted out driving dynamics
Lovely interior ambiance and build quality
Cramped third-row seating
Smallish cargo hold
Clumsy infotainment controls
Clavey's Corner is located in Montreal, Quebec, Canada. Prices and trim levels discussed in this article reflect the Canadian car market.
Special thanks: Genesis Canada
Photography: Guillaume Fournier
Contact the author: [email protected]