Before I drove the 2020 Maserati Levante Trofeo, I had a lot prejudice towards this vehicle. I didn't quite understand why anyone would pay such a ridiculous amount of money for one. I believed it was essentially a rebadged Jeep Grand Cherokee. But after spending a whole week in one, I must say, I became quite fond of it. Most importantly, I now totally get why it's so expensive, even if it's hugely imperfect.
Because Ferrari?
I mean, yes, the fact that the 2020 Maserati Levante Trofeo is powered by a Ferrari-built engine (which I'll get back to in a bit) essentially justifies its enormous price tag, but there's actually a lot more to it. What you need to know is that while it does share some components with the rest of the FCA group, it's not based on a Jeep, or even an Alfa Romeo Stelvio for that matter.
The Levante rides on its own bespoke platform, one that's shared with the Quattroporte. The Trofeo model you see here is the high-performance variant of the thing, essentially a direct rival to a BMW X5 M or a Porsche Cayenne Turbo. Its engine is mounted longitudinally, which means it sends the power to the rear wheels first, before defaulting to all-wheel drive.
The Trofeo essentially sits at the top of the Levante food chain, taking off where the Levante GTS stops. This means that it houses the same 3.8-liter twin-turbo V8; a masterpiece of internal combustion that benefits from Ferrari's boost-control computer, which carefully meters turbo boost and straightens out power delivery for a seemingly endless surge or power. In other words, it eliminates turbo lag.
Except, in the Trofeo, that power has been cranked up to 590 horsepower (compared to 550 in the GTS), while torque remains unchanged at 538 lb-ft. It's mated to an eight-speed, ZF-sourced, eight-speed automatic gearbox. When set up in Corsa mode, the vehicle's most aggressive setting, and with traction control off during the right weather conditions, the 2020 Maserati Levante Trofeo will launch itself from 0 to 100 km/h in just under four seconds, and continue up to a manufacturer-claimed top speed of 304 km/h.
I'm going to say straight up that I'm not a huge fan of the way this SUV looks. I mean, I do like its face due to the menacing Maserati grille and enormous trident logo, but from the side, or even from the rear, especially painted in this brownish Grigio Maratea paint job, it kind of looks like an overblown Daewoo.
Unsurprisingly, pricing is high for a Levante Trofeo, kicking off right in Porsche Cayenne Turbo territory at $170,210. At this point, you're probably wondering why not just get the Porsche instead. My answer to that is: the Maserati is exclusive A-F. And exclusivity comes at a price.
You definitely won't see one of these bad boys at every street corner. It's also important to mention that Maserati's partnership with Ferrari is now over, so this may very well be the last of the Ferrari-powered Maseratis.
The GT Of Performance SUVs
Perhaps if there can be a little bit of relief from this ridiculous high-performance luxury SUV trend, is that all of them offer something unique. They all have their own personality, and this Maserati comes through as the more plush of them all. It'll never be as scalpel-precise as a Porsche or as athletic as a BMW, but it's definitely the one that can carry speed effortlessly on a tight country road the best. It's the Grand Tourer of performance SUVs.
The adjustable suspension changes the Trofeo's ride height and firms things up at times, but whatever mode you're in, there's a lot of wheel travel, which allows it to remain smooth and level, even on the most beaten roads. In a pothole-infested city like Montreal, the 2020 Maserati Levante Trofeo was absolutely stellar, yet, it still held its own in the bends.
Then there's the sound of that V8, which is an event on its own. In Corsa mode, it yelps Italian concertos from its enormous quad exhaust pipes. A simple downshift will emit a satisfying growl that'll echo on the city's walls. As the revs climb, the engine sings different melodies, giving it an almost organic feel.
The transmission works effortlessly, especially during performance driving – an expected ZF quality -, but it did prove a little crude during casual driving, occasionally emitting noticeable thumps when shuffling through the gears at low speeds.
At full throttle, something I don't recommend you do in the city, the Trofeo's sounds like the best of Italy. This Maserati is fast off its feet and visceral in a straight line, but it's a tad clumsier than its German rivals in the bends. It feels at times heavy and not as nimble. It really is a case of buying a car for its engine.
That's not to say the Levante isn't a worthy SUV on its own. It's rather spacious inside and enormously comfortable. The cabin is plush, filled with rich materials and quality leather. The red interior of my tester looked absolutely dashing, but it did also reveal some of its trademark FCA parts bin specials.
Perhaps the 2020 Maserati Levante Trofeo's main interior flaw isn't the Dodge-Caravan sourced wiper stalk or an infotainment system that was taken straight out of a Chrysler 300. It's how dated everything feels. I'm not saying UConnect is a bad system, because it's great. But in a near $200,000 Maserati SUV, you expect more, or at least, more tech. Hell, a RAM 1500 has a more attractive dashboard design.
While the entire segment has moved to fully digital driver displays, Maserati still makes do with analog gauges. Everything just feels like its from the last decade. And while I'm all for signature ornaments like the center-mounted clock, I'm sorry Maserati, but isn't particularly attractive. And would you look at the size of that steering wheel!
It's not however all bad, as the 2020 Maserati Levante Trofeo does boast some neat interior details, like the carbon fiber trim on the center console, or the absolutely perfect column-mounted paddle shifters, also made of carbon fiber. Everywhere you touch in a Trofeo, the surface is either made of leather or suede. And it's not all just reserved for the front passengers, as the rear seat area is just as elegant and pleasantly roomy.
Cargo space is however a bit on the low side, which is expected given that the Levante is sized between the compact and the midsize class. It'll still engulf up to 1,624 liters of your gear, which is more than fine, but it nevertheless trails behind a Cayenne (1,708 liters), an X5 (2,047 liters) or even a Mercedes-Benz GLE (2,011 liters).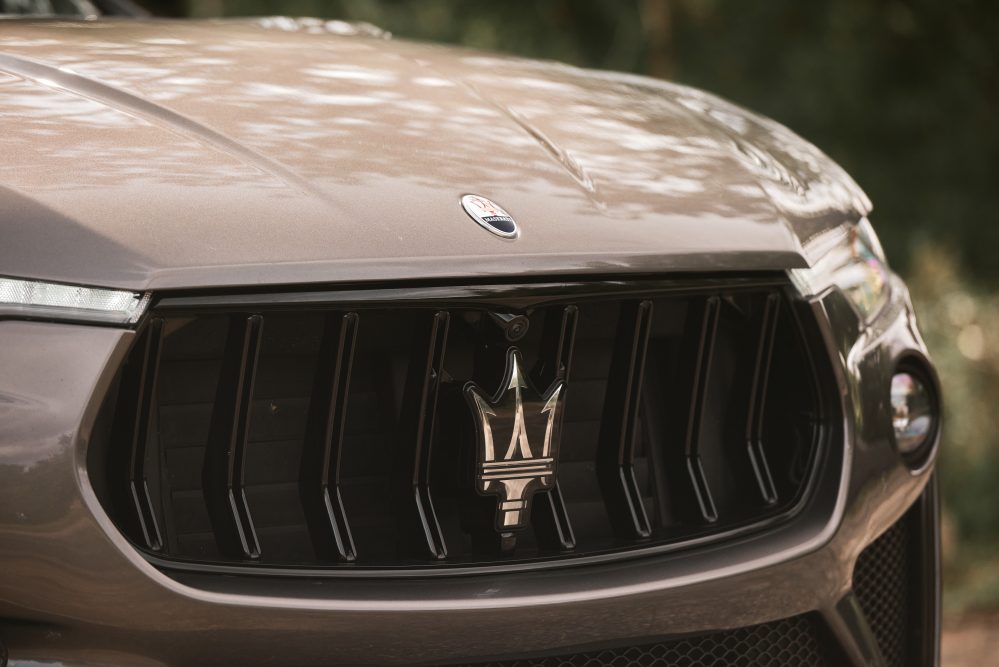 But, I mean, I'm sure that's not the main reason you buy a 2020 Maserati Levante Trofeo. You buy one  for its flamboyant character and unique presence. But also, why would you even get the Maserati SUV when the much more affordable and plenty capable BMW X5 M50i does a better job?
These questions cycled through my mind the entire time I had this Trofeo in my company. Yet, the moment I'd set eyes on that magnificent trident logo and fired up the sublime V8 engine, it all somehow worked. It all suddenly made sense. The Levante Trofeo may be a polarizing beast, and it sure isn't as polished as some German rivals, but it's charming enough, filled with substance, and oozing with bold Italian character, qualities that come at a high premium.
Clavey's Verdict
Review of the 2020 Maserati Levante Trofeo by William Clavey
Luxury Performance SUVs
Blindingly quick
Ferrari soundtrack
Seductive interior
Weird styling
Small cargo hold
Feels dated
Clavey's Corner is located in Montreal, Quebec, Canada. Prices and trim levels discussed in this article reflect the Canadian car market.
Special thanks: Maserati Canada
Photography: Guillaume Fournier
Contact the author: [email protected]