I was among one of the first journalists to drive the 2021 Mercedes-Benz GLE back in 2018, one year before it was released on our market. I even flew all the way to Austria the following year to sample its AMG version in coupe form. It was a big thing back then, at least from a technological standpoint. Today, it just feels like just another SUV loaded with toys. But that's the point: the current GLE helped create that trend.
Bounce And Chat
Three years may not seem like a long time (although the COVID-19 pandemic did feel like it lasted forever), but in today's automotive industry, it's an eternity. More importantly, it shows how fast the technology is evolving. Although it was Tesla that invented the concept almost a decade ago, Mercedes was among the first mainstream carmakers to understand that cars need to be able to update themselves remotely like a phone or a computer.
Things we now take for granted in today's cars like over the air updates, an infotainment system that uses artificial intelligence to understand your voice commands, or a navigation system that integrates augmented reality were all pioneered by Mercedes-Benz. And although the A-Class was the first car in the Mercedes lineup to receive these features, the GLE was the vehicle that solidified them for the entire brand, all while pushing the envelope even further. This thing can bounce its suspension up and down to better free itself from a muddy patch. Bounce? Yes, bounce. And it actually works at making it a more capable off-road machine.
The model you see here is the 2021 Mercedes-Benz GLE350; the baby of the GLE family. These things come in a wide variety of configurations, powered by four, six and eight-cylinder engines. There's even hybrid technology in some of them, with diesel engines still available in other markets.
Powering our GLE 350 is a turbocharged 2.0-liter four-cylinder good for 255 horsepower and 273 lb-ft of torque. It's mated to a nine-speed automatic transmission as well as Mercedes' 4MATIC all-wheel drive system. But even with the tiny engine, the GLE will tow up to 7,700 pounds when properly equipped. Pricing for these things kicks off at $69,900, which is pretty much where my bargain basement tester stood. Usually I get fully loaded press units, but not this time.
Slightly Underpowered, So Smooth
Some people don't even care about a Mercedes that it isn't an AMG, but there's something to like about the least powerful engine underneath the hood of a Benz. Sure, the GLE 350 isn't particularly quick off the line, and its four-cylinder engine doesn't make a very pleasing sound when on idle. It even kind of sounds like a diesel. But what this GLE lacks in brawn, in makes up for it by being incredibly smooth and compliant on beaten Quebec roads. The lighter engine also allows this big guy to be surprisingly athletic in the corners.
I also like how energetic the four-cylinder engine is compared to its six or eight-cylinder alternatives. Yes, punching the accelerator pedal means there's a delay until the transmission figures things out and the turbocharger spools up, but once that force-fed mill starts boiling, there's a decent amount of low to midrange punch that makes the drive somewhat interesting.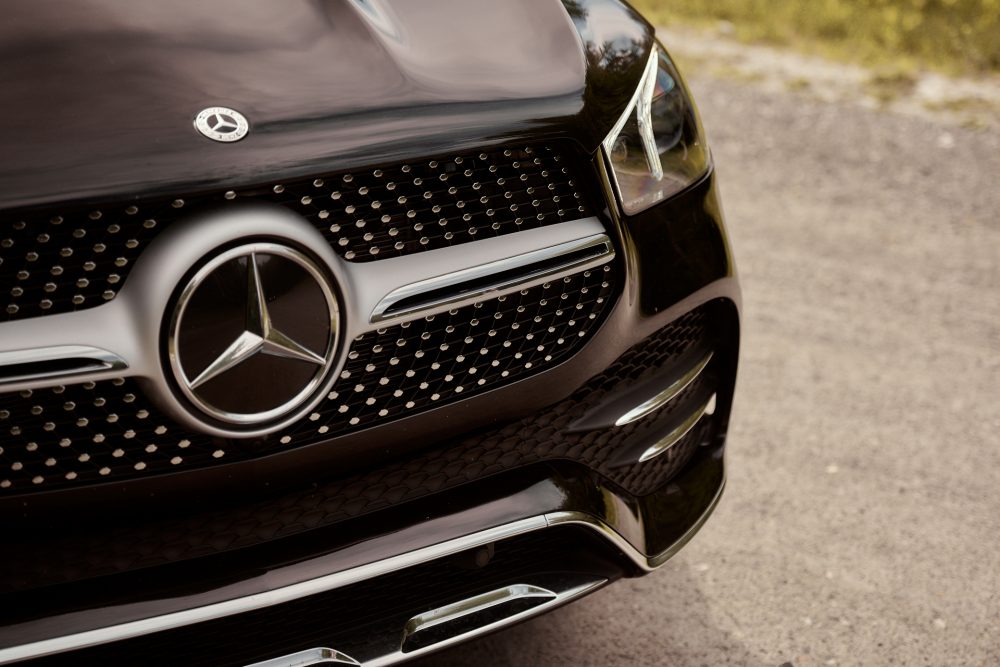 Unfortunately, Mercedes' nine-speed unit remains a bit of an annoying component. It operates properly only when it wants to, because more often than not – especially during low-speed urban cruising – it's twitchy, hunts for gears and sometimes even knocks upon downshifts. For a Mercedes-Benz product, that's rather worrying.
Obviously where a Mercedes impresses the most is inside, and the GLE, even in its most basic form, doesn't disappoint due to a slew of standard technology. The obvious one is the MBUX infotainment system which, although can be irritating due to some dim-witted touch controls and a highly unintuitive track pad, packs a hell of a lot of cool tech.
The most noteworthy one is its ability to understand very precise voice commands, like finding the closest coffee shop, open the sunroof and even turn on the radio. Feel like turning down the heat? Just say "Hey, Mercedes, I'm hot", and the car figures out the ideal ambiant temperature as per your habits. MBUX will even respond to questions about BMW vehicles, with a touch of German humor. I'm sure the engineers in charge of programming this feature had fun doing it.
The GLE's cabin is highly comfortable, spacious for five, but a bit tight for seven (Mercedes will sell you a three-row optional package). The front seats, in typical Mercedes fashion, incorporate a slew of neat adjustments that keep your back in check. Fun fact: Mercedes actually hired a physiotherapist to design these seats.
I met her, actually. She's a pleasant gal who explained to me for an entire hour around a drink why the GLE's seats are so overly complicated. What I was thinking about as she explained the research behind them was how much these seats will cost to replace when they break.
Cargo space in a 2021 Mercedes-Benz GLE is good, but not great. Once all of the rear seats are folded flat, this big guy will engulf up to 2,011 liters of your gear. I mean, that's massive, but it's still slightly behind the X5's 2,047 liters or even an Audi Q7's available 2,027 liters. If you're just looking for a lot of room for your junk, you'll honestly get much more cargo space from something like a Kia Telluride.
Anyway, spending time in a 2021 Mercedes-Benz GLE feels like spending time in a one of those spa massage relaxation centers. Every aspect of this vehicle was designed to make your life easier, but also seclude you from your otherwise loud and busy lifestyle. While a BMW X5 may come through as the more rebellious of midsize luxury SUVs, the GLE is definitely the more pragmatic one. If you're looking for the premium SUV has the most tech and rides the smoothest on garbage roads, the GLE is the one to get.  That said, lease this thing and get rid of it once the warranty is over. Because the depreciation and repair bills alone will have you regain the stress you lost while owning this thing.
Clavey's Verdict
Review of the 2021 Mercedes-Benz GLE 350 by William Clavey
Luxury Midsize SUVs
Crammed with standard technology
Comfortable cabin
Looks and feels expensive
Twitchy automatic gearbox
Optional third row is a little tight
Lame engine note (four-cylinder)
Clavey's Corner is located in Montreal, Quebec, Canada. Prices and trim levels discussed in this article reflect the Canadian car market.
Special thanks: Mercedes-Benz Canada
Contact the author: [email protected]