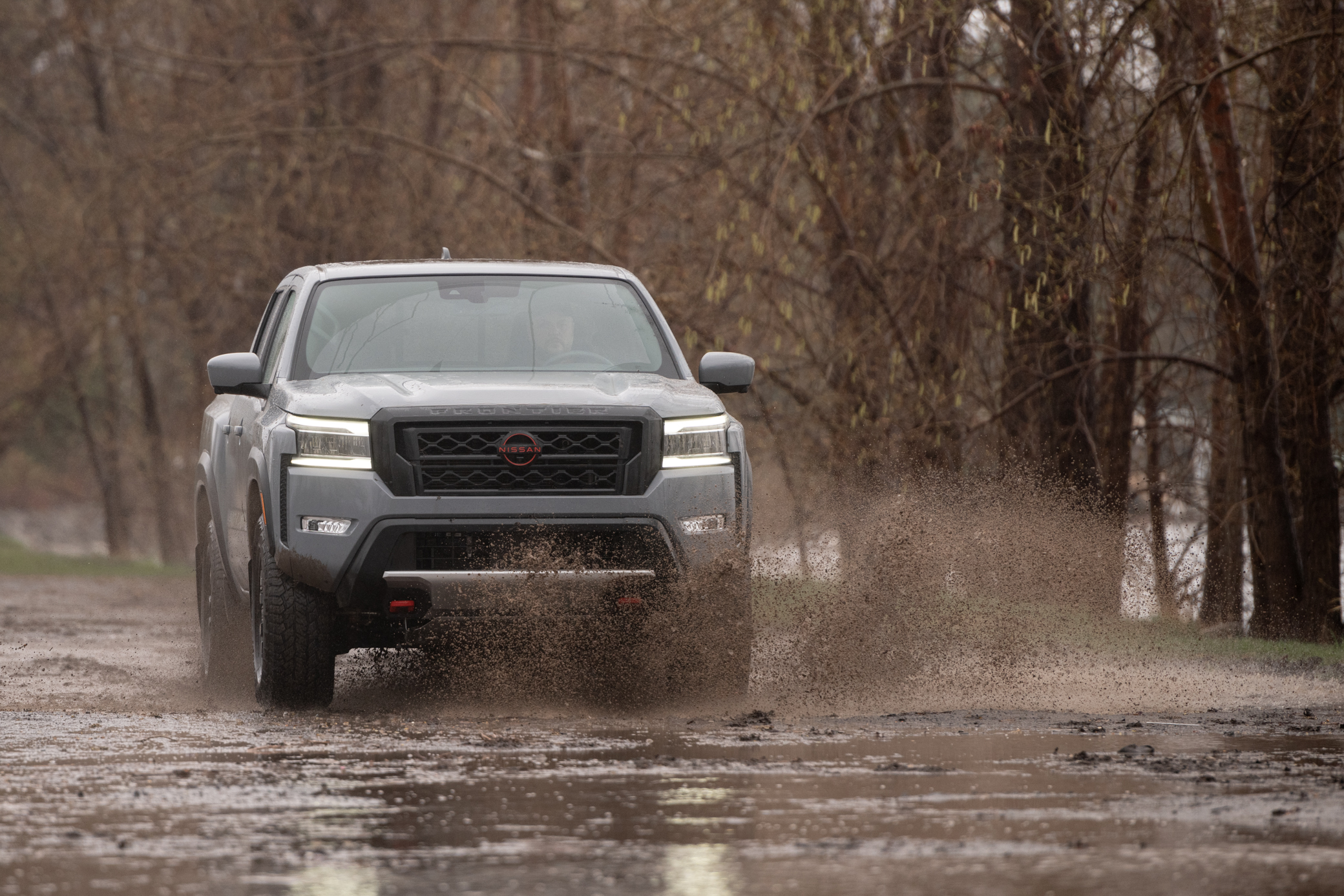 The 2023 Nissan Frontier fixes some of the problems of midsize trucks without making you feel like you're sitting in a third-world vehicle. The problem with this segment is that you no longer buy them because they're more affordable than a full size. You buy them because you want something smaller, even if current midsize truck are where full-size trucks were 20 years. These new "small" trucks are all but too complicated, trying to be all truck to all to people. But not the Frontier. With this one, Nissan manages to stick to what's important and doesn't invade you with the bullshit you don't need.
2023 Nissan Frontier: Sick Truck, Bro
I think it's fair to say that as far as cool midsize trucks go, Toyota currently has everyone beat with the Tacoma. It's just become the go to rig for outdoor-hungry people looking for a trustworthy pickup to carry their mountain bikes up that slippery mountain while engaging in #toyotatrucks Instagram stories.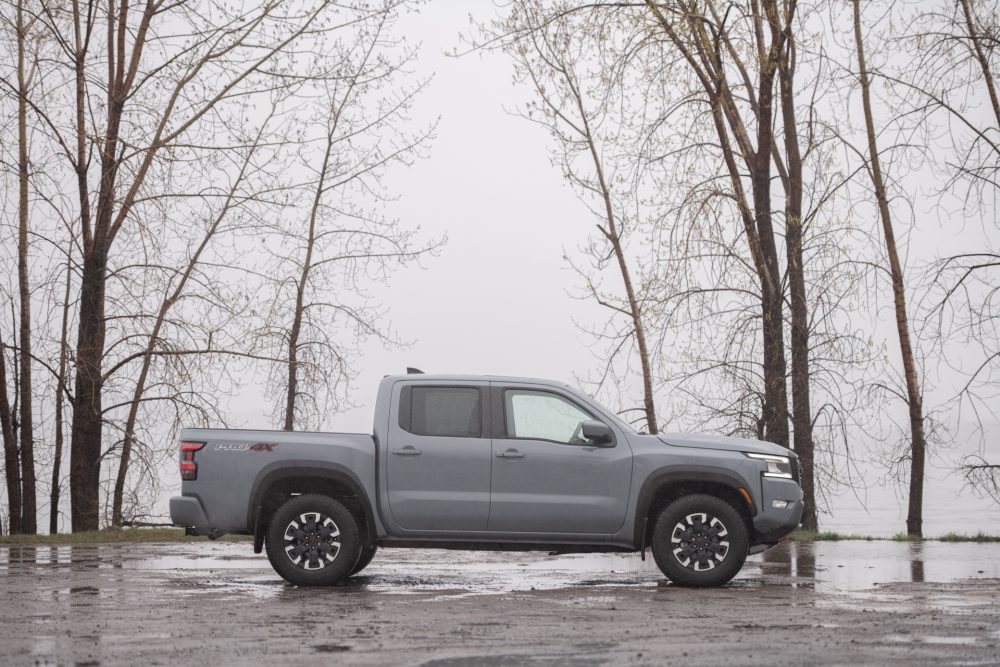 The reason the Tacoma got so popular is mostly due to its past. Over time, it's built a reputation for being indestructible and cheap to maintain. Toyota capitalized on that when it added rad off-road trims to the Taco's lineup, like the TRD Pro versions. They turned an already good truck into a sick truck, which eventually led to an explosion of its sales. Today, the Tacoma is the sales king in the midsize truck segment.
It appears the same strategy has been taken with the 2023 Nissan Frontier in its Pro-4X version. Yes, Pro-4X has existed at Nissan for quite some time now but it's always been in the TRD Pro's shadows. And while a Frontier has historically and arguably been just as, if not more reliable than a Tacoma, Nissan never quite managed to ship as many of them as Toyota did. Hence, this fourth-generation truck that tries really hard to once more be relevant.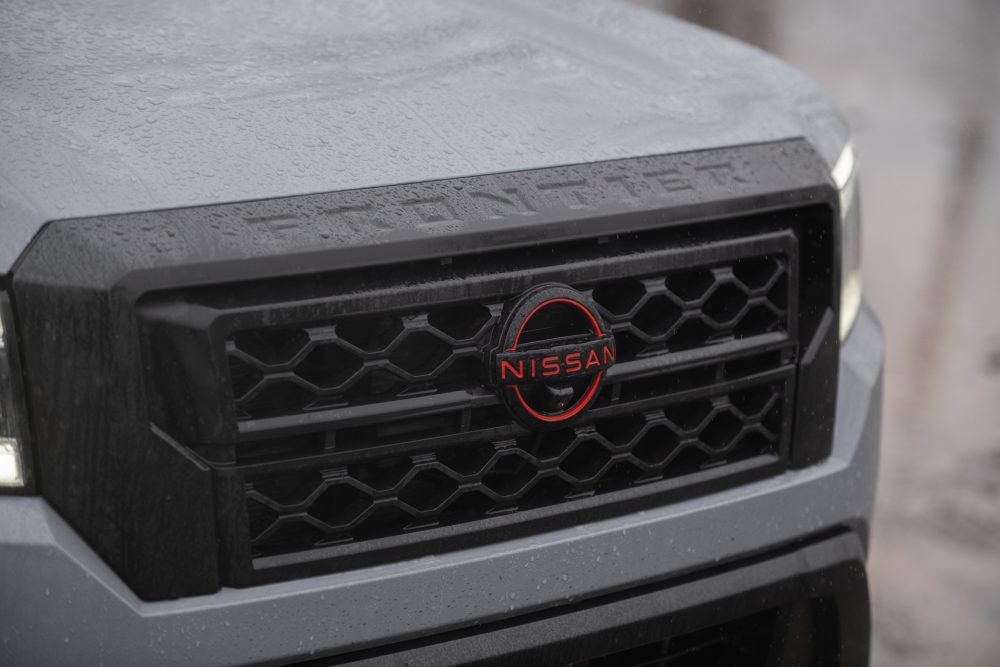 And, at least, from a design standpoint, it works! The new Frontier looks cool as fuck thanks to a classic, squared-off stance and a no nonsense approach to the classic small truck shape. Sure, there are big fat LED headlights on its snout and a rear end that doesn't do much to set itself apart from the competition. But you know what? I quite like that. It's, a truck with a Nissan badge on it. That was always the charm of the old Hardbody from the 1980s, basically this thing's ancestor.
In Pro-4X trim, Nissan threw in a few off-road goodies to allow the Frontier to be a bit more capable in a beaten path. See it as a direct competitor to a TRD Pro, but not as intense as, say, a Chevrolet Colorado ZR2. For instance, there are upgraded Bilstein dampers, a rear locking differential, no less than three skid plates, off-road tires, tow hooks and tough looks. And it ends there.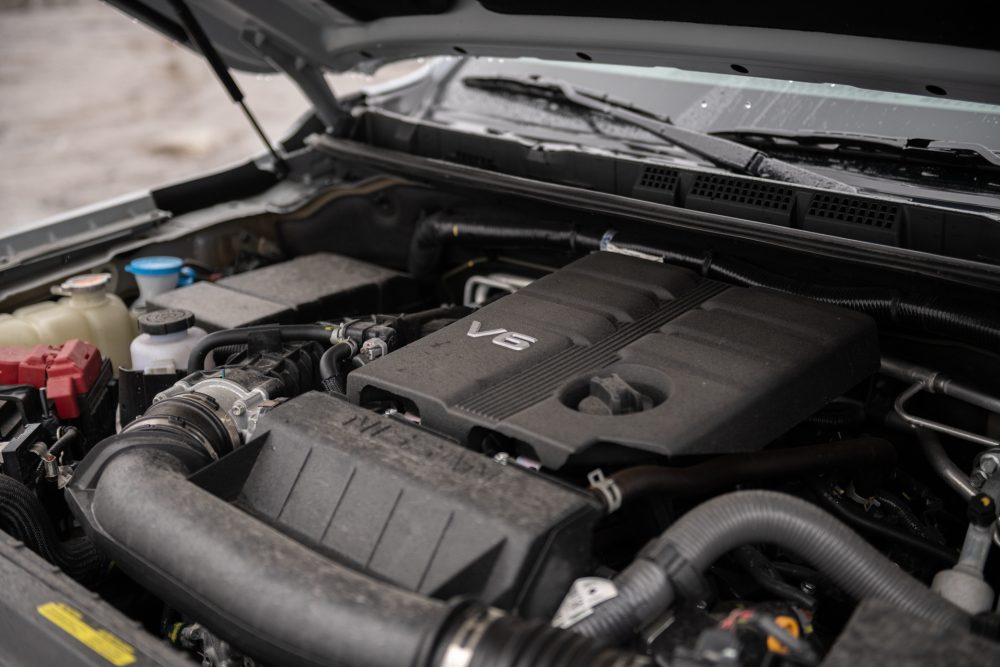 Power, again, comes from something totally normal, a good-old 3.8-liter naturally aspirated V6. There's no fancy turbocharged four-cylinder here nor is there a hybrid version. And that's damn alright. Horsepower is rated at a healthy 310, while torque is set at 281 lb-ft. That engine is mated to a 9-speed automatic transmission, while all Frontiers sold here in Canada come standard with four-wheel drive. Max towing is set at 6,490 pounds ( for all versions, which is midpack in the segment. Payload is rated at 1,420 pounds.
The Frontier is also available in a King Cab (2+2 doors) or Crew Cab (4 doors) configuration, the way you see it here. A 6-foot bed comes standard on both setups, while the Crew Cab can be fitted with an optional 5-foot bed, like the one I was driving.
Like everything else in life these days, the 2023 Nissan Frontier's price went up. If the rig would start at $41,948 when it was released last year, it's now set at $43,774. The Crew Cab Pro-4X you're seeing in these pictures sits at the top of the lineup at $54,524. The good news is that it's still possible to get Pro-4X on a King Cab for $47,774.
Smooth Ride, Great Engine, But No Telescopic Steering?
The immediate sensation when driving the 2023 Nissan Frontier Pro-4X is how smooth it is on the road. That's mostly due to the upgraded Bilstein dampers that do a fantastic job of quelling this truck's body on frame construction. You can really take on beaten roads with it fast and the truck never feels bothered. Things get even more impressive when driving in through a light off-road trail. It's always supremely well controlled, arguable the best suspension damping in the segment (Colorado ZR2 Multimatics excluded) and almost humiliating Toyota's Fox setup in the process.
The Frontier's engine is also a beast of a powerhouse. It's not a rev-happy unit because it doesn't really need to be. Everything happens down low due to an overabundance of torque where it counts. It makes for an understressed and relaxing accelerating experience. That being said, there were times where I did wish the Frontier was a tad more energetic in terms of power delivery. Smashing the throttle to let the transmission kick down won't necessarily let this bad boy rip like GM's and Stellantis' 3.6-liter units. There's no turbo boost like in a Ranger or VTEC kicking in like in a Ridgline. Things get even more irritating when you realize slow its transmission is to react.
Stay casual with the Frontier, however, and you'll be rewarded by a level of refinement that's typically not found in this segment. But only because of that fantastic suspension and brawny engine. Because in all other areas, this essentially feels like a major overhaul of the old truck. For better or for worse.
What I mean by that is, while I adore the Frontier's no frills approach, it sadly reminded me you how much the segment has evolved in recent years. For instance, its cabin is well put together alright, but it misses the kind of flamboyance and technology you get from some of its competitors. It's all very utilitarian in there, with classic analog gauges and an infotainment system that's essentially the same as in a Versa. The system itself feels like it's from another decade.
At least, overall comfort from those cool-looking Pro-4X leather seats is up there among the best, and the seating position is considerably better than in a Tacoma. It's sadly all ruined by a steering column that's not telescopic. So if you're tall, you'll need to choose between stretching your legs to the pedals or stretching your arms to the wheel. You just can't win.
What's more, rear seating in the Frontier's largest cab configuration is only fine. Tall people might feel a bit cramped if other tall people are sitting up front. And while the storage solutions behind the seats are cute, a Honda Ridgeline walks all over it with its Magic Seat setup.
Ok, so how do you sum up a 2023 Nissan Frontier Pro-4X? It has solid bones due to a tried and tested engine. It rides smooth, comes with a decent amount of content for the price and looks cool as hell. But it's midpack in the areas that allow it to truly be competitive and that non-telescopic steering wheel is a no go for me. the Frontier is therefore a good truck, but it's not great. Perhaps that's exactly what Nissan wanted with this. And when you think about, maybe that's all we really need from a Nissan pickup.
Clavey's Verdict
Review of the 2023 Nissan Frontier Pro-4X by William Clavey
Midsize Trucks
Smooth suspension
Tough engine
Great content for the price
Dated interior
Midpack specifications
No telescopic steering
Clavey's Corner is located in Montreal, Quebec, Canada. Prices and trim levels discussed in this article reflect the Canadian car market.
Special thanks: Nissan Canada
Photography: Guillaume Fournier
Contact the author: [email protected]