As you all know, I'm a big fan of the 2021 Chevrolet Colorado ZR2. Last year, I brought the Bison version of the thing out in a gnarly trail and, well, it ate if up in one gulp. Sure, its interior feels like a late nineties Chevy Malibu, and you still need to use a physical key to start its engine. But it's hard to argue against what you're getting for the price. And since Chevrolet gave this thing a facelift for the 2021 model year, I just had to bring it out for another spin.
New Face, Same Great Package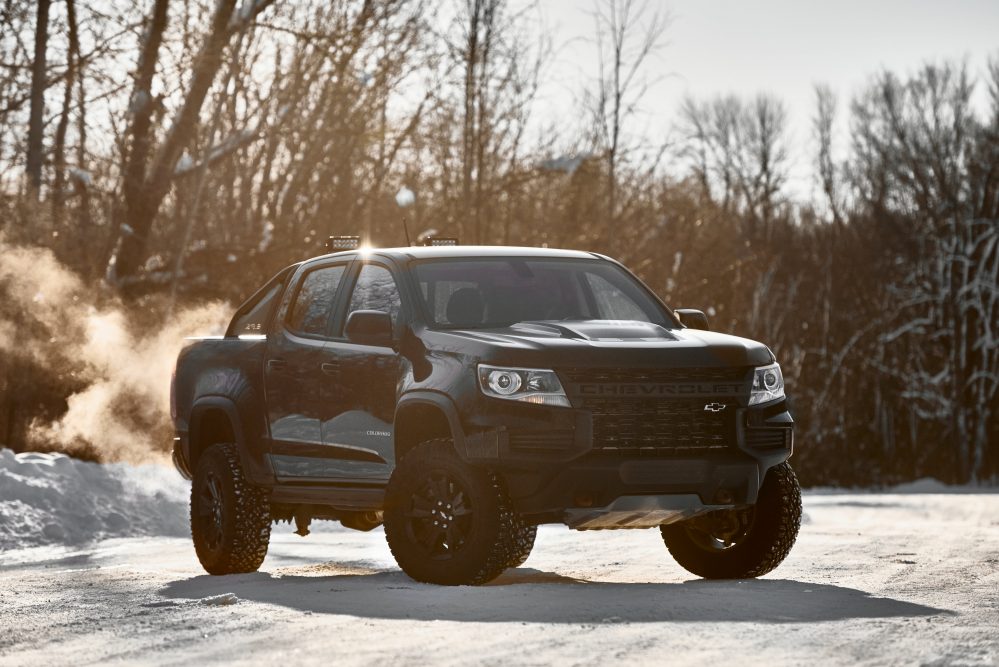 To be fair, the facelift didn't bring much other than precisely that: a facelift. Chevrolet Basically slapped a new grille, bumper and hood on the 2021 Chevrolet Colorado ZR2 and called it a day. There are, however, some new available packages like the Midnight one you see here, or the Dusk Special Edition package. They're both essentially the same thing except the Midnight package comes only in black while the other allows you to select your preferred color.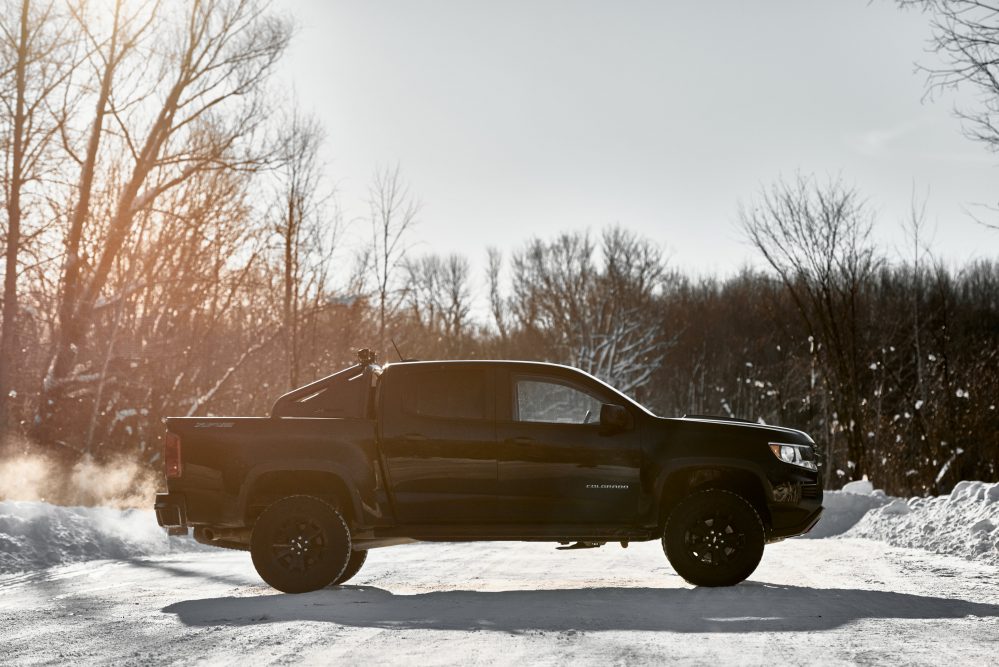 What they add are 17-inch blacked out wheels, an off-road bar with the ZR2 logo inscribed into it, off-road lights which burn your retinas out of your eyeballs if you dare stare at them while turned on, as well as an also black 17-inch spare wheel.
The good news is the ZR2 specification still comes out of the box ready to survive a zombie apocalypse, which is precisely why it's my personal favorite truck currently on sale.
If I was very rich with a car collection, there would definitely be a ZR2 in it. Nothing has changed from a mechanical standpoint, meaning the truck still comes with an entirely reinforced chassis, wider tracks and underbody skid plates to protect its oil pan and transfer case. This is basically a baby Ford Raptor.
But there's more: the Colorado ZR2 comes standard with Multimatic's acclaimed Dynamic Suspension Spool Valve (DSSV) dampers. Essentially utilizing spool valves instead of pistons, these shocks not only react quicker to sudden load, they also do a better job of dissipating heat buildup. It's also nearly impossible to break them.
All Colorado ZR2s come standard with front and rear locking differentials, a two-speed transfer case, cast iron front suspension arms, off-road tires and a 2-inch suspension lift. All of this, along with the revised front bumper, considerably improve approach and departure angles. For reference, the ZR2 has a 30.7-degree approach angle versus 25 degrees on a standard Colorado. Departure also jumps from 21 to 22.7 degrees. What's more, the ZR2 gets steel side rockers as well as a nine-mode four-wheel drive system.
Engines and transmissions also remain unchanged. One of the Colorado's biggest qualities is its wide variety of configurations, even in ZR2 form. While my truck was powered by GM's excellent 3.6-liter V6 good for 308 horsepower and 276 lb-ft of torque, it's also possible to squeeze a 2.8-liter diesel four-cylinder under its hood. That one is good for 181 horsepower and 369 lb-ft of torque. It comes fitted with a six-speed automatic gearbox while the V6 gets an eight-speed.
Towing ratings are limited to 5,000 pounds for the ZR2, no matter which engine you select. However, a standard Colorado will pull anywhere between 7,000 and 7,700 pounds, making it the king of its class. That said, the ZR2 does still allow you to select between a five or six-foot bed. Pricing kicks off at $47,129 for an extended cab long box model. My tester was a Crew Cab short box with that Midnight package grafted onto it ($4,015). The final sticker was $55,788.
Feeling The Heat
So, while the 2021 Chevrolet Colorado ZR2 is still the king of off-road midsize trucks, it is starting to feel the heat from its rivals. For starters, there's that Jeep Gladiator Mojave which will give it a run for its money in the dunes. Nissan also just woke up by releasing an all-new Frontier as well as a pretty badass Pro-4X trim. And let's not forget the upcoming Ford Ranger Raptor. We know that will be pretty solid.
To take them all on, the Colorado will be given a thorough refresh next year. But until then, it makes do with what it has, for better or for worse. From a technical standpoint, this thing is still winning. The Colorado has one of the better tuned chassis of this segment. It feels sporty and nimble, and a lot easier to drive around town than a Gladiator or even a Tacoma. That said, those shocks are stiff and can lead to a choppy ride at times.
Power from that V6 engine is fantastic, with a healthy dose of mid-range kick and an ability to rev high all while emitting great intake snarls. Same story for the eight-speed gearbox which always seems ready to take on what you'll throw at it. There's also a lot of simplicity in the Colorado's drive modes. For instance, going from two-wheel drive to AWD Auto is done at the switch of knob. Within a matter of seconds, you're running on all fours.
I didn't take this thing out in heavy off-roading this time around because, one, I know what this truck can do, but also because most of our trails here in Quebec get transformed into snowmobile roads during winter. And it's illegal to bring a truck in a snowmobile path.
Where the 2021 Chevrolet Colorado continues to disappoint, however, is in its interior. Granted, its still highly functional and adequately spacious. But the heavy use of hard plastics and lack of technology is long due for an overhaul. What's more, many features, like LED headlights or push-button star – things that come standard in some of its main rivals – is simply non-existent in a Colorado.
But at least, what it does well, it does brilliantly. Things like GM's consistently excellent infotainment systems. In the Colorado, the interface is easy to use and quick to react all while integrating a Wi-Fi hotsport, Android Auto/Apple CarPlay connectivity and wireless phone charging. I'm also a big fan of those toggle switches to fiddle with the available off-roading toys. I mean, who doesn't like toggle switches?
Ultimately, what you're buying with the 2021 Chevrolet Colorado ZR2 is an off-road rig. Who cares about the interior, right? Considering how much gear you're getting out of the box for the price and how ahead of its competition it still is proves that GM still understands the small truck segment better than most. Here's the hoping the next-generation Colorado won't lose any of this greatest.
Clavey's Verdict
Review of the 2021 Chevrolet Colorado ZR2 by William Clavey
Midsize Pickup Trucks
Solid off-road capability
Bed and engine choices
Punchy V6 engine
Plastic-tastic interior
Towing rating limited to 5,000 pounds
Stiff suspension
Clavey's Corner is located in Montreal, Quebec, Canada. Prices and trim levels discussed in this article reflect the Canadian car market.
Special thanks: Chevrolet Canada
Photography: Guillaume Fournier
Contact the author: [email protected]