Just like the Volkswagen Golf GTI, the 2019 Subaru BRZ is a car I like very, very much. I've been around the garden a few times with this car, same with its corporate twin, the Toyota 86. But even if I know exactly what to expect from these things, each time Subaru or Toyota have one lying around on their press fleets, I make sure to book them simply for the sheer pleasure of driving them.
This year, however, when I took this BRZ Raiu edition out for a test drive, I came to a realization that I'd never thought I'd come to in the past. This car needs more power. Allow me to explain why.
Because That's The Way Things Go
A lot of people will tell you that in order to properly understand the 2019 Subaru BRZ, you shouldn't be looking at its spec sheet but rather take it out for a drive on a country road.
And I'm all for that. I've said it before and I say it again, the Toyobaru twins are not drag strip monsters, they're lightweight sports car with a near perfect weight distribution, a super well calibrated chassis and just enough power to allow you to have fun behind the wheel without getting yourself in trouble. In many ways, these things are like the Mazda MX-5, a wonderful car to begin any amateur racing career, or simply to go out and have fun over the weekends.
Power comes form a naturally aspirated, 2.0-liter Boxer four-cylinder good for 205 horsepower and 156 lb-ft of torque. And get this, the only gearbox available is a six-speed manual. No automatic for this car. Rear-wheel drive is the only way to get the power down.
There's a limited-slip differential as standard equipment for all trim levels. The car you see here is the Raiu Edition which, on top of being exclusive to the 2019 model year, sits at the top of the lineup at $35,560. It only comes in this rather attractive shade of blue Subaru calls Cool Grey Khaki. The Raiu also gets a set of blacked-out, model-specific 17-inch wheels, an upgraded Brembo brake package, firmer dampers supplied by Sachs, and STI exterior accessories such as a front lip, side sills and rear diffuser.
But while I totally love everything about how the BRZ is made; the fact that it's one of the last affordable cars left that put the emphasis on driving – mechanical handbrake and removable traction control and all -, I have to say this: it really feels gutless in this world of turbocharging.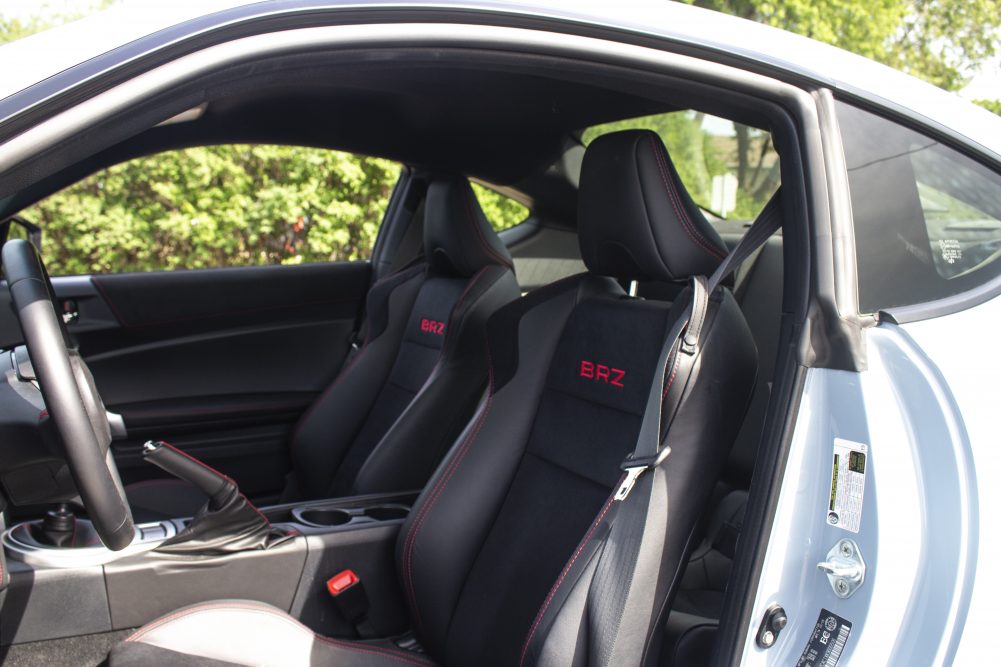 The problem is that everything makes power now. Heck, you can buy a Toyota Camry with a 300-horsepower V6, a base Honda Civic makes over 150 horsepower now, and most crossovers now come with punchy turbo engines that would eat this Subaru alive in a drag race.
Why do you think the Mazda MX-5 got a power bump? Because that's the kind of world we currently live in.
Power aside…
So, yes, by today's standards, the 2019 Subaru BRZ feels dead slow behind the wheel. I say today's standards, because its engine, while updated in 2017 with a – ahem – five-horsepower increase, is relatively unchanged since it first appeared in 2012. It's even worse considering it makes all of its power up high in the rev range, so you really need to beat on this thing to extract anything from the engine compartment.
But that's not entirely a bad thing, I personally love high-strung naturally aspirated engines for their character and immediate throttle response. And the BRZ sure has both and sounds absolutely glorious all the time. But if you happen to short shift the thing, you damn be sure that minivan will beat you to the finish line.
There's also a very weird dead zone in the powerband where the engine feels like it's making no power at all for a short while, until it picks it back up as the revs climb.
Anyway, that all doesn't stop this car from being immensely fun to drive. The cool part, at least, is as long as you're not trying to take anyone one, you'll feel fast behind the wheel of a BRZ. You sit low in this thing, with simple, yet functional analog gauges placed dead center in front of you, with two subtle little haunches on its hood to see exactly where the edges of the car are. That's perfect for cornering on a track.
Gears are short, and the shifter itself is engaging and precise, with enjoyable clicks as you slam it into gear. And boy oh boy does the BRZ love it when you throw it in a corner too fast. That's when the Boxer engine's low center of gravity and pushed back position really come alive. Understeer isn't much of an issue as the car transforms it all into graceful oversteering powerslides. This car is so easy to drive at the limit it's ridiculous, which makes you want to continue pushing for more.
Look, I love the 2019 Subaru BRZ, I really do. As a matter of fact, during the week I had that thing I was also driving the 2020 McLaren 600LT Spider, a car that gave me more gray hairs than actual thrills. Cars like the BRZ exist so we can continue living our crazy lives without having to worry about our sports car. It's cheap to buy, cheap to own, cheap to fill up, and remains one of the most satisfying driver's cars in the business; a poor man's Porsche Cayman, if you will. But please, Subaru/Toyota, give this darling a little bit of love. It deserves about 40 horsepower more.
Clavey's Verdict
Review of the 2019 Subaru BRZ Raiu Edition by William Clavey
Sport Compact Cars
Outstanding chassis dynamics
Manual transmission only
One of the last affordable sports cars left
Tight rear seat
Odd torque curve
Needs a bit more power
Clavey's Corner is located in Montreal, Quebec, Canada. Prices and trim levels discussed in this article reflect the Canadian car market.
Special thanks: Subaru Canada
Photography: William Clavey
Contact the author: [email protected]