"I'm picking up a Polestar tonight." "A pornstar?" "No, a Polestar, a Volvo." "What's a Polestar?"
Truth is, while most of us are familiar with Volvo building comfortable, sensible, and safe European vehicles, the Swedish carmaker has actually been involved in touring car racing for quite some time, and kicking serious ass. The Polestar V60 you see here, well it's nothing more than a celebration of over 20 years of racetrack partnership with the Scandinavian carmaker.  Originally an independent racing parts specialist, Polestar is now Volvo's official performance arm since 2015, similar to what AMG is to Mercedes-Benz.
Welcome everyone, to the latest addition to the European super fast estate club: the 2017 Volvo V60 Polestar.
Swedish Racing Green
I know what you're thinking. That blue right? Isn't it gorgeous? It definitely helps adding much-needed swagger to the introverted Swedish bookworm V60 wagon; an excellent, if not a bit too subtle automobile that sits somewhere between compact and mid-size status. That paint job is called Rebel Blue, according to Volvo, and not Swedish Racing Green like the internet wants you to believe. That was nothing more than a Scandinavian joke, although I definitely prefer that name.
Quirky color designations aside, that hue is exclusive to the Polestar treatment, along with some 70 modifications over the standard V60, including coilovers that are 80 percent stiffer, manually adjustable Öhlins dampers, a carbon fiber strut tower brace, and an active exhaust, just to name a few.
Adding to the Polestar's more hunkered-down stance, and definitely helping give it more sex appeal, is a deeper chin spoiler, a longer rear wing, a set of Brembo four-piston brake calipers, with Polestar lettering, and probably the most beautiful 20-inch wheels you've ever seen fitted on any wagon.
The end result, it must be said, is absolutely gorgeous. And while the ageing V60/S60 sisters, which will be completely overhauled next year, are not the latest iterations of the stunning Volvo cars and trucks we've come to love like the S90/V90 and XC90 SUV, with the V60, especially in Polestar trim, Volvo proves that age doesn't come in the way of good looks.
Super-turbocharged
To be fair, this is not an all-new car, but rather an updated version of a vehicle that was released in 2015. The biggest change this time around is under the hood. While the original Polestar was propelled by Volvo's familiar T6, six-cylinder engine, for 2017, this Swedish hot wagon inherits Volvo's corporate 2.0-liter four, which is both turbocharged and supercharged. It's also the same power plant that sits in both the XC90 and S90/V90, except that for this application, it's been tuned, fortified, and boosted. Volvo claims 362 horsepower (17 hp more than the T6), a 60 hp increase over the standard 2.0-liter. Torque is slightly lower than the previous T6 however, at 347 lb-ft, versus 369 lb-ft.
All that added mojo is sent to the four wheels via a Haldex-type all-wheel-drive system, similar to the one found in the Volkswagen Golf R. For 2017, the Polestar also gets an all-new eight-speed automatic transmission (two more gears than the last model) with steering-mounted paddle shifters. Acceleration from 0 to 100 km/h is claimed at 4.5 seconds, currently making this the second-fastest wagon available on our market after the Mercedes-Benz E-series wagons.
And fast it is. When purring at a stoplight next to, say, a Ford Mustang, set your baby blue wagon into S mode by a simple movement of the shift lever, and the whine of the supercharger is amplified as the entire car is eagerly waiting to aggressively lurch forward while your right foot holds it still through the enormous brakes.
There's something very appealing about an understated wagon that suddenly starts to whine like a can-am race car.
Smash that accelerator pedal and the Polestar leaps forward in a violent rush of grip, turbo whooshes, and exhaust farts. S mode changes the decibels emitted by the active exhaust, making the Polestar properly loud. It's not a pretty sound, however; I definitely preferred the bellow of that old six, but there's definitely a sense that something is happening under that stylish hood. The Polestar sounds technical, high-tech, almost airplane-like, and that makes it feel unique. And also very cool.
The new, lighter engine does give the Polestar a livelier and eager personality, as it enjoys revving to its 7,000 rpm redline much more than its sixpot brethren. That's because the duo of forced induction methods mean the supercharger helps with low-end torque, before the turbo kicks in to assist in the higher revs.
Poor little four-cylinder. It's being molested from all angles.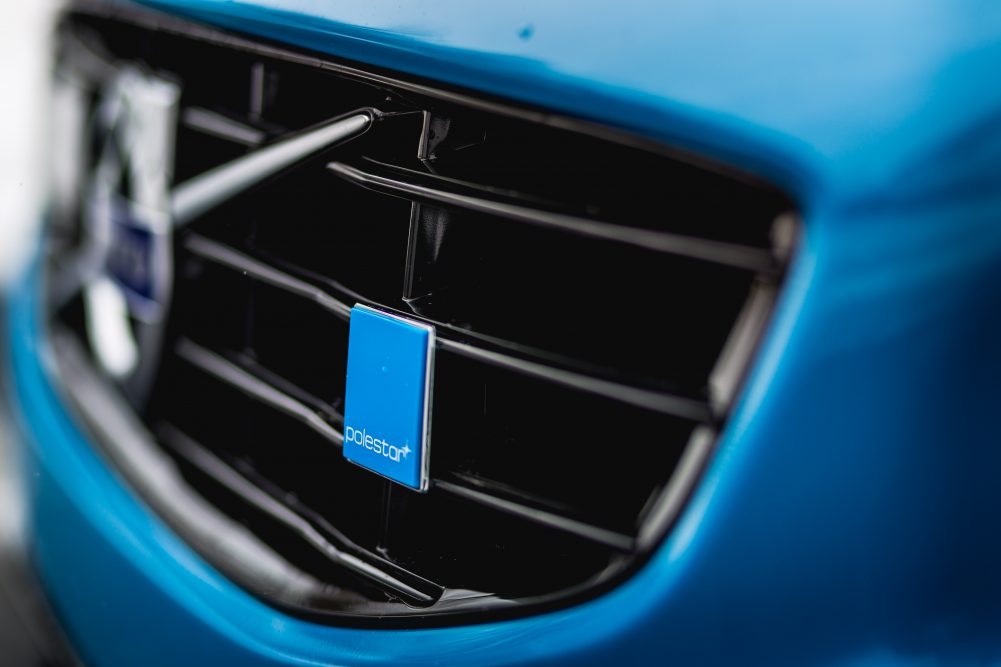 As technical as this engine may seem, the Polestar's greatest mechanical asset remains its transmission. While not a dual-clutch system like what you'd find in a Golf R for instance, this automatic is surprisingly quick and perfectly suited for this engine. Thanks to a revised shift programming, the car automatically downshifts when entering a bend, seemingly capable of predicting your next moves, and rapidly upshifting when commanded to do so.
A single-clutch system, however, does mean that when another gear is selected, the system more or less shoves it in aggressively, instead of smoothly transitioning from one cog to another. During performance driving that's totally acceptable, and actually a really good thing. But it's during daily driving that the Polestar's automatic gearbox feels slightly rudimentary compared to the Volkswagen group's more sophisticated and smoother dual-clutch system.
Always in Performance Mode
Another downside to the Polestar is its ride quality. While handling remains impressive, secure, and well-planted thanks to that lighter engine that allows the fore-aft balance of the car to be shifted rearward, as well as a reworked all-wheel-drive system to send more power to the rear wheels, the ride is annoyingly stiff. All the time.
Granted, those dampers can be manually adjusted, but that's the thing: they're manually adjustable. When will owners of this car actually lift it and fiddle with the shocks? In a Golf R, or an Audi S4, you can make those changes directly from the comfort of the cabin, simply by pressing a button. The Polestar doesn't get a comfort mode, which is downright unacceptable in this price bracket. This means that when driving it around Montreal's pot-holed infested streets, it's downright a burden to drive, where the entire car bounces and weaves, revealing an ageing platform that's unfortunately nowhere near as solid as some of the industry's most recent chassis developments.
Step inside the V60 Polestar and you're greeted to the traditional S60/V60 interior we've all come to love over the years. Unfortunately, it's not the instantly attractive and innovative cabin found in more recent Volvos, but still manages to hold its own ground as a stylish, comfortable, and solidly put together cabin. The Polestar trim package adds blue stitching on seats, steering wheel, and door inserts, which is an enjoyable touch. Alcantara is spread here and there, leading to a generally more upscale and racy look and feel. The shift lever also inherits a glass cover with the Polestar logo embedded into it. I'm not a big fan of the ambient lighting of that shifter at night-time, however; it looks sorta tacky.
Again, as with all Volvos, the V60 gets some of the most attractive and comfortable seats in the industry. Sadly, the V60 doesn't inherit the S60/XC90's stylish and easy-to-use touch-screen infotainment system. Instead, it's fitted with Volvo's last generation interface. In my review of the S60 Cross-Country last year, I had qualified the system as easy to use once you get your head around it. Since then I've sampled excellent systems from Volvo and other carmakers, and I must say this is becoming a bit too-old school – especially for this price range. The system in the Polestar is downright confusing and unintuitive.
You can, however, connect and charge your smart phone through an available USB port located within the center armrest. So there's that.
You Gotta Pay To Be Unique
There's no denying how unique the 2017 Volvo Polestar is, no matter how many quirks it's plagued with. But how much does all this originality cost?
It's not cheap: $69,000. Ouch.
Volvo will sell you the sedan version of this car, the S60 Polestar, for a bit less money, at $67,050. But I'd recommend going for the wagon version, as it gives you much more utility and practicality, adding to the Polestar's unique charm. There are no other wagons that will offer you this kind of performance for this price. Also, if you're going to dish out this kind of cash, you might as well get the most for your money right?
The problem is, at 70k, there's a lot of choice out there. If you're looking for something European and luxurious, Audi, BMW, and even Volvo themeselves will sell you much more luxury and refinement for that money. And sadly, if you're looking for similar performance, Volkswagen will sell you a 300-hp, all-wheel-drive Golf for, ahem, $30,000 less. The Golf also gets easily adjustable shocks and a comfort mode.
That's kinda rough for the sexy blue Swede.
But look at it this way: the Polestar is currently still a technical and marketing exercise for Volvo. They're on a quest to see if, first, people will embrace the idea of a high-performance Swedish wagon, and second, if there's potential to make this a full line of vehicles for Volvo in the future. Volvo isn't aiming for massive sales success with this thing, as they expect to build about 1500 V60/S60 Polestars worldwide. At the moment, these things appeal mostly to hardcore Volvo wagon fans. And trust me; there are a lot of those – you can count me among them.
All in all, the simple fact that this thing exists is downright awesome. There are better cars out there, and there are others just as quick that will sell for less money, but none of them are a Volvo Polestar; arguably the most unique, quirky, awesome Swedish thing on wheels we've seen in a while. If you can afford one, go ahead and buy one. I would, because I absolutely adore it, even if it doesn't make sense.  Now, let's see what the Polestar treatment will do to the rest of Volvo's stunning lineup of vehicles.
Clavey's Verdict
Review of the 2017 Volvo V60 Polestar by William Clavey 
+
+ Attractive exterior design.
+ Serious performance.
+ Unique, practical, and different.
–
– Ageing platform and interior.
– Very stiff ride.
– Expensive.
---
Clavey's Corner is located in Montreal, Quebec, Canada. Prices and trim levels discussed in this article reflect the Canadian car market.
Special thanks: Volvo Canada
Photography: Appearance
Join the Tribe
Contact the author: [email protected]