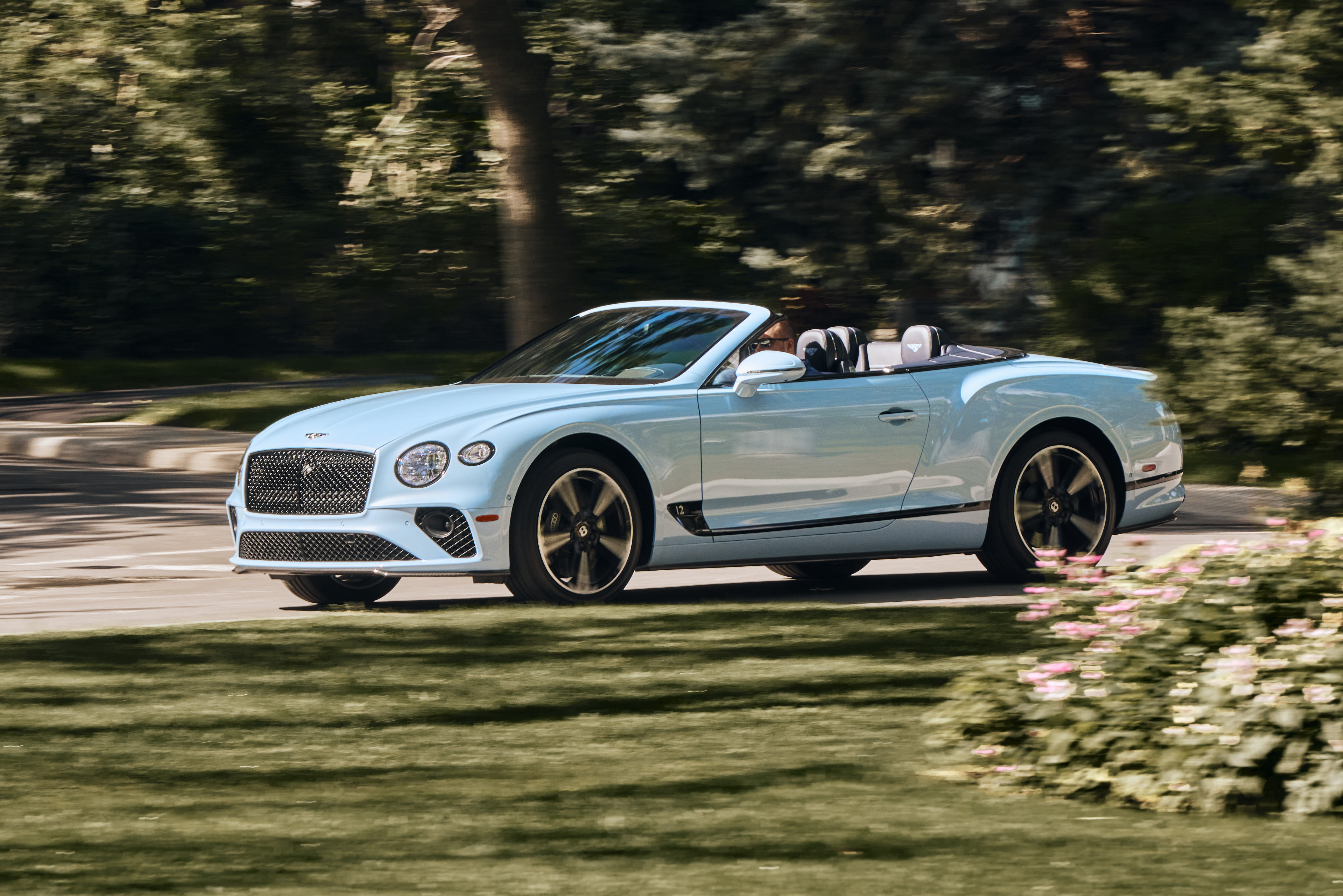 The 2020 Bentley Continental GTC is the first Bentley I have ever driven. While I've had many chances of getting up close and personal with various different models from the brand, I've never actually driven one. So when the people over at Decarie Motors – an authorized Bentley dealership here in Montreal – contacted me to drive not one, but two of its latest models, it was hard to refuse.
Yes, there's another review of these super expensive land yachts coming your way, but I'll first focus on this drop top Continental first, which, by the way, has absolutely nothing in common with the other Continental I reviewed last week. What you need to know is that this one is the all time queen of convertible grand tourers. Nothing else even comes close.
Jetstream Blue 2
A rule of thumb for a big expensive convertible like this 2020 Bentley Continental GTC is that it needs to attract a lot of attention and be the most opulent darn thing on the road. You want the poors of Sunset drive to know just how wealthy you actually are. My tester definitely ticked off the basic GT criteria by kicking things off with its Jetstream Blue 2 baby blue paint job.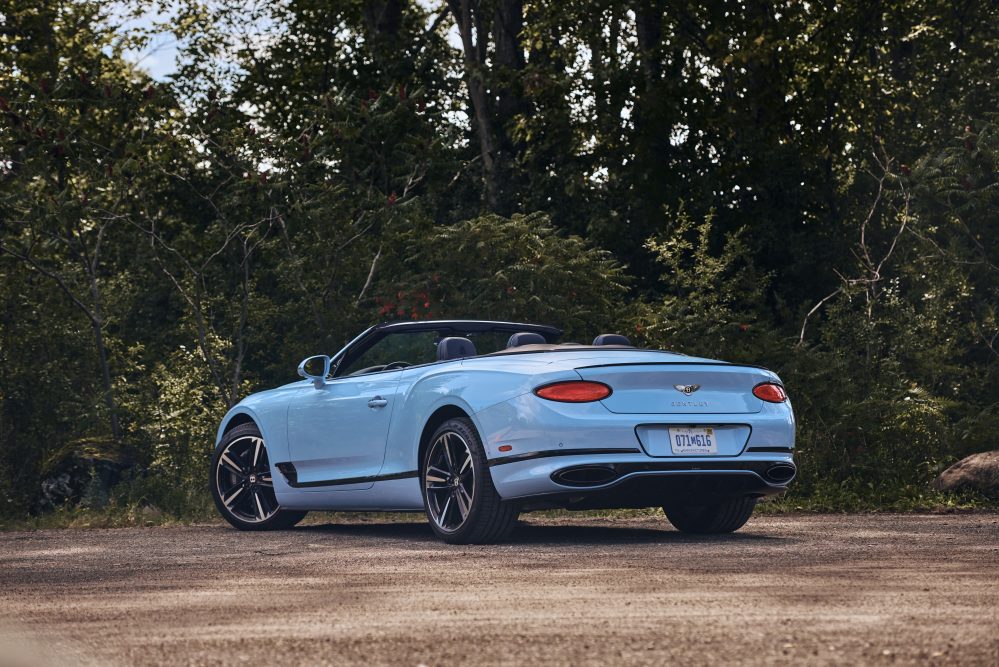 And if you're wondering why I drove this instead of the coupe, it's simply because I find the way this one was spec'd, with the wheels and the black grille and black headlight surrounds, to be absolutely gorgeous. Plus, it was a hot summer's day, so why not pull the top down? Because you also want people to see your stinking rich head.
My time with this Bentley was brief. Normally, I get these cars for a few days, or up to a week, but I only had this one for a few hours. Yet, during that short timeframe, I was able to to sample the immense levels of luxury, hand-built craftsmanship and fresh injection of modernity this new-generation Conti brings to the table. Mind you, when this car was first unveiled, I wasn't sure what to think about its large, bug-eyed schnoz. I'm here to tell you it looks a lot better in person than in photos.
Yes, this 2020 Bentley Continental GTC (the C is for convertible) shares its platform with the Porsche Panamera, as well as several electronic components, and mechanical bits, but the end result is actually rather impressive, showcasing a beautiful mixture of British elegance with German common sense. This isn't another badge engineering job from the Volkswagen group, but rather an elegant combination of two very different car-building mindsets.
For instance, the Continental GT is still handcrafted in Crewe, England, where no more than about 12,000 units roll out of the factory each year. Yet, strap yourself inside a Continental GT, and gone are the wide panel gaps and shady build quality typically associated with hand-built British cars of yore.
The attention to detail here is mind-blowing and the way this thing is put together is on par, if not better than anything found at both Porsche and Audi. Every button, switch and gauge cluster has been carefully massaged to look and feel like its own bespoke component.
I also still cannot believe how utterly cool the rotating infotainment screen is. It hides in the background and replaces the traditional screen with three classic analog gauges. How freakin' awesome is that? I must have sat there for 10 minutes just playing with the thing.
Two engines are available for the Continental GT, either a 4.0-liter twin-turbocharged V8 good for 542 horsepower and 568 lb-ft of torque, or the famed 6.0-liter W12 masterpiece that propelled my tester, pumping out a mountain-topping 626 horsepower and 664 lb-ft of torque. Like I said: opulent.
This Alpha male of an engine channels its furious might to all four wheels via an eight-speed dual-clutch automatic transmission. As for price, because these things can be entirely tailored to your liking, with hundreds of possible unique configurations, it's hard to get a scope of how much a Continental GT actually costs. The car you see here stickered at just over $220,000.
Launch It!
Driving the 2020 Bentley Continental GTC can be summed up in two different ways: super smooth and immensely comfortable, or fast as hell off the line and, athletic? Yes, this is actually a lot more of a sports car than one might think.
The W12 engine is by far this car's best asset, as it provides truck-loads of power and torque the moment you dare flirt with the throttle pedal. Accelerations are never urgent nor eager per se, but rather hit you from behind with a velvety tsunami of forward thrust.
Like a German performance coupe, i.e, a BMW 8 Series, the Continental GT's transmission shuffles gears seamlessly in the background, while its entire structure never flinches when driven over cracked pavement. And while this massive land yacht is a few pounds shy of the 2.5-ton mark, its weight is never felt, both during hard accelerations and heavy cornering. It actually feels light. As a matter of fact, it was easier, and less scary, to throw this thing into a corner than a Cadillac CT5-V.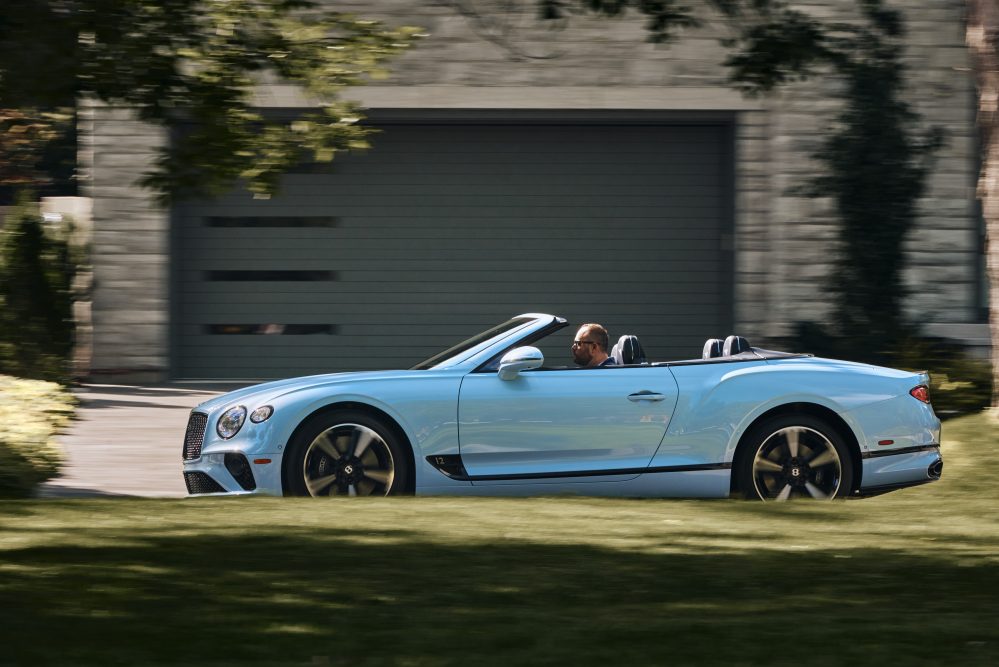 Hold the brake pedal down, slam the throttle pedal in Sport mode, and let go of the brakes, and the 2020 Bentley Continental GTC launches itself out of the hole and up to 100 km/h in just 3.3 seconds flat, arguably making it the fastest grand tourer currently on sale. It's also rather amusing and, very unsettling to launch a car of this stature, yet, it takes it all in no sweat as if begging for more each time.
Perhaps the most impressive quality of this enormous two-plus-two open-top coupe is how much grip it puts down on the pavement, allowing it to not only catapult itself out of the hole at near speed bike speeds, but also claw its way around a corner at Civic Type R levels of velocity.
Yet, once you take a minute to realize what you're sitting in, the Continental GTC quickly reveals just how posh its cabin is. Many carmakers claim to build luxury cars, but nobody gets it the way Bentley does. There's chrome, crystal, real wood, thick leather thrones and tiny little silver swabs that pull out of the dashboard to adjust the air vents. The suspension also adjust itself when opening the door and will counter-balances the car to ease passenger entry.
There's a button for everything in this thing, an adjustment for this, a setting for that, and massaging seats that do a better job at relaxing your spine than an actual masseuse. Even the neck warmers can be adjusted to three different intensity levels.
Like in all modern cars, the 2020 Bentley Continental GTC allows you to set the car's chassis, steering and throttle response through different drive modes, but it's the car's auto setting that impressed me the most, instantly adapting underneath you according to your driving habits. You don't drive this thing, it drives you.
Now I get why the rich suddenly become snob. Because driving this thing definitely had me feeling like I was on top of the world and that nothing could get in my way. The Continental GT spoils you like a very expensive meal in a fancy hotel somewhere in Europe by the Mediterranean sea.
My only real complaints with this thing, is that it's expensive? No, but seriously, the suspension is always way too stiff, even in Comfort mode, which is weird considering its luxury pretensions. It's also a gas hog, where I could hardly keep the thing under 12L/100 km. That's about it, really. Because as far as ostentatious luxury convertibles go, it doesn't get much better than this.
Clavey's Verdict
Review of the 2020 Bentley Continental GTC by William Clavey
Luxury Grand Tourers
Undeniable road presence
Great balance of comfort and performance
Highly luxurious cabin
At the opposite of fuel efficient
Stiff suspension
Redefines the word "expensive"
Clavey's Corner is located in Montreal, Quebec, Canada. Prices and trim levels discussed in this article reflect the Canadian car market.
Special thanks: Decarie Motors / Bentley Canada
Photography: Guillaume Fournier
Contact the author: [email protected]