The 2021 Cadillac CT4-V is an all-new subcompact sport sedan that slots underneath the CT5-V. And, honestly, just like its big sister, it's a solid attempt at taking on a segment that's heavily dominated by the Germans. I reckon Cadillac might have a chance at convincing some Audi, BMW and Mercedes-Benz owners with this thing. Here's why.
The Baby V
In case you're still confused, yes, the 2021 Cadillac CT4-V replaces the old ATS, but it's a smaller car as well. It's basically here to take on the latest crop of small luxury sport sedans like the Acura ILX, Audi A3, BMW 2-Series and Mercedes-Benz A-Class. The V model is obviously the high-performance variant, but it's not the "ultra" high-performance one. Instead, this is a direct rival to a BMW M235i, Audi S3 or Mercedes-AMG A35. A more potent Blackwing model is on its way to take on things like the Audi RS3, Mercedes-AMG A45 and BMW M2.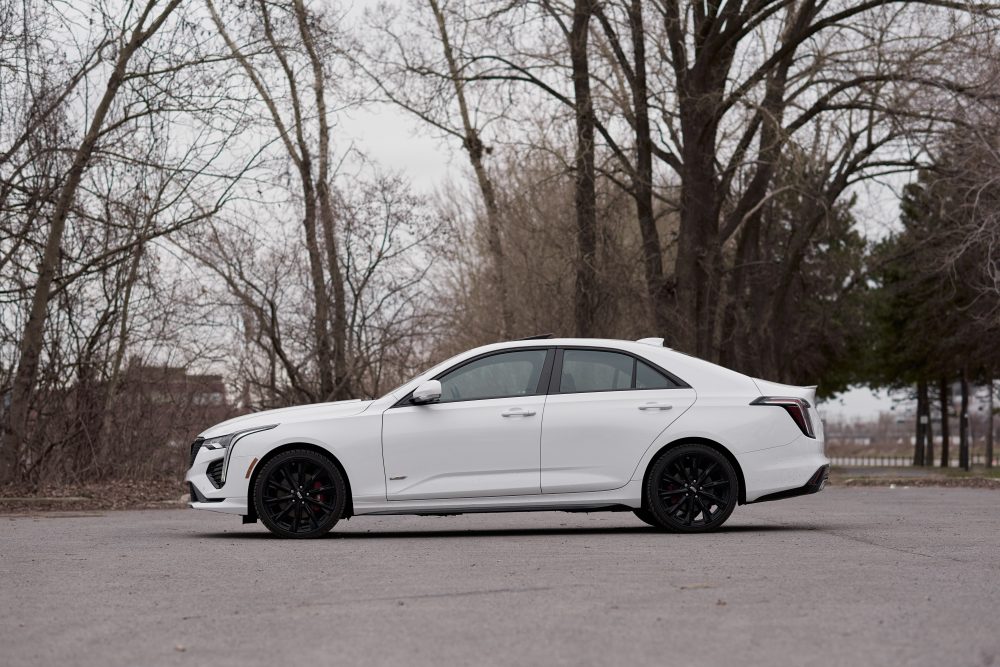 Now that you're all caught up, you'll be happy to learn that the CT4 rides on the same excellent Alpha platform as the CT5. This means that it's rear biased, allowing this baby Cadillac to be the only one of its kind in this class (the BMW 2-Series is now front bias). And yes, it's possible to equip a CT4-V with all-wheel drive.
The standard Cadillac CT4 is powered by a turbocharged 2.0-liter four, but the V model gets a larger 2.7-liter unit. The funny story behind this engine is that it was taken directly out of a Chevrolet Silverado pickup truck. It was however retuned for sport sedan duty. And it gets the job done, pumping out a stout 325 horsepower and 380 lb-ft of torque. This allows Cadillac's baby V to launch from a standstill to 100 km/h in under five seconds. Pretty quick!
All CT4-Vs are mated to GM's excellent ten-speed automatic transmission. Pricing is this car's ace up its sleeve against the Germans thanks to an aggressive starting price of $45,598 fully loaded. You only need to pay $575 extra for all-wheel drive. My car had a few additional packages and wheels for a final price of $49,093. I challenge you to equip an Audi S3 with similar equipment for similar money. Good luck.
Rowdy Little Rascal
I'm going to come out and say that I find the 2021 Cadillac CT4-V a little weird looking, especially from the rear. It also doesn't sound that particularly exciting. But it does have character, and that's what counts. For instance, that large displacement four-cylinder, which comes with "Dual Volute" turbocharging, doesn't like to rev. Most of the power happens between 1500 and 4000 rpm. That said, it delivers massive amounts of torque, all the time, and with minimal lag. Plus, there's a rowdy, crude vibe about the way it performs. And I like that.
In case you're wondering what dual volute means, (the term "volute" stands for a spiral-shaped object) it essentially operates on the same principle as a twin-scroll turbo. Except, this design uses two ducts in the turbine housing to separate the exhaust gases from certain cylinders. The separation allows the gas to enter the turbine with more energy, thus improving response.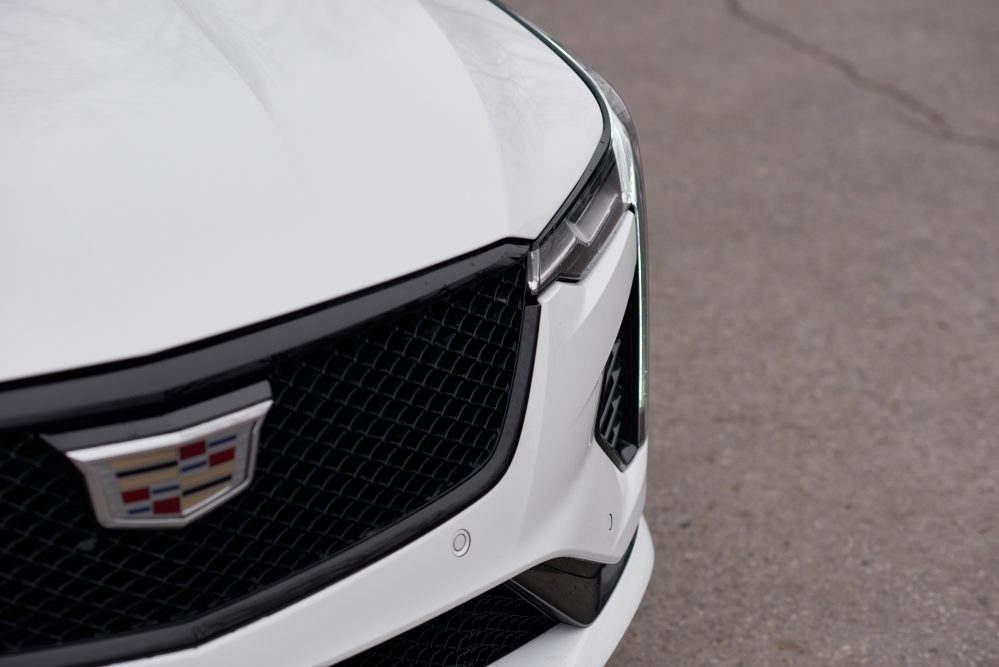 Furthermore, in a dual-volute design, the ducts feed the turbo from opposite sides, delivering more energy to the turbo. In other words, it provides more consistent power, reduces lag and can, in some cases, improve fuel economy.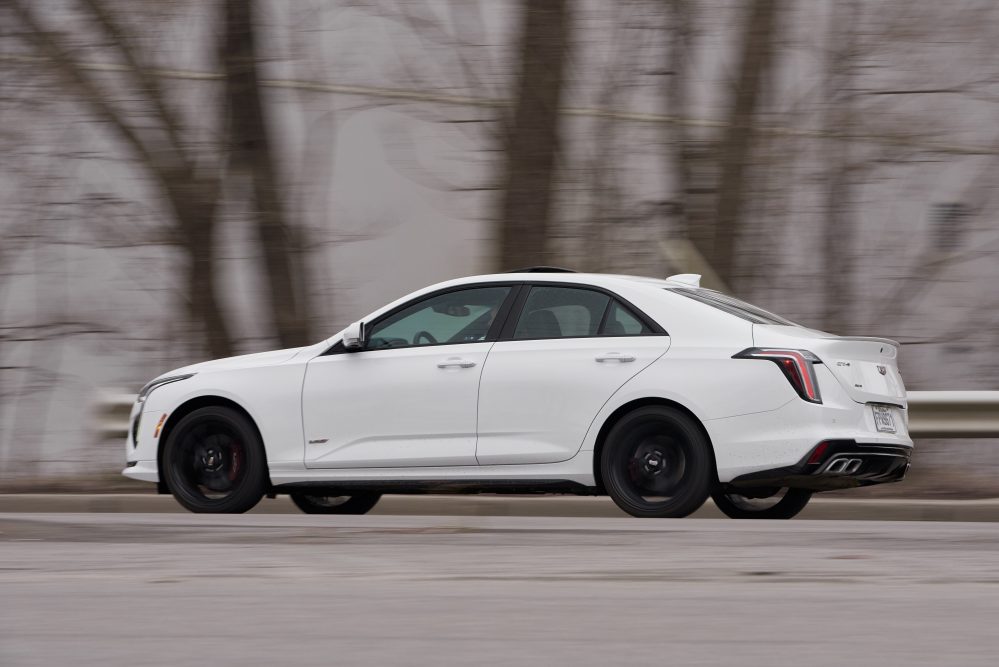 Back to this car's crudeness: that's not to say the CT4-V isn't capable, because it is. The platform it rides on is arguably the best one in the industry due to its 50/50 weight distribution and ability to let the car's rear tango in utmost control. Add to that subtle ride compliance that is both engaging and playful, but also not too harsh or difficult to deal with, and the CT4-V ends up beating the Germans at their own game.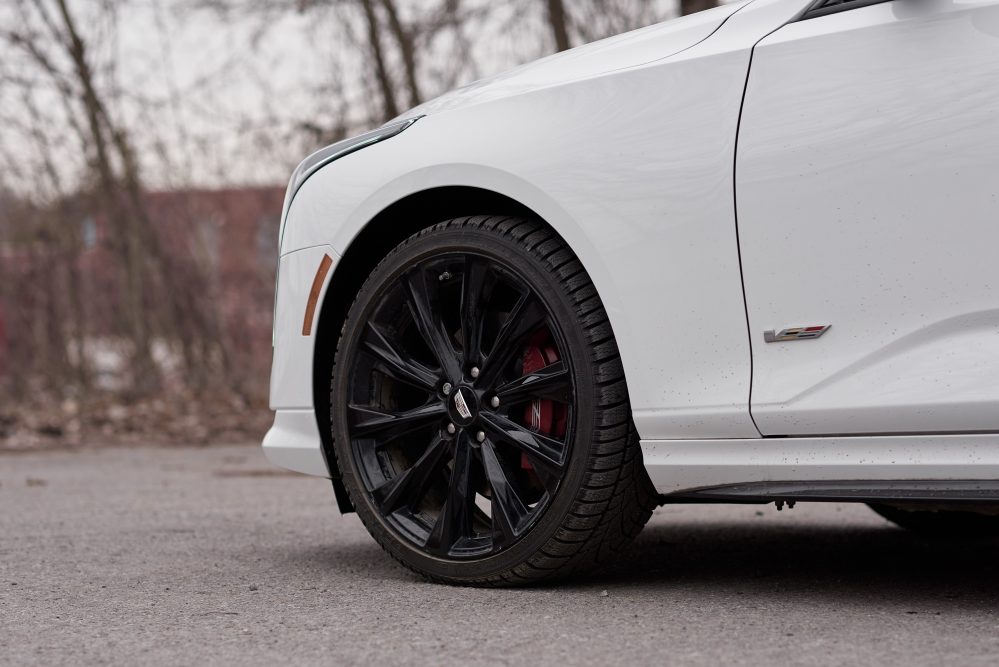 The steering is quick and nicely weighted, while the brake pedal is firm and progressive; among the better calibrated setups I've sampled in my career.  Perhaps, more importantly, is how grown-up the CT4-V feels versus its juvenile competition. The term "mini" CT5 really is its best nickname.
GM's ten-speed automatic gearbox continues to impress, no matter what it's fitted to, but the amount of gears inevitably leads to reaction delays. Luckily, the brushed aluminum paddle shifters allow you to drop a few cogs at will. And it helps. Catch the 2021 Cadillac CT4-V in the meat of its powerband, and it'll hurl forward in commanding effectiveness. The fact that the 2.7-liter's bore and stroke overlaps six-cylinder territory allows it to feel brawnier and more consistent than competing four-cylinders.
Inside, the CT4-V has a clean, functional cabin with neat orange design cues (why orange?). Ironically, where the CT5's cabin felt too much like a posh Chevrolet, the CT4 feels more upscale than some competing players from Japan and Germany. Material quality is excellent, the car is well built, and those front sport bucket seats offer good support for both highway cruising and canyon carving.
In typical GM fashion, the CT4's infotainment system is bang on in terms of speed, effectiveness and user-friendliness. It's also loaded with neat tech. but I still don't get why Cadillac gives you three different methods to manipulate it. Furthermore, accessing V-settings – which allow you to tailor the car's calibration to your liking –  requires peeling away several menus before finding what you're looking for. And while the CT4-V gives you the possibility of tuning its exhaust note, cycling between them doesn't seem to change much.
But in all fairness, except for a very cramped rear seat, which seems to be a requisite feature for a good sport sedan, the 2021 Cadillac CT4-V is excellent. It not only proves that GM still excels at manufacturing a German-spanking machine, it also showcases its ability to adapt to new segments and better compete. The only thing Cadillac needs to do at this point is work on its brand recognition. This will happen with product consistency. If Cadillac can make a few generations of this thing and not kill it after a few years on the market, then perhaps consumers will once more respect the badge.
Clavey's Verdict
Review of the 2021 Cadillac CT4-V by William Clavey
Subcompact Luxury Sport Sedans
Class-leading chassis calibration
Fast and fun
A downright good value
Engine lacks personality
Cramped rear seat
A steep brand recognition hill to climb
Clavey's Corner is located in Montreal, Quebec, Canada. Prices and trim levels discussed in this article reflect the Canadian car market.
Special thanks: Cadillac Canada
Photography: Guillaume Fournier
Contact the author: [email protected]