The 2022 Infiniti QX55 is a risky stab at the German-dominated luxury compact SUV coupe segment, but it's also a way for Infiniti to honor its past. Remember the FX from the early 2000s? That thing actually gave birth to the whole sporty, coupe-like SUV trend. No, it wasn't the BMW X6 that invented it, it was Infiniti. So, is the QX55 a good idea, or a shot in the foot?
Sick Looks
It sure looks the part, I'll give it that. I mean, the QX50 on which this thing is based isn't an ugly vehicle either, but in coupe form, along with the more aggressive front end, reworked hood, new wheels and model-exclusive paint jobs, the 2022 Infiniti QX55 is a properly attractive SUV. It makes a BMW X4 look rather goofy next to it.
But if Infiniti wants to steal some sales from competing German vehicles like the Audi Q5 Sportback, BMW X4 and Mercedes-Benz GLC coupe, it needs a little more than a good design. It needs to offer something those models don't, or at least, offer more value. Let's dig deep into this new Infiniti to see if it has what it takes.
While its styling is considerably unique, nothing underneath the QX55's skin has been altered from a QX50. It therefore rides on the same platform as its corporate brother and is powered by the same 2.0-liter turbocharged four-cylinder engine. But not any engine, it's Infiniti's VC Turbo unit, the first of its kind to change its compression ratio on the fly.
When it came out two years ago, it was a big deal. The idea being that when you floor the throttle, you obtain more power, but when you feather it, you obtain considerable gains in fuel economy. At least, on paper.
To achieve variable compression, extra pieces were added to the crankshaft for solidity. There's now a joint between the crankshaft and the connecting rods. That joint moves with a computer-controlled arm, which leads to variations in compression, but also in stroke – by 1.2 mm. This alters the engine's overall displacement between 1,971 cc (14:1 compression), to 1,997 cc (8:1 compression).
Total output for this engine is a class-competitive 268 horsepower and 280 lb-ft of torque. This engine is mated to a continuously variable transmission (CVT), which I'll get back to in a bit. All-wheel drive is standard here in Canada.
Pricing is where things are a little weird because the Qx55 isn't exactly cheap. Base models kick off at $54,205, or only about two grand less than a BMW X4 xDrive 30i. The example you see here is a top-shelf Sensory trim level. It stickers for $63,205. May I remind you that a 382-horsepower X4 M40i sells for $69,900?
Fantastic Chassis Calibration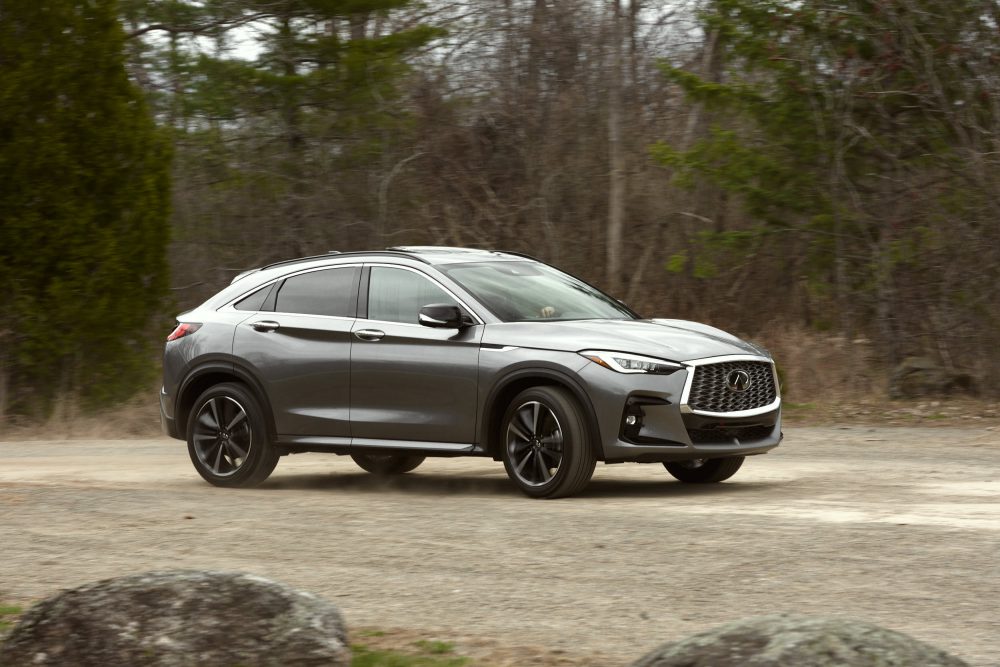 You're probably seeing where I'm going with this review, but because I'm not the kind of journalist that likes to bash on a vehicle for the sake of bashing, I'm going to give the 2022 Infiniti QX55 a chance. From a structural and handling standpoint, this is a very well executed package, and Infiniti actually went through great lengths to rework the QX55's chassis dynamics and stiffen its chassis at key areas so it handles better than the vehicle on which it's based.
And it works, because the QX55 feels solid, stiff, and well-mannered on beaten roads. Its steering wheel is also well-weighted and you can carry speed with it effortlessly, even throw it hard onto a highway offramp without fear of losing grip. But then, things start falling apart in other important areas.
The obvious elephant in the room is the CVT, which would be fine if it was in an economy car like a Nissan Sentra, but feels totally out of place in a luxury vehicle with sporty intentions. Infiniti claims to have considerably remapped the CVT's behavior for performance driving, and it is noticeably quicker to react. But it remains a CVT; a transmission that strangles the engine it's bolted onto and removes any kind of driver involvement, a crucial element in this category of vehicles.
And then there's that VC Turbo engine, which sadly doesn't translate any particular gains in fuel economy. During performance driving, it does provide good power and acceleration, but all of it is ruined by the CVT's laggy elastic behavior. When feathering the throttle, you'll be lucky to get a 9.5L/100 km average with it. I mean, those numbers are fine, but not extraordinary. I got 9.8L/100 in a BMW M5.
Inside, the QX55 looks just as good as on the outside, and the red seating surfaces of my tester were tasteful additions, but overall cabin presentation isn't as punchy or well put together as, say, an Acura RDX. Perhaps, even worse, is the fact that the value isn't there. At $63,000, you'd expect this QX55 to be loaded with the latest creature comforts and technology, but it's not.
Crucial luxury vehicle options, like a panoramic roof, wireless phone charging or even a fully digital gauge cluster, are non-existent in this Infiniti. And while the dual-screen infotainment system makes more sense here than Acura's old setup due to each screen being dedicated to one thing, it's never as fluid or easy to comprehend as what the Germans will sell you. Why do I have physical buttons for the heated seats, but not for the heated steering wheel?
If there's a bit of hope for Infiniti's latest coupe creation is that rear passenger space isn't too affected by the raked roofline. I can sit behind myself in this vehicle, and I have no headroom issues. Total cargo space is also rated at a class-competitive 1,531 liters (down 403 liters from a QX50), which is considerably better than an Audi Q5 Sportback (1,481 liters) or a BMW X4 (1,481 liters).
What Infiniti needs to do with the QX55 is ditch the CVT so the VC Turbo engine can properly shine. Then, load it with standard equipment. Lowering the price a bit would certainly help as well. Until then, I fear consumers simply won't give a crap. More importantly, the QX55 doesn't properly honor the FX. That thing was an actual game-changer. It forced the entire industry to alter how they manufactured a luxury SUV. That's the Infiniti that I want, the brand that would set the pace, not the one that's now trying to keep up with the competition.
Clavey's Verdict
Review of the 2022 Infiniti QX55 by William Clavey
Compact Luxury Coupe SUVs
Stunning design
Impeccable chassis dynamics
Better passenger and cargo space than main rivals
Engine-choking CVT
Mediocre fuel economy
The value is sadly not there
Clavey's Corner is located in Montreal, Quebec, Canada. Prices and trim levels discussed in this article reflect the Canadian car market.
Special thanks: Infiniti Canada
Photography: Guillaume Fournier
Contact the author: [email protected]