The 2021 BMW M5 is a car that needs no introduction. Unless you've been living underneath a rock for the last 30 years, you know that this is a midsize sedan only in the way it looks. Underneath its subtle body lies a supercar that'll give a speed bike a run for its money. And in Competition form, it's arguable the fastest sport sedan ever built.
Life Cycle Impulse
BMW uses funny terms for simple things. For instance, instead of calling its sport utility vehicles SUVs, it calls them SAVs for Sports Activity Vehicles. Right. And it's the same story for the facelifts it gives its vehicles. BMW calls them Life Cycle Impulses for some reason. That's what the 2021 BMW M5 Competition is: an LCI, a midcycle refresh that allows it to be a bit more in tune with the new BMW corporate faces that were slapped onto the latest 3 and 4 Series.
The changes are subtle, but substantial enough to make a difference. There are new LED headlights which look much better than before, and a slightly redesigned front bumper with improved cooling. The rear gets new LED taillights as well. New paint colors were added to the lineup, while the interior receives minor tweaks and an even larger infotainment screen.
The other big change for 2021, at least here in Canada, is that the M5 only comes in the Competition trim, which means we get the more powerful one by default. Like the M8 Competition I recently drove, the package gives you 17 more horsepower, a slightly different suspension tune, forged alloy wheels (not featured here due to installed winter tires), a louder exhaust, as well as some extra badging and interior amenities.
What doesn't change is the M5's heart: a twin-turbocharged 4.4-liter V8 good for a whopping 617 horsepower (600 horsepower for non Competition models) and 553 lb-ft of torque. It's mated to an eight-speed automatic transmission provided by ZF and BMW's M xDrive all-wheel drive system which can disengage the car's front axle to turn it into a full-on rear-wheel drive machine.
The results of all this hardware are absolutely insane, with a 0-100 km/h time of 3.3 seconds (although some tests have shown under three seconds!), a standing quarter mile time of 10.9 seconds and a governor-limited top speed of 260 km/h.
However! The car you see here has a – cough – $21,500 Ultimate package added on, which removes the limiter for a 305-km/h top speed. Because of course it does. The package basically gives you all of the available options for an M5. In other words, while the car kicks off at $122,000, final price for this bad boy, which also has a $6,000 (yes, six thousand) M Performance exhaust grafted onto it, which sounds absolutely insane, is $150,250.
The Kingpin Sedan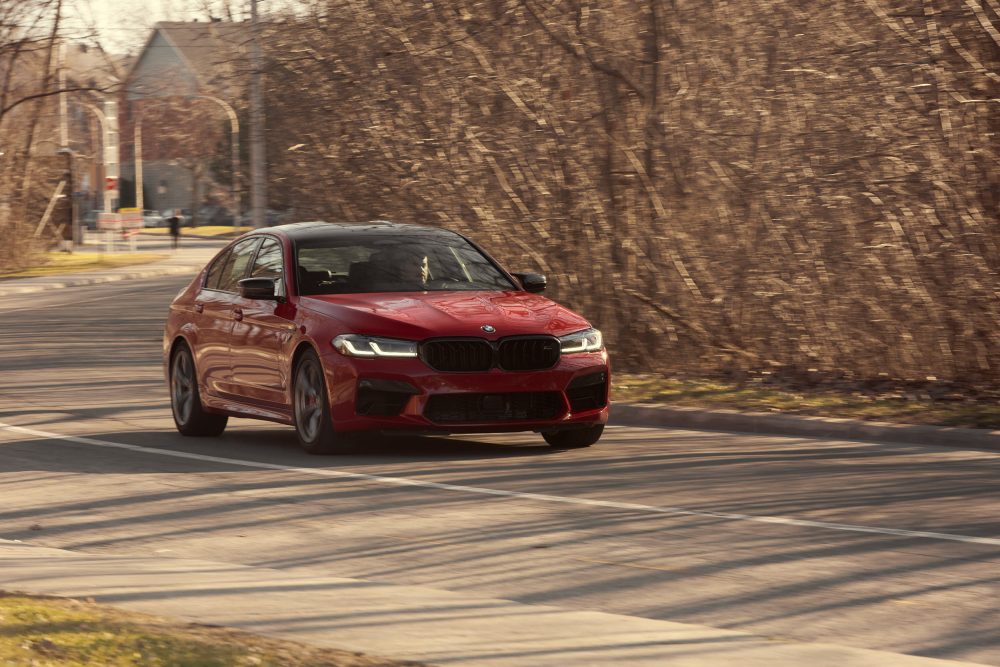 But then again, can you really blame the 2021 BMW M5 Competition for being expensive? One hundred and fifty grand isn't that much money considering what this machine can do. Remember, that's a whole $50,000 less than an Acura NSX or even an Aston Martin DB11. And the M5 is as quick as those cars, probably even faster once it starts picking up speed.
And don't think this overpowered land rocket is all about straight lines, because it's not. Ok, sure, it's a bit less nimble than an M2 or even an M4 due to more weight, but the M5 is still highly athletic. Throw this big girl in a corner hard and she'll provide grip for days, and use its highly advanced electronics and trick differentials to quickly get you out of trouble.
It basically all depends how you set the car up. The M5's best trick up its sleeve is that it can be all sedan for all people. In its default Comfort setting, it's everything you want from a BMW 5 Series: smooth, quiet, civilized and highly comfortable. The rear seats are rather spacious too, perfect to bring the kids to school, and the trunk is massive, providing more than enough room for groceries or luggage for an outing with the spouse.
But fiddling with the M5's features will allow you to tailor the car to your liking. There are two tiny red M buttons located on the steering wheel. They allow you to preprogram the car's performance on many levels. For instance, you can set up the M1 button for a soft suspension, quick-shifting automatic transmission and a sure-footed all-wheel drive system. In M2, you could have a manual transmission, rear-wheel drive and a stiff suspension.
My personal favorite M1 setting is an all-wheel drive M5 with traction control set to Sport and an automatic transmission. M2 was set for rear-wheel drive, manual and with no traction control. This is basically all the car you'll ever need.
And fast it is! stomp the accelerator pedal in any gear, at any speed, or in any mode, and the M5 instantly grabs a lower gear and catapults you forward with high ferocity. The V8 engine in this car is a tower of power, always pushing hard and always ready to pounce. It revs, but also pumps out massive low-end torque. And with this exhaust, you'll quickly become the village douchebag due to the ridiculously loud crackles and pops it generates. If you're going to take on a BMW M5, you better have something that's really, really fast, or you'll never stand a chance.
When you're done humiliating supercars with your midsize sedan – or losing your license while doing it – the M5 can be toned back down to BMW 5 Series levels of refinement. Sure, its suspension is considerably stiffer than the standard car on which it's based, but it's never punishing per se.
The M5's sports bucket seats feel a bit over-bolstered and high in the cabin when you first strap yourself inside, but you quickly get used to them, especially during high cornering g's. And in typical BMW fashion, the car's switchgear is a peach to use, easy to comprehend and well presented – BMW's iDrive infotainment system remains among the most intuitive ones in the business – but there is a lot of complexity in the car's settings.
While I adore a vehicle that allows me to tailor it to its liking, there's just a bit too much going on here, with Setup Menus, M Modes and at times confusing settings that'll have you select the wrong thing if you don't pay close attention.  The M5 also allows you to tailor its gauges and even turn off its infotainment system when it's set to Track mode. Cool feature, but was that really necessary? It just adds even more complexity to an already very complicated machine.
But at the end of the day it's what the 2021 BMW M5 Competition can do that allows it to stand tall next to its rivals. Yes, a Mercedes-AMG E63 S or even an Audi RS7 are both highly fast and capable as well. They're arguably the M5's only real rivals. But BMW's Ultimate Driving Sedan feels a tad better, faster, more agile and superior at everything. After all, it's the car that gave birth to this category of cars. And in my book, this is still the undisputed queen of high performance sedans.
Clavey's Verdict
Review of the 2021 BMW M5 Competition by William Clavey
High Performance Sedans
Supercar levels of performance
Spacious, smooth and comfortable
A surprising performance bargain
Styling could be a little louder
Highly complicated drive modes
Some options are ridiculously priced
Clavey's Corner is located in Montreal, Quebec, Canada. Prices and trim levels discussed in this article reflect the Canadian car market.
Special thanks: BMW Canada
Photography: Guillaume Fournier
Contact the author: [email protected]