The 2022 Jeep Compass gets a much needed facelift this year, which is why I jumped on the occasion to drive it when Jeep Canada offered me the keys. The Compass is an interesting small SUV because it was once a question mark within Jeep's lineup, squeezed between a Renegade and a Cherokee. But now, newcomers in the "between a subcompact and a compact" segment have risen to take it on. Let's see if the updates have allowed the humble Compass to hold its own against an onslaught of new rivals.
Grand Cherokee Vibes
The facelift really gave the 2022 Jeep Compass a fresh new look, notably up front where new bumper, grille and headlight designs give it a considerably more mature feel, appearing like a baby Grand Cherokee. I quite like it. That Laser Blue Pearl paint (a $395 option) and optional 19-inch "diamond cut" wheels (part of the $3,200 Elite Group package) really give the Compass a somewhat upscale look.
That refresh also slightly massaged the Compass' rear section. Overall, the car sets itself apart from fresh competitors like the Chevrolet Trailblazer, the Mazda CX-30, the Kia Seltos and the all-new Toyota Corolla Cross and Volkswagen Taos. When you think about it, the Compass basically invented this category of SUVs, a trend that spawned from a growing hunger from consumers for more SUVs.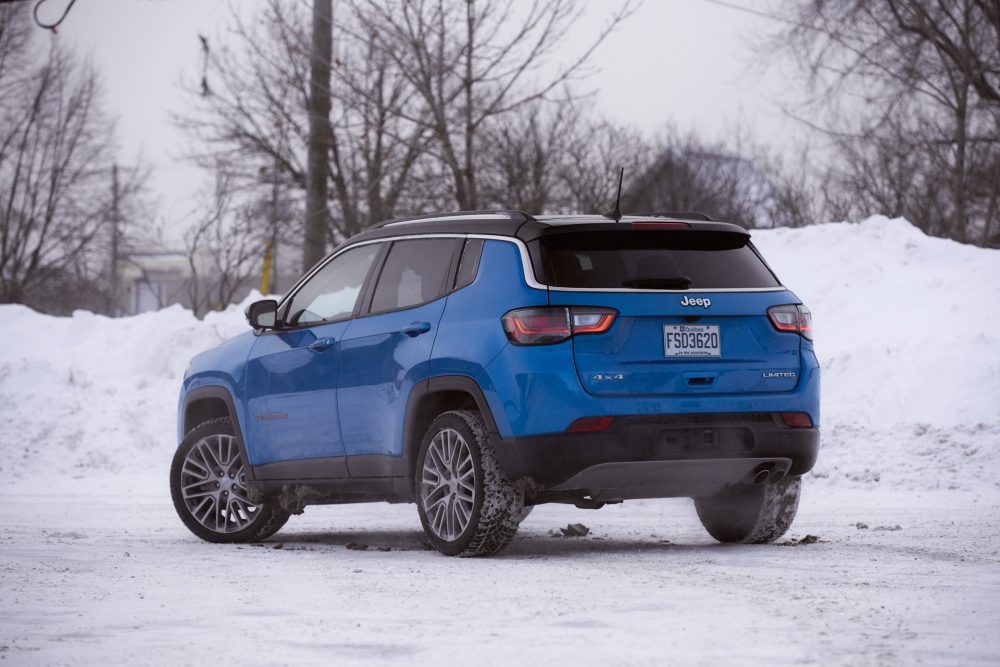 More changes include a fresh new interior (more on that later), more standard features, more technology and a reshuffling of available trim levels. Choices include the Compass Sport, North, Trailhawk, Limited (as tested) and Trailhawk Elite.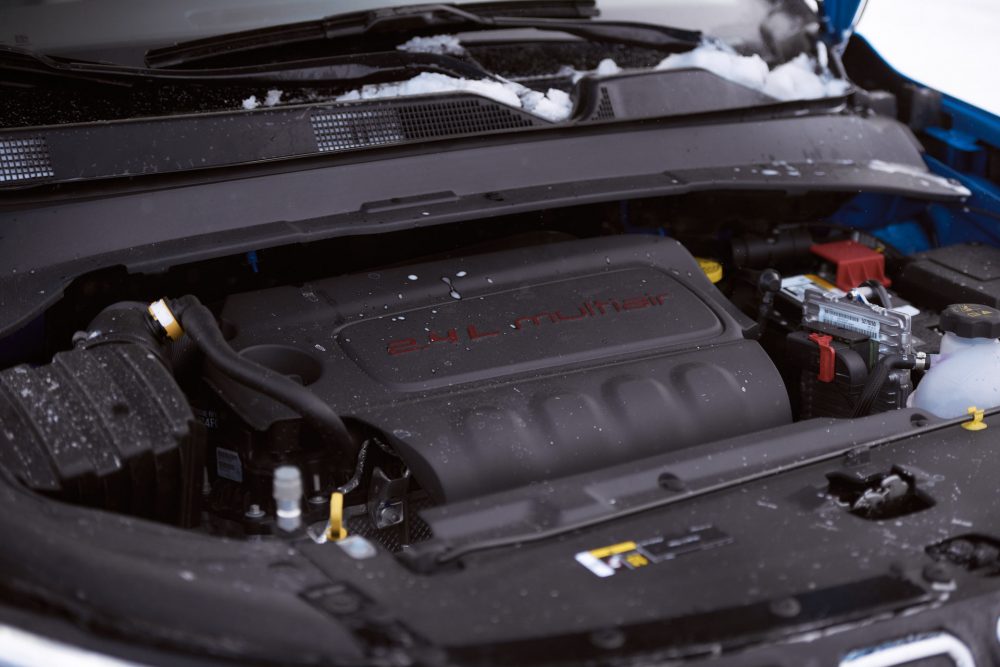 Sadly, nothing changed in the engine compartment. The Compass is still powered by the same 2.4-liter Tigershark four-cylinder unit as when this model was launched back in 2017. Factually, this engine is a direct evolution of Chrysler's old World 2.4 that powered the old Compass as well as the god-awful Caliber R/T. In this version, it makes 177 horsepower and 172 lb-ft of torque. When the Compass is front-wheel drive, it's mated to a six-speed automatic gearbox. In all-wheel drive form, as tested, it gets the same nine-speed unit as in the Renegade.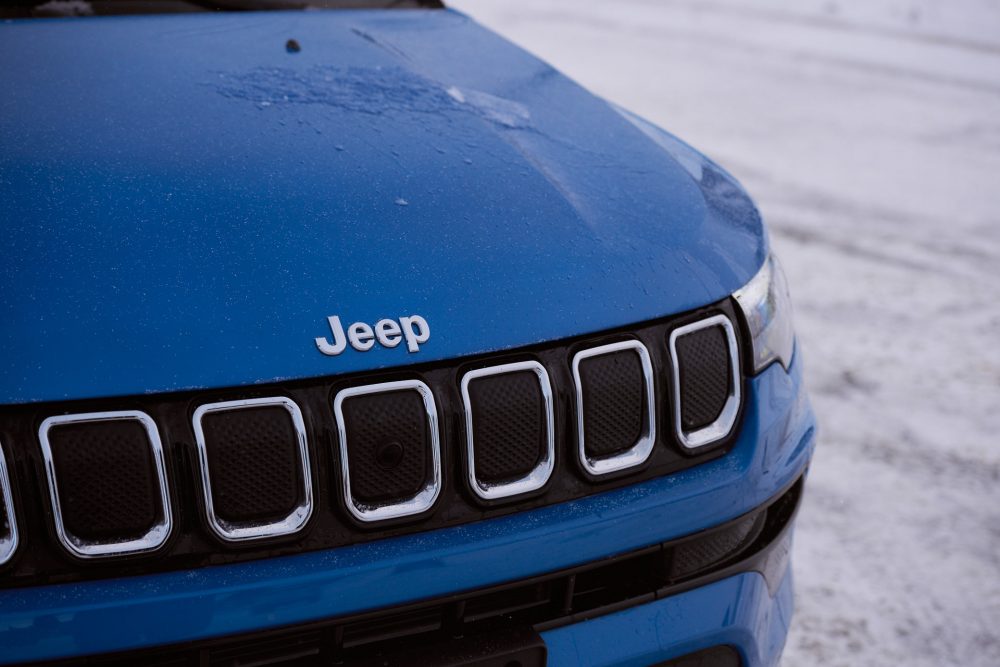 Pricing is where things fall apart. While the entry level Compass Sport is fine at $29,129, climbing the trim hierarchy will quickly surpass much more spacious and capable compact alternatives. The sticker price for my tester was a ridiculous $46,880. That's before freight and applicable taxes. Who the hell does Jeep think it is?
Superb Interior, Lacks Refinement
I get what Jeep is trying to do with the Compass. It wants to bring it upmarket. And in many respects, it does a good job of fooling a potential Audi Q3 owner that it could drive a cool little Jeep instead. Unfortunately, the Compass falls short at important areas to truly be considered premium, let alone properly compete in the mainstream space it's in.
Let's begin with the positives, because there are some. The 2022 Jeep Compass' all-wheel drive system is rather clever, allowing you to select between pre-configured drive modes. There's Snow, Sand and Auto. These modes alternate the car's traction control and ABS settings for optimal traction on changing surfaces. And you know what? It works rather well! Through a thick snow bank or a light muddy trail, the Compass definitely punches harder than its weight.
Then there's the interior which shouldn't have trouble convincing someone who's cross-shopping this with something European. The fact that my tester had the contrasting caramel finish on the dashboard and door inserts really allowed its cabin to pop. This is a good looking interior by any measure.
Overall material quality was also vastly improved, with a new dashboard design and fully digital gauge pod. The star of the refresh is obviously the Uconnect 5 10.1-inch (8.4 inches on cheaper models) infotainment system, which now protrudes from the center stack in a thin tablet design.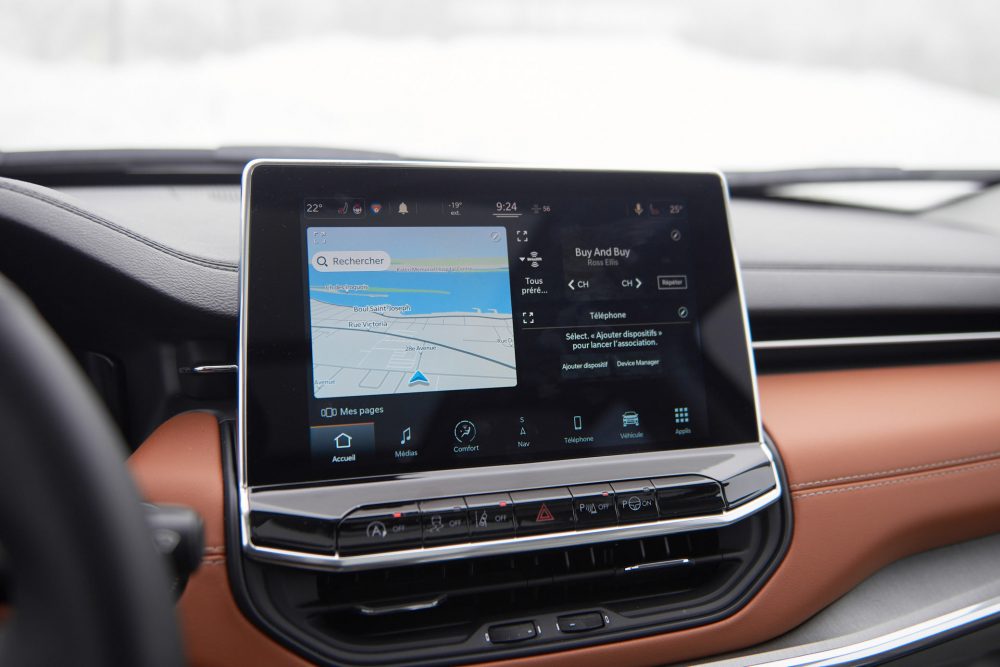 The new software is quicker than before, and better presented with nicer graphics as well as a higher resolution. There's also onboard WiFi now, as well as wireless Android Auto and Apple CarPlay. All of it connects fast, although I do find this version a tad too cluttered compared to the last Uconnect interface. It feels, shall I say, unfinished. Luckily, it's compatible with over-the-air updating technology, so Jeep could quickly fix these issues in the long run.
Rear seating in a Compass is class-leading, with a massive area for leg room and plenty of head clearance as well. It's so spacious back there, that it could very well be a compact SUV. Cargo space is also good, but not great. Fold the rear seatbacks flat, and the  Compass will swallow up to 1,670 liters of your junk. That's considerably more than a Mazda CX-30 (1,274 liters), but a tad behind a Corolla Cross (1,855 liters) and a Taos (1,866 liters).
This would all be fantastic if the Compass had some sort of mechanical substance. That engine is not just old as fuck, it doesn't make decent power, even if its displacement says otherwise. It's ever more depressing when you consider that this is what powers a base Renegade, and that the Renegade's upgraded turbocharged engine is more powerful than this. Smash the accelerator pedal in a Compass and the gearbox shoves things down to a lower gear without exactly hurrying up, while nothing is really happening under the hood.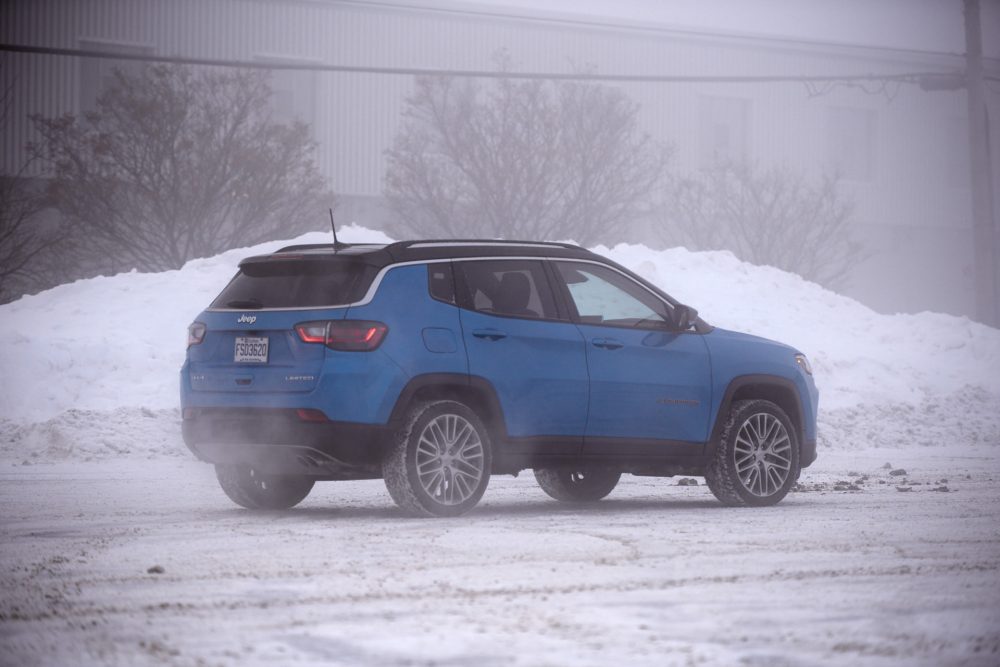 The powerband and torque curve are weird, with no apparent spikes in power delivery. This engine is just loud and thrashy, not sounding particularly good along the way. It's not even all that fuel efficient neither: I could barely keep mine under the 11L/100 km mark during winter. Did I mention how much that transmission sucks? It's laggy and at times refuses to respond.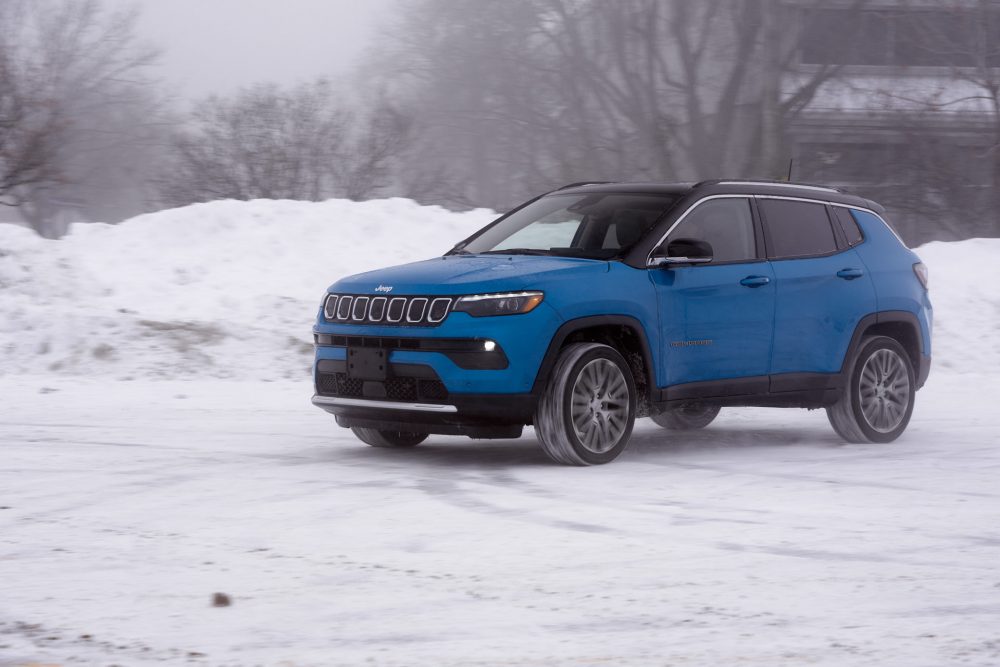 Handling is also a problem, with a chassis that feels at least ten years old. It flexes on uneven pavement and there's a complete lack of compliance from the suspension. The Compass feels top heavy, with huge body roll that's at the opposite of confidence-inspiring. Lastly, cabin insulation is only fine. I've sampled much better from a $38,000 CX-30, which, by the way, can be had with a turbo engine that puts more than 300 lb-ft of torque to the ground.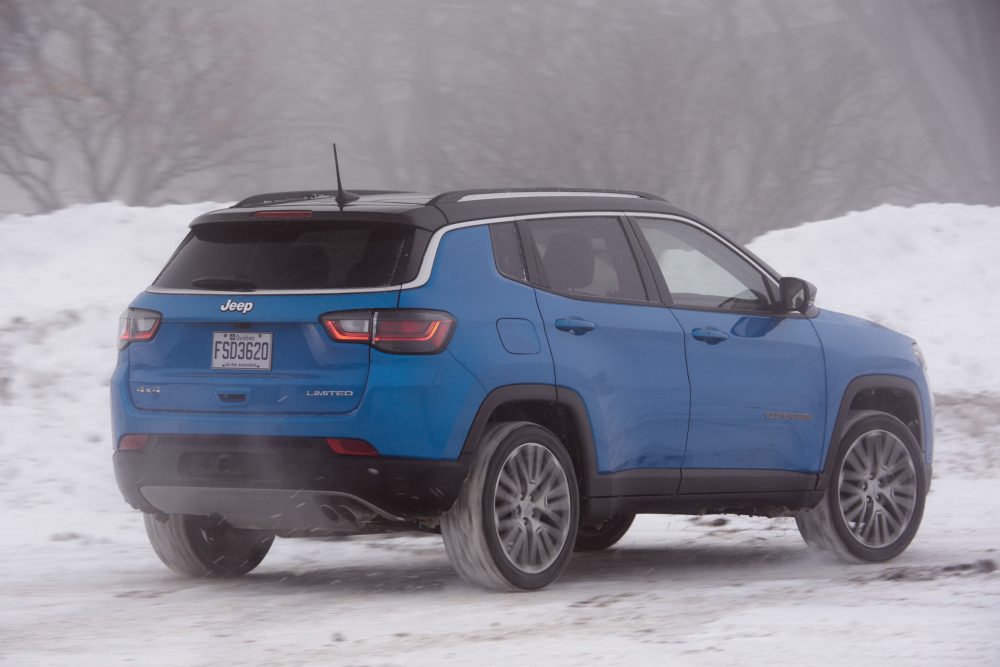 So that's it, really. The 2022 Jeep Compass would be totally ok if it wasn't so ridiculously priced and had a good engine under the hood. If Jeep is serious about taking its small SUVs upmarket, it needs to make sure no stone is unturned, especially if it wants to sell these things 50 fuckin' grand. Because from where I'm sitting, I see no good reason to choose this over any of its mainstream rivals.
Clavey's Verdict
Review of the 2022 Jeep Compass Limited by William Clavey
Subcompact Crossovers
Attractive design
Witty all-wheel drive system
Classy, roomy interior
Dated, lethargic drivetrain
Clumsy handling
Ridiculous pricing
Clavey's Corner is located in Montreal, Quebec, Canada. Prices and trim levels discussed in this article reflect the Canadian car market.
Special thanks: Jeep Canada
Contact the author: [email protected]