If you've never heard of the 2021 Jeep Grand Cherokee Trackhawk, you've probably been hiding underneath a rock for the past five years of so. This thing has been all over the internet since it was launched, showing the entire world how insane it is, but most importantly, bragging about the fact that it's the fastest production SUV on the planet. Correction, this is the fastest SUV that isn't a Tesla Model X Performance. Still, considering how much Jeep is asking for this thing, it's rather impressive.
Green Nostalgia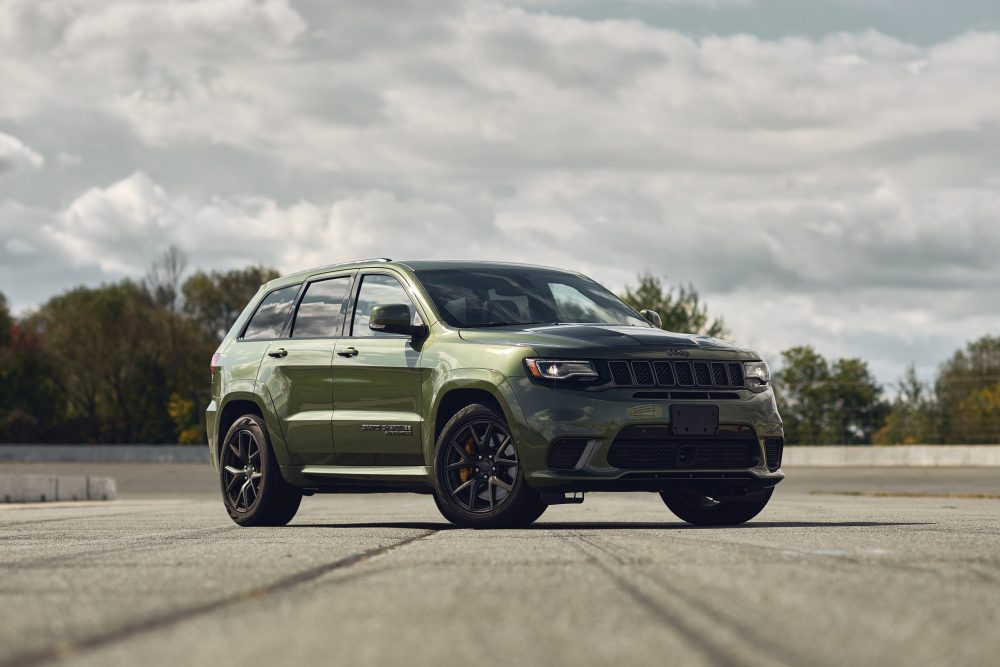 There are ten colors to choose from for a Jeep Trackhawk, but I reckon this Green Metallic paint is the coolest of them all as it hearkens back to the original military Willys Jeep that gave birth to the entire brand. It's also ironic considering how entirely different these two Jeeps are.
While the SUV you see here does feature all-wheel drive and a 7,200-pound towing rating, it's not exactly fit to follow a Wrangler through a muddy trail.
What the Trackhawk excels at is going fast. On top of getting an entirely retuned suspension equipped with adaptive Bilstein dampers, this Jeep gets beefed up brakes, 295-wide tires on all fours, added cooling, a more menacing face and, perhaps more importantly, a Hellcat engine underneath its hood.
In other words, the 2021 Jeep Grand Cherokee Trackhawk gets the same supercharged 6.2-liter HEMI V8 as the  insane Dodge Challenger Redeye I drove last year, but with "a bit" less horsepower. It still pumps out 707 god-damned horsepower and 645 lb-ft of torque for Christ's sake.
It's all mated to the same eight-speed automatic gearbox as the Challenger (and Charger). However, because this Jeep comes with all-wheel drive, it launches out of the hole quicker and more effectively than its muscle car siblings which make do with rear-wheel drive only.
I mean, the numbers are downright insane. The 0 to 100 km/h acceleration time is achieved in 3.5 seconds, while the standing quarter mile is completed in twelve seconds flat. The Trackhawk will then continue on to a claimed 304 km/h top speed. This isn't a Mercedes-AMG GT R we're talking about here. It's a fuckin Jeep.
Obviously a Grand Cherokee that can humiliate most sports cars at the drag stip doesn't come cheap. Pricing for a Trackhawk kicks off at a range-topping $115,545. My example had a few options tacked on for a final sticker price of $135,960. If you think that's ridiculous for a Grand Cherokee, try obtaining this much performance from a German alternative for similar money. Not going to happen.
Porsches and BMWs In Its Crosshairs
Instead of seeing the 2021 Jeep Grand Cherokee Trackhawk as an overpriced Jeep, see it as a bargain compared to much preicer performance SUVs like a BMW X5 M, a Mercedes-AMG GLE 63 or a Porsche Cayenne Turbo. Because not only will this Trackhawk allow you to intimate them for way less money, it'll even let you beat them in a drag race if you know what you're doing.
Slam both the brake and throttle pedals at a stop with traction control off, and the Trackhawk squats down like a Gorilla having his morning snack. And once you let it loose, its four massive rubber claws grab the tarmac as if it was one large piece of meat, allowing this 5,258-pound family shuttle to launch forward at Olympic sprinter speeds.
The amount of pressure the Hellcat engine creates on your chest at full throttle is dizzying, but what your body isn't ready for is the demonic soundtrack resulted from both the supercharger's dominant wine and the NASCAR-style roar coming out of the enormous quad pipe exhausts.
While I was expecting the 2021 Jeep Grand Cherokee Trackhawk to launch out of the hole quicker than an Aston Martin DB11, I wasn't expecting it to handle this well. Sure, it's a top-heavy SUV whose weight is instantly felt the moment you turn too sharply, and body roll is obviously very apparent. It'll also never be as polished as a BMW during hard cornering.
But there's enough grip here to allow this big boy to grip its way around an apex in a way you'd never expect a Jeep to do. There's this very square, flat feeling in the way the Trackhawk handles that's confidence-inspiring, making it feel like a big solid block at high speeds, although that suspension is stiff and does lead to a somewhat choppy ride out on the road.
Take the Trackhawk as a toy though, and not a scalpel-precise alternative to a Porsche, and you'll have blast letting this big friendly green giant unleash its fury out on a track. The eight-speed ZF-sourced gearbox takes in 707-horespower abuse no sweat, but like everything Mopar it's hooked up, it feels a little jagged around the edges, often having trouble remaining smooth at lower speeds.
That said, when you're done flexing your Hellcat muscles at the drag strip, the Trackhawk transforms back into a midsize SUV, which is where lies most of its charm. There's just something pleasant about a vehicle that can be two cars in one, and this Grand Cherokee definitely is a strange case of Dr. Jekyll and Mr. Hide.
Granted, the Grand Cherokee's interior is starting to show age, and build quality is only alright. We'll probably see a newly redesigned model next year, but it's still a comfortable place to spend some time in. I also continue to find FCA's level of ergonomics to be brilliant in all its vehicles, especially the UConnect infotainment interface which continues to be easy to comprehend and a peach to operate, especially when comes time to tailor the Trackhawk's performance settings to your liking.
The rear is also plenty spacious, while total cargo space remains class-competitive at 1,934 liters in total when the rear seats are folded flat. So yes, a Jeep Trackhawk is a formidable daily driver, as long as you're willing to cope with the ridiculous gas bills and high initial price tag.
But you got to love how it instantly transforms into a fire-breathing monster within seconds, all while humiliating a Cayenne Turbo S or even a Lamborghini Urus along the way, SUVs that sell for almost twice this Jeep's price. It also looks rather unassuming, which is handy if you happen to drive past a cop a quicker than you should.
The 2021 Jeep Grand Cherokee Trackhawk, then, isn't necessary at all, and some will it even call it stupid for even existing. I say the reason why it's so cool is precisely for that reason: because we don't need a 707-horsepower midsize SUV, but we're all glad it's possible to buy one.
Clavey's Verdict
Review of the 2021 Jeep Grand Cherokee Trackhawk by William Clavey
Performance SUVs
Stupid fast
Stupid loud
Absolutely adorable
Expensive
Cabin is starting to show age
Heavy gas bills
Clavey's Corner is located in Montreal, Quebec, Canada. Prices and trim levels discussed in this article reflect the Canadian car market.
Special thanks: Jeep Canada
Photography: Guillaume Fournier
Contact the author: [email protected]