When driving the 2022 Kia Carnival (basically the new Sedona), I got as many positive thumbs sent in my direction than when I was driving a Lamborghini Huracan. Indeed, Kia's latest minivan looks cool as hell, from its factory "slammed" stance to its K-Pop-style rear seats, it really is a fresh take at the family hauling shuttle. But no matter how badass these things end up looking, what splits the difference between a good minivan and a mediocre one is its ability to offer its owners real-world practicality; the kind of practicality that can endure screaming, puking kids for weeks on end. Does Kia's Carnival deliver?
Dad's Revenge
Carmakers really seem to still give a damn about minivans and that's great. I mean, while Kia is unleashing this new Carnival, Honda recently facelifted the Odyssey, Toyota just released an all-new hybrid Sienna and Chrysler not only added a new Grand Caravan to its lineup, but also offers the Pacifica with all-wheel drive now.
So, the Carnival. Why that name? Because in case you haven't noticed, Kia is now going with world names. In other markets, the Sedona was always called Carnival. Very much like the Kia K5 then, the Carnival is finally unveiling its true nature. Some may say this could also be Kia's way of hiding the fact that it's a minivan. Car Ni Val. Get it?
Because from all angles, Kia's latest kid hauler works overtime to redefine our expectations of what a minivan should look like. It's got a mean stance, but also a mean front end, thin LED headlights with a high hood that give it a menacing yet modern face. On the side, there's this large chrome element over the C pillar that stretches towards the rear. It breaks up the car's side profile and actually works at making it look less, well, van-like.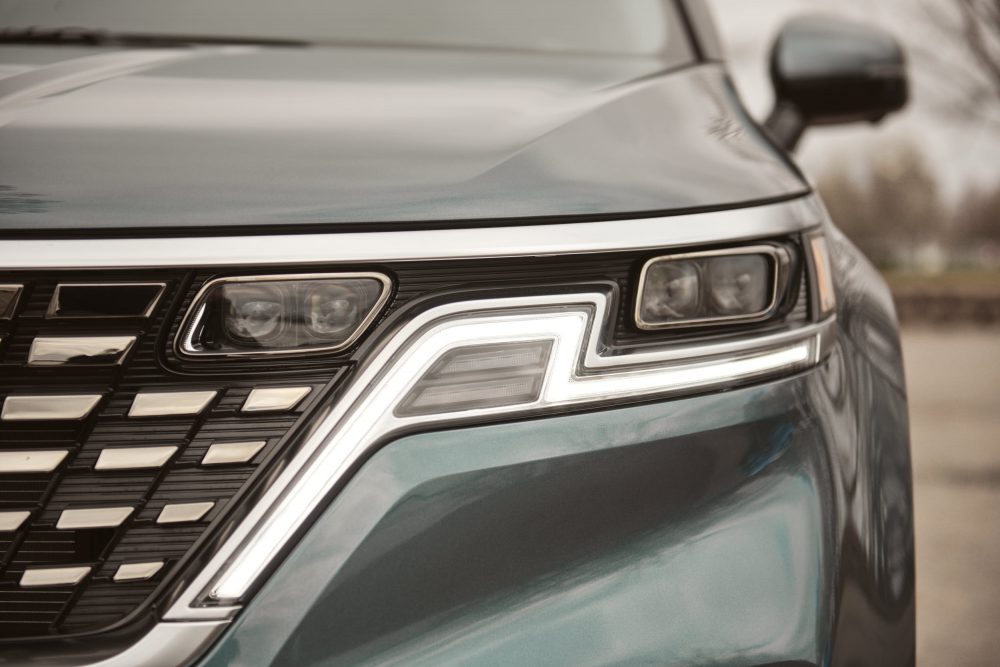 And out the back, you'd swear this was one of Kia's latest SUVs from how blocky and masculine everything is. It feels as though this van was created for the father who's tired of being laughed at by his bros for driving one. I'm not a dad myself (yet), but I have to admit, if were in the market for a minivan, this one looks hard as hell.
The Carnival rides on Kia's all-new N3 architecture that's shared with the new Sorento. It's also a considerably longer van than the Sedona it replaces, with a wheelbase that was stretched by 30 mm. But contrary to its corporate brother, it doesn't go down the turbocharged route. In the goal of keeping things simple and reliable, the 2022 Kia Carnival only gets one tried and tested engine, a naturally aspirated 3.5-liter V6 good 290 horsepower and 262 lb-ft of torque. It's mated to an eight-speed automatic gearbox, no dual-clutch or CVT shenanigans here. Unfortunately the Carnival can only be had with front-wheel-drive.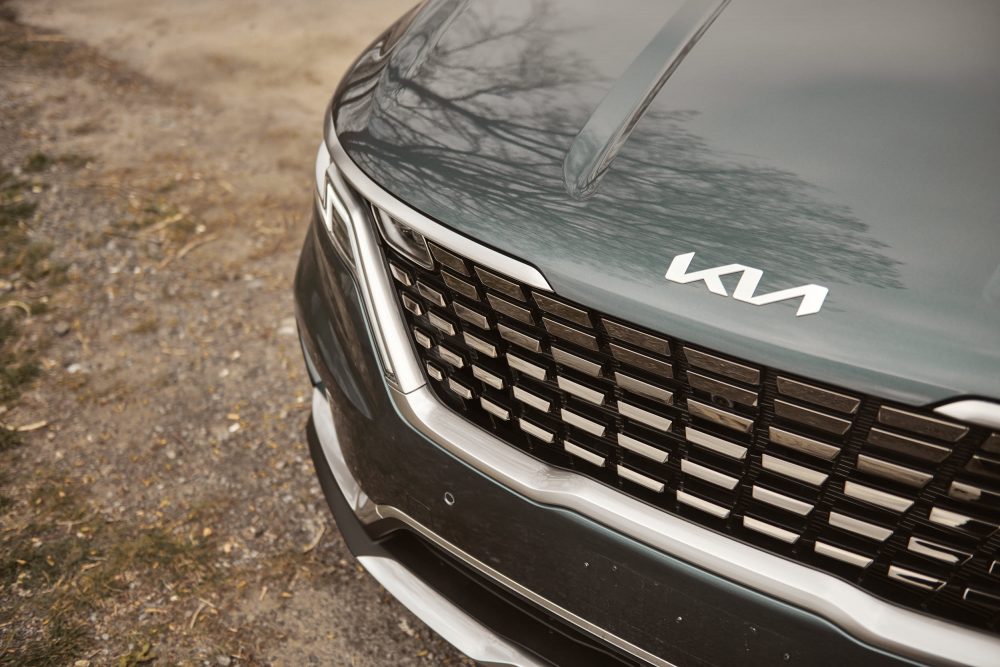 Pricing for a Carnival is also very aggressive, which is what has allowed it to perform well in its segment in the past. Its five trim levels are also priced to take on both mainstream and luxury offerings, anything from a bargain basement Grand Caravan to an overpriced Odyssey. Base LX models kick off at $36,460 and finish at the one you see here, the SX, at a staggering $50,260.
K-Pop Stars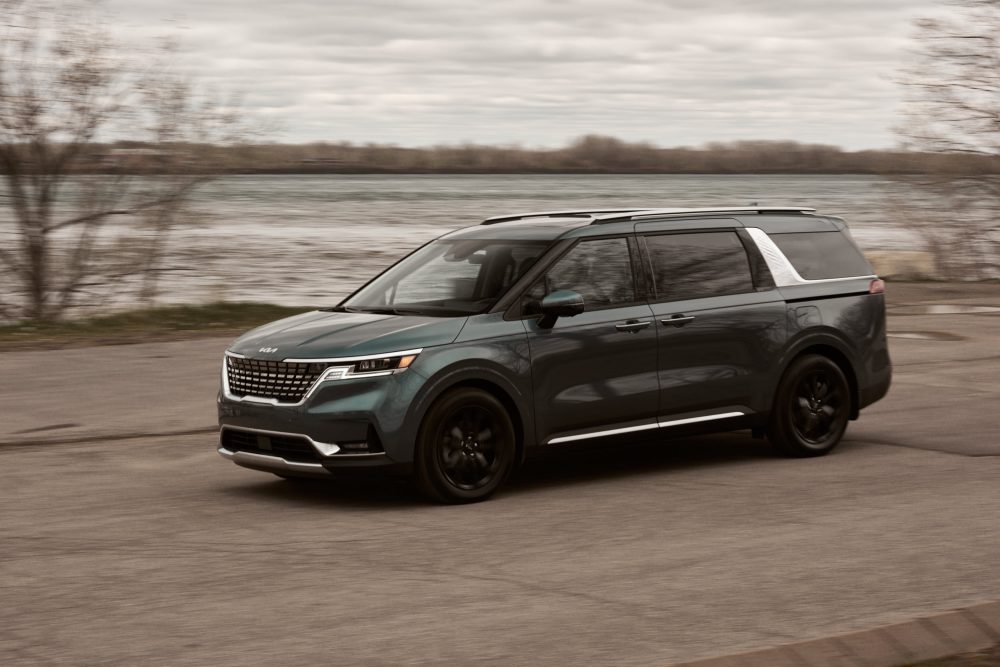 Obviously, as it's often the case when carmakers lend me vehicles to review, the Carnival I was driving was loaded to the gills. This also made it one hell of a fancy place to spend some time in. Kia even stuffed the car with a large candy bag, popcorn and a Cineplex card for me and my spouse to rent some movies. This would be the best vehicle to carry K-Pop stars to their next show.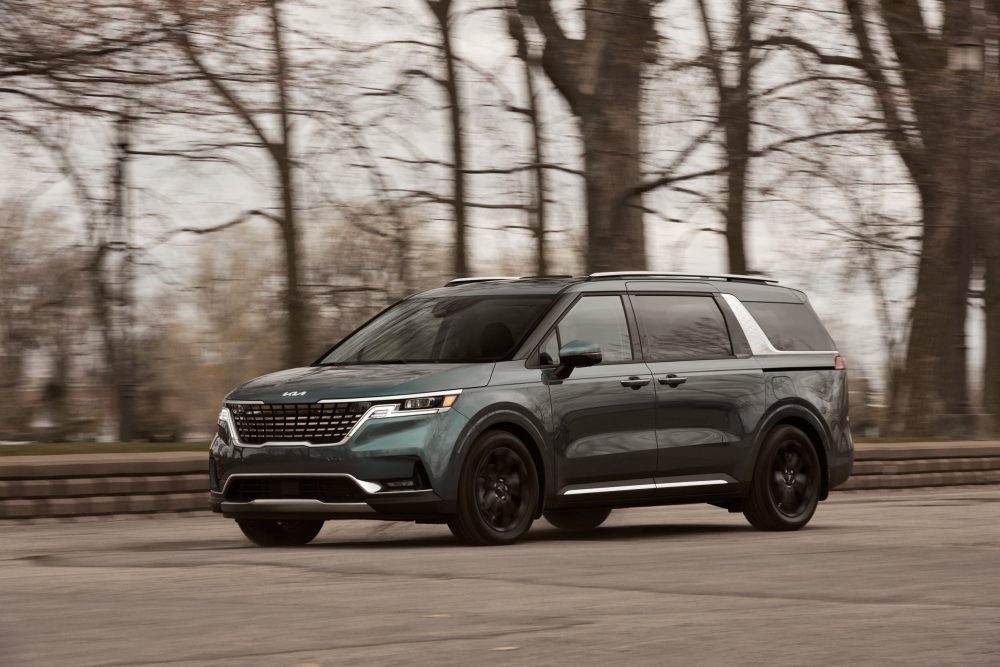 Splash is the Carnival's tour the force. It's just a large wow on wheels, but before I go in depth with all of its neat creature comforts, allow me to tell you a bit more about how it drives, because it's actually pretty fun behind the wheel.
The 2022 Kia Carnival will never be as athletic or energetic as a Honda Odyssey, but it's up there among the greats. There's nice fluidity in the way the Carnival hits corners and hovers over road imperfections. Power from the V6 engine is more than ample, on top of channeling enjoyable induction sounds into the cabin. Suspension damping is however always a little firm, but that's always a welcome trait during sporty driving.
There's also good feedback through the steering wheel, making this van one of the more engaging ones to drive. I was, however, disappointed with the transmission's reaction times. You just really need to thrash it hard for it to actually wake up and downshift. Most of these issues are fixed when you set the car to Sport mode, however. I basically drove it the entire time in that setting. I also can't believe I'm putting the words "sport", "engaging" and "minivan" in the same article.
Step inside and the Carnival really shows you what it's made of, but also falls short in some areas. The obvious show stoppers are the two enormous thrones located in the second row (exclusive to the SX). For those wondering, yes you can still get a standard removable three-seat setup on lower trims.
Anyway, those giant captain chairs are like nothing I've ever sampled in a van of this price range. They're enormous, immensely comfortable and can be adjusted and reclined electronically in pretty much any configuration you'd like. They're also heated and vented, a first in this segment. There's even a second sunroof, which actually opens!
All of that combined makes for one fine minivan to ride in. Sadly, those seats don't come out, and moving them forward takes quite a bit of time. They also don't leave much room to squeeze your way in the back. So while being cool for an evening out at the club (one day we'll be allowed to do that again), they're not exactly practical. Once out the back, however, head and leg clearance is ample. It's also rather easy to stow the third row inside the floor.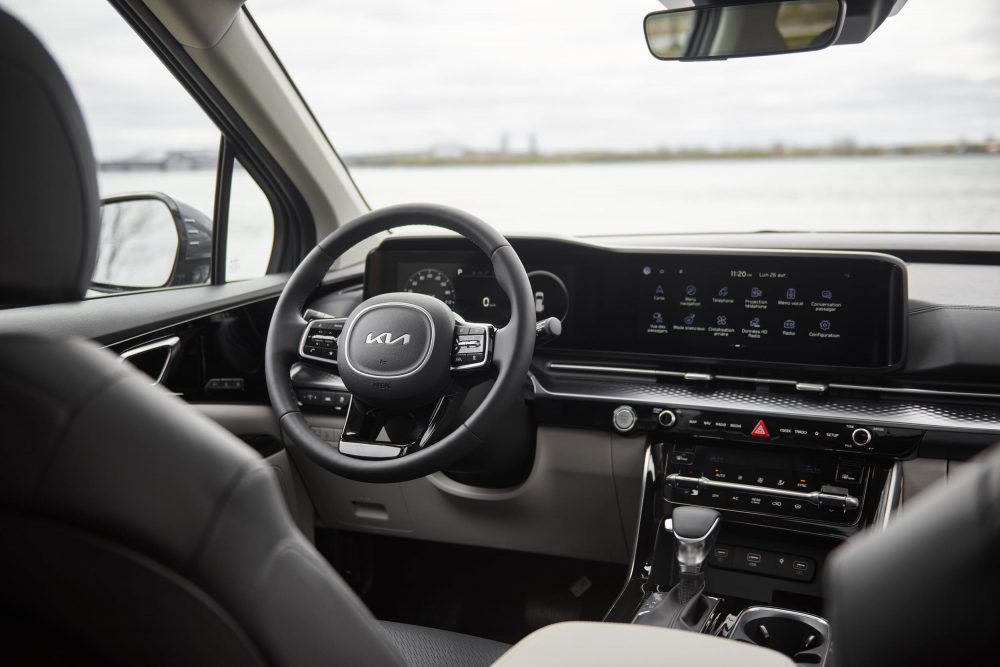 Up front, the Carnival SX is loaded with all the latest toys Kia has to offer. The Carnival mimics Honda's CabinTalk feature and even incorporates the rear camera to spy on your kids. There's a massive single screen dashboard layout too (actually two screens) that makes you feel like you're riding in a poor-man's Mercedes-Benz, and all the switchgear and displays are easy to comprehend and manipulate. Those seats are also immensely plush and supportive.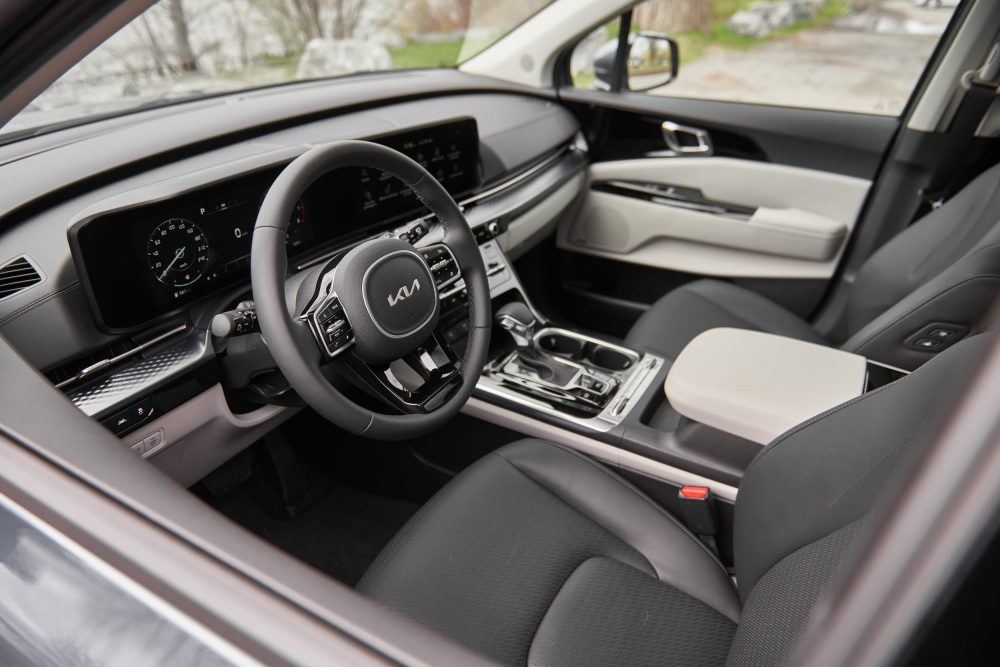 But the Carnival unfortunately disappoints in one crucial element: storage. There isn't much room to throw your junk or stash your offspring's endless toys, drinks and snacks. While its technology and level of refinement is through the roof, it simply doesn't come close to Honda's or even Chrysler's understanding of the segment. It's just proof that Kia is still young in the minivan space. Add to that the lack of a hybrid variant and no all-wheel drive, and consumers could walk away in favor of something more useful.
There's a lot of "look at me" associated with the 2022 Kia Carnival and that's fine and dandy. It does a lot to change our perception of what a minivan should do, and kudos to Kia for giving it a shot! But at the end of the day if it can't properly fulfill its family hauling duties, what's the point of even getting a van in the first place? If you skip the fancy SX model and settle for an EX ($43,960) instead, than the price makes more sense and the level of livability is more in tune with the realities of modern families. You'll however get more real world practicality from its main rivals.
Clavey's Verdict
Review of the 2022 Kia Carnival by William Clavey
Minivans
The coolest looking van on sale
Quick and engaging to drive
VIP rear seats, fancy interior
Lacks crucial storage solutions
No all-wheel drive
No hybrid variant
Clavey's Corner is located in Montreal, Quebec, Canada. Prices and trim levels discussed in this article reflect the Canadian car market.
Special thanks: Kia Canada
Photography: Guillaume Fournier
Contact the author: [email protected]