The 2022 Mazda CX-5 and the Mazda MX-30 are at complete opposites. While Mazda's first attempt at building an electric vehicle was a catastrophic failure, the truth of the matter is that all of its other cars punch well above their weight class. This CX-5 is a great example of this. It's not particularly new, nor is it very innovative. And its cargo space is only fine. Yet, it somehow still works, allowing it to rank among my favorite sport utility vehicles currently on sale.
Still Looking Hot
One of the CX-5's key attributes is that it actually looks good, a rare quality in the world of mainstream SUVs. As a matter of fact, out of all the Japanese car brands, Mazda is arguably the only one that properly understands automotive design. And for the 2022 model year, little Mazda gave its crossover a mid-cycle refresh that makes it look even better.
In typical Mazda fashion, the changes are subtle, but substantial enough to allow the car to look fresher than its pre-facelift versions. The entire front fascia was massaged to look more upscale by way of a slightly redesigned grille, new bumper and headlights. That grille also now stretches further towards the headlights with "wings", similar to the Mazda3. Blacked out wheels, mirrors and a slightly redesigned rear end also complete the package.
Among other updates, Mazda claims that there are more supportive seats inside. The 2022 Mazda CX-5's transmission was also apparently retuned for smoother operation, as well as the entire suspension tuning for improved handling. All CX-5s now come standard with all-wheel drive and the max towing rating is still rated at a somewhat low 2,000 pounds.
Engine and transmission choices don't change, which constitutes both the CX-5's best and worst qualities. On one side, I appreciate the fact that consumers can choose between a naturally aspirated 2.5-liter four-cylinder (187 hp/186 lb-ft) or a turbocharged version of the same unit (227 hp/320 lb-ft). On the other hand, I'm disappointed to still not see a hybrid or even an electric version for this vehicle.
My tester, a $42,515 Sport Design model, had the turbocharged engine. Just like its non-turbo counterpart it's mated to a dated but effective six-speed automatic transmission. A base CX-5 kicks off at $32,565 while a top spec Signature model stickers at $45,715.
Subtle Improvements That Work
Whatever Mazda did to the CX-5's suspension tuning definitely allows it to be considerably more athletic than before. Mind you, it's not like the old car was a clumsy handler out on a winding piece of tarmac. What I've always liked about this crossover is that while it is top heavy and high off the ground, it feels light and well planted on the road, kind of like a lifted hot hatchback. Other carmakers have managed to give their crossovers such characteristics, but they're often from premium brands like Audi or BMW. Not from a tiny mainstream company like Mazda.
Then there's the damn thing's steering feel. No crossover should feel so precise and communicative when turning the wheel, yet, the 2022 Mazda CX-5 does it like a sports car. Mazda isn't kidding when it says that the soul of the MX-5 can be found in all its vehicles.
Throw CX-5 Turbo hard into a corner and Mazda's G-Vectoring control system applies brake pressure on the inside wheel for improved rotation. It's not torque vectoring, but it's damn similar. The end result is a total package that's so well balanced it could embarrass a Porsche Macan.
Power from the turbocharged engine is ample, but never mind blowing. Very much like the Mazda3 Turbo, the CX-5 is quick off the line, picks up fast, but never sets your hair on fire. It gets the job done in a mature and refined way. It's a bit of a drag to have to fuel it with 93 octane to extract this engine's full potential, especially with today's gas prices. But the good news is that it will run on regular 87 octane. You'll just end up with less horsepower (230 hp) and less torque (310 lb-ft).
I also wish this transmission had a bit more gears for improved fuel economy, but it's hard to get around how well it performs. It's almost telepathic in the sense that it knows precisely when to downshift before entering a corner. Upshifts are butter smooth too, quick and nearly seamless. Speaking of fuel efficiency, I pulled a decent 9.3L/100 km average while I had this thing in my possession which remains competitive in this class.
Mazda only brought minor updates to the CX-5's interior design. So yes, we're still be stuck with analog gauges and a tiny infotainment screen (10.3 inches) compared to what its competitors offer. But strangely, this is also what I adore about the CX-5. It proves that a big screen and fancy tech don't define a car. This cabin is well put together, stylish and highly functional. At the end of the day, that's what counts.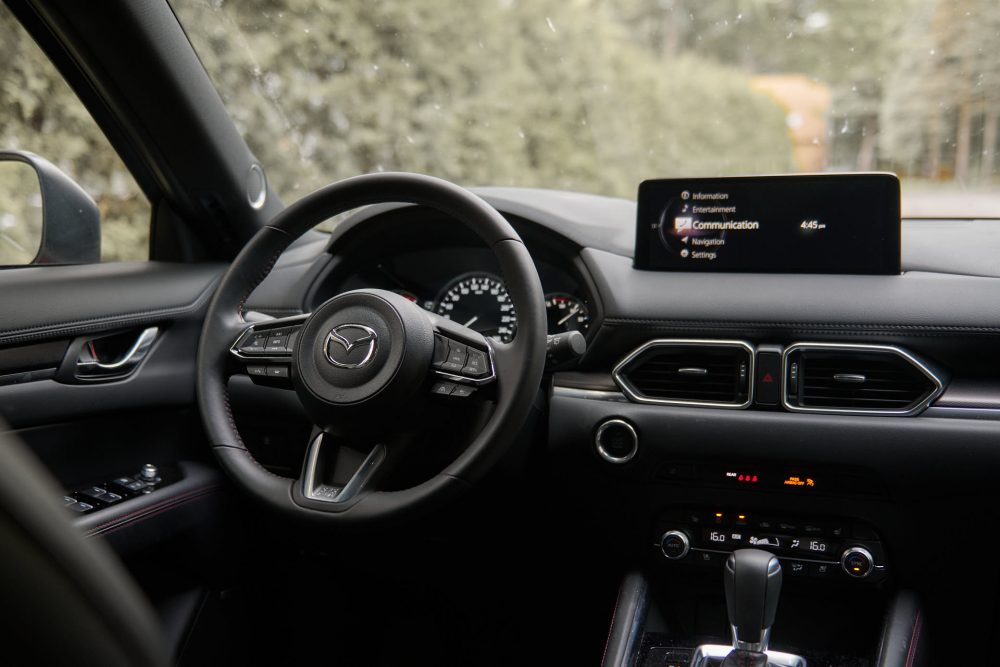 Mazda claims to have reduced overall NVH from the behind the wheel and this does feel a tad quieter on the road. Those new seats are also way more comfortable than before, with ample bolstering as an added bonus when carving through your favorite back road.
Ergonomics remain a CX-5 strongpoint, and while Mazda did complexify the infotainment interface – like in the Mazda3 – it's still a breeze to operate. Mazda does prevent you from touching the screen while driving, but very much like BMW's iDrive setup, the console-mounted knob-dial is never hard to figure out.
Sadly, the CX-5's greatness gets a hard hit out the rear where you'll quickly realize it isn't the most spacious crossover in its class. Rear leg clearance is only fine, so if tall passengers squeeze behind you while you're driving, you might need to move your seat forward. Cargo space is also on the low side at 1,687 liters with the rear seats folded flat. By comparison, a Honda CR-V will engulf up to 2,146 liters, while a Subaru Forester is rated at 2,155 liters.
Here's the bottom line though: if you don't need a shitload of cargo space or a massive rear seat, the 2022 Mazda CX-5 remains a fantastic purchase. This SUV looks good, is super well built, fun to drive, decently priced and, more importantly, has proven very reliable so far. As I said in my latest MX-5 RF video, the automotive industry is very good at making you believe that you need more space. But in reality, maybe what this CX-5 has to offer is all the space you'll ever need.
Clavey's Verdict
Review of the 2022 Mazda CX-5 by William Clavey
Compact SUVs
Sharp looks
Quick and fun to drive
Proven reliability
No hybrid or electric variant
Dated technology
Small cargo hold
Clavey's Corner is located in Montreal, Quebec, Canada. Prices and trim levels discussed in this article reflect the Canadian car market.
Special thanks: Mazda Canada
Photography: Guillaume Fournier
Contact the author: [email protected]