The more I drive cars like the 2022 Mercedes-AMG GT 53 4MATIC+ Coupe (that's one hell of a name), the more I wonder if they're still relevant in a world where a Tesla Model S Plaid obliterates pretty much everything currently on sale. Are consumers even still interested in cars like this? A full week with the GT 53 allowed me to conclude that it's time for Mercedes-AMG to move on and build something else.
Fiddling With Names And Platforms
What's interesting about this AMG GT sedan, is that it shares almost nothing with the AMG GT supercar. At least, not in this GT 53 form. Its platform is rather taken out of an E-Class while its engine is shared with the CLS. It's therefore only an AMG GT in name and spirit the same way a Mach-E claims to be a Mustang. Mercedes-AMG is therefore only fiddling at this point.
It also doesn't exactly look like an AMG GT, appearing more like yet another very expensive coupe-like sedan from Mercedes. If anything, this car is more poised to take on other grand-touring limousines like the BMW 8 Series Gran Coupé. If the AMG GT 63 and GT 63 S versions are there to take on the M8 and M8 Competition, the GT 53 competes against an M850i.
Underneath its long hood sits a turbocharged 3.0-liter inline six that's coupled to a tiny electric motor. Thanks to a 0.9 kWh battery, that motor acts as an electric supercharger, adding 21 horsepower and 184 lb-ft of torque to the car's total output. Final figures stand at 429 combined horsepower and 384 lb-ft of torque. All of it is mated to a nine-speed automatic transmission as well as Mercedes-AMG's 4MATIC+ all-wheel drive system.
Of course, being one of Mercedes' flagship super sedans means the AMG GT 53 isn't cheap, even if it's the lineup's middle child. Base price is $119,800, which is somewhat of a bargain considering a GT 63 knocks at the door of $200,000. My tester was a special MANUFAKTUR edition, a $25,000 add-on which includes even fancier features like the elegant Rubelite Red Metallic paint you see here. Final price for my big girl was $154,600.
A Sweet Spot Of Performance
I know that the term "sweet spot" has now become one of the most cliché phrases in automotive journalism, but it really is the best way to resume how a GT 53 performs. While this isn't potent enough take on some exotic supercars, it's still quick enough to be taken seriously in the posh world of high-performance luxury limousines. I mean, from a standstill, Mercedes-AMG claims the 53 will take just 4 seconds flat to hit 100 km/h. That's still seriously fast.
That straight six does however take longer to pick up steam than its V8 counterpart, which is odd considering it has an electric motor to help it gain momentum. That's because the 2022 Mercedes-AMG GT 53 is a heavy car, weighing at a whopping 4,563 pounds.
This means that one needs to blip the left paddle shifter once or twice in order to extract everything this engine has in stock. But once revs pick up and the turbocharger has spooled up, this AMG flies, delivering smooth and linear power all the way to its rev limiter.
That all being said, while quick, the GT 53 always feels like something's missing. I'm not sure if it's because I knew that a more powerful version of this car exists, or because its small displacement engine doesn't harmonize well with its gargantuan weight, but I constantly had this feeling of yearning for something more. It most probably didn't help that a few weeks prior, I was in Colmar, France, hooning the all-electric AMG EQE on winding Alsatian roads. That's what modern EVs will do to you. They'll alter your perception of speed to the point where a 4.0-second sport sedan feels slow.
It is a good handling machine, I will say. And that's interesting considering it doesn't come with the GT 63's rear-wheel steering feature. While big and heavy, the GT 53 can be thrown hard in a corner no sweat, an act I could have repeated all day. The car's chassis and massive tires (275/35ZR-21 fronts and15/30ZR-21 rears) simply take it all it, allowing you to dig deep into the apex and apply throttle quickly. This is arguably the best balanced full-size sedan I've driven in years, more so even than the already impressive M850i. Oh, and it has some stupidly effective brakes as well.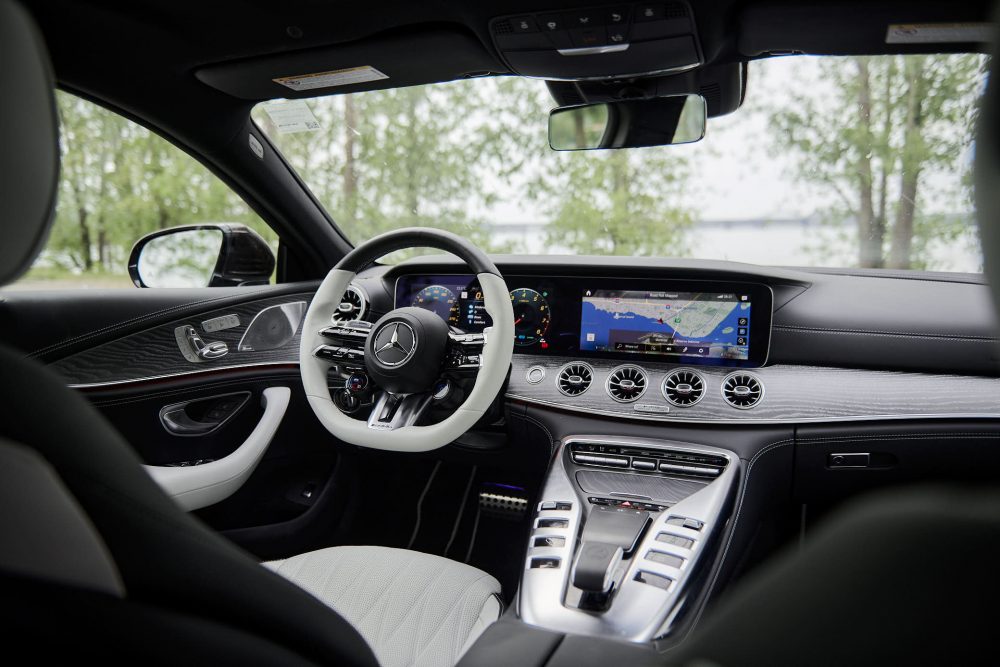 Of course, being an expensive sedan from Mercedes means the AMG GT 53 has one hell of a comfortable cabin. In typical Mercedes fashion, everything is covered in either brushed aluminum, actual wood or leather. The level of quality and craftsmanship is astonishing, with no stones unturned as to how luxurious this cabin ought to be.
To further emphasis the fact that this is a 4-door version of a sports coupe, the GT 53's windshield is aggressively sloped, with a snug feeling inside. That curvaceous roof is also apparent out the rear where head clearance is only fine and leg room will barely clear two full-size adults. That's because Mercedes-AMG technically still qualifies this as a coupe. Those rears seats are therefore only there for you to show off to your friends.
This cabin is loaded with toys and features and a hell of a lot of buttons. Like the AMG GT supercar, a massive center console covered in brushed aluminum hosts a full battalion of them. Some of these buttons are duplicated via the steering wheel-mounted knob dials, which doesn't help things. If anything, this duplication of buttons complexifies an already complicated setup.
But once you get your head around these features and how they operate, it's all rather easy to comprehend. My personal favorite duplicated button is the one used to retract the rear spoiler. Mercedes really wants you to know that you can manually retract that spoiler. I personally always left it raised, because it just looks so damn cool. Besides, on automatic mode, it only retracts at 130 km/h, which is illegal here in Canada anyway.
But while the AMG GT 53 offers everything you could ever imagine in an automobile, such as ventilated seats adjustable in all possible configurations, or a fully customizable infotainment system with tailored interior lighting, the car oddly misses out on basic amenities. Things such as wireless phone charging or even wireless Android Auto connectivity are absent from this super expensive fast sedan. Hell, even the sunroof isn't a full panoramic type but rather a tiny little opening like on a Honda Civic. I mean, I get that this stuff adds weight to a car, but this one already weighs over 4,500 pounds. Would anyone even notice if a glass roof was added on?
At this point I'd like to underline the fact that the 2022 Mercedes-AMG GT 53 4MATIC+ Coupe remains a technically impressive machine, one that carries you to your next destination in utmost luxury while supplying swaths of power through the commands of your right foot. I'll even add that its fastback configuration makes it rather practical to haul around some gear.
However, the immediate realization when driving this thing was that we have officially reached the pinnacle of gasoline-fed supersport sedans. That's because for similar money, one could opt for Mercedes' own EQS electric sedan, a car that's just as, if not more luxurious than this, technologically more advanced and downright quicker off the line. And don't get me started on the batshit crazy Lucid Air.
Clavey's Verdict
Review of the 2022 Mercedes-AMG GT 53 4MATIC+ Coupe by William Clavey
Full-size Luxury Sedans
Smooth and efficient powertrain
Surprisingly agile
Spacious, comfortable and practical
About the same price as an electric EQS
Lacks some basic accessories
The existence of a V8 model has you yearning for more
Clavey's Corner is located in Montreal, Quebec, Canada. Prices and trim levels discussed in this article reflect the Canadian car market.
Special thanks: Mercedes-Benz Canada
Photography: Guillaume Fournier
Contact the author: [email protected]